Engagements
The faculty has established the Engagements requirement to serve as the foundation of the general education experience and provide a guiding intellectual framework for both students' subsequent studies and their future lives as engaged citizen-intellectuals. The four Engagements ask students to engage knowledge and learning with sensibilities that are fundamental to intellectual flourishing. Students are instroduced to:
considering the ethical implications of their commitments, as citizens and in their vocations;
formulating hypotheses, test empirical questions, and make reasoned and analytic claims;
engaging the arts as a fundamental avenue to knowing and being in the world (rather than as an ornamental quality of living);
navigating and understanding the breadth of human diversity and difference.
The Engagements are taught by a cross-College body of faculty who, each from the standpoint of their own discipline, will reach beyond that discipline to address one of the four areas of inquiry below.
All first-year undergraduate students are required to complete one 2-credit course in each of the four Engagements: Aesthetic Engagement, Empirical & Scientific Engagement, Engaging Difference, and Ethical Engagement. The Engagements are exclusive to the first-year student experience. Both external and internal transfer students to the College are not required to take the Engagement courses, nor can transfer students count these courses towards their General Education. Test credit and other transfer credit may not be used to meet the Engagements requirement.
The Engagements
Aesthetic Engagement  
In this class students will learn to identify, describe, and analyze aesthetic phenomena, understand the social role and ongoing evolution of human creative expression, and develop their own approach to creative expression.
Empirical & Scientific Engagement 
In this class students will learn to analyze claims about the material and social worlds through formulation and testing of new questions and hypotheses based on observation and experience.
Engaging Difference
In this class, students will learn to critically reflect on one's own situation and perspective in relations to one's expanding knowledge of other human experiences, seeking to cultivate a framework for informed reflection on human diversity and social complexity while developing empathy as a foundation for democratic citizenship.
Ethical Engagement
In this class students will learn to reflect upon and evaluate human conduct and character, consider the ethical components of individual and collective behaviors, and engage in the articulation of ethical questions and moral deliberation.
The College Fellows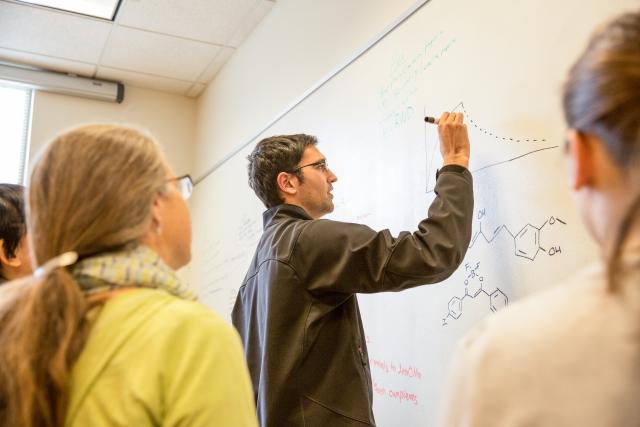 At the core of the new General Education curriculum are the College Fellows, a College-wide body of faculty members and post-doctoral teaching fellows drawn from across departments and programs. Appointment to the College Fellows is for fixed terms. It is the responsibility of the College Fellows to steward the aims of the Engagements curriculum, including making specific claims about general education and working to revise these claims over time. This stewardship comes in many forms, from continuous dialogue and reflection concerning the fundamental ends of general education to teaching in the curriculum's core component.