Deborah McDowell to Address Graduating Students at Final Exercises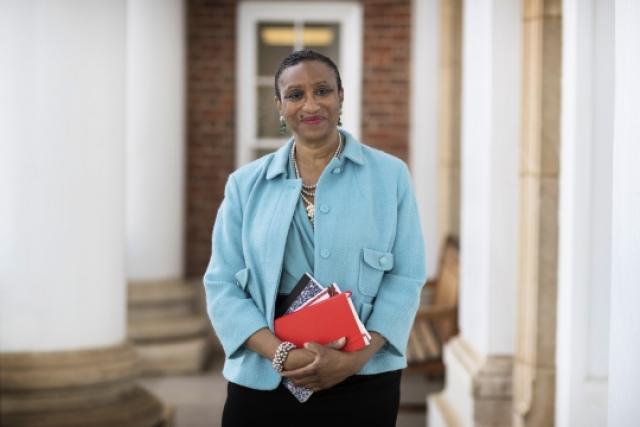 Deborah McDowell, the Alice Griffin Professor of Literary Studies and Director of the Carter G. Woodson Institute for African-American and African Studies, will be the keynote speaker at the College and Graduate School of Arts & Sciences Final Exercises on Saturday, May 20. 
Professor McDowell is an internationally recognized scholar of African-American literature, and has been a member of the English faculty since 1987. She was named the Alice Griffin Professor of English in 2000.
She was born, reared and educated in the industrial city of Bessemer, Alabama, whose schools remained segregated for 15 years after the 1954 Brown v. Board of Education of Topeka, Kansas Supreme Court decision was the law. She earned a bachelor's degree in English literature from Tuskegee University in 1972 and master's and doctoral degrees from Purdue University in 1974 and 1979, respectively.
She spent eight years as an assistant, then associate professor of English at Colby College in Waterville, Maine, and was a visiting professor of English at Duke University.
Emerging in the 1980s as a leading figure in the development of African-American women's literature and feminist critical theory, McDowell founded the African-American Women Writers Series for Beacon Press and served as its editor from 1985 to l993, overseeing the republication of 14 novels spanning the late 19th through the late 20th centuries. She served as editor for the first Norton Anthology of African American Literature and was co-editor, with Arnold Rampersad, of Slavery and the Literary Imagination.
As an author and scholar, McDowell has written widely for both academic and general audiences. Her publications include: 'The Changing Same': Studies in Fiction by African-American Women (1995) and Leaving Pipe Shop: Memories of Kin (1997), as well as numerous articles, book chapters and scholarly editions, most recently The Punitive Turn: New Approaches to Race and Incarceration, co-edited with Claudrena Harold, a UVA associate professor of history, and Juan Battle, professor of sociology at the City University of New York, the Graduate Center. The collection of essays grew out of a UVA symposium she organized in 2009.
Since 2008, McDowell has directed UVA's Carter G. Woodson Institute for African-American and African Studies, shepherding its undergraduate major and its world-renowned fellowship program and serving as editor of the Carter G. Woodson Imprint sponsored by the University of Virginia Press.
She has been the recipient of various grants, including the Mary Ingraham Bunting Fellowship at Radcliffe College, the National Research Council Fellowship of the Ford Foundation and the Woodrow Wilson International Center Fellowship. She was elected to UVA's Raven Society in 1998 and received an honorary degree from her alma mater, Purdue University, in 2006.