Q&A: Dean Ian Baucom Aims to Build on the College's Momentum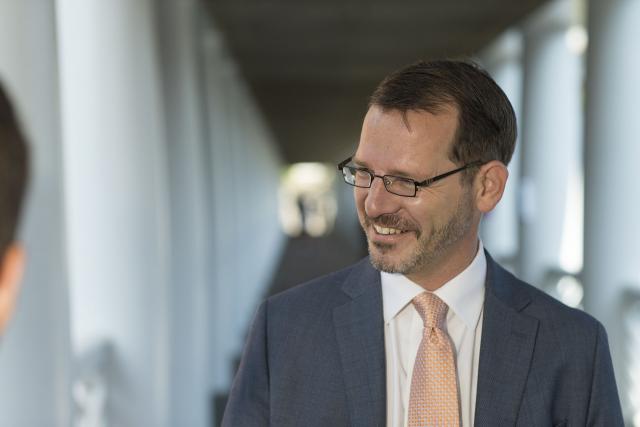 What do democracies need from their universities?
How can higher education best prepare students for 21st-century careers and vocations?
And more specifically, how should the University of Virginia's College and Graduate School of Arts & Sciences evolve to continue serving the commonwealth while contributing to the global common good?
These questions have guided Ian Baucom's efforts since he first arrived on Grounds in 2014 to serve as the Buckner W. Clay Dean of Arts & Sciences. Figuring out how to most effectively harness the immense talent within the University's largest school – and how to promote a culture of creativity and innovation within the College – quickly became his focus. As a result, Baucom has become known for encouraging Arts & Sciences faculty, staff and students to identify ambitious goals and for helping bring important initiatives to life.
Under Baucom's leadership, the school piloted its New College Curriculum – the first significant update to its general education program in more than 40 years – in 2017, then fully adopted it through a faculty vote this fall. Substantial investments also have been made in the Graduate School of Arts & Sciences through the University's Strategic Investment Fund and other sources to help attract the most talented graduate students and researchers to UVA.
In addition, Baucom has partnered not only with Arts & Sciences faculty and staff, but also with colleagues across Grounds. Those efforts have led to the establishment of the University's cross-disciplinary Democracy Initiative; the enhancement of UVA's Brain Institute and the Environmental Resilience Institute, through faculty cluster hires and other programs; and the launch of global education-abroad programs such as UVA London First and iXperience.
Baucom is on leave this semester, taking a brief sabbatical to work on a book on the state of higher education in the world before starting his second five-year term as dean in January. In a recent conversation with UVA Today, Baucom discussed his forthcoming book, reflected on his first term as dean, and shared some details about his plans for his second term in the College.
Q. Working on your new book is the focus of your sabbatical this semester. What main topics are you exploring? Can you give us a teaser about the book?
A. The book explores the idea of the urgent. There are so many challenges and rapid transformations facing societies around the world today: climate change; a staggering rise in displaced populations and human movements across borders; the enormous technological and economic changes springing from data, machine-learning and artificial intelligence; global public health crises and astonishing medical breakthroughs; the many challenges to the future of democracy, old and new. Among those, what is most urgent to address? Who decides? On what basis? How can we come to those decisions collectively and take on these issues in ways which advance the public good?
I'm co-writing the book with two colleagues, Ranji Khanna at Duke University and Achille Mbembe at the University of the Witwatersrand in Johannesburg, South Africa. My part of the book is to ask how universities might tackle these questions, particularly with the university's democratic purpose in mind. What do democracies need from their universities as we confront these urgent matters? How do we balance those demands of today with the importance of studying the historical past, and with the idea of the pursuit of knowledge for its own sake?
Or, to put it another way, I'm trying to address these questions: What has democracy always needed from us? What does it need now? How can the always and the now come together as we work together to shape our future?
From there, how do we stitch that kind of debate into undergraduate education – with an openness to agreeing and disagreeing, to energetically and civilly working through really tough questions, to trying to persuade the people we talk to and, just as importantly, to be open to changing our own minds?
Q. As you've studied and considered the broader themes of higher education in your book and the challenges facing public universities in the 21st century, how do they relate to the newly approved curriculum in the College?
A. One of the key components of the new curriculum is focused on the kinds of critical-thinking skills a liberal arts education should provide every student as they navigate the world.
At the same time, I think proponents of the liberal arts sometimes only focus on skills and forget that it's also our purpose to challenge students to wrestle with big normative questions: What is the nature of democracy? What are our ethical obligations to our communities, to others around the world and to generations to come?
It's not our job to give students the answers. But we do need to give them a framework to grapple with those types of questions, ethically and across all our differences of conviction. That's one of the major areas where I see the enduring project of the University, the design of the new curriculum and the work of democracy coming together.
The new curriculum's framework has three major elements: One, as I mentioned, focused on the skills and literacies students need to thrive in a fast-changing world (they absolutely need to write well, be multilingual, globally aware, and have a sophisticated understanding of computation, data and the quantitative sciences); a second element focused on asking questions across the disciplines and boundaries of knowledge; and a third element focused on engaging the world and the vocations they will pursue from a set of grounding vantage points – ethics, the arts, fact-based empirical understanding, and a commitment to studying and debating the differences of history, background and experience that unite us.
What holds that all together is a commitment to liberal arts education as an education in the shared practice of democratic life. I think that's one of the urgent tasks of the University. It's always been urgent. It's certainly urgent now. In that sense, the new curriculum and the questions I've been trying to think about in the book are very much in sync.
Another thought is this: Persuasion and democracy go hand-in-hand. Persuasion is about argument and debate grounded in conditions of equality. So is democracy. That's something I think we sometimes forget. Democracy is about persuading each other, not dictating to each other. The liberal arts should provide an education in that always urgent democratic art.
Q. In your first five-year term as dean, you prioritized the new curriculum; investing in the Graduate School; and advancing key research areas like democracy, the environment and brain science. Are there new areas you want to tackle in your next term? What will your transition back to Grounds look like? What are you most looking forward to as you return to Grounds?
A. Now that the faculty have voted to fully adopt the new curriculum, implementing it for all our students will be a major focus, as will extending the commitments we've made to building an academy-defining Graduate School.
Right before I began my leave, a faculty committee we'd convened shared a report on how to advance our research mission, within and across disciplines. I'm very eager to return to that work and to a parallel project on a set of multi-disciplinary arts initiatives – particularly as we move them forward in support of President Ryan's strategic plan for the University as a whole.
Also, we're entering the second year of a new experiment in global undergraduate education with a partner called iXperience. We now have programs in Cape Town, Lisbon and Berlin offering students a blend of liberal arts coursework, new economy "boot camps" (covering data science, full-stack coding and other areas), and internships. Every major university in the world, including ours, is now a true "world university," and I'm really looking forward to the next phase in building those kinds of experimental sites for new types of global education and continuing to extend our global presence.
Finally, we've been talking on-and-off in Arts & Sciences about the idea of a "floating fourth," a chance to free faculty to allocate a fourth of their teaching time to an academic unit outside their home department. I see this as a way of opening up our work beyond bureaucratic divisions and pursuing knowledge across the many ways it actually flows. I'm interested in coming back to that to see if it's something the faculty would like to pursue.
Q. What did you miss most about your time away from Grounds?
A. That's easy – the people. I've really missed spending time with students, faculty, my colleagues in the Dean's office, my fellow deans and with President Ryan and the phenomenal leadership team he's assembled. I also miss seeing the parents and alumni I get to meet and spend time with on Grounds and when I'm on the road. The quiet of writing is amazing, but my energy and joy in my professional life comes from being with people. I've missed that a lot.
Q. Part of your sabbatical is about recharging a little before returning next month. What have you been doing for fun? Have you binge-watched anything?
A. I've been able to spend a lot more time with my family, recharging with them. As much as I love being with my colleagues and our students, getting to spend time with the people I love the most – my wife, Wendy; and our children, Gabriel, Leah, Kiran, Camden and Tristan – that's been by far the most fun.
Binge-watching? Wendy and I are into international TV, and there are a few shows we really like: "Money Heist" from Spain, "Gomorrah" from Italy, "Dogs of Berlin" from Germany. Also, I grew up in South Africa, so I like cricket and we spent some time watching the cricket World Cup and we somehow convinced our kids to get into that (England won; South Africa, alas, did not cover themselves in glory). Plus, our new house in Charlottesville is under construction, and we're scheduled to move in over the winter break. That's been a great project to work on together, and we're very excited about it.
Q. Brie Gertler will be stepping down as acting dean upon your return. What are your thoughts on her work in the role?  
A. Brie is phenomenal. She's a person of great wisdom with an unshakably grounded capacity for leadership. One of Provost Liz Magill's terrific early decisions was asking Brie to take this on, and Brie has led the College flawlessly from beginning to end. I'm incredibly grateful to her for that and for giving me the chance to step away for the semester, fully confident that everything was in great hands. Thank you, Brie!