Darden's Founding Faculty Member Inspires A&S Writing Seminar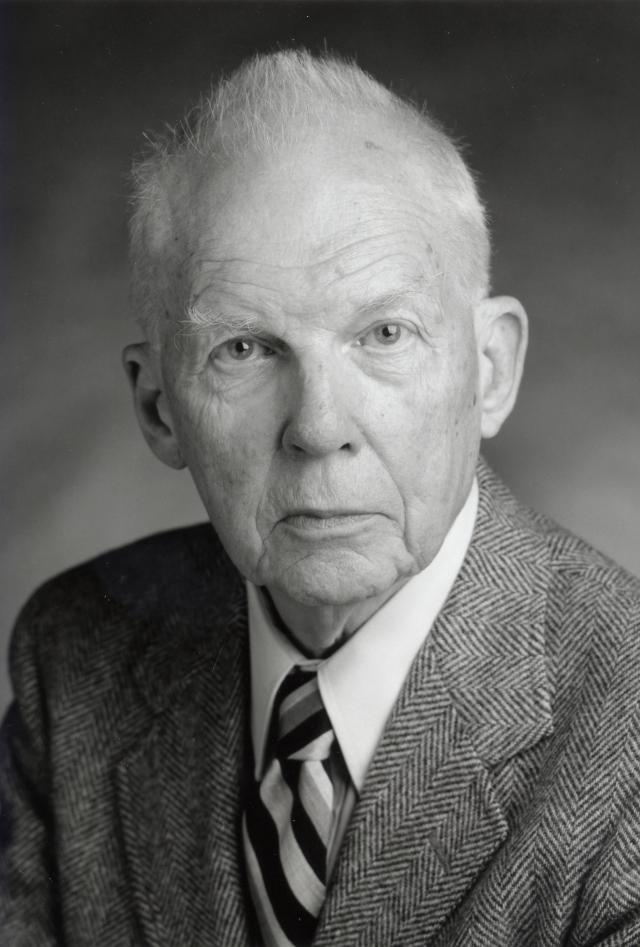 Generations of students at the Darden School of Business left Prof. John D. Forbes' classroom with a greater appreciation for the art of writing succinctly, and with style. For years, Darden alumni surveyed by the graduate school consistently cited Forbes' "Analysis and Communication" course as the one in which they learned and retained the most.
Now 105 years old, Professor Emeritus Forbes is serving as the inspiration for a new, upper-level writing and public speaking seminar under development for undergraduate students in the College and Graduate School of Arts & Sciences. The John D. Forbes Seminar for Career Focused Writing and Communications, to be supported by a $250,000 gift from Darden alumnus Lee R. Forker, Jr., will emphasize oral and written communications in the interest of preparing Arts & Sciences students for leadership roles in a variety of careers.
"Many of us, from the early days of Darden, considered Prof. Forbes' course, of everything we did there, to be the best class with the greatest impact on our careers," said Forker, a 1963 graduate of Darden and the founder of New England Research & Management, Inc., a Boston-based investment management firm.
The first faculty member to be hired by Darden's founder, Forbes helped to design the curriculum for its inaugural class in 1955. He carried the title of Professor of Business History, and during his career at UVA, Forbes authored biographies of American banker and financier J.P. Morgan, Jr., Edward R. Stettinius, Sr, and of the Victorian architect William Tinsley. But unlike most of his academic colleagues at Darden, Forbes did not arrive at UVA from Wabash College with the traditional areas of expertise for a business school professor.
Born in San Francisco in 1910, Forbes served as curator for paintings at the San Francisco World's Fair (1938-40) and taught history, fine arts and communications at Wabash College, Bennington College and other liberal arts institutions after completing his Ph.D. in 1937 at Harvard.
"He's a true Renaissance man," said C. Ray Smith, Darden's former dean and a former student of Forbes'. (Smith is a member of Darden's second graduating class.)
Forbes taught at Darden until the age of 70, while finding time to write several mystery novels. After his retirement in 1980, he taught Continuing Education courses in architectural history and art history. Forbes and his wife Mary Elizabeth continue to live in Charlottesville.
"I was deeply touched," Forbes said in December of Forker's gift to the College. "I was deeply, deeply moved by this vote of confidence. Lee was just so dear to do this."
The Forbes seminar is being developed as the College and Graduate School of Arts & Sciences continues work on the first proposed revision of the undergraduate curriculum in four decades. Similar to other Arts & Sciences courses established in recent years, including the "Liberal Arts and the World of Work" seminars supported by the Armstrong Scholars Program Fund, the new Forbes seminar will serve to reinforce the value of a liberal arts education in a global economy where translating the transcript to a resume of professionally valuable skills has become increasingly important.
"The liberal arts education that our undergraduate students receive in the College holds true, professional value in the global economy they will be entering and helping to remake," said Ian Baucom, Buckner W. Clay Dean of Arts & Sciences. "The John D. Forbes Seminar, named after the first faculty member of Darden, will equip its students with the timeless communications skills essential to leadership."
First-year Darden students in Forbes' year-long course learned to get to the point quickly and to not exceed his requested word counts for the term papers and case studies due each Saturday afternoon in his office, Smith said. Forbes also tried to spark the creativity of his students with a variety of imaginative exercises.
"He would have you draw a picture of the house of your dreams in class, or bring a brick to class and ask, 'What are all the things you could do with this brick?' You'd be amazed at what 30 to 50 students could come up with," Smith said.
Forbes said he insisted that his students tap into their imaginations.
"I always said this to my students: 'The people who only take courses in money and banking, and labor economics, that sort of thing, they'll be the people you hire. But the boss is the one with imagination.'"
Along with tapping their imaginations, Forbes expected his students to master the grammatical rules espoused in William Strunk Jr. and E.B. White's "The Elements of Style." He was a strict – and often blunt – grader of their weaker writing efforts. Forbes recalled one Darden alum who returned to UVA for a recent Reunion Weekend with the "C-" term paper that Forbes had graded. Still legible in red ink, years later, was Forbes' caustic assessment of the paper: "Is English your mother tongue?"
Forker said the lessons that he learned in Forbes' classroom served him well during his career in the U.S. Navy, and in the fields of investment banking and financial management. He hopes that the Forbes Seminar similarly will inspire future Arts & Sciences undergraduates.
"I don't remember too much from my finance courses back then, but I still know the difference between objective and subjective case, thanks to Professor Forbes," Forker said. "I remember one of the first things he told us in class, 'Especially for you engineers, I know you don't know how to read and write, and I don't want you to reflect badly upon this University when you guys get out of here because you guys can't properly speak or write.
"But it was so fun because he made the class so amusing, and in my judgment and in the judgment of many others, it was the one, lasting course that helped us in our business careers. Because of that class, we ended up sounding and writing smarter than we actually were."