Film Festival Preview: Ethan Hawke, 'Just Mercy,' John Grisham and More
The 2019 Virginia Film Festival will bring more than 150 films to Charlottesville with a focus on thought-provoking screenings and discussions that make the most of the festival's close ties with the University of Virginia.
The annual festival, which is a program of the University and the Office of the Provost and Vice Provost for the Arts, is set for Oct. 23-27. It will kick off with a highly anticipated screening of "Just Mercy," a feature film chronicling Equal Justice Initiative lawyer Bryan Stevenson's fight for more humane justice. The film, which won't be released nationwide until December, stars Michael B. Jordan and Brie Larson.
From there, a thoughtful, wide-ranging program will unfold over four days, with special guests including award-winning actor, writer and director Ethan Hawke, Emmy Award-winning actor Ann Dowd ("The Handmaid's Tale"), bestselling author John Grisham, actor Dennis Christopher, acclaimed filmmaker Wanuri Kahiu and many more.
"Once again, we have a lineup of films that includes some of the year's most heavily discussed titles of the awards season, plus some of the most exciting work from around the globe," said festival director Jody Kielbasa, UVA's vice provost for the arts. "We have worked hard to present a program that both entertains and challenges audiences, making a concerted effort to present films that reflect the world we live in, and that inspire vibrant discussions."
The full program will be available at 9 a.m. Thursday at virginiafilmfestival.org, and tickets go on sale Monday. 
Here are some of the highlights.
Blockbusters and Conversation Starters
In addition to "Just Mercy," the festival will feature a Saturday screening of "Harriet," based on the life of Harriet Tubman and filmed in Virginia. Directed by Kasi Lemmons and starring Cynthia Erivo, the film follows Tubman's journey from slavery to freedom, her fight to free hundreds more and her work as an abolitionist. A panel discussion featuring actor Vanessa Bell Calloway and producers Debra Martin Chase and Daniela Taplin Lundberg will follow the screening.
Hawke, a four-time Academy Award nominee, will be in town for a showing of "Before the Devil Knows You're Dead," a 2007 film in which he co-starred opposite Philip Seymour Hoffman. He will join "PBS News Hour's" Elizabeth Flock for a conversation after the film.
Dowd, who received the 2017 Emmy Award for Best Supporting Actress in a Drama Series for her role as Aunt Lydia in Hulu's "The Handmaid's Tale," will join a discussion following a screening of the documentary "Dismantling Democracy," co-produced by the UVA Center for Politics. The documentary, which Dowd narrates, examines challenges facing democracies around the world over the past two decades. 
Grisham will be on hand to celebrate the 25th anniversary of "The Client," the blockbuster legal thriller based on his novel. Christopher also will be celebrating an anniversary, the 40th anniversary of the Academy Award-winning film "Breaking Away," in which he stars. Both the acclaimed author and the actor will participate in post-screening discussions.
Director Wanuri Kahiu will present a screening of her film "Rafiki" and reflect on her career and the creation of the Afrobubblegum Movement, an emerging genre that Kahiu, in a 2017 TED Talk, termed "fun, fierce and frivolous," expanding onscreen depictions of Africa and opposing stereotypes of the continent.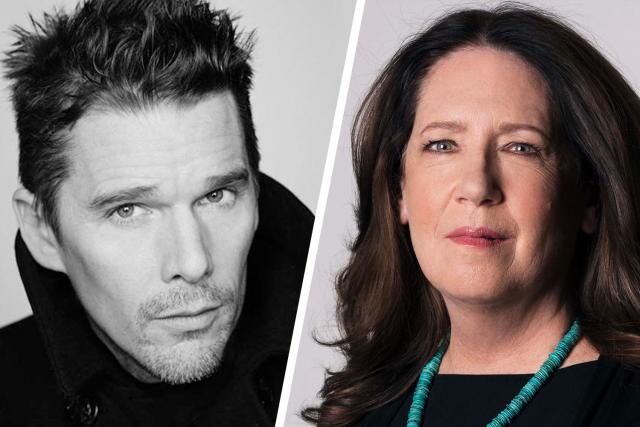 The festival's closing night film is "The Two Popes," a look at conversations between Pope Benedict, played by Anthony Hopkins, and Cardinal Bergoglio (Jonathan Pryce), before Benedict retired and Bergoglio assumed the papacy. The film, directed by Academy Award-nominated Fernando Meirelles, received high praise at the Telluride Film Festival and the Toronto International Film Festival.
Race in America Series
The festival will again partner with James Madison's Montpelier for its third annual "Race in America" series. Films featured include "Harriet," "Just Mercy" and "Clemency," the latter starring Alfre Woodard as Bernadine Williams, a prison warden grappling with the many executions she has carried out.
Other films in the series are "Always in Season," a documentary exploring the lingering impact of lynching; "Burning Cane," looking at faith, family and violence among the cane fields of Louisiana; "Pahokee," about teenagers coming of age in the Florida Everglades; and "We are the Radical Monarchs," about an Oakland-based alternative to Girl Scouts for young women of color interested in social justice.
UVA Ties
Many of the festival's events feature UVA students, faculty members and departments, either on-stage or behind the scenes.
The documentary that Dowd narrates, "Dismantling Democracy," was co-produced by the UVA Center for Politics and features interviews with the center's director, Larry Sabato, alumna and CNN journalist Margaret Brennan, Black Lives Matter activist and UVA religious studies professor Jalane Schmidt, and more. The festival will also partner with the center on screenings of "Primary," a documentary about the 1960 Wisconsin primary battle between John F. Kennedy and Hubert Humphrey, and "Slay the Dragon," a documentary about gerrymandering.
UVA's Miller Center of Public Affairs will screen "Port of Destiny: Peace," which chronicles former Colombian President Juan Manuel Santos' path to peace after grappling with the terrorist guerrilla movement FARC, and the Darden School of Business will present "Fishing with Dynamite." The documentary features Darden professor Bobby Parmar and his colleagues exploring the impact of financial markets on business ethics and laying out their vision for more ethical, equitable companies. Parmar helped produced the feature-length documentary with Academy Award-winning filmmaker Paul Wagner, interviewing employees, consumers, executives and academics.
Young filmmakers will have their turn in the spotlight as well. A special "Best of" program will highlight the best work of young filmmakers at UVA, Virginia Commonwealth University and George Mason University; and the Festival Scholars Program, now in its second year, will offer a six-day immersive experience for UVA students. They will meet with mentors in the film industry, enjoy group discussions and Q&A sessions with the wide variety of special guests visiting for the festival, and receive complimentary admission to all film screenings.