A&S Introduces New Associate Dean After National Search
Keisha John, who has been serving as Director of Diversity Programs for UVA's Office of Graduate and Postdoctoral Affairs since 2015, is moving into a new role within the College and Graduate School of Arts & Sciences as the Associate Dean for Diversity and Inclusion.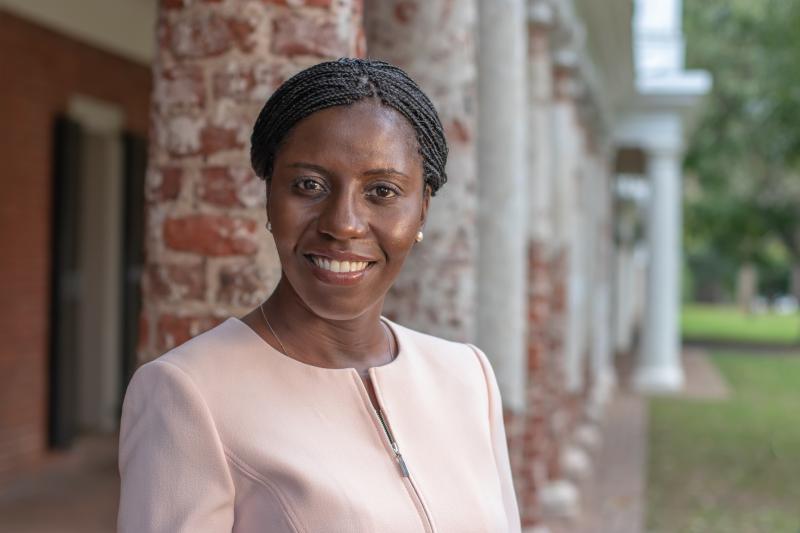 Keisha John, newly named Associate Dean for Diversity and Inclusion
Molly Angevine / Arts & Sciences Communications
John's appointment follows a national search for the inaugural post, which builds on her previous work at UVA.
"I'm excited to welcome Keisha John to the College as we continue to deepen our commitment to ensuring that inclusion and diversity are at the heart of our strategic planning processes and academic initiatives," A&S Dean Ian Baucom said. "Enhancing the diversity and inclusiveness of the Arts & Sciences community, our academic mission, and the research and teaching that we pursue are essential to advancing our discoveries, horizons, and excellence, and I know that Keisha's work will make us stronger in all of these important ways."
A scientist by training, John started her undergraduate career at the University of Maryland Baltimore County as a Meyerhoff Scholar, where she engaged in neuroscience research. She then earned her Ph.D. in Biology at Cold Spring Harbor Laboratory and completed a postdoctoral fellowship at Rockefeller University. As a researcher, John says she became sensitized to larger issues in the scientific community, especially those related to the need for diversity in the STEM (science, technology, engineering, and math) workforce. It was this first-hand knowledge of underrepresentation and her desire to have an impact that reached beyond the research bench, John said, that motivated her to pursue a career in academic administration.
 "I am humbled to be invited to join Dean Baucom's leadership team," John said. "During my tenure at UVA, I have collaborated with members of the Arts & Sciences community who are committed to ensure Arts & Sciences is a leader in equity, diversity, and inclusion at UVA. With the goal of embedding inclusive excellence into the fabric of Arts & Sciences, there will surely be challenges along the way. However, I look forward to working with students, staff, and faculty, from across Arts & Sciences to collectively accomplish the shared goal of establishing an equitable, diverse, and inclusive culture."
In her work to date, John has focused primarily on promoting diversity and inclusion among graduate students and postdoctoral researchers.
In addition, said Carol Mershon, the Hugh S. and Winifred Cumming Chair in Politics and search committee chair, "Keisha John has partnered with faculty in advancing diversity, equity, and inclusion, and her initiatives have extended to those serving undergraduates. Underlying her professional achievements are Dr. John's analytic abilities, effectiveness as a communicator, and strategic acumen. These talents would benefit faculty, students and staff alike.
"A bold leader who is also a thoughtful listener, Dr. John is superbly positioned to become the inaugural A&S Associate Dean for Diversity and Inclusion."
Psychology professor Bethany Teachman, who also served on the search committee for John's new appointment, said the College is extremely fortunate to have John in the new post.
"She has a wealth of expertise and experience promoting inclusive excellence across Grounds; has keen insight into our community's unique needs, opportunities, and challenges; and comes with a strong vision about how to help Arts & Sciences achieve our mission to foster an academically enriching, diverse, and supportive climate for all members of our community," Teachman said. "With Keisha's leadership, openness to new ideas, and tremendous commitment to advancing inclusive excellence at all levels of the College, this is a wonderful opportunity for the College to advance diversity, inclusion, and equity across all facets of College life."
Before coming to the University of Virginia nearly four years ago, John served as an assistant dean in the Graduate School of Florida State University, where she developed and maintained partnerships with university programs and departments to serve and advocate for FSU's graduate students and postdoctoral scholars. In that position, and as Director of Diversity Programs for UVA's Office of Graduate and Postdoctoral Affairs, John has expanded her professional interests beyond the STEM fields.
At UVA, she has collaborated with students, faculty, and staff to establish programs that aim to cultivate a supportive environment for all and recruit diverse community members. She has also served on a number of UVA committees and represented the university nationally. In addition to a number of diversity initiatives, John's experience extends to strategic and financial planning, as well as policy development.
In her new role in Arts & Sciences, John said she will continue working with students, staff, postdoctoral scholars and faculty stakeholders in its multi-disciplinary setting to ensure that Arts & Sciences is at the leading edge of a necessary cultural change at UVA. She also will be a key ambassador for Arts & Sciences at the University, focused on fostering important relationships with a variety of constituents.
John officially begins her appointment as Associate Dean on Monday, Nov, 19.