Jane Alison Gives a Glimpse Into Her New 'Non-Fiction" Novel
Author Jane Alison, a University of Virginia English professor, has roamed among genres – writing a memoir about her transition from childhood into early adulthood, a novel about the 2,000-year-old poet Ovid, and a translation of his work. She continues pushing boundaries in her new book, "Nine Island," which is described as a "non-fiction novel."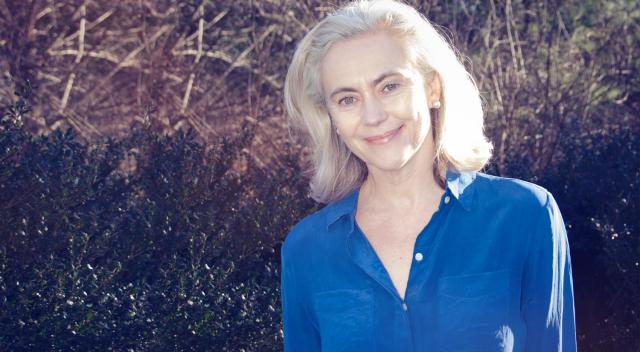 Mary Motley Kalergis
Alison, who also directs the Creative Writing Program, came to UVA three years ago, fresh from translating Ovid's poetry for her 2014 book, "Change Me: Stories of Sexual Transformation from Ovid." In addition to the novel about Ovid, "The Love Artist," that imagines his life, including his exile from Rome, she has published two other novels, "The Marriage of the Sea" and "Natives and Exotics," as well as the memoir, "The Sisters Antipodes."
In "Nine Island," Ovid shadows the pages, while the narrator, known as J, is living in Miami, translating Ovid's stories from Latin and looking at all the transformations in and around her at a certain point in mid-life. The Publishers Weekly starred review described it as "a haunting and emotionally precise portrait, a beautiful reminder that solitude does not equal loneliness."Alison published an adaptation of the novel, "But I've Got Ovid," in the summer issue of Virginia Quarterly Review.
UVA Today recently asked her what motivated her to write a non-fiction novel and other questions about her genre-bending work. To hear more, Alison will give a reading, free and open to the public, Wednesday at 5 p.m. in the UVA Bookstore.
Q. Your new book, "Nine Island," is described as a "nonfiction novel." Why is it called that?
A. Over the past few years I've grown impatient with so-called distinctions among genres that, in truth, overlap so much. I began "Nine Island" after writing three novels, a memoir and translations of Ovid's stories, and what I wanted was something that fused these forms: inventiveness in style, language and structure in a narrative that drew very closely upon givens, or "truths." It's much more compelling to me to find logics and patterns in life, to distill these in a narrative with movement and shape, than to invent plot.
Q. What was your impetus for writing this book?
A. The first glimmer came four years ago, when I was living in Miami, translating Ovid's stories of sexual transformation, thinking about my status as a woman branching off on her own at 50, and worrying about my mother and her weakening body and about my poor old cat, who had grown deaf, blind and incontinent. … I was seeing these real-life changes through the intensifying lenses of Ovid's "Metamorphoses" and Miami's extravagant nature – where trees look like girls who have plunged into the ground, iguanas look like fish once they dive into the water, the sky is so fantastically changeable – and gradually an idea formed. I spent my last month in Miami before moving to Charlottesville filling up notebooks.
Q. What does the title refer to?
A. The narrative takes place in and around the narrator's high-rise condominium on one of Miami's Venetian Islands: its address is Nine Island Avenue. This was my working title at first, but island ideas became important: why can this narrator not be an island? Why is it that you begin young life intact and contained, but somehow love crashes in and opens up a space inside you, making you then need someone else? The narrator is translating Ovid, so thinks often of Latin roots. Island in Latin is "insula," which in Italian became "isola." But insulation and isolation, she thinks, are awfully different.
Q. What else are you working on in your writing?
A. At the moment I'm enjoying some mini-assignments: write a play-list essay to accompany the book; write a literary reading list about women of "an age" who are thinking about the problem of erotic love.
I've got two bigger projects, though: first is a long-in-the-works book (nonfiction novel?) about Swiss architect Le Corbusier and his obsession with Irish designer Eileen Gray and the house she built on the French Mediterranean. The other is an extended essay on patterning and other design elements in narrative.
Not sure I should use the present tense for either of these projects, though, given that we're in the heat of the school year: I'll get back to these next summer.
Q. How does your writing influence your teaching, and vice versa?
A. I'm not good at writing during the semester, but am constantly influenced, inspired and provoked by our students, who point me to writers I don't yet know and ways of thinking or inventing I just do not have in my head. In turn, I subject them to my latest preoccupations. This semester, graduate students and I are reading books that question or pose alternatives to the much-touted "dramatic arc" of narrative.
Q. How's it going being the director of the Creative Writing Program?
A. It definitely takes up a different quadrant of my brain than I'd been using and makes me respect the hard-working directors I've known over the years. This is such a fine program with such talented students, and it's gratifying to come up with ways to make it even better and a pleasure to meet the writers we're lucky enough to bring to Grounds. Seeing how we can shape the program for the future is the good challenge I'm thinking about now.