Key Roles for A&S Faculty in Virginia Film Festival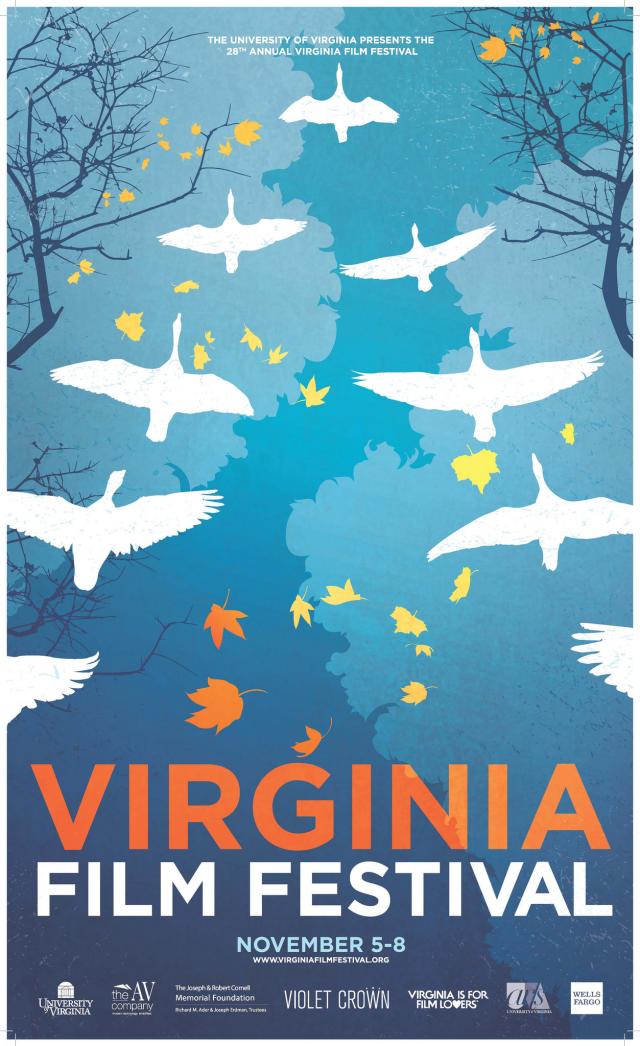 The Virginia Film Festival will feature appearances from Larry Kramer, Oliver Stone and Meg Ryan as well as other celebrated filmmakers, playwrights and actors. Playing key supporting roles will be Arts & Sciences faculty introducing films or participating in panel discussions following Festival film screenings.
Starting Thursday and running through Sunday evening, the Virginia Film Festival (Nov. 5-8) includes 21 screenings featuring appearances by A&S faculty as presenters, panel discussion participants, and in three cases, as film directors. For a complete schedule of film screenings and ticket availability, visit the VFF website.
Here is a list of scheduled VFF appearances by UVA faculty, with A&S faculty in bold:
---
The Birth of a Nation
3 p.m. Thursday, Nov. 5, Culbreth Theatre (UVA)
Perhaps the most controversial film in U.S. history, D.W. Griffith's groundbreaking film remains one of the most important works in American cinema a century after its debut. The three-hour silent epic depicts a South Carolina town before and after the Civil War and blatantly glorifies slavery and depicts black people in such an unrelentingly brutal way that it has been used as a recruitment tool by the Ku Klux Klan. The film's enduring controversy is often contrasted by the critical praise for its historic cinematic achievements, which are credited with changing the art form forever.
This screening has been organized by the Miller Center, with input and counsel from the UVA Black Student Alliance, SEEDS for Change, faculty members in UVA's Corcoran Department of History, and the Carter G. Woodson Institute for African-American and African Studies after consultations with the UVA Office of Diversity and the Charlottesville chapter of the NAACP.
Discussion with Gary Gallagher (History), Doug Blackmon (Miller Center), and Aryn Frazier (Black Student Alliance President). Supported by the Woodson Institute and the Library of Congress.
---
The Redfern Story
6:15 p.m. Thursday, Nov. 5, Violet Crown A (Downtown Mall)
Documenting the efforts of a small group of untrained, but passionate, activists in 1971 when they formed the National Black Theatre, this film marks the beginning of the fight for equal rights and opportunities for Australia's aboriginal people. Through activism and theatre, this movement advocated for the indigenous people as a first step toward gaining land rights and better treatment. Formed at a crucial time in Australian political history, it culminated with the establishment of significant aboriginal organizations.
Discussion with director Darlene Johnson and Margo Smith of UVA's Kluge-Ruhe Aboriginal Art Collection.
---
Men Go to Battle
8:30 p.m. Thursday, Nov. 5, Violet Crown A (Downtown Mall)
Imagining the different paths that two brothers take during the American Civil War, this debut feature by director Zachary Treitz depicts the family tale of a struggling farm in rural Kentucky. As the war rages on beyond the farm's borders and brothers Francis and Henry Mellon are forced into close quarters, their relationship reaches a breaking point. One brother disappears into the night to join the Union army, leaving the two to find out separately what the approaching war will bring.
Discussion with film director Zachary Treitz, actor David Maloney, and moderator William Little (Media Studies)
---
Embrace of the Serpent
8:45 p.m. Thursday, Nov. 5, Violet Crown B (Downtown Mall)
This adventure epic tracks two parallel odysseys as a lone shaman leads two European ethnographers into the mysteries of the Amazon. The film intercuts between the shaman as a young man and as an older one, guiding each foreign explorer on a search for a rare flower thought to cure a fatal illness. Colombian director Ciro Guerra's film pays tribute to the lost civilizations of the Amazon and reimagines the indigenous point of view, examining the consequences of colonialism.
Introduction by George Mentore (Anthropology).
---
Kevin Everson: Short Films
1:30 p.m. Friday, Nov. 6, Violet Crown A (Downtown Mall)
From internationally renowned filmmaker and UVA Art Professor Kevin Everson comes a selection of short films that combines historical observations with contemporary, socially relevant narratives. This collection of films contains a broad scope of stories, including the University of Virginia–related "We Demand," which features the first African-American Student Council president. Everson's films, richly abstracted and artfully constructed, have been praised for their rare ability to find the extraordinary and theatrical in the ordinary and everyday.
Discussion with Kevin Everson (McIntire Dept. of Art)
---
Bound: African vs. African Americans
2:30 p.m. Friday, Nov. 6, Culbreth Theatre (UVA)
Opening with personal testimonials that expose the complex rift between Africans and African Americans, the film traces the roots of African colonialism and African-American enslavement, laying bare their effects and how these have divided and bound Africans and African Americans. In his directorial debut, Peres Owino weaves historical narrative with personal dialogue to illuminate the cultures' shared history to foster mutual understanding.
Discussion with filmmaker Peres Owino and Kwame Edwin Otu (Carter G. Woodson Institute pre-doctoral fellow).
---
Sol LeWitt: Wall Drawings
2:45 p.m. Friday, Nov. 6, Newcomb Hall Theater (UVA)
A retrospective of LeWitt's wall drawings in North Adams, Massachusetts, the film highlights an exhibit by the conceptual art pioneer that began a 25-year run in 2008 and includes numerous posthumously installed works on roughly 40,000 square feet of wall surface—the most expansive view of LeWitt's oeuvre in a single space.
Discussion with director Tom Piper and moderator William Wylie (Art).
---
Generation A: Portraits of Autism in the Arts
4 p.m. Friday, Nov. 6, Vinegar Hill Theatre (Downtown Mall)
Through eight compelling portraits, the film celebrates the talents of youths with autism and provides them a platform on which to speak openly about their struggles. This documentary showcases the creative therapies and art programs that are available to stimulate the brain, encourage meaningful connections, and help young people on the autism spectrum reach their highest potential.
Discussion with Dr. Kristen Jamison, Dr. Laura Easter, Ron Reeve (Curry School), Peggy Halliday, and moderator Jane Hilton (Curry School)
---
Monroe Hill
5 p.m. Friday, Nov. 6, Newcomb Hall Theater (UVA)
Offering an unprecedented overview of President James Monroe's first farm in Albemarle County, the film was created with the assistance of student residents from UVA's Brown College. The documentary unearths the history of the last remaining structures of this late-18th-century plantation, serving as a silent witness to Monroe's struggle as a farmer and politician. Featuring previously unseen footage, the film brings to light a significant period for the future president of the United States and of the nation itself.
Introduction by Stephen Plaskon (Curry School), and discussion with director Eduardo Montes-Bradley, Sara Bon-Harper, William Ferraro (Papers of George Washington), Louis Nelson (Architectural History), and Dan Preston.
---
Most Likely to Succeed
6 p.m. Friday, Nov. 6, PVCC Dickinson Center
Director Greg Whiteley examines the history of education in the United States, revealing the growing shortcomings of conventional educational methods in today's innovative world. San Diego's High Tech High poses an alternative to traditional rote-based learning and standardized testing, focusing instead on a project-based curriculum and student-focused learning that develop critical and collaborative skills. Through interviews with students, teachers, and parents, this hopeful documentary points to a potential paradigm shift in education that could reawaken the love of learning and hold the key to success for millions of youth.
Discussion with executive producer Ted Dintersmith, Joe Allen (Psychology), Jennie Chiu (Curry School) Kathleen deLaski, and moderator Robert Pianta (Curry School).
---
Mercy Street
6:30 p.m. Friday, Nov. 6, Culbreth Theatre (UVA)
Produced in and around Richmond, Va., this new PBS Civil War drama takes viewers beyond the battlefield and into the lives of Americans facing unprecedented challenges during one of the most turbulent times in our nation's history. The series is set in the spring of 1862, and follows the lives of two volunteer nurses on opposite sides of the conflict. They collide at the Mansion House, a luxury hotel that has transformed into a Union army hospital in Alexandria, a border town and the longest-occupied Confederate city of the war. The series debuts on Jan. 17 on PBS.
Discussion moderated by Gary Gallagher (History), with actors Mary Elizabeth Winstead, Tara Summers, and Hannah James; and co-executive producer Lisa Wolfinger.
---
Projections of America
7 p.m. Friday, Nov. 6, Vinegar Hill Theatre (Downtown Mall)
Narrated by John Lithgow, the film uncovers the lost "Projections of America"—a series of 26 short documentaries about American life created by a team of filmmakers during World War II. Led by Academy Award–winning screenwriter Robert Riskin, the idealistic team hoped the power of their movies could reshape the world during the darkest hour of war. Capturing the optimism and messiness of democracy, the propaganda efforts of these brilliant filmmakers led to some of the most indelible images of America ever put on film.
Discussion with Grace Hale (History) and Victoria Riskin.
---
Short Films: Craft
9 p.m. Friday, Nov. 6, PVCC Dickinson Center
A collection of eight short films, devoted to the art and obsession of craftwork, that explore hobbies and passions that are anything but ordinary. The films include "Prairie," a 16-minute documentary directed by Prof. William Wylie (Art).
Wylie's film chronicles the first week of practice for the Prairie Mustangs, a six-man football squad from a small rural high school located within the Pawnee National Grasslands in eastern Colorado. Shot under the dramatic skies of the open prairie, the landscape functions as an austere stage set for the dance-like repetitions and synchronized dynamics of the players.
---
Radical Grace
10:30 a.m. Saturday, Nov. 7, Vinegar Hill Theatre (Downtown Mall)
This powerful documentary highlights the passion of Sister Simone, Sister Jean, and Sister Chris, following their spiritual efforts as they fight for women's full equality in the Catholic Church. In 2011, the Vatican was reprimanding American nuns for "radical feminism"—for focusing on social justice work and not toeing the line on homosexuality, reproductive health care, and women's roles in the church. After being cited by the Vatican for her progressive work supporting Obamacare, Sister Simone launched a cross-country "Nuns on the Bus Tour" focused on economic inequality in the United States.
Introduction by Nichole Flores (Religious Studies).
---
Until 20
11 a.m. Saturday, Nov. 7, Newcomb Hall Theater (UVA)
This documentary chronicles young James Ragan's fight to live after a terminal diagnosis of osteosarcoma, a rare and deadly form of cancer. Even in the face of multiple surgeries and experimental treatments, James commits to getting the very most from his tragically short life, working with his family to advocate for childhood cancer research, and leaving a legacy he hopes will far outlast his 20 years.
Discussion with filmmakers Geraldine Moriba-Meadows and Jamila Paksima, and Dr. Kimberly Dunsmore (Dept. of Pediatrics).
---
Another Way of Living: The Story of Reston, VA
11 a.m., Saturday, Nov. 7, The Southern (Downtown Mall)
Recent Peabody Award winner and director Rebekah Wingert-Jabi chronicles the journey of visionary American planner Robert Simon. Fifty years ago, Simon envisioned "another way of living" in the suburbs, with the intent of combining the best of the city experience with the best of the country. The result was the planned community of Reston, Va., an international sensation at the time that mixed the residential and commercial with the intent of creating open spaces, and promoting community.
Discussion with director Rebekah Wingert-Jabi, State Senator Janet Howell, Patrick Phillips, Chuck Vetch, and Tim Beatley (UVA School of Architecture).
---
The Black Panthers: Vanguard of the Revolution
11 a.m. Saturday, Nov. 7, PVCC Dickinson Center
The first feature-length documentary to explore the Black Panther Party, the film explores the Black Panthers' significance to the broader American culture, and the painful lessons wrought when a movement derails. The documentary features rare archival footage and the voices of those who witnessed this historical time firsthand, including police, journalists, and Black Panthers who shaped the movement. Documentarian Stanley Nelson goes straight to the source to create a vibrant chronicle of this pivotal movement that birthed a new revolutionary culture in America.
Introduction by Deborah McDowell (Carter G. Woodson Institute, English)
---
Born on the Fourth of July
1:30 p.m. Saturday, Nov. 7, Paramount Theater (Downtown Mall)
In director Oliver Stone's 1989 biographic film, Ron Kovic enlists in the Marines and, by 1968, is a sergeant fighting in the Vietnam War, where he experiences the massacre of a village of Vietnamese citizens. Ron is later severely wounded and sent to recover under deplorable conditions in a veterans' hospital. Finally returning home and permanently in a wheelchair, Ron begins to alienate his family and friends over political differences. Although he tries to maintain his dignity as a Marine, Ron struggles to find his way back into society when he feels his government has betrayed him and his fellow Vietnam veterans.
Discussion with director Oliver Stone and Bob Toplin (UVA School of Continuing and Professional Studies).
---
Imba Means Sing
4:45 p.m. Saturday, Nov. 7, Newcomb Hall Theater (UVA)
As depicted in this moving documentary, education is a luxury most families cannot afford in the slums of Kampala, Uganda. As the singers of the Grammy-nominated African Children's Choir embark on a world tour, they encounter invigorating joys and overwhelming challenges. With mounting pressure from their families to succeed during this once-in-a-lifetime opportunity, they strive for a chance to get an education—a gateway to realizing their dreams.
Discussion with producer Erin Bernhardt and Michelle Kisliuk (Music). A live performance by the University Singers, conducted by Michael Slon (Music), and the UVA African Music and Dance Ensemble, directed by Kisliuk, will take place before the screening.
---
Boom and Bust: America's Journey on the Erie Canal
6:15 p.m. Saturday, Nov. 7,  The Southern (Downtown Mall)
A meditation on economic cycles and the American Dream, this remarkable film tells the tale of industrial expansion and decline along the Erie Canal, and its impact on the lives of workers in four industries: African-American laborers from the Lackawanna Bethlehem steel plant, unionized "scoopers" from the Buffalo grain elevators, female textile workers from Seneca Falls, and a tugboat captain with vivid memories of the past and a passion for the future of the Erie Canal. Boom and Bust questions whether the people of America's cities can find meaning and worth in the wake of economic collapse.
Discussion with filmmaker Paul Wagner and Grace Hale (History).
---
Faust
8 p.m. Saturday, Nov. 7, Old Cabell Hall (UVA)
Director F.W. Murnau's iconic adaptation of Goethe's Faust echoes the dreamlike surrealism of his silent films like Nosferatu. Pious alchemist Faust despairs over his failure to stop a vicious plague sweeping over the land. Locked in a battle against God for Faust's soul, Satan sends the clever Mephisto to tempt Faust with a cure and a day's return to youth. Faust falls to temptation, trading his soul for eternal youth and Mephisto's servitude. He pursues a love affair with an innocent, beautiful woman that thrusts them both into damnation after she kills the infant born of their affair in a moment of madness. Their redemption hangs in the balance, a pawn in the games of unearthly spirits both below and above.
With live musical accompaniment composed by John D'earth (Music) and the Free Bridge Quintet.
---
Return To Cuba: In the Footsteps of Walker Evans
1:15 p.m. Sunday, Nov. 8, Vinegar Hill Theatre (Downtown Mall)
This intricate documentary offers a unique perspective on Cuba's complex cultural landscape as seen through the lenses of intergenerational photographers.
Just weeks before the American and Cuban governments reconciled, a group of renowned photographers traveled to Cuba and challenged themselves to document this historical tipping point through a reexamination and reinterpretation of the 1930s photographs of the legendary Walker Evans. Director Ross McDermott interweaves past and present as photographers pay homage to Evans's work. These photographers capture the colorful Cuban ethos with techniques ranging from quick street-style photography to uncommon camera-obscura practices.
Discussion with director Ross McDermott, producer Skip Klein, photographer Sam Abell, and moderator Roberto Armengol (A&S lecturer).
---
Sembene!
3:30 p.m. Sunday, Nov. 8, Vinegar Hill Theatre (Downtown Mall)
Documenting the life of Ousmane Sembene, a self-taught novelist and filmmaker who fought a 50-year battle to give Africans a voice, the film weaves together archival materials, new footage, and excerpts from Sembene's films to explore the artist's extraordinary life from hardship to triumph as the storyteller for a new Africa. Biographer Samba Gadjigo illustrates the determination and vision of the "father of African cinema" as he fights for the marginalized and becomes a hero to millions.
Introduction by Kandioura Dramé (French).
---
Rosenwald
3:45 p.m. Sunday, Nov. 8, Newcomb Hall Theater (UVA)
Director Aviva Kempner examines the often-overlooked philanthropy and civil rights activism of Julius Rosenwald, the former president of Sears. Inspired by the Jewish values of tzedakah (charity) and tikkun olam (repairing the world), Rosenwald would go on to build more than 5,300 schools in the Jim Crow South and award grants to some of the most well-known African-American intellectuals and artists. Featuring interviews with Maya Angelou, Julian Bond, and Rita Dove, this engaging documentary recognizes one of the unsung heroes of Jewish-American history and his commitment to social activism.
Discussion with director Aviva Kempner, Rita Dove (English), and Pamela Horowitz in tribute to Julian Bond.
---
Paradise
6 p.m. Sunday, Nov. 8, The Southern (Downtown Mall)
Produced over the course of eight years beginning in 2007, this feature-length nonfiction film by Assoc. Prof. Lydia Moyer of UVA's McIntire Department of Art focuses on seven American stories of abandoned or unoccupied sites, quietly investigating their landscapes to consider who and what we are comfortable remembering. The locations include that of Wounded Knee in South Dakota; Centralia, an erstwhile mining town in the anthracite region of Pennsylvania; and the site of Jonestown in Guyana. A communal as well as an individual history, Paradise is as much about the past as it is a poetic meditation on the present, the future, and the meaning of home.
Discussion with filmmaker Lydia Moyer (Art).
---
My Friend Victoria
7:30 p.m. Sunday, Nov. 8, Violet Crown A (Downtown Mall)
In this French film's intimate portrait of class and racial barriers, director Jean-Paul Civeyrac examines the societal tensions that can divide lovers and families. Victoria, a young girl from a humble background, spends the night with the bourgeois family of Thomas, one of her classmates, and becomes infatuated with their rich lifestyle. Years later, their two worlds collide in a passionate but brief romance, and their reunion leads to the birth of a daughter. After Victoria finally introduces Thomas to their young daughter, she struggles with the consequences of turning to Thomas's family in the hope of providing her daughter with a brighter future.
Introduction by Ari Blatt (French)
---
Son of Saul
7:30 p.m. Sunday, Nov. 8, Culbreth Theatre (UVA)
Director László Nemes's debut film redefines the World War II genre, and the Hungarian feature won the coveted Grand Prix at the 2015 Cannes Film Festival. Saul Ausländer is a Hungarian member of Auschwitz-Birkenau's Sonderkommando, the group of Jewish prisoners isolated from the camp and forced to assist the Nazis in the machinery of large-scale extermination. While working in one of the crematoriums, Saul discovers the corpse of a boy he believes to be his son. As the Sonderkommando plans a rebellion, Saul decides to carry out an impossible task: save the child's body from the flames, find a rabbi to recite the Mourner's Kaddish, and offer the boy a proper burial. This film will be presented from a director-approved 35mm print.
Introduction by Asher Biemann (Religious Studies).