Next Cohort of College Fellows Selected for New Curriculum
The fourth cohort of College Fellows charged with designing and teaching the Engagement courses for the New College Curriculum pilot features Arts & Sciences faculty members from nine different academic departments.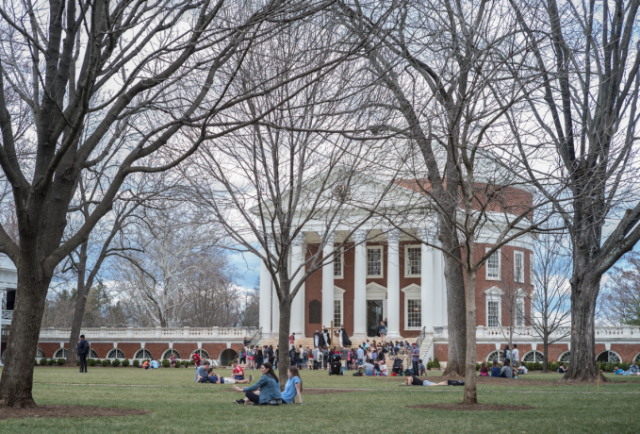 The following faculty members have accepted invitations to serve as College Fellows:
Tico Braun (History)
Jack Chen (East Asian Languages, Literatures & Cultures)
Shilpa Dave (Media Studies)
Nichole Flores (Religious Studies)
Kevin Lehmann (Chemistry)
Michelle Kisliuk (Music)
Emily Ogden (English)
Ricardo Padron (Spanish)
Mark Whittle (Astronomy)
Bruce Williams (Media Studies)
The selected faculty will serve as College Fellows for two years, through the Fall 2021 semester. The Engagements serve as the first component of courses in the New Curriculum and aim to orient students to foundational habits of mind and intellectual sensibilities that cut across disciplinary specialization. The Engagements seminars explore four specific themes: Engaging Aesthetics, Empirical & Scientific Engagement, Engaging Differences, and Ethical Engagement.
The new cohort of College Fellows joins a distinguished group of A&S faculty who have served or are serving in this capacity:
Co-Directors
Janet Spittler (Religious Studies) – Co-Director 2018-19
Chad Wellmon (German) – Co-Director 2018-21
Sarah Betzer (Art History) – Co- Director 2019-21
Cohort 2
Hanadi al-Samman (MESALC)
Sylvia Chong (American Studies / English)
Ted Coffey (Music)
Sarah Corse (Sociology)
Claire Cronmiller (Biology)
Robert Fatton (Politics)
Gertrude Fraser (Anthropology)
Grace Hale (American Studies / History)
Kelsey Johnson (Astronomy)
Mona Kasra (Drama)
Chuck Mathewes (Religious Studies)
Becky Stangl (Philosophy)
Cohort 3
Jessica Connelly (Psychology)
Bonnie Gordon (Music)
Alison Levine (French)
Andrea Press (Media Studies / Sociology)
Isaac Reed (Sociology)
Dorothy Schafer (Biology)
Jalane Schmidt (Religious Studies)
Karl Shuve (Religious Studies)
Chip Tucker (English)
Josh White (History)
Postdoctoral Fellows
Roberto Armengol
Brandy Daniels
Liza Flood
Adrienne Ghaly
Laura Goldblatt
Josh Mound
Travis Pickell
College Fellows Alumni
Ahmed Al-Rahim (Religious Studies)
Bruce Holsinger (English)
Jamie Morris (Psychology)
Debora Roach (Biology)
Siva Vaidhyanathan (Media Studies)
Lisa Woolfork (English)