U.S. Sen. Reid to Deliver Inaugural U.Va. Lecture on Religious Liberty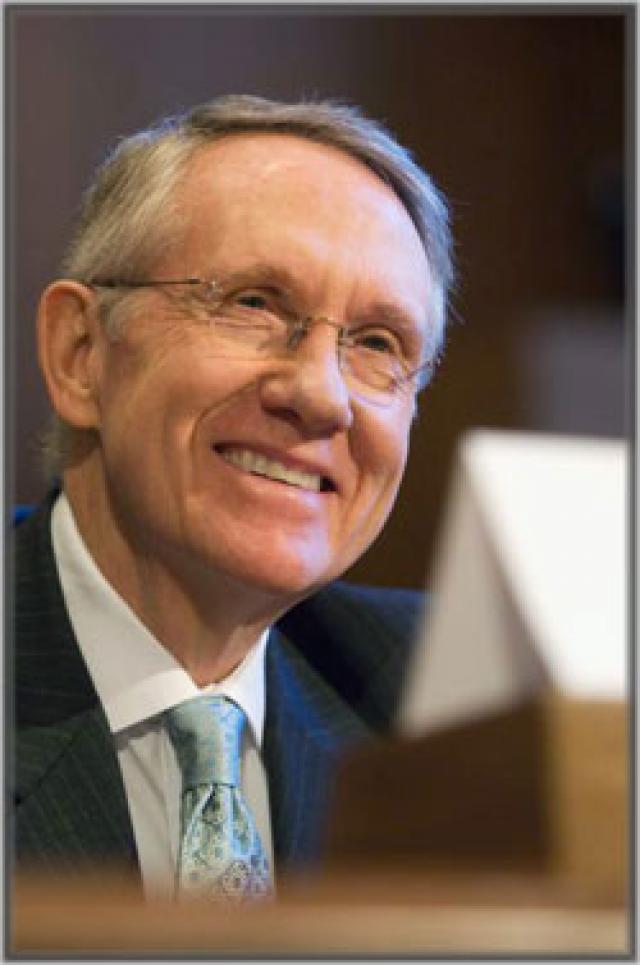 Office of Harry Reid
Addressing the intersections of religion and politics, U.S. Senate Democratic leader Harry Reid will deliver the University of Virginia's inaugural Joseph Smith Lecture on Religious Liberty on Sept. 26.
Sponsored by the College and Graduate School of Arts & Sciences' Department of Religious Studies, the afternoon event will feature an interview with the five-term senator. Nevada's senior U.S. Senator, Reid will answer questions from the audience about the Senate's role in mediating rights of religious conscience following the interview.
"Too often, the courts are seen as the sole arbiters of religious liberty in relation to minority interests," said Prof. Kathleen Flake, U.Va.'s Richard Lyman Bushman Chair of Mormon Studies. "We seek to balance that view with Senator Reid's insight into the legislative process, as well as less formal political activity. In any case, we expect the conversation to be a lively one."
The lecture is scheduled to take place at 2 p.m. in the Newcomb Hall Theater.
Sen. Reid's appearance is part of a planned series of lectures and conferences supported by U.Va.'s Mormon Studies program. An endowed professorship was created for this emerging field of scholarship within the Department of Religious Studies in 2013, when Flake was named the University's inaugural Bushman Chair.
The University of Virginia was the first major public university to establish a Mormon Studies chair. The sixth endowed chair in the College's Department of Religious Studies, the Bushman Chair was established with a $3 million endowment funded by anonymous donors.
A leading scholar in the field of Mormon Studies, Prof. Flake came to U.Va. from Vanderbilt University, after 13 years of teaching experience in American religious traditions. A former attorney, she continues to research issues related to the influence of law on religion and to the tensions inherent in the First Amendment religion clauses.
Her present book project aims to bring these varied interests together in a study of the first generation of plural marriages and the significance of gender to the development of early Mormonism's power structure.
Tickets reservations for Reid's appearance may be made through the University of Virginia Arts Box Office, and tickets may be picked up on Sept. 26 between 12:45 p.m. and 1:45 p.m.
For more information about obtaining tickets to the Joseph Smith Lecture on Religious Liberty, visit the UVA Box Office, or call 434-924-3376.