U.Va.-Hosted Conference to Wrap Up Series Marking 150th Anniversary of the Civil War
Still intrigued by Civil War history? Well, join the club.
Interest in all things Civil War remains amazingly high, and the war's place in history continues as a rich trove for academic research and public debate.
The University of Virginia on Saturday will host the capstone event in a statewide exploration of the 150th anniversary of Virginia's participation in the Civil War. Since 2009, the Virginia Sesquicentennial of the American Civil War Commission has conducted programs, seminars, discussions and other events surrounding important aspects of the War Between the States.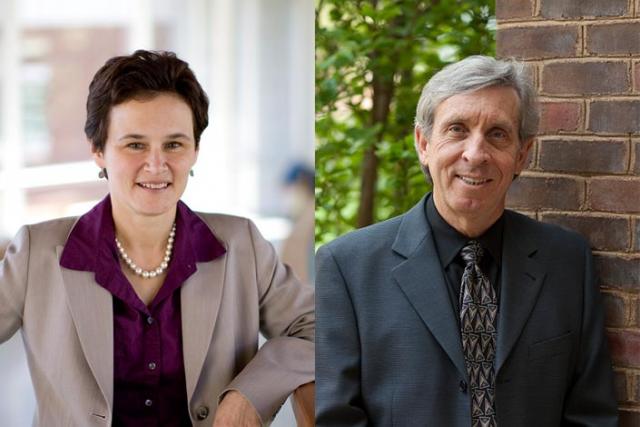 This weekend's concluding conference, "Causes Won and Lost: The End of the Civil War," will bring together leading historians to discuss the war's closing, its aftermath and its legacy in American life. Though seating in Old Cabell Hall is already at capacity and registration is closed, the conference will air live on C-SPAN 3 on Saturday at 8:45 a.m. The proceedings will also be rebroadcast at 6 p.m. A livestream for remote viewing will be available in the Nau Hall Auditorium on a first-come, first-served seating basis.
UVA Today caught up with the conference co-chairs – Gary W. Gallagher, John L. Nau Professor in the History of the American Civil War, and Elizabeth R. Varon, Langbourne M. Williams Professor of American History – in advance.
Q: A century and a half have passed and people are still talking about the Civil War. Why does it remain such a hot topic?
A: The Civil War draws our interest for so many reasons. It revolved around pivotal issues – freedom, social justice, state power, regional identity – that we continue to grapple with, and in many ways it augured modern warfare, with massive scale of destruction and blurring of home front and battlefront. The war has left behind a remarkable historical record for us to study, of written and visual sources, landscapes and artifacts – and the state of Virginia is particularly rich in such sources. 
But the Civil War and the 19th century are also fascinating for their distance from us, and their elusiveness: each new generation struggles to answer difficult questions about what motivated the participants, and about the war's inevitability and its many "what-ifs." The 19th century seems to us familiar at first glance, but as we delve into it, we find it was a time very different from our own – and that the Civil War era can still yield to us many exciting new discoveries.
Q: Tell us about the format and content of the conference. How will it serve as a capstone for the series of "Civil War 150" events sponsored by the state of Virginia?
A: The Signature Conference series, hosted by Virginia universities, is in its seventh year, and has been very successful and well-attended. The annual events have been occasions both for scholarly exchange and debate and for good fellowship. In that spirit, we have opted for an interactive format for this conference; instead of having scholars present lectures, our four panel discussions will be unscripted, open-ended conversations, followed by audience questions, with time built in for the panelists and attendees to meet and mingle. 
Q: What will people attending the conference or those watching on C-SPAN take away from the weekend's discussions?
A: We'll spend time assessing the leadership and legacies of iconic figures such as Abraham Lincoln, Robert E. Lee, U.S. Grant, Frederick Douglass and Jefferson Davis. But we'll also discuss broad social and cultural trends and the public commemoration of the war. 
Attendees should gain a good appreciation of the difference between history and historical memory, between what happens and how different groups of participants and others choose to recall the events. 
This capstone conference affords us the opportunity to look back on the sesquicentennial itself, and compare and contrast it with the Civil War centennial of the 1960s – and also to look forward, to chart a course for the sesquicentennial remembrance of Reconstruction, and for the further development of the field of Civil War studies.