From UVA to Stanford and Back Again: Senior Associate Dean Adam Daniel Returns to Grounds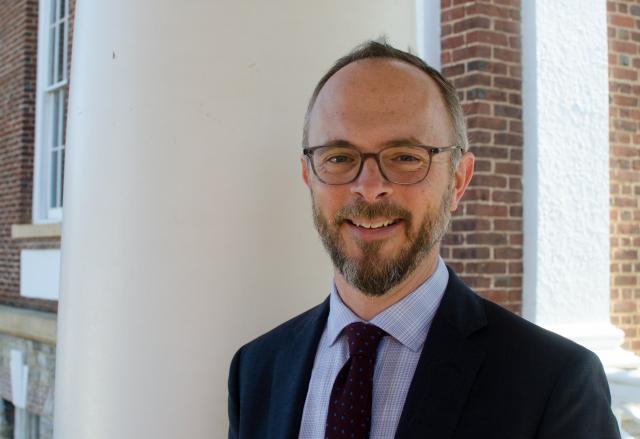 Adam Daniel didn't need a walking tour to learn his way around Grounds when he reported for work at New Cabell Hall last month. Before leaving for Palo Alto, Calif. in 2008 to serve as Senior Associate Dean for Finance and Administration for Stanford University's School of Humanities and Sciences, Daniel worked 10 years in a variety of strategic planning roles within the College and Graduate School of Arts & Sciences.
Eight years later, Daniel has returned to the Dean's Office as Arts & Sciences' new Senior Associate Dean for Administration and Planning.
"This is an incredibly exciting time to be back here," Daniel said last week. "There's so much change going on around Grounds right now, and it's interesting to see how UVA is transforming itself and embracing change. It's a privilege to be a part of it."
In his first month back at UVA, Daniel dove in on two critical initiatives that began ramping up well before his arrival: the College's proposed redesign of its undergraduate curriculum, and the University's Bicentennial fundraising campaign.
"The proposed curriculum redesign is obviously a tremendously important initiative. Looking at the curriculum for the first time in decades, and the opportunity to rethink it in a way that would help shape our students as future leaders nationally and globally, that's really exciting," Daniel said. "Then planning for the Bicentennial campaign and really thinking about how a fundraising campaign can be structured to support Arts & Sciences' academic priorities has also occupied a lot of my time and interest. We need to consider how that planning for development funding intersects more generally with financial planning related to other funding streams."
Reconnecting with friends and family – Daniel's wife's family lives in Charlottesville – played a big part in his decision to come back to UVA, which Daniel said fosters a strong sense of community and interpersonal connections, on and off Grounds. The University's leadership role as a flagship public institution also served as a major driver.
"I think there's a really important battle to be fought for the future of public higher education. UVA is in a great position to embrace the best practices of public and private universities and is poised to serve as an exemplar of the public university of the 21st century."
One of Daniel's first priorities since arriving has been identifying ways to support and foster a culture of collaboration and long-term planning within Arts & Sciences.
"I think now, with the University's new financial model, the curriculum reform proposal and other strategic considerations coming along, we really need to have more capacity to look ahead and to structure our planning in a more intentional way. While remaining mindful of the annual cycles, it's time to look ahead five, seven, 10 years, and beyond."
Nurturing opportunities for collaborations, both within Arts & Sciences' varied departments and across UVA's different schools, is also important to Daniel.
"The College accounts for about 70 percent of the undergraduate teaching on Grounds, and frankly, we are sort of a microcosm of the University," Daniel said. "So when we're talking to central leadership about different University initiatives, we should feel empowered to say, 'If you want to try something out and get a sense of whether it's going to work, talk to us. Because if it works here, it will probably work at the University level. I think there's a tremendous advantage to collaboration and innovation at that level."
In the same spirit, Daniel said he hopes to develop more opportunities for collaborative efforts across Arts & Sciences' departments and programs, and with UVA's other schools. With planning efforts increasingly focused on multi-disciplinary research and teaching initiatives stretching across different schools on Grounds, collaboration is key.
"Right now, at week four of my tenure, it's about planning and community building," Daniel said. "Strengthening our sense of community is so important. There is a risk for all of us, as we focus on each of our specialized, narrow tasks, to feel disconnected from the overall mission of this great institution. Collaboration, across schools and within Arts & Sciences, is going to be increasingly important to build and maintain."