16 New Books by UVA Authors to Consider Reading This Summer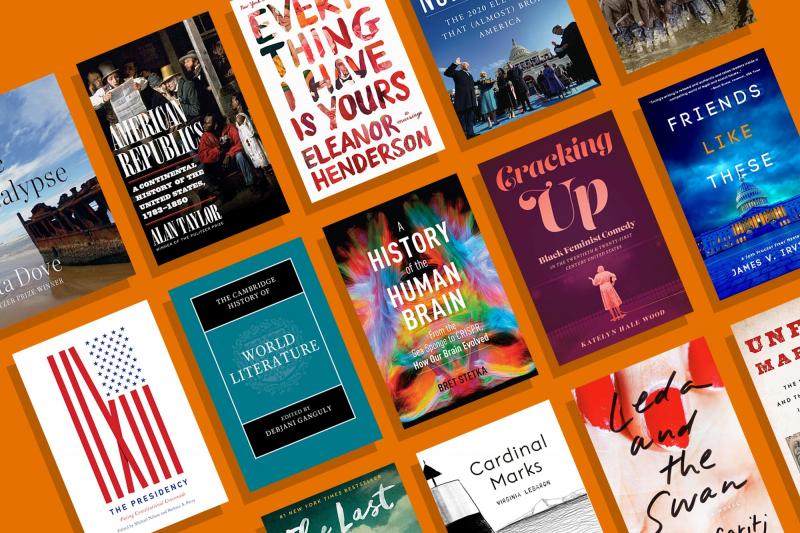 University Communications
From memoir to mystery, from work advice to analysis of the 2020 elections, University of Virginia faculty members and alumni have published, or soon will publish, books that appeal to a wide range of tastes and topics. 
Mystery, Memoir or Poetry
Laura Dave's fifth book, "The Last Thing He Told Me," has been on The New York Times' bestseller list since May – not a new experience for this 2003 M.F.A. alumna in fiction from the English department's Creative Writing Program. Two other novels, "Eight Hundred Grapes" and "The Divorce Party," also were bestsellers.
This latest story, called "gripping" by one reviewer, follows the "mystery about a woman who thinks she's found the love of her life – until he disappears."
Reese Witherspoon selected the novel in May for her book club, and the actor will also co-produce a scripted adaptation for Apple TV, with Julia Roberts co-producing and starring in it.
Rita Dove, Henry Hoyns Professor of Creative Writing, will see her first volume of new poems in 12 years, "Playlist for the Apocalypse," published Aug. 3. [Although it's not in this book, Dove's poem, "Daffodil," which she read for 2021 Final Exercises, can be heard in this video.]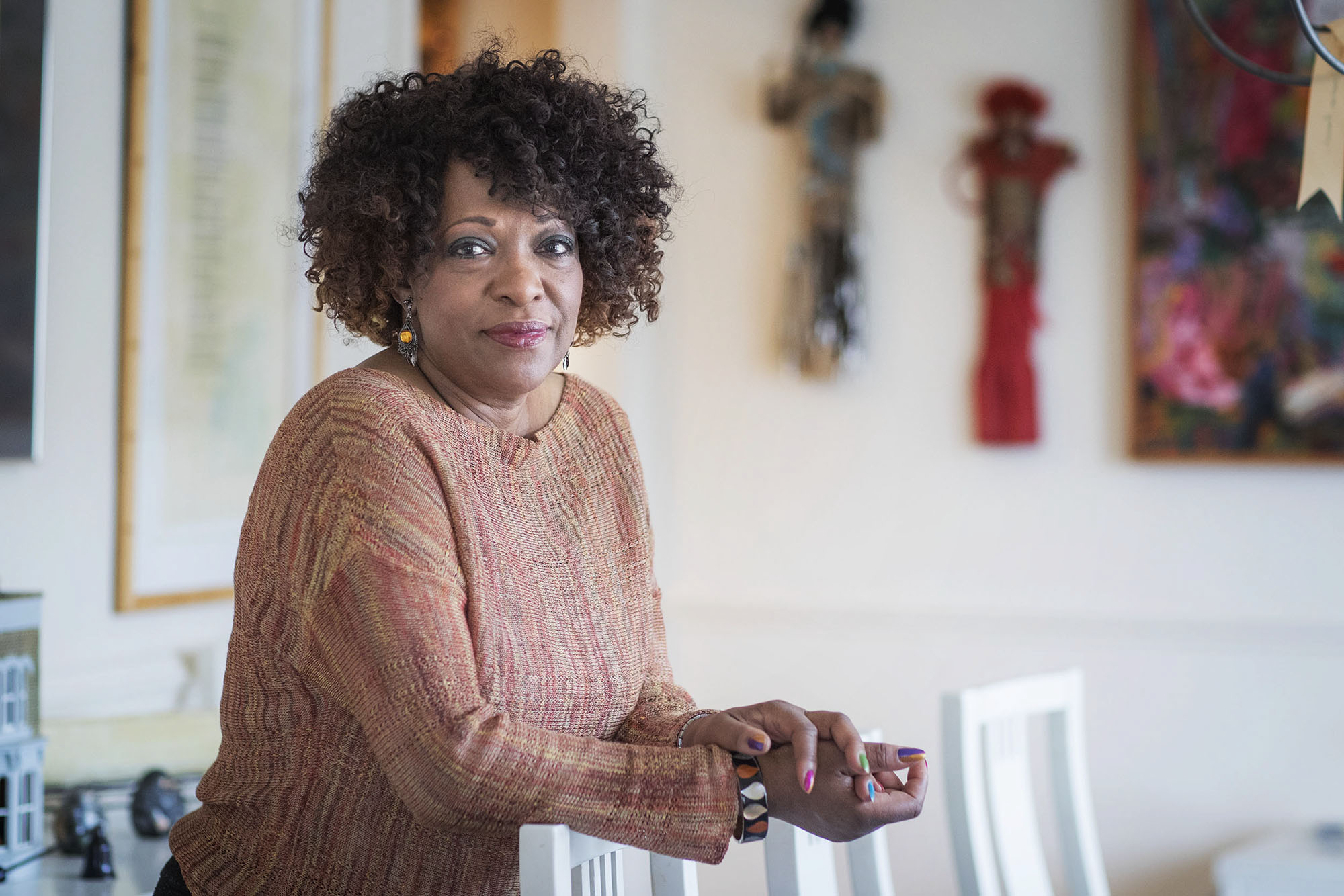 Rita Dove (Photo by Sanjay Suchak, University Communications)
The publisher, W.W. Norton, describes these poems in which "Dove investigates the vacillating moral compass guiding America's, and the world's, experiments in democracy. Whether depicting the first Jewish ghetto in 16th-century Venice or Black Lives Matter, this extraordinary poet never fails to connect history's grand exploits to the triumphs and tragedies of individual lives – the simmering resentment of an elevator operator, an octogenarian's exuberant mambo, the mordant humor of a philosophizing cricket."
James V. Irving, a UVA alumnus who became a lawyer, kept notes when he was first a private detective in the '70s. He published his first of a planned trilogy, the thriller "Friends Like These," in November 2020. His second book with the main character, lawyer Joth Proctor, "Friend of a Friend," is now available.
Virginia LeBaron, assistant professor of nursing, has focused on oncology and palliative care in her medical profession. Her debut book, "Cardinal Marks," is a collection of poems.
"These poems explore the territory between guilt and forgiveness, childhood and adulthood, and perhaps especially between life to death," wrote Lisa Russ Spaar, poet and UVA professor of creative writing.
Debjani Ganguly, professor of English and director of UVA's Institute of the Humanities and Global Cultures, edited a new book, "The Cambridge History of World Literature," that will be released in July, showcasing creative work and new perspectives about select authors and regions around the globe.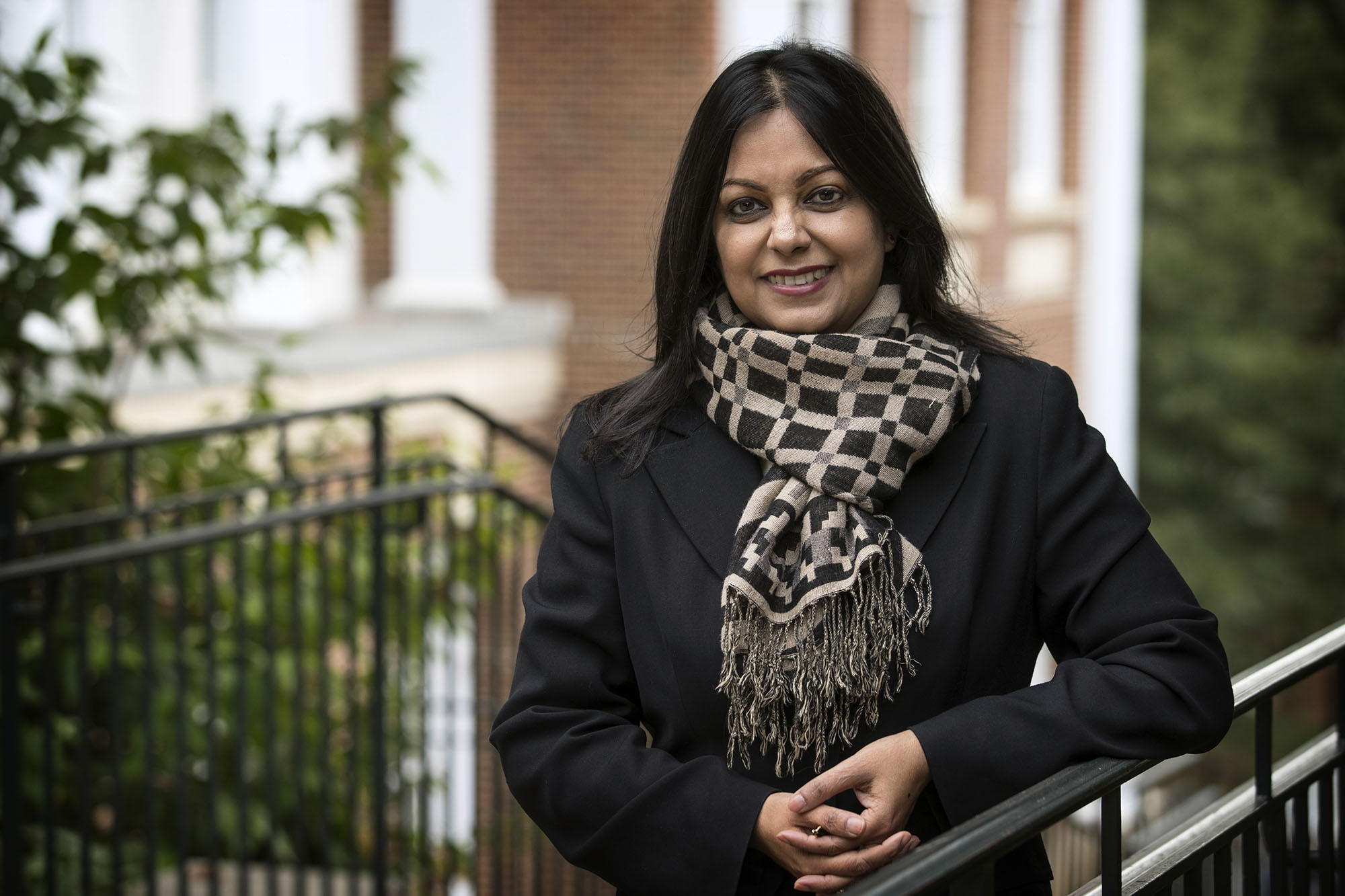 Debjani Ganguly (Photo by Dan Addison, University Communications)
Alumna Eleanor Henderson's memoir, "Everything I Have Is Yours," about her longtime marriage and her husband's chronic illness, will be published in August by Flatiron Books. Henderson, who earned her M.F.A. in fiction writing in 2005, has published two novels, and many essays and short stories. She is the Robert Ryan Professor in the Humanities at Ithaca College in New York, where she chairs the Writing Department.
Safiya Sinclair's "How to Say Babylon: A Jamaican Memoir" is due out soon and reveals her upbringing in the patriarchal culture of the Rastafarian religion. She received her M.F.A. in poetry from the UVA Creative Writing Program in 2014 and her Ph.D. in literature and creative writing from the University of Southern California. Her debut book of poems, "Cannibal," published in 2016, won several awards.
Anna Caritj is a UVA alumna and author of the debut novel, "Leda and the Swan." The publisher writes: "With a perceptive eye, Caritj depicts how violence can shake a seemingly peaceful [college] community while also interrogating the insidious seeds that spawn it, often hidden in plain sight. In this way, Caritj delivers a novel desperately needed for a current cultural climate reckoning with urgent and long overdue questions around sex, power and consent."
History and Politics
Justene Hill Edwards, assistant professor of history, published her first scholarly book, "Unfree Markets: The Slaves' Economy and the Rise of Capitalism in South Carolina," in April via Columbia University Press.
The book "explores the economic lives of enslaved people, not as property or bonded laborers, but as active participants in their local economies. 'Unfree Markets' provides the fullest account to date of the strategies that enslaved people used to create their own networks of commerce, from the colonial period to the Civil War." The time and energy that enslaved people invested in their own economic enterprises, however, did not enable them to secure their freedom.
Alan Taylor, Thomas Jefferson Foundation Professor of History, who has won two Pulitzer Prizes for past work, recently published "American Republics: A Continental History of the United States, 1783-1850." Taylor focuses on the growth of American territory and national power through diplomacy and wars aimed at clearing Native Americans from Western land coveted by settlers, gaining new territory for slave states, and warding off Great Britain and Spain.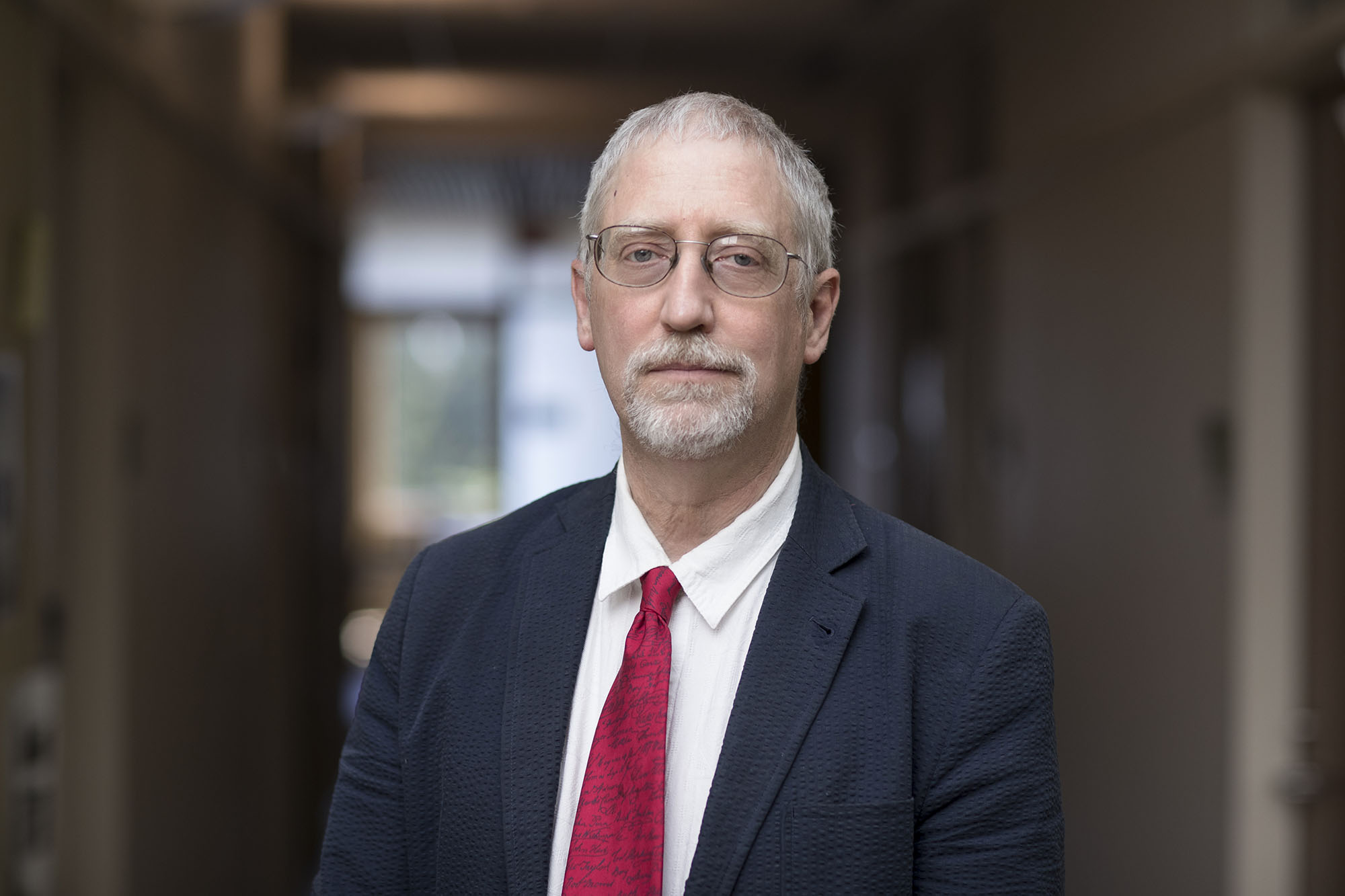 Alan Taylor (Photo by Dan Addison, University Communications)
The portrait of the U.S. that emerges is not flattering, as the publisher's description says: "Taylor foregrounds white supremacy, sexism, slavery, the miseries of industrial capitalism, the ethnic cleansing of Native Americans, and atrocities committed by U.S. soldiers in the Mexican War. This elegantly written and thoughtfully argued study shows how rickety and explosive the American project was from the start."
In "The Road Less Traveled: The Secret Battle to End the Great War, 1916-1917," Philip Zelikow, White Burkett Miller Professor of History and J. Wilson Newman Professor of Governance at the Miller Center of Public Affairs, discusses the possibilities of peaceful negotiations that could've ended World War I earlier, saving millions of lives – but were never undertaken.
If readers haven't had enough about the 2020 election, they can check out this book from the Miller Center's Michael Nelson, a nonresident senior fellow, and Barbara Perry, Gerald L. Baliles Professor and director of presidential studies. The duo edited "The Presidency: Facing Constitutional Crossroads," published in April by the University of Virginia Press in the Miller Center Studies on the Presidency series.
In addition, the Center for Politics has also published "A Return to Normalcy?: The 2020 Election That (Almost) Broke America." Larry Sabato, Robert Kent Gooch Professor of Politics and director of the Center for Politics, with center colleagues J. Miles Coleman and Kyle Kondik, edited this collection of essays.
Comedy, Business and Science
Katelyn Hale Wood, an assistant professor of drama, looks closely at Black feminist comedy in her new book, "Cracking Up: Black Feminist Comedy in the 20th and 21st Century United States." She explores the work of Jackie "Moms" Mabley, Mo'Nique, Wanda Sykes, Sasheer Zamata (a UVA alumna) and other Black female entertainers to show how they have created vital elements of feminist, queer and anti-racist protest.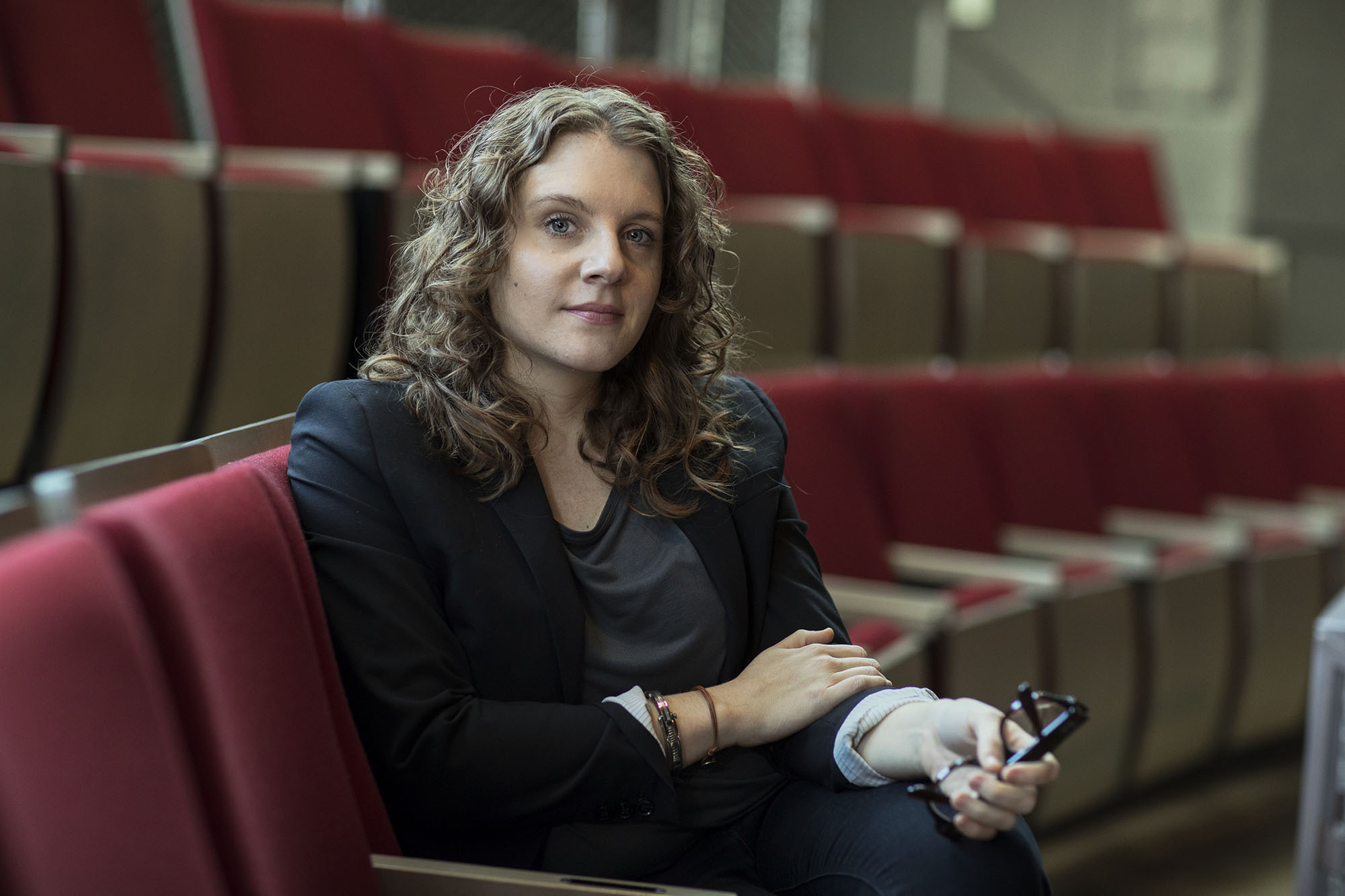 Katelyn Hale Wood (Photo by Dan Addison, University Communications)
Jim Detert, the John L. Colley Professor of Business Administration in the Darden School of Business, and his book, "Choosing Courage: The Everyday Guide to Being Brave at Work," are getting some positive media attention since the book's publication last month from Harvard Business Review Press. (See this Darden article and this UVA Today Q&A in January 2019 before the book was finished.)
The publisher describes "Choosing Courage" as providing "the moral imperative and research-based tactics to help you make better use of your courageous instincts at work."
In a recent interview in Associations Now, Detert said courage is an asset that should be cultivated. Courageous staff are "just flat-out solving problems more quickly. They're pursuing opportunities before they're lost or a competitor takes them," he said. "There is also high employee engagement and commitment. That ranges from people making fewer mistakes, people working harder, people being more creative, to people engaging in organizational citizenship – their willingness to help, their willingness to go above and beyond."
Bret Stetka, a 2005 School of Medicine alumnus and neuroscientist, has worked as an editor and writer of the medical news website, Medscape, since 2007 and written for lay audiences in media such as Scientific American, the Atlantic and NPR. His new book, "A History of the Human Brain: From the Sea Sponge to CRISPR, How Our Brain Evolved," delves into how our early Homo sapiens ancestors survived and where our evolved brains are headed.
About 125,000 years ago, humanity was on the edge of extinction when a dramatic shift occurred, according to Stetka; Homo sapiens in Africa started tracking the tides and eating the nearby oysters. Before long, they'd pulled themselves back from the brink of extinction. What saved them?
 
In "A History of the Human Brain," Stetka answers that question, showing exactly when and how the human brain evolved to shape who we are today. The book explores the growing concept of epigenetics as well as technologies like CRISPR that allow scientists to manually edit our own genetic code. The biological and ethical questions are wide-ranging: What will happen next? Could the evolutionary path of the human brain be leading to its own replacement?