6 Questions About UVA's Timely New Democracy Initiative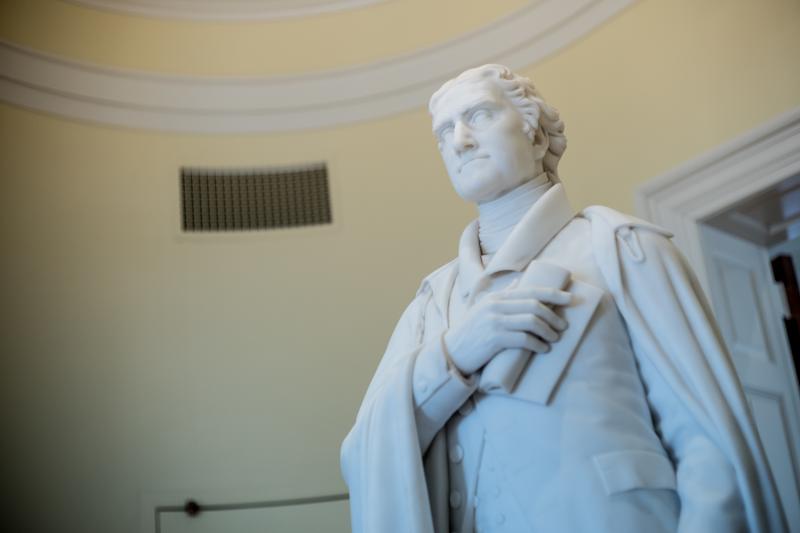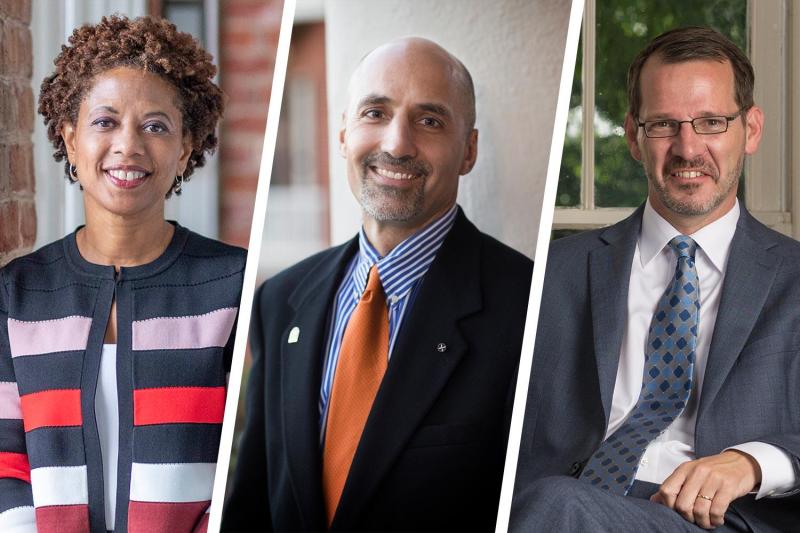 Left to right, Democracy Initiative co-director Melody Barnes, Miller Center director William Antholis and College of Arts & Sciences Dean Ian Baucom.
Dan Addison and Sanjay Suchak / University Communications
How do government institutions remain functional, trustworthy and effective? And what happens when they don't?
How is social media changing our democracy?
How is income inequality influencing the way we vote, act and live, and what can we do about it? 
These are just a few of the big questions that the University of Virginia's newly announced Democracy Initiative will work to answer as it brings the full power of the University's scholarship to bear on the most essential issues facing democracies around the world.
The initiative, funded by more than $10 million in gifts as well as additional matching funds from the University's Strategic Investment Fund, will be led by UVA's College and Graduate School of Arts & Sciences and the nonpartisan Miller Center of Public Affairs, and is co-directed by Melody C. Barnes, former director of the Domestic Policy Council for President Barack Obama. She has just been named as a professor of practice at the Miller Center to lead this effort, after having served since 2016 as a visiting professor and senior fellow there and a distinguished fellow at the School of Law. The College has begun a nationwide search for an academic co-director to join Barnes in leading the initiative and guiding the research agenda.
Interdisciplinary faculty and student teams will address key research questions in a series of "democracy labs," focusing on issues ranging from corruption to media to religion and race. The labs will support new courses and share their research in multiple forms, including books, articles, digital media and podcasts series like "Sources of In | Tolerance," exploring seminal works that have shaped our public discourse today.
The initiative also will host plenty of public events, including a three-day Presidential Ideas Festival in May, when White House veterans, political figures and diplomats from both parties will join scholars and students on Grounds to discuss the future of the American presidency.
We sat down with Barnes, College of Arts & Sciences Dean Ian Baucom and Miller Center Director and CEO William J. Antholis, who also held a staff position at the White House National Security Council and the National Economic Council, to learn more about the new initiative and how students and alumni can get involved.
Q. Why has UVA taken on this research mission, and why now?
Baucom: Two reasons, really. One is our founding DNA. There is a core connection between the idea of the university and the idea of a republican democracy, built in from the beginning of this country and this school. When I think about the mission of Arts & Sciences at UVA, I often return to this question: What do democracies need from their universities? It seems to me that we exist to answer that question in fundamental ways.
Additionally, democracies around the world are facing various threats. In South Africa – where I grew up – a 25-year-old democracy is facing significant challenges even as it builds on the triumphs of the anti-apartheid struggle. The same is true in North Africa, Latin America, Western Europe and beyond. This is a challenging time for democratic cultures in the U.S. and around the world.
Barnes: I believe UVA is the best place to be doing this work at this moment, for all of the reasons that Ian mentioned and also given the University's rich scholarly resources and growing presence in Washington, D.C., where we can make use of the Darden School of Business's new facilities. This work will not sit on a shelf; it will go directly into the bloodstream in Washington and beyond, and invite policymakers, non-profit and business leaders, the public and democracies around the world to engage with us so we can learn from one another. We have a key question to answer at home and abroad: How do we create the democracies of our aspirations and ideals?
Baucom: I also want to add that while this initiative was being developed before August 2017, the white supremacist attacks on the city and the University last year affirmed our sense of responsibility. Because of who we are and where we are, we need to speak in this moment.
Q. In your opinion, what are some of the key challenges facing democracies around the world?
Barnes: I think the role of traditional and social media has been a conundrum for nation-states around the world. We have certainly seen the use of media tools to further democracy, but we have also seen those same tools fracture democracy or build on the fractures and fissures that already exist. Understanding and navigating that is so important, especially when so many people are hungry for greater civil discourse and need to trust the integrity of their democratic systems.
Antholis: As we developed this initiative, UVA faculty members put forward so many interesting questions that are important for democracies. What factors can weaken political institutions? How does a democratic system survive if there is not equal opportunity for people to succeed? What should international relations among democracies look like? How do we communicate with each other and how does that affect us? How are issues around race, religion and ethnicity affecting our democracies? These are all questions that will sustain our research.
Baucom: Another area I find particularly fascinating is the rise of artificial intelligence – how it will affect workers, companies and the economy and how those effects will change our social lives and politics. That and many other issues will be addressed in the labs, which focus on five pillar areas, including trusted, effective and accountable government institutions; issues of liberty, equality and tolerance; fact-based civil discourse and media; economic vitality; and resilient democratic governance in world affairs.
Q. As our culture navigates these issues, how will the Democracy Initiative build bridges between academic research, policymaking and public discourse?
Baucom: The challenge for the labs is to work collaboratively across UVA and also work with practitioners from public policy, military, government and industry to identify tangible, problem-focused research. For example, one of the labs will focus on corruption, an endemic challenge for democracies around the world. How do you address corruption? Is it effective to address it through the courts, or through regulation? What actually works, what makes a tangible difference and how can we share those solutions?
Additionally, it is important to note that all of this will flow from a core lab initiative looking at the history, principles and philosophy of democracy. You need policymakers and you need political theorists. You need people working in national security and cybersecurity, but you also need historians and philosophers who understand what a democratic culture looks like.
Barnes: We want to consistently think about how scholars at UVA can do the great work they are doing, speak to their peers in academia and also translate that information in a way that is useful and useable by those who have to move quickly in the public policy arena.
We also want the information to be accessible to the public. Among other things, we will be producing podcasts, digital media and events to start and support conversations that lead to action. We are also going to think about curricula, not just for students at the University, but for K-12 students and teachers to think about these important questions.
Finally, we will have the Presidential Ideas Festival, the first of our biennial world democracy forums. That will be a significant way to bring policymakers, practitioners, the public and the UVA community together in Charlottesville to engage with this research.
It's also important to note that this work will not only be about history and politics, but also about the arts, science, economics, architecture and more. Every discipline has a role to play as we build the Democracy Initiative, because they all shape our culture, the way we live, and how we exchange ideas.
Antholis: As Melody said, this work is so interesting because it brings in so many different disciplines. This will give us a broader, richer sense of the tapestry of democracy from a research perspective. Then, by bringing in someone like Melody, who has been at the center of some of the most important policy issues in the last two decades, you can get directly into the culture of politics in America and reach a wide range of policymakers and policy shapers. It's not just people sitting in institutions that shape policy; it is people sitting at computers or holding phones, driving social media around these issues.
Q. Bill and Melody, how might you have used this research during your times in the White House?
Antholis: Whether we were trying to decide about a policy issue or convening an expert panel, the network of academic researchers were the first people we were steered toward. On issues that I felt like I knew something about, I knew where to go. But often in the White House, you are handed an issue that you know little about. You need to go someplace where you can quickly access a wide range of opinions on a topic.
As an example, I was on the White House planning team for the Kyoto climate change negotiations in 1997. We were all getting up to speed on climate change and we needed to go to academics with real substantive depth in that area. For policymakers, turning to an organization that is as rich, deep and diverse as UVA, and knowing not just what the research is, but who is producing that research, will be very valuable.
Barnes: Absolutely. My staff and I engaged with academia both formally and informally in the White House, from appointing task forces to studying issues as Bill describes. I think about our work on bioethics, child nutrition and obesity with the first lady, our work on health care and education. When I worked for Sen. Kennedy, he often had us bring academics in for briefings on particular topics.
In every instance, we engaged with academics to help build our work and identify policy solutions. If you have easy access to really strong academic research, that engagement can be very robust.
Q. How can students and alumni take full advantage of the Democracy Initiative?
Baucom: This is a research and policy initiative, but it is also very much a teaching initiative. All of the labs will organize a series of undergraduate courses available from the first semester of a student's first year, with linked courses in subsequent semesters and an opportunity to reconvene for project-driven research. Students can also participate in the research aspect, joining practitioners, graduate students and faculty members for hands-on research in the labs.
We also want to get students more engaged in Washington, D.C., and find ways for them to enter into public life there. Most broadly, we need students and alumni to engage with our events and debates, model civil discussion with one another and help us identify the next big questions we want to tackle.
Antholis: One of the first jobs I had in politics was as the advance person on a political campaign, organizing events for candidates. Planning something like the Presidential Ideas Festival or smaller events involves a lot of strategizing, logistics and communications work. Students can join in that work, which is in itself a learning experience, part of the kind of active citizenship that I think is one of the most exciting parts of this whole effort.
Baucom: I tend to think of our alumni as a kind of "faculty-at-large," because of their professional expertise and their love for this University. Just as our faculty raise ideas, our alumni raise important questions and ideas.
Over the last year-and-a-half, we have hosted a series of dinners around the country putting some of these questions to alumni, and we will continue to do that. I have learned so much from those. For example, it has made me think about the challenges and opportunities of artificial intelligence and automated production I mentioned earlier, something we heard about over and over again from alumni while on the road. We are looking to alumni to help us identify issues like that on the horizon, and invite them to join us in this process.
Q. What sets UVA's initiative apart from other universities' work on this subject?
Baucom: We are certainly not unique in thinking about democracy, but I believe we are unique in bringing together all of the disciplines of the arts and sciences with a world-leading law school, public policy schools and business schools. That makes an enormous difference.
Barnes: This initiative also takes a global perspective that I think is unique and interesting. Obviously, a lot of our work will focus on the United States, but we are also studying the rest of the world and making connections between what is happening here and what is happening in democracies around the world.
Antholis: If you think about the three words that President Jim Ryan has identified in his Ours to Shape call for questions and suggestions, this initiative touches on all of them – community, discovery and service. We are bringing together our UVA community, connecting to our local Charlottesville community and broadening our research to the commonwealth, the nation and the world. We are discovering information and theories for a new era of democracy with a far more diverse and inclusive civic body, with new forms of communication and new threats. And we are focusing on how we at UVA can serve our various communities, locally, nationally and globally. That is really very exciting to me.