In Art Is Power: Class of '23 Grads Are Discovering Art's Capacity to Heal and Transform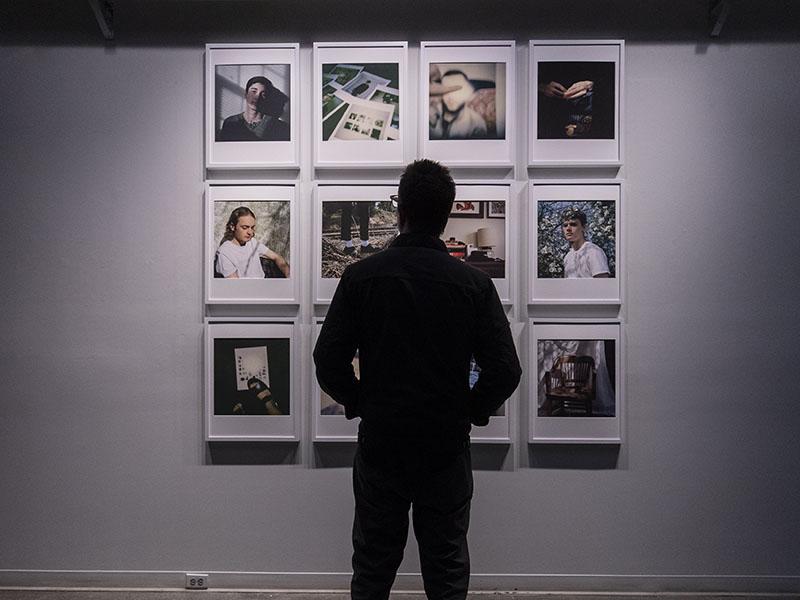 A degree in the arts may not be the shortest path to a lucrative career, but it may be one of the best paths to a meaningful one. While many graduates with degrees in the arts from the College and Graduate School of Arts & Sciences at UVA are successful artists and entertainers, many have gone on to use the skills and insight they gained in the studio or on the stage to become entrepreneurs, leaders of nonprofits and technological innovators. And members of the Class of 2023 will be no exception. This year's graduates will go on to explore new ideas in music and film, use art to advance advocacy for struggling populations and push the boundaries of art's power to heal.
"UVA students are working side by side with world class faculty in the arts: poets and new media scholars, film makers and dramaturgs, printmakers and composers, hip hop artists and lighting designers," said Sarah Betzer, the College's associate dean of arts and humanities. "Our students, in turn, are showing us the myriad forms engaged creative practice can take and are powerfully exploring art's world-building capacities."
Meet some of the artists who are members of UVA's Class of 2023.
Mira Manalastas will graduate this year with a double major in studio art and cognitive science with a concentration in neuroscience. Initially, Manalastas had planned on a career in psychiatry, but changed course after learning more about the opportunities that exist to combine art and mental-health counseling.
A printmaker who focuses on relief and woodcut printing, which involve cutting material away from a print surface to leave a raised image, and monotype printing, which involves applying paint or ink to a flat surface that is then used to transfer the image to paper, Manalastas takes inspiration from the environment and uses art as a vehicle for processing personal experience.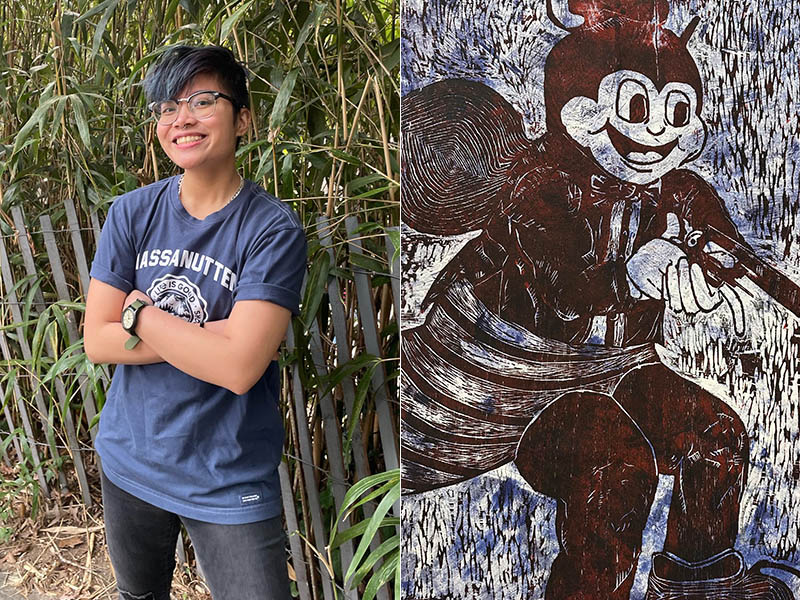 Manalastas also uses art to explore the impacts of politics and policy on culture. Manalastas' parents were student activists from the Philippines who came to the United States in 2007, and the artwork Manalastas creates is intended to help audiences understand the impact of U.S. policy and its presence in the Philippines and its effect on the country's culture and its people.
As a student, Manalastas has also worked with organizations that serve the greater Filipino community, and an exhibition showcasing some of the work Manalastas has done as a Distinguished Major in the College's Department of Art conveys some of the experience of what it was like to participate in a recent march in Washington, DC, following a conference hosted by the International Women's Alliance.
"We marched from the Philippine Embassy to World Bank to the White House," Manalastas said. "It was such a powerful end to a three-day conference that was really insightful. And I'm hoping my work shows how it's not just Filipino voices that matter but it's the solidarity with other oppressed minorities and our common theme of a national democracy."
"Mira Manalastas has been a model of artistic growth this year both in studio practice and educating others on the concerns of the Philippine community," said Amy Chan, an associate professor with the Department of Art. "They have persisted in whatever medium is necessary to communicate the significance of the cause and their individual voice in the pursuit of change."
After graduation, Manalastas will head back to the DC area to pursue a master's degree in art therapy at George Washington University. Manalastas feels the degree is the perfect way to blend degrees in art and cognitive science and opens the door to making a difference in both disciplines.
Ultimately, Manalastas hopes to use the degree to become licensed in clinical counseling or social work to help minority populations, LGBTQ communities and Asian American and Pacific Islander youth overcome some of the mental health challenges they face.
Even though the College doesn't offer a major in filmmaking, the opportunity to work with award-winning artist, filmmaker and faculty member Kevin Everson was an important factor in Mia Gualtieri's decision to come to UVA. The College's tight-knit community of artists was another, said Gualtieri who will graduate this year with a double major in media studies and studio art in the department's cinematography concentration.
"There was a click with the art community here that was what really did it for me," Gualtieri said. "I didn't feel that anywhere else."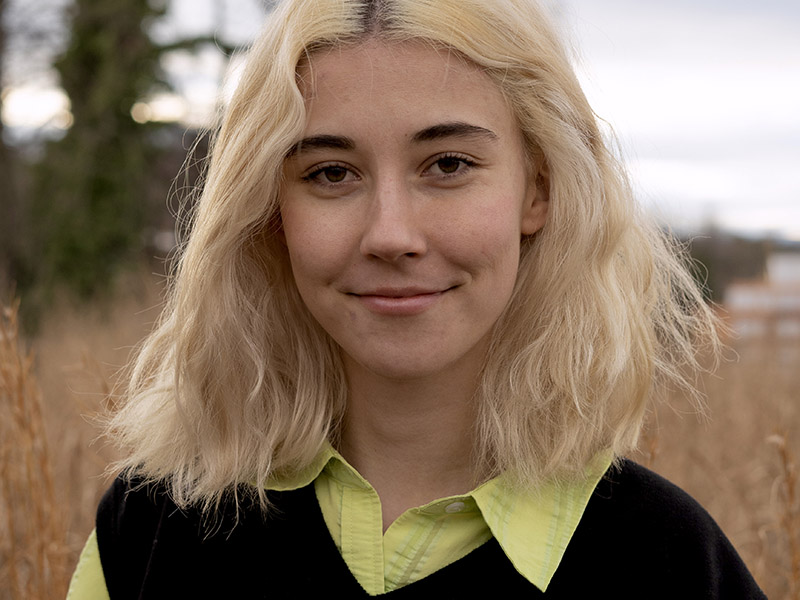 Even so, she was reluctant to declare art as a major at first and briefly considered pursuing a career in environmental sciences, but the isolation of being locked down during the COVID-19 pandemic was the catalyst that helped her commit to focusing on what she wanted to do with her college career rather than what she or others thought she should do.
Finding her own path as a student of the arts at UVA involved a few missteps that Gualtieri felt needed to happen to help her see that path more clearly, but she feels the process has been a rewarding one. The opportunities UVA offers to explore and excel in a wide variety of subjects can be attractive, Gualtieri said, but she believes it's important to be able to make decisions about what's really important.
"Learning to trust myself as an artist, as a student, and now, as a person going out into the world has been a challenge, but it has all been in service of that," Gualtieri said. "As a first-year, I don't think I could have believed that was possible."
Cinematography has been at the core of Gualtieri's experience as an artist at UVA. As she has gained technical expertise in filmmaking and has continued to build on that experience throughout her time as an undergraduate. Currently, she is focused on creating an installation-based work as her senior thesis for the Distinguished Majors program, a work that incorporates film, sound and physical space that provides her audience with an immersive experience.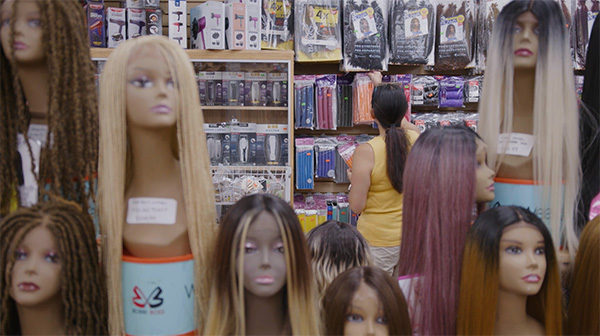 This summer, Gualtieri, who Everson describes as one of the two most talented students to have ever graduated from the department's film concentration, is moving the Los Angeles where she'll begin looking for opportunities to make music videos and to further her practice of finding new avenues for combining sound and visual expression. She made numerous connections there in the summer of 2022 and felt an immediate connection to the city.
"Going with no safety net made the net appear," she said of her first trip to L.A., "and that was a good lesson in self-trust."
Alyce Yang, Filmmaker and Photographer
The second of the two students Everson believes are the most talented the Department of Art's film concentration has ever produced is Alyce Yang who will graduate from the department's Distinguished Majors program with concentrations in film and photography. She will also earn her degree in global development studies, which gave her the opportunity to study the intersection of race and class theory and to explore how art and film can have a more meaningful impact on politics.
Yang's work as an artist is focused on how family, interpersonal relationships, and her explorations of her Chinese heritage can take on universal meaning.
"It's through people that I understand myself and my culture," Yang said.
She chose UVA because it was a smaller program that would give her greater access to faculty members like Everson and to opportunities that she might not have at some of the high-profile art schools where competition for those resources would be much greater.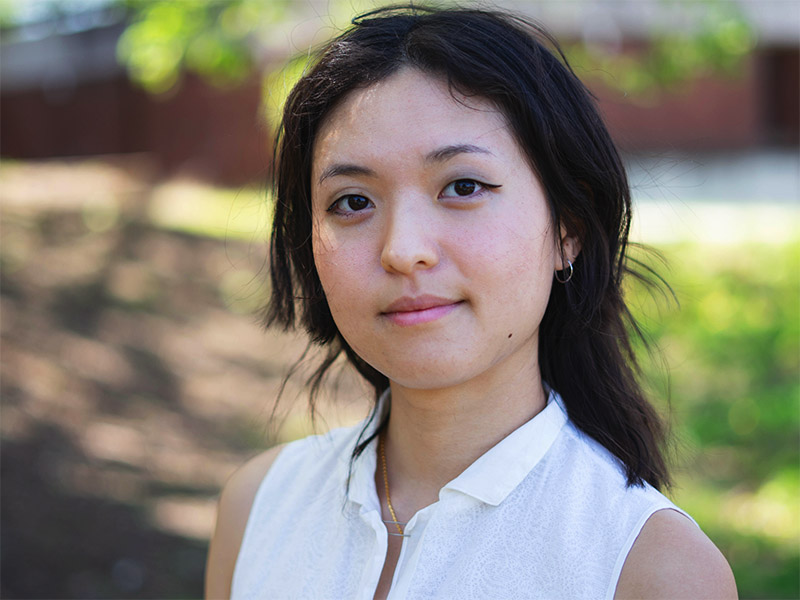 At times, she felt that being a graduate of UVA, which doesn't have the status of art schools closer to New York City might impact her validity as an artist in the eyes of the people she hopes to work with after graduation.
"I had a mindset that I was somehow behind," Yang admitted.
However, she explained that the concern made her work even harder, and in combination with the connections faculty members like Everson have helped her establish, she's had a number of extraordinary experiences as a student and finds that her position as an outsider in relation to the mainstream art community has been a source of strength and pride.
"I think that was a huge challenge at first, but now, I'm fully leaning into it and embracing it. It has allowed me to meet all kinds of people and to defeat some of the barriers that were just in my head," Yang said.
Among the opportunities Yang has had a chance to pursue are several internships with film companies that have allowed her to read and analyze scripts for L.A.-based production companies like Plan B Entertainment and Blumhouse and New York City based company FilmNation Entertainment.
She has also worked with Everson and historian Claudrena Harold on their experimental film series Black Fire that explores impact Black students have had on the political, cultural, social and intellectual life of UVA since the 60s.
"Film has become a vehicle for stories like these to emerge and to begin to reset what UVA means," Yang said. "It has a transformative quality."
As a Charlottesville local, Yang feels the work is having a tangible effect on the spirit of the community that she and her family call home.
Both Yang and Gualtieri will travel to Los Angeles together after graduation to take the next step in their careers. With the connections Yang has already made and the work she puts into making them, her search won't take long.
"What makes or breaks your chance at opportunity is proactivity," Yang said. "I think that approach has already allowed me to go farther than I ever envisioned."