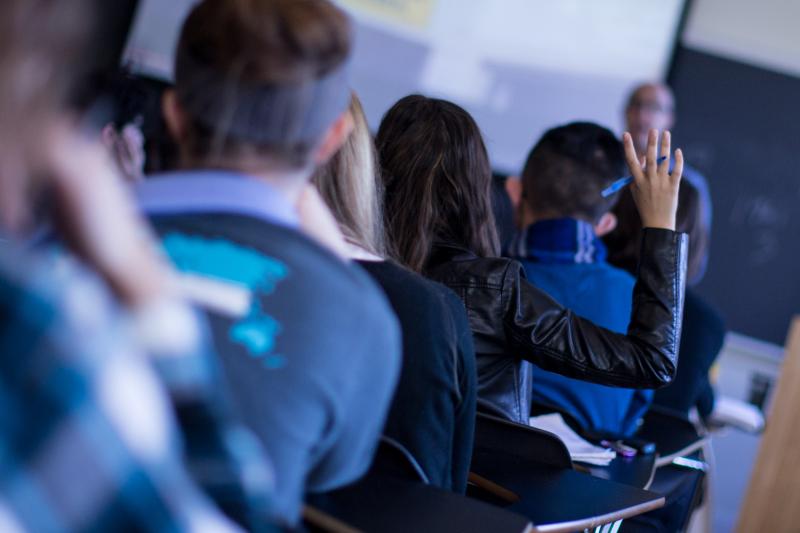 Four summers ago, the College of Arts & Sciences' incoming class included almost 600 pioneers. In 2017, the College offered a brand-new curriculum as a pilot program, the first major revision to the College's general education program in more than 40 years. This creative new approach to liberal arts education, focused on interdisciplinary explorations of 21st-century topics, quickly drew praise from higher education leaders across the country. Within two years, A&S faculty adopted it to serve as the College's general curriculum — the new standard for incoming students.
This May, those pioneering students from the pilot class are scheduled to graduate, representing the first Arts & Sciences students to complete all four years at UVA within the structure of the new general education requirements. True to the spirit of a curriculum designed to inspire students to consider a variety of disciplines, members of the College's Class of 2021 will put their innovative liberal arts educations to the test in a broad range of professional fields ranging from biology to economics, from sociology to songwriting.
DESIGNED WITH CARE
Developed to cultivate qualities crucial to the liberal arts and educated citizenship, the curriculum encourages students to take a broader view of the traditional academic journey and to critically consider viewpoints they might not experience in the traditional college classroom. 
For Sarah Betzer, a founding co-director of the College Fellows, the group of distinguished A&S faculty entrusted with designing the curriculum, the Engagements seminars that serve as first-year students' introduction to the curriculum played an instrumental role in preparing students to understand the benefits that it offers.
"One of the exciting outcomes of the Engagements courses is that we are observing that students are coming out of these courses with a sophisticated sense of the College's intellectual lay of the land," said Betzer, associate professor of art history. "They're armed with an understanding of what sort of work is being done and where, and having been oriented to thinking about connective tissues that bind inquiry in ostensibly disparate domains, students are able to take that map and trace their own pathways through it."
These two-credit Engagements seminars are developed and taught by top faculty and distinguished postdoctoral fellows serving as College Fellows. They typically are selected to serve for two years, and these appointments are made possible by philanthropic support that funds other colleagues to teach the Fellows' own departmental courses while the Fellows create and teach the Engagements to first-year students. College Fellows are encouraged to design these courses in collaboration with colleagues from other academic disciplines.
For Peyton Baylous, the Engagements seminars introduced her to new possibilities in the world of medicine. An aspiring doctor from Smithfield, Virginia, she was able to complete all her pre-med requirements while learning how art and artists from different eras have shaped human experience and culture in one Engagements seminar and the basics of primary social science research through another.​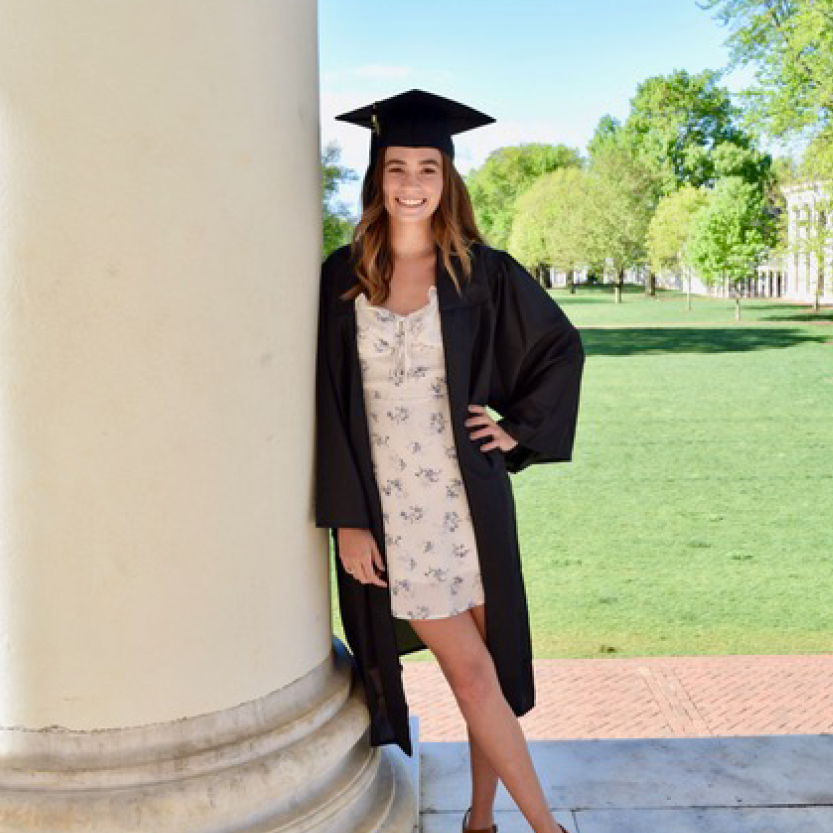 Graduating with a double major in global studies, with a concentration in global public health, and French, Baylous volunteered as an events coordinator for UVA's United Nations Children's Fund chapter and worked as an undergraduate research assistant for the University's Department of Cancer Biology and Immunology. Awaiting word on a teaching assistantship opportunity in France, she intends to apply to medical school next year.
"When I first came to UVA, I was very focused on STEM classes and focusing on biology. But the more classes I took within the new curriculum that focused more on the humanities or philosophy, or that had more of global focus, the more I realized I was also interested in expanding my mindset beyond physical biology into more systemic issues underlying our health," Baylous said.
Trevor Doiron is graduating this spring with a degree in sociology, and he credits the new curriculum's interdisciplinary approach with introducing him to economics, psychology and other academic disciplines unavailable at his small high school in Maine. "Poverty Counts," an Engagements seminar taught by postdoctoral fellow Josh Mound, introduced Doiron to the rigorous research methods practiced within the College's Department of Sociology while exploring the sociological themes of poverty.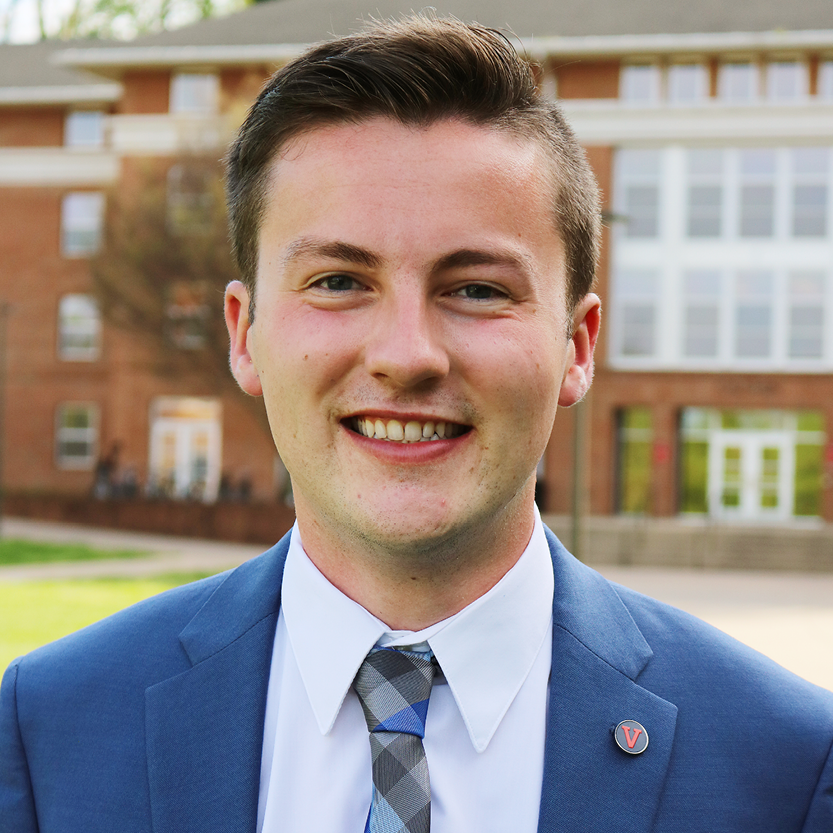 This summer, he will return home to work with the Maine Housing Authority and its management of public housing funds earmarked from the recent federal stimulus bills. Doiron will return to UVA this fall to complete a master's degree in the Frank Batten School of Leadership and Public Policy, with a focus on housing and labor policy.
"The new curriculum made me branch out and take courses in departments that I otherwise wouldn't have considered," said Doiron, the senior resident of UVA's Lile-Maupin House and head program director for Madison House's Hoos Assisting with Life Obstacles (HALO) program addressing issues of hunger, homelessness and unemployment. "Looking back, I can't imagine having picked a different curriculum."
While the curriculum features required courses across three separate components, that has not prevented students from completing challenging science majors or other College majors with their own rigorous requirements. Among the most popular majors selected by those first new curriculum students graduating this spring are biology, computer science and economics. Even students who started in the new curriculum pilot before transferring to other UVA schools such as Batten and the McIntire School of Commerce said the liberal arts training groomed them for success in their new programs.
Charlie Trochlil is graduating from the McIntire School of Commerce, but he counts the "New Media Art in the Age of Digital Networks" Engagements seminar that he took with assistant professor of digital media design Mona Kasra and Ted Coffey, a professor of composition and computer technologies in the Department of Music, among his favorite classes at UVA. He maintained ties with Kasra after transferring to McIntire, auditing another of her classes and serving as a student TA for her Engagements seminar.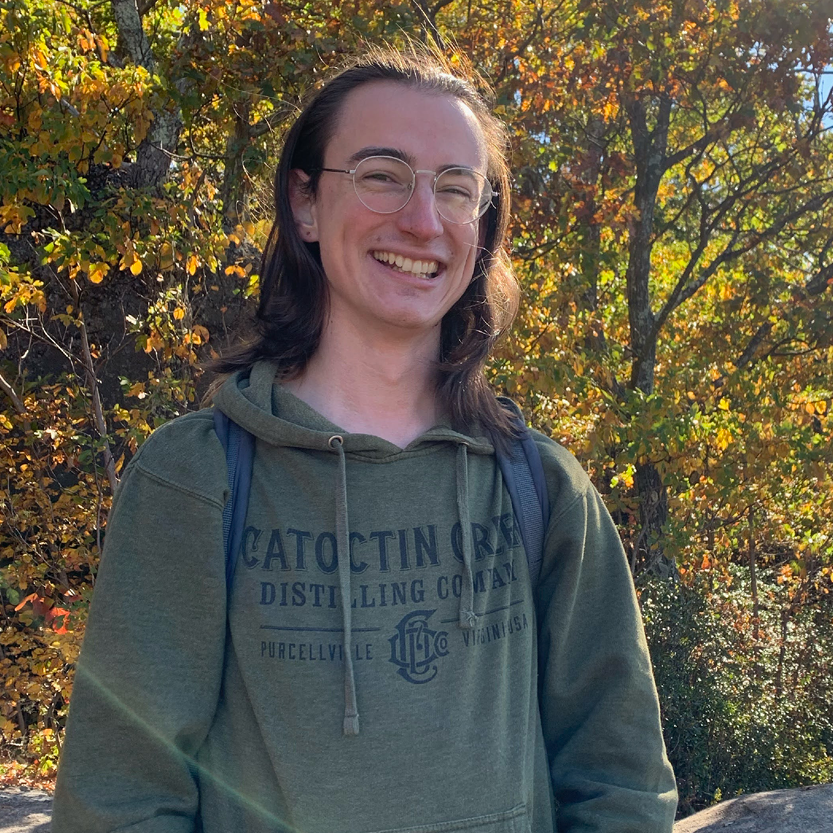 For one of the new curriculum's quantification, computation and data analysis requirements, the Loudon County, Virginia native also got his first coding experience in an introductory course on the Python programming language.
"My first and second years in the College, I got to take all these cool, interesting classes that the new curriculum encouraged me to take that weren't just requirements I had to check off. And we were involved in discussions with professors working directly with us, not just TAs," said Trochlil, who accepted a business analyst job offer with Capital One starting this summer. "Honestly, I think the new curriculum prepared me well for McIntire because so many of the classes there are also focused on discussion."
GRAPPLING WITH REALITY
In addition to their willingness to test drive the College's pilot curriculum, the Class of '21 also arrived on Grounds in the wake of the tumult of the summer of 2017, when white supremacists launched violent clashes in Charlottesville during the August weekend of the "Unite the Right" rally. Heather Heyer, 32, a paralegal for a Charlottesville law firm known by her friends and work colleagues as someone who spoke out frequently for justice and equality for minorities, genders and religious cultures, was killed by a driver ramming his car through a crowd of counterprotesters. Dozens of others were injured in the incident, and the young Ohio man driving the car, James Alex Fields Jr., was sentenced to multiple life terms in prison for deliberately plowing his car through the crowd of anti-racism protesters.
Incoming students arrived unsure of what awaited them.
"We had never expected to feel and see so starkly how important it was to have a living curriculum, ready to adapt to the exigencies of our times, and in which questions of difference were always understood as foundational to our intellectual project," Betzer said.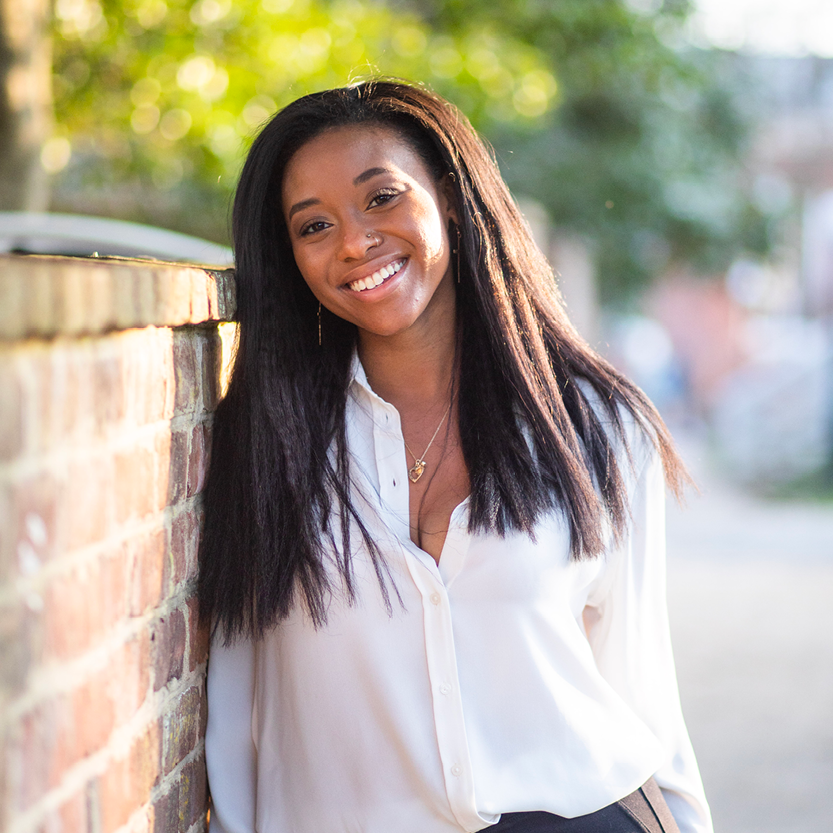 Nia Williams was among those new students arriving, following in the footsteps of her older siblings who graduated from UVA, her mother, who earned her medical degree there, and her father, who earned his law degree from the University.
"Making the Invisible Visible," an Engagements seminar taught by English professor Lisa Woolfork and assistant professor Laura Goldblatt helped Williams and her classmates process the events of Aug. 11-12 as they examined what monuments, songs, books and other cultural artifacts reveal about us and our human differences. 
"As a Black woman coming to school right after that happened, it was nice to have a class where we were able to really talk about these hard things," Williams said.
Williams was also attracted to the curriculum pilot because she was intrigued by the opportunity to discuss topics in depth with professors and classmates and to immerse herself in hands-on experiences. For example, in an Engagements seminar titled "Does Reading Literature Make Us More Ethical?", Williams said students worked with postdoctoral fellow Adrienne Ghaly to incorporate literature into a portfolio of materials organized for a United Nations refugee advocacy campaign.
Williams credits the new curriculum for helping her hone her research abilities and sharpen her ability to identify interdisciplinary connections in the topics that interest her. An Echols Scholar who earned a coveted Lawn room for her fourth year, Williams is completing an interdisciplinary major in arts administration with a focus on songwriting and African American Studies. For her thesis project, she is completing a musical album titled "On Trial," which historically analyzes Blackness at the University of Virginia."
I think what's made the new curriculum so special for me is the encouragement I've received to think outside the box," said Williams, who is moving to Nashville after graduating to pursue a music career while working as a teaching assistant. "I came to college knowing that I wanted to do music and explore African American studies, but I was at a loss at how to even make a career out of that, especially coming out of the academic world. But I've received encouragement from so many of my professors who have introduced me to all these different options that I had never even considered."
THE NEXT WAVE
This fall, as a new class of incoming students follows in the footsteps of Williams, Baylous, Doiron and other student pioneers in the College, Betzer and German studies professor Chad Wellmon will turn over the reins of the College Fellows program. Janet Spittler, associate professor of religious studies, and James Coan, professor of clinical psychology and director of the Virginia Affective Neuroscience Laboratory, will officially begin their three-year terms as co-directors in August. The path has been set, but unexplored opportunities remain, Betzer said.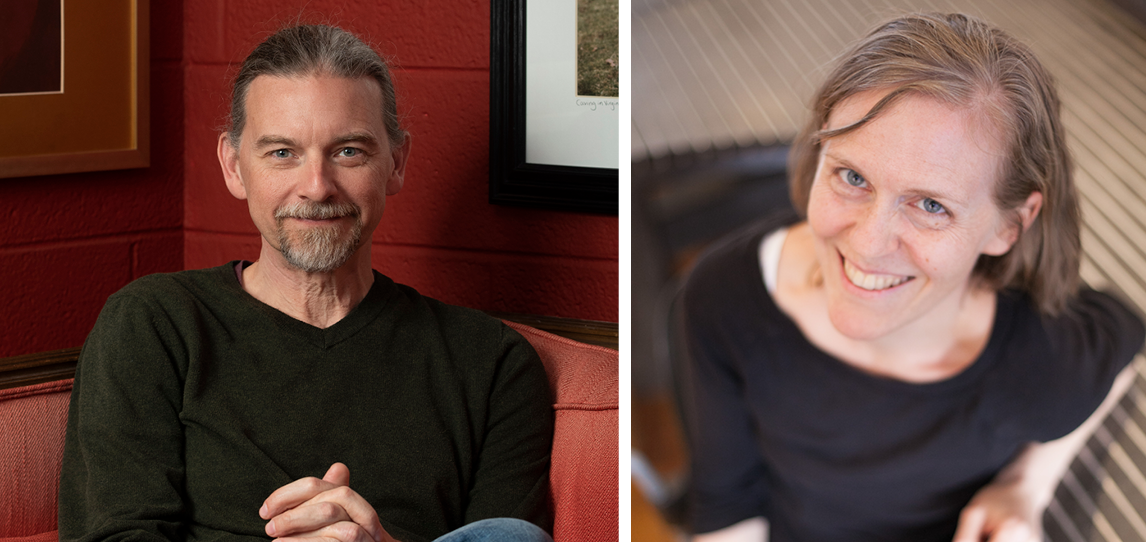 Part of their work will be to continue to add Engagements and other course offerings to first and second-year students while maintaining the small class sizes that allow the robust discussions and faculty interaction that are so crucial to the student experience. Full implementation of the curriculum will depend on philanthropic support to endow the College Fellows who are selected to teach the seminars."
One of the most meaningful aspects of the 'new' curriculum is that it created a structure for faculty to regularly come together, from across the College, to discuss and debate, reflect and reaffirm, a shared sense of what a general education at UVA should entail," Betzer said. "We are right now in the midst of these conversations with the sixth cohort of College Fellows faculty, and these are bracing, substantive, deeply meaningful discussions, befitting an institution that prizes undergraduate education the way we do here at UVA. … The ripple effects from this redesign are likely to reach far beyond this first class."