Celebrated Spanish Poet at UVA Expands International Community on Grounds
The year 2014 was a very good one for Fernando Valverde, a Spanish poet who is a visiting distinguished professor in the University of Virginia's Department of Spanish, Italian and Portuguese.
"Something incredible happened. I had the biggest stroke of luck," Valverde said.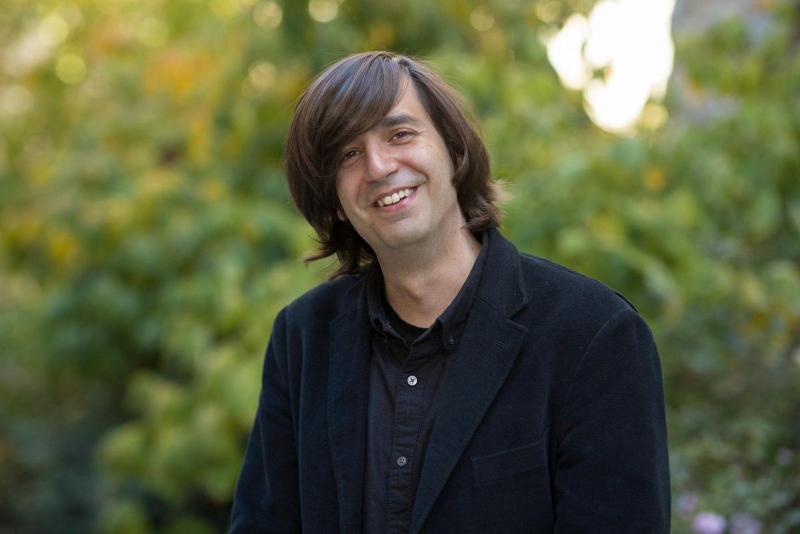 Fernando Valverde's upcoming book of poems on America addresses "the strong tension between the best and the worst" in this country that he has nevertheless come to love.
Dan Addison / University Communications
Two events opened several doors for him in America.
He was nominated for a Latin Grammy Award for Best Flamenco Album with his lifelong friend, the singer Juan Pinilla. For Pinilla's album, "Jugar Con Fuego," Valverde wrote lyrics for new flamenco songs, but in the traditional style that has existed for hundreds of years.
"I had to do everything I avoided when I wrote my own poetry in free verse," he said.
The same year, he was voted the most important Spanish-language poet by an international group of almost 200 scholars and critics. That changed the distribution and the visibility of his work; he has been published in several languages and in more than 20 countries.
One of those scholars, Miguel-Angel Zapata of Hofstra University, said, "He is the voice of his generation and one of the most important voices of poetry in contemporary Spanish."
Valverde, who has published seven books of poetry as well as anthologies and additional works, will give a reading on Thursday at 5:30 p.m. in the Harrison/Small Auditorium. His latest book, "The Insistence of Harm," was published by University Press of Florida, and translated by Allen Josephs, a professor at the University of West Florida, who has translated Federico Garcia Lorca; and Laura Juliet Wood, who is also a poet as well as translator. Another top Spanish poet, Raquel Lanseros, will join him.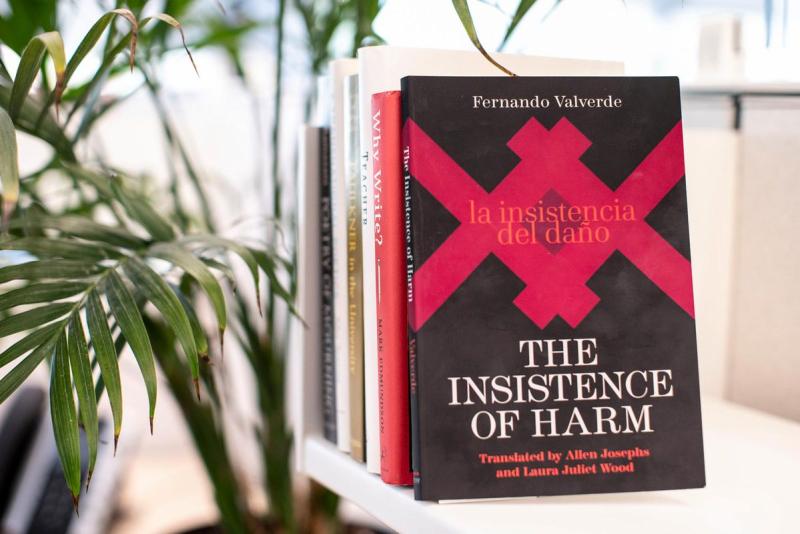 Valverde's last book, "The Insistence of Harm," received the Book of the Year award from the Latino American Writers Institute of the City University of New York.
Sanjay Suchak, University Communications
For the second year of Valverde's visiting professorship on Grounds, he has organized an international roster of poets to present their work at UVA. The next two readings happen to be American poets, both of whom have served as U.S. poets laureate: Natasha Trethewey, who will read on Dec. 3, and Robert Pinsky, who will read on Jan. 30, at the same time and place.
Professor of Spanish Samuel Amago, who chairs the UVA department, said having Valverde at the University "has brought further international recognition to the Department of Spanish, Italian and Portuguese." Here, Valverde is teaching contemporary Spanish poetry and transatlantic Hispanic poetry. He is also researching the 19th-century British Romantic poet and philosopher, Percy Bysshe Shelley, for the first biography of the writer in Spanish.
Amago said, "He is at once well-respected by the cultural establishment – winning awards such as the Federico García Lorca Prize, the Principado de Asturias Emilio Alarcos Award and the Antonio Machado Prize – but he is also recognized popularly for bringing poetry to a wider public."
Valverde's official Instagram account has more than 100,000 followers, and his Twitter account, more than 20,000. Valverde said he uses Twitter and Instagram to share poems or verses, sometimes his own, sometimes from books he is reading. 
He still returns to Granada in the summers. Valverde co-founded the International Poetry Festival in Granada 17 years ago, and now serves as an adviser, bringing together over the years hundreds of award-winning poets and writers from all over the world.
"His stature as writer and researcher," Amago said, "has been tremendously beneficial for our undergraduate and graduate students who are very interested in publishing, writing, poetry, translation and editing. His combined expertise in the realms of literary writing and the real-world practices of international publishing make him a unique scholar to have on the faculty." 
Valverde had been in the United States for less than a year in 2014. The South Atlantic Modern Language Association had invited him to a conference in Atlanta to read from his book recently translated into English, "Eyes of the Pelican." Then he was invited to teach at the University of North Georgia, at the Dahlonega campus, located about an hour north of Atlanta.
It was a wonderful experience and totally changed his view of the U.S., he said. In contrast to negative perceptions of the U.S. that are prevalent in Spain and Latin America, he found generosity and kindness among the students and community.
Because the University of North Georgia also serves as a military college, many of the students to whom he taught Spanish were soldiers in training and veterans. For the first time in his life, he found himself empathizing with soldiers, he said.
"There I was, talking with young people who wanted to be soldiers – soldiers who I imagined would be like the Roman legion, but many, it turned out, went there because it was the only way they could get to study at college," said Valverde, adding that they discussed "everything."
"In the U.S. Army, there are soldiers from different religions. They are fighting for one idea of 'country.'"
In Spain, a predominantly Catholic country, it's "impossible" for different religions to coexist right now, according to Valverde. "In the past, my city, Granada [where he grew up], like Sarajevo, was a city where Christians, Muslims and Jews lived together. But now is not the situation," he said.
This is not to say Valverde – a journalist for Spain's newspaper, El País, for 10 years – sees everything American through rose-colored glasses. His upcoming book, "America," looks at the best and the worst of this country, he said. Translated by award-winning poet and writer Carolyn Forché, a Georgetown professor who taught at UVA years ago, selections of his new work are forthcoming in the journals Poetry and Modern Poetry in Translation.
"I wanted to write a book about what America is going through, the America built on the best ideas of liberty, the greatest example of democracy, a country that liberated my country and Europe from fascism and Nazism. But in this country [now], there is a strong tension between the best and the worst.
"Is it the America where anyone can express themselves for whatever reason and can practice any religion? Or the America of fake news and manipulation? Is it the America where you can go to a shopping mall with your family or get caught in a mass shooting?"
He realizes this new collection might be considered controversial, but said he felt it's the best he can give at this moment. Despite these complicated views and sentiments, he said, "It is a book that demonstrates my love affair with the United States in the time I've been here."
A poem from Valverde's new book, "America":
The Boys of Camden 

No one can explain to them that all must leave it all to immortality. 
Today they are men from the north, 
those who swallow dust and spit on concrete. 
Today I could see them crying like children. 
Boys working in shops near Harleigh Cemetery, 
men and women in Sunday dresses entering the cathedral, 
who offer up their bodies just like they would open the doors of their houses, 
Lamb of God that takes away the sin of the world, 
they are what you call a people, they are misery 
that clusters together and always ends in coffins, 
they are also lust, the din that prevents them from listening, 
they are the children of the children of slavery. 
I hear them laugh out loud about the corpses, 
I hear you sing, although you are dumb, 
I sit to watch them at the corner of the 4th and Martin Luther King Boulevard 
and I feel pity, and satiety, 
and also disgust, 
I have left the places I loved the most, 
those I've seen in my dreams where my mother cries for no reason, 
I feel pity and guilt because I'm going to abandon them, 
and they know it. 
You can see it in my eyes as two scars, 
I'm going to abandon them 
as I have abandoned so many times what I most wanted, 
I can erase the guilt of leaving them on the other side of the Delaware River, 
but I will not forget faltering steps under a fine rain, 
nor the cry of my mother sensing the abyss that now lies between us.
(Translation by Carolyn Forché)