Class of 2021: How Ja'Mel Reed Learned 'You Never Stop Growing – A Magical Thing'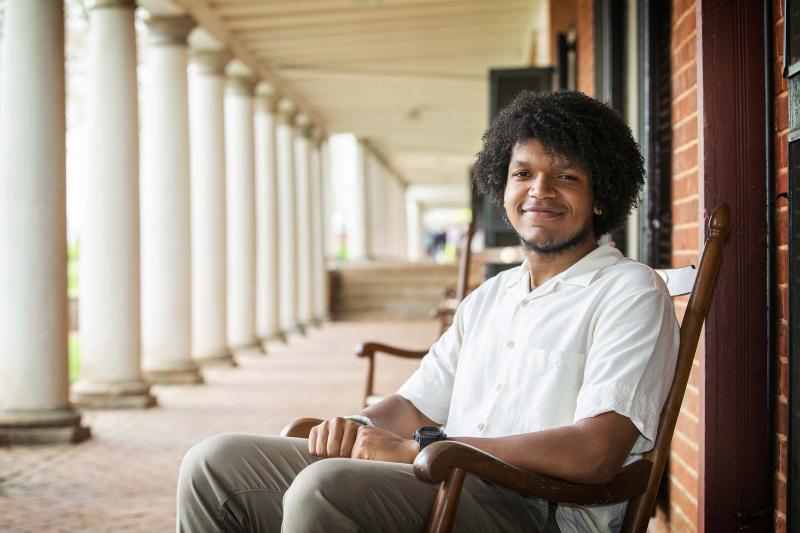 Ja'Mel Reed is the kind of student who is determined to succeed. But, like many young people, he didn't have his heart set on a specific career when he arrived at the University of Virginia, so he decided to try both pre-law and pre-medicine.
He put pressure on himself for his family: "In my head, the epitome of success would be becoming a lawyer or a doctor. I put that pressure on myself all of my life," Reed said.
Reed grew up in a rural area of Virginia; Middlesex County, on Rappahannock River, is old – founded in the 1600s. His father's family has been there since their ancestors were enslaved, he said. Reed's mother came from California, and the couple met smack-dab in the middle of the U.S. – in Kansas – before moving east.
Adjusting to University life was harder than he thought it would be, said Reed, a Ridley Scholar. He was going to major in politics and biology, but after the first semester, dropped politics.
"I learned more about myself, and knew I had to make a choice," he said.
Then, in his second year, he experienced something that made him "evaluate what he wanted to do with his life, who he wanted to be, what he wanted to study and be passionate about," he said.
His close friend, Rehan Baddeliyanage, died on a spring break trip in 2019. Reed and another friend, Eleanor Thompson, talked about him on stage at UVA's third "Double Take" storytelling event that fall. The previous year, Baddeliyanage had participated and talked about another student and friend who had died, John Paul Popovich.
Reed remembers a day sometime after this, sitting on the Lawn, and realizing he didn't really want to be a doctor. He wanted to help people, yes. He wanted to help people at a hard part of their lives and bring them joy.
"I could bring happiness and joy to people without being a doctor – just through paying attention to them, listening to them, being there for them," he said.
He eventually switched his focus to cognitive science (with a concentration in linguistics) as one major. Staying on the pre-med track, he met most of the requirements by the second semester of his second year.
Another thing he felt passionate about was poetry writing, so he applied to and also majored in the English department's Area Program in Poetry Writing. He's had almost every Creative Writing Program poet as a teacher.
"All of them have been monumental to my growth as a poet," he said.
Lisa Russ Spaar, who founded the poetry writing program and also directs the master's-level Creative Writing Program, said Reed is "a gifted poet in possession of a great and generous spirit. He is beloved by his cohort of talented poets in the Area Program in Poetry Writing and is a vital member of that community, although anyone who knows Ja'Mel knows also that his caring, principled personhood extends deeply into many areas of the University community and beyond. 
"He writes with forthright courage about issues of race, gender, faith, technology, and place that could not be more timely," she wrote in an email.  
Reed, a Lawn resident this year, has been involved in several extracurricular committees and activities over his time on Grounds, including serving as a University Guide and a tour guide at Monticello; as a peer adviser in the Office of African-American Affairs and as a student mentor for the Meriwether Lewis Institute; and this year, as a co-chair for UVA's Housing and Residence Life.
Reed started giving admissions and historical tours at UVA during the end of his first year and started working at Monticello, the home of UVA founder Thomas Jefferson, that summer.
"Giving tours, especially historical," he said, "allowed me to work at restoring agency to those who didn't have a voice during their lives. It has also sparked greater interest and helped me better understand my own family's history when it comes to enslavement in America.
"It's also important to contextualize where we've come from to have even the vaguest idea of where we need to and should go as a society," he said.
He was the only student member on the University's fall 2020 Return to Grounds committee, which was tasked with developing plans for students returning during the COVID-19 pandemic. He also participated in L2K, a leadership program through the Office of the Dean of Students, working with other student leaders on how organizations could adapt in light of COVID.
Even though he changed his mind about his major, Reed continued to consider assistant professor of politics James Todd a mentor. Before the pandemic, Todd often had students over for dinner and took them to special events. Todd encouraged Reed to think about what he wanted post-graduation life to look like.
Reed didn't give up on the idea of academic success, but the picture looks different now. After a Career Center workshop, he interviewed with global management consulting firm Bain & Company and got a job in New York City, where he'll live with close friends from UVA.
"I thought I knew myself, but looking back, it's like looking at a different person," Reed said.
After a few years, he plans to get his MBA and work with Black-owned small restaurants.
"I have a deep connection to food and the preparation of it, instilled in me from my family. I love the way sharing a meal doesn't just share food, but also a plethora of other things like culture, world experience and friendship," he said.
His experiences on Grounds also made him aware of "other things."
"It might sound corny, but UVA taught me how you never stop growing and having the capacity to love and connect and grow with people, people you hold dearly. You never know how close or meaningful people will be in your life. People taught me to care for myself, learn about myself, to love all versions of myself.

"And that we will continue to grow – a magical thing."
"Some students simply pass through the University," said Spaar, who has taught at UVA for more than 20 years, "but Ja'Mel has helped to transform us throughout his matriculation, in mind-opening and inspiring ways for which we all have cause to be grateful."
Below, read a poem by Reed, completed in UVA's Area Program in Poetry Writing:
On the Steps of the Rotunda 3:27 a.m.
The blood warm
marble draws my lips to its surface.
My finger traced the veins that ran
warped through its calacatta body.
Rivers wrapped round
in spider streams of ore.
The marble
hummed heat.
A cold-blooded creature soaking and seeping
sun within its core.
Stone like flesh,
supple.
I melted into the cooled magma
like a milky chocolate
In the stillness my heartbeat
struggled to mimic the marble's ebb and flow.
The cold air stole away
the warmth as it glazed the rocky tissue.
I lingered in limbo, trapped
between crisp, cold skies above and a heart heat sink below.
A voyeur of the in between, I hoped to goad the sun
out of its sleep.
To halt the star's circadian slumber
with an alarum of cicadas.