English, Religious Studies Grad Students Get Dissertation Fellowships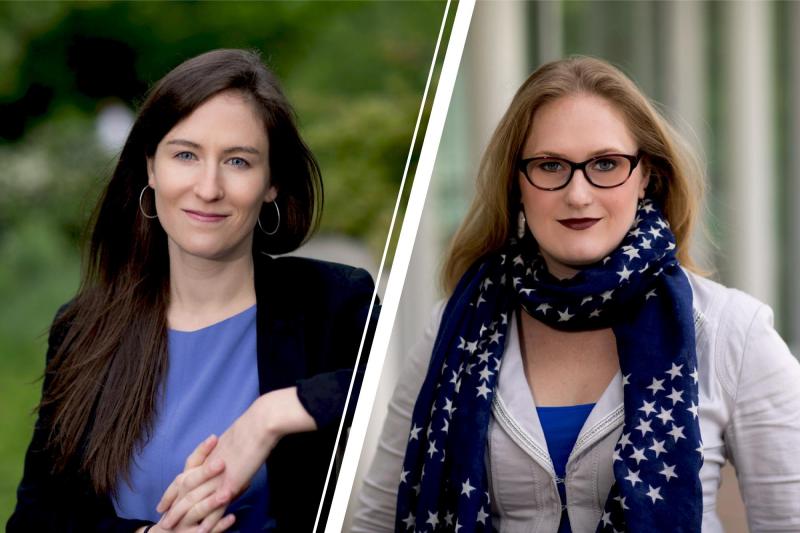 L-R: Annie Galvin and Natasha L. Mikles
Dan Addison / University Communications
Two University of Virginia graduate students can focus on their dissertations, thanks to Charlotte W. Newcombe Doctoral Dissertation Fellowships.
Annie Galvin, in the Department of English, and Natasha L. Mikles, in the Department of Religious Studies, both doctoral candidates, are two of 20 national recipients of the fellowships from the Woodrow Wilson National Fellowship Foundation.
The Newcombe Fellowship is among the nation's more prestigious awards for Ph.D. candidates in the humanities and social sciences addressing questions of ethical and religious values. Each fellow will receive a 12-month award of $25,000 to support his or her final year of dissertation work. Forty University of Virginia graduate students have received Newcombe Fellowships since the program began in 1981.
Galvin, of Washington, D.C., is completing her dissertation on "Violence and Visual Media in the Contemporary Global Novel." The dissertation explores visual media culture and the ethics of witnessing in contemporary, English-language novels about political violence.
"I'm interested in how the form of the novel can become a prism through which we can visualize or better perceive these extremely complex situations, so in particular I look at how novels incorporate visual media forms – photography, film, graffiti, the Internet – as part of their strategies for representing and responding to violence," Galvin said. "My interest in this particular topic grew out of experiences living, working and studying literature in Ireland, where histories of violent conflict haunt the culture, the landscape and current politics."
Mikles, of Austin, Texas, is completing her dissertation, "The Taming of the King: Nyingma Ethical Revitalization and the Gesar Epic in Early Modern Tibet." The dissertation explores the role of popular and epic literature in supporting Buddhist ethical revitalization movements in eastern Tibet.
"I am interested in the intersections between epic narrative and conceptions of Buddhist hell, particularly how that forms Tibetan ideas about moral action and influences the broader Tibetan religious worldview," Mikles said. "I believe the study of narrative's role in forming ethical thinking is incredibly important. While many people think of ethics as philosophical questions to be intellectually evaluated, I am interested in examining how literature forms us as ethical beings through teaching us emotions and what to value – an idea that builds on the incredible work of Martha Nussbaum."
Nussbaum, an American philosopher and a professor of law and ethics at the University of Chicago, argues that emotions are not inherent within all humans as biological animals, but rather are socially learned through stories.
"Stories teach us what to value and, therefore, about what we should have emotional reactions," Mikles said. "They provide a model for us to experience certain emotions, while also giving us the space to process and work through those emotions."
Galvin was shocked, ecstatic and honored to receive the fellowship.
"The Charlotte Newcombe Doctoral Dissertation Fellowship will be instrumental in helping me to complete my dissertation, with the luxury of being able to focus solely on researching, writing and revising for an entire year," Galvin said. "I have loved the experience of teaching undergraduate classes at UVA and have been fortunate enough to have had the chance to teach in the English Department, the Program in Women, Gender and Sexuality and the Global Studies Program."
Galvin has received a Graduate Teaching Award at UVA; a Buckner W. Clay Grant, to support organizing a symposium; and a UVA Summer Travel Grant. She has received fellowships from the Institute for Humanities and Global Cultures at UVA, the Cornell School of Criticism and Theory and the Notre Dame Irish Seminar. She is a member of the Piedmont Council for the Arts' 2030 Advisory Council.
She is a mentor for first-time teachers in the English Department Writing Program; a copy editor for New Literary History, a leading academic journal of critical theory and literary criticism; and she has written for a variety of popular publications, including PopMatters, The Los Angeles Review of Books, Slant Magazine and The Washington City Paper. She has also appeared on the Pop Unmuted podcast.
She received a bachelor's degree in English from Yale University and a Master of Philosophy from Trinity College, Dublin.
Victor Luftig, a professor of English, director of the Center for the Liberal Arts and a mentor of Galvin, praised her for her "astonishing smarts, responsiveness, flexibility, deliberateness and caring."
"More than two-thirds of her students in one section gave her the highest possible rating on their end-of-term evaluations – no small feat in a required course," Luftig said. 
Luftig also praised her research, saying it is important to ask questions about how new media process scenes of violence, and what this does to the viewer.
"She is an impressive and agile stylist in her scholarship, but she also writes very well in other registers, with a considerable track record as journalist and reviewer," Luftig said. "She has learned how to articulate real profundity in a variety of vehicles, for widely different readerships. She also happens to be very good at doing this in spoken forms."
Mikles, who received a bachelor's degree in religious studies from the College of William & Mary in 2008 and a masters' degree in the history of religions from the University of Chicago Divinity School in 2010, said she was very grateful for the fellowship so she can focus entirely on her work.
"My research demonstrates that, rather than being mere entertainment, popular literature has an important role in supporting ethical revitalization movements and promoting doctrinal change in Tibet," she said. "To examine this, I'll focus on eastern Tibetan epic literature – specifically, the incredibly popular Gesar epic."
According to the New World Encyclopedia, the epic, believed to be approximately 1,000 years old, concerns the fearless king Gesar, who was sent down from heaven to conquer the negative spirits and demons that dominated Tibet, and ruled the legendary Kingdom of Ling. The narrative has been transmitted orally through a tradition of spiritually anointed Gesar performers who are able to recite from memory for hours on end, as it is considered the longest literary work in the world.
Mikles said popular literature like the Gesar epic is able to communicate across a broad range of populations and is a particularly effective tool for revealing the role lay people have in the process of transforming religious thinking.
"However, it has often been overlooked by scholars who view it as outside the purview of what constitutes 'real Buddhism' in Tibet," she said. "To transport our own assumptions about what constitutes properly 'religious' or 'scholarly' writing into a new cultural situation – and thereby ignore things like popular or epic literature – inadvertently silences and overlooks a significant portion of the population."
Mikles is a member of the Buddhist Studies Group, the Asia Institute, the American Academy of Religion and the Association of Asian Studies. The recipient of a Department of State Critical Language Scholarship to study Chinese at the Beijing Language and Culture University in 2012, she plans to continue her research into the role of hell in Tibetan and Chinese religious thinking while pursuing an academic position at a university or college.
David Germano, a professor of the history of religions, said Mikles has been an outstanding asset for the Department of Religious Studies and he expects great things from her in the future.
"Natasha is an outstanding individual who is oriented toward people and community," Germano said. "Her constantly upbeat outlook, friendly manner and skillful way with people have had a powerful impact on our program during the years she has been with us."
Germano said the Newcombe Fellowship will have a "transformative impact" on Mikles and her work. 
"Rather than be forced to take a variety of part-time tasks on and then scramble to bring her dissertation to a powerful culmination, she will be enabled to devote all her attention and gifts to bringing all her textual and ethnographic research to full flowering," he said. "The resulting dissertation will be replete with valuable insights into a dense body of textual materials, but will also be written in her typically lovely and lucid prose."