Jetze J. Tepe
Professor and Director of Drug Discovery
Chemistry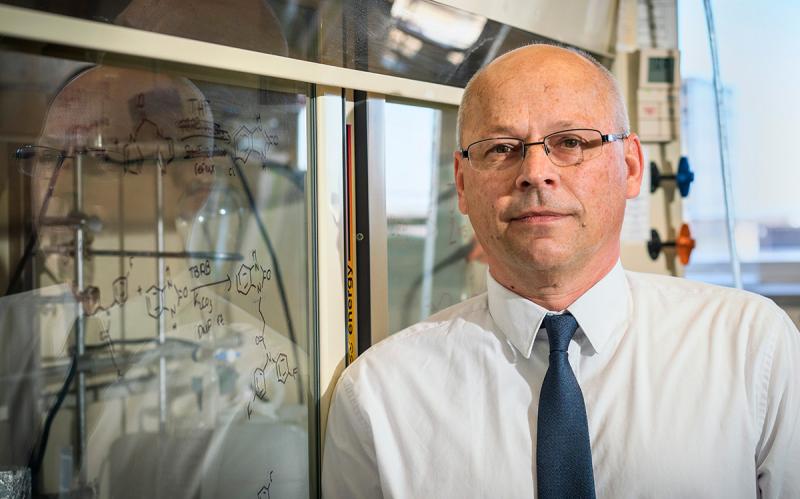 As a chemist, Jetze Tepe has over 20 years of experience in academic drug discovery. Research in his laboratory is primarily focused on the synthesis of small molecules to targeting "undruggable proteins" to treat cancer and neurodegenerative disorders. By developing new synthetic methodologies, drug-like molecules are prepared and evaluated for their clinical significance in his lab. His research group has published in journals such as the Journal of Medicinal Chemistry, Cell Chemical Biology, and ACS Chemical Neuroscience.
He has received awards from the American Cancer Society (2003), the Multiple Myeloma Research Foundation (2008 and 2010) and the International Myeloma Foundation (2013 and 2019). Tepe also has been recognized with the AbbVie Innovation Midwest Award (2021) and Michigan State University's Innovator of the Year Award (2022). His current research is funded by grants from the National Institutes of Health. In addition to his academic drug discovery effort, he was the founder of two biotechnology companies.
Tepe received his bachelor's degree in chemistry from Jacksonville (Fla.) University (1992). He obtained his Ph.D. from the University of Virginia under the guidance of Timothy L. Macdonald (1997) and completed his postdoctoral studies at Colorado State University (1998-2000) with Robert M. Williams. Before joining UVA, he was an assistant, associate, and full professor at Michigan State University (2000-2023). At UVA, he hopes to foster an inclusive and highly collaborative research environment with UVA's Comprehensive Cancer Center. In addition, he will continue his passion for teaching undergraduate and graduate courses in organic chemistry. 
Professor Tepe will be starting at UVA in January 2024.