Faculty Take Up the 'Eternal Vigilance' of Democracy
The University of Virginia professors launching a research effort studying corruption and its global threats to democracy invited U.S. businessman and vocal anti-corruption activist William Browder to share, in unsparing detail, the human costs of a well-documented saga of Russian fraud and oppression.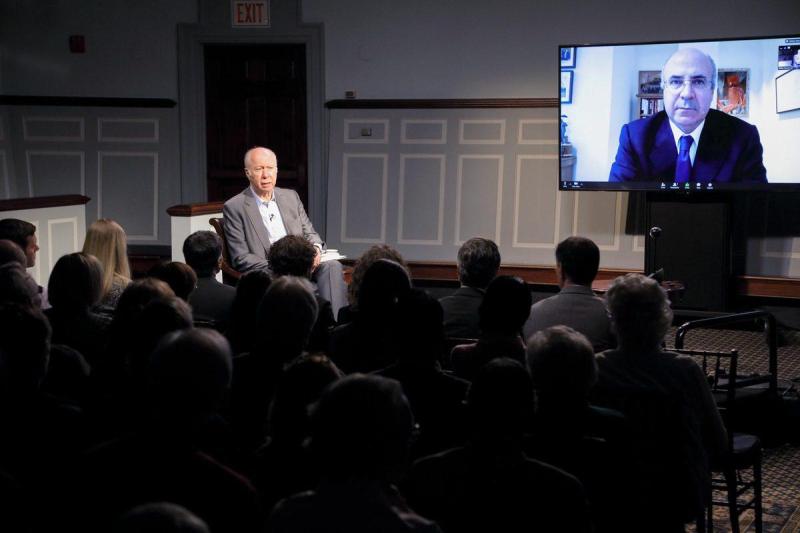 Moderator David Gergen listens to U.S. businessman and anti-corruption activist William Browder during Tuesday's "Corruption and Institutional Decay" event sponsored by the UVA Democracy Initiative.
Tom Cogill
Speaking by video chat Tuesday at the inaugural event hosted by the UVA Democracy Initiative's Corruption Lab on Ethics, Accountability and the Rule of Law, or CLEAR, Browder told the story of how his company, Hermitage Capital Management, went from being the largest foreign investor in Russia in the 2000s to being dismantled on fraudulent charges. Browder and Hermitage became nemeses of Russian President Vladimir Putin as their efforts to expose the massive fraud of Russian oligarchs and senior government officials grew.
With David Gergen, CNN senior political analyst and founding director of the Harvard Kennedy School's Center for Public Leadership, moderating, the capacity crowd of UVA professors, students and members of the general public at the Miller Center for Public Affairs listened to Browder describe how his lawyer, Sergei Magnitsky, was jailed for his efforts exposing a massive fraud involving senior Russian officials. Magnitsky died 10 years ago, a victim of brutal torture and medical neglect while in Russian custody.
Browder later persuaded Congress to pass the 2012 Magnitsky Act. The law, which has versions in effect now in Canada, the United Kingdom and several Eastern European countries, empowers the United States to sanction human rights offenders by freezing their assets and barring entry to the country.
The Magnitsky Act's passage has led to sanctions against numerous officials in the Putin clique. In an attempt to get those sanctions lifted, the Putin government has tried to portray Browder as the criminal, repeatedly and unsuccessfully seeking his arrest by Interpol.
"I myself have been subjected to death threats, kidnapping threats," Browder told Gergen and the Miller Center audience. "The Russian government has issued eight Interpol arrest warrants to get me back, and I've been sentenced in absentia to 18 years in Russian prison. Everybody involved in this has paid a very dear price." 
Like other research efforts within UVA's Democracy Initiative, the new CLEAR Lab aims to support public conversations and new scholarship on pressing global threats to democracy. As the lab develops, faculty members, including politics professor Daniel Gingerich, law professor Michael Gilbert and economics professor Sandip Sukhtankar, will plan academic courses, research and events exposing the causes, methods and consequences of corruption.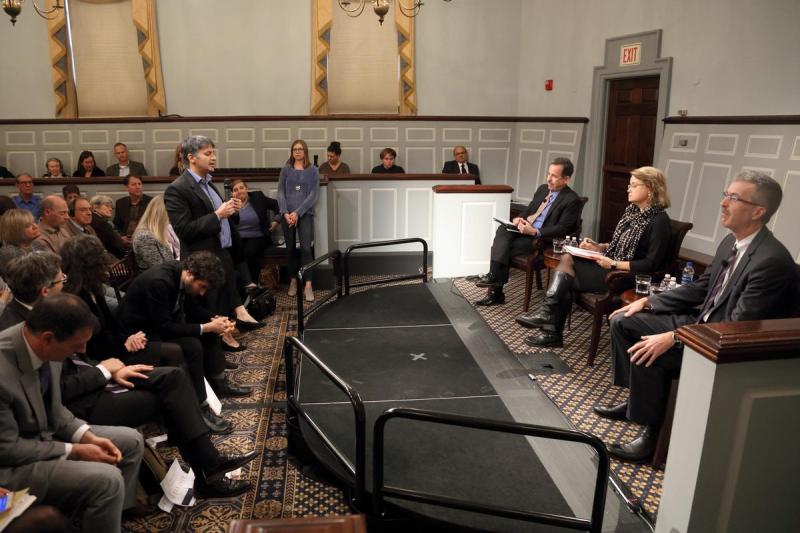 UVA Vice Provost for Global Affairs Stephen Mull moderated a panel with litigator Kara Brockmeyer and economic adviser Philip Keefer at the launch of the Democracy Initiative's corruption lab.
Tom Cogill
"Corruption has real-world impacts," said Gilbert, the Martha Lubin Karsh and Bruce A. Karsh Bicentennial Professor of Law. "Having Bill Browder share his perspective helps to demonstrate that the CLEAR Lab is not just working on theoretical concepts. We're working on important, practical policy issues."
The CLEAR Lab also will feature faculty contributions from Shan Aman-Rana, assistant professor of economics; Deborah Hellman, Massee & Morgan Professor of Law; David Singerman, assistant professor of history and American studies; and Sylvia Tidey, assistant professor of anthropology and global studies. In addition, the lab includes the efforts of Vineet Kapoor, visiting professor of practice; Jessica Levy, post-doctoral fellow in history; and Jan Vogler, post-doctoral fellow in politics.
"The fact that so many people whose training and research areas are otherwise so disparate share an interest in corruption is evidence of the widespread reach and importance of this topic," Gilbert said. "The intent behind bringing us all together is to share knowledge and expertise while complementing one another's work."
In his introductory remarks, Gergen said that UVA's Democracy Initiative has the opportunity, with the quality of its researchers and the other resources on hand, to build "one of the most important centers on democracy in the country."
"And there's never been a time, at least I think that most of us can remember, when we needed it more," said Gergen, who served as an adviser to four U.S. presidents of both parties.
Asked by Gergen if other "minor Putins" were popping up in other countries vulnerable to corrupt, authoritarian rule, Browder cited discouraging trends in Turkey, Hungary, the Philippines and Brazil, which he said display a growing trend of klepto-dictatorships.
"There doesn't seem to be any consequences at this moment for these people," Browder said. "One of the reasons why the Magnitsky Act, at the same time, has become so popular as a policy tool is that it's a way of dealing with this corruption and human rights abusers."
Closing with a mention of his book, "Red Notice: A True Story of High Finance, Murder and One Man's Fight for Justice," Browder cautioned his audience that it's important to appreciate in minute detail how corruption is costing lives and freedom.
"You need to understand how bad it is in granular terms and the human cost of that," he said. "It really does make you feel much more robust about doing something about this."
Gingerich, an associate professor in the Woodrow Wilson Department of Politics and director of UVA's Quantitative Collaborative, said that the CLEAR Lab wanted Tuesday's event to demonstrate how global and pernicious a problem corruption is.
"It's global in the sense that it touches every corner of the globe, and it has an effect on politics and accountability in almost every country around the world," he said. "It doesn't just negatively impact the finances and economic wellbeing of a country. It fundamentally erodes the rule of law.
"Browder's discussion of the experiences and travails that he faced in Russia in the '90s and then in the early 2000s, culminating with the outright theft of companies that pertained to Hermitage Capital in 2007, gives you a sense of the occasionally brutal consequences associated with unchecked corruption. … But that type of sad outcome, that brutal outcome is a consequence of the erosion of the rule of law by way of corruption, and it's one that we find in many other countries as well."
As part of the Democracy Initiative's plans for the CLEAR Lab, the UVA researchers involved hope to make academic scholarship part of the public conversation. The lab intends to maintain a list of future public events on its website.
"It's what motivates the public conversation, and our recommendations to makers and contributions to this larger discussion of what fuels corruption and what can be utilized to reduce it is based fundamentally on our scholarship, collectively as a group," Gingerich said.
With the ongoing impeachment hearings dominating U.S. headlines, perhaps it was no surprise that Tuesday's inaugural event sold out quickly. At the beginning of Tuesday's event, Browder jokingly thanked the audience for choosing to attend the video chat instead of watching Tuesday's House investigative committee hearings.
"As a special unit on corruption, they're both sort of equal draws," he joked.
Tuesday's event closed with a question-and-answer session with the CLEAR Lab's assembled faculty.
"We wanted to show the community our work and also, in some sense, compare notes," Gilbert said. "Here are the corruption issues that interest us; what interests you?"