Former Hoo Helped Pave the Way for Female Sports Broadcasters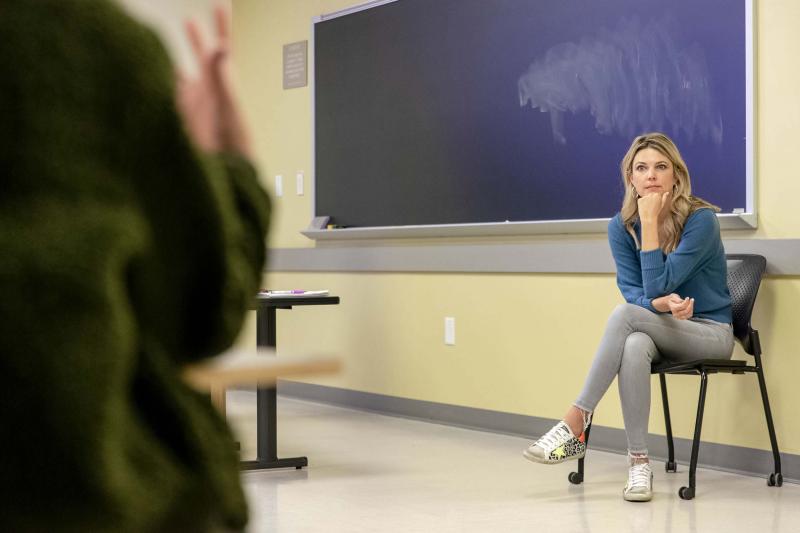 When University of Virginia alumna Melissa Stark burst onto the scene in 1996 as an ESPN reporter and, later, as the sideline reporter for ABC's "Monday Night Football," the sports broadcasting landscape was different. Stark, as she told a class of UVA media students in Wilson Hall last week, was "a woman in a man's world."
Today, more women than ever are thriving in the field – and media studies assistant professor of practice Anna Katherine Clay believes Stark is one of the reasons why. In a career spanning four decades, Stark has covered Super Bowls, the Olympics, the World Series, and the Final Four among many prestigious events.
"She is a trailblazer for women in sports television," Clay said.
Last week, Stark was a guest speaker in Clay's "Sports Journalism" course, which focuses on narrative, nonfiction storytelling through the lens of sports.
"By reading, watching, listening to and then analyzing sports media examples as a class and individually, as well as experiencing them through written, video and audio feature assignments, I hope the students learn the power of great storytelling, particularly within sports," Clay said. "An important part of that learning also happens by talking throughout the semester to respected practitioners within sports media – like Melissa."
Stark got her start in broadcasting as a fourth-year student at UVA when she produced features for the television shows of former Cavalier football head coach George Welsh and former basketball head coach Jeff Jones.
"That was incredible," recalled Stark, a Baltimore native who was a member of the Kappa Alpha Theta sorority. "I'm forever indebted because when I graduated, I had a tape. Nowadays you can record anything on an iPhone and get any kind of footage you need, but back then a tape was gold because that's what you took to news directors."
Stark, a mother of four whose son, Mike, will be a first-year student at UVA next fall, is now a host and reporter for the multiple Emmy Award-winning show, "NFL 360," on the NFL Network.
UVA Today caught up with Stark for a wide-ranging discussion.
Q. What are some of your fondest memories from your time as a UVA student?
A. I made such good friends right away, and I think that was so important for me – the social aspect when I first got there – because it was a big school and I had come from an all-girls private school. To this day, my closest friends are 10 UVA girls. We have a group text going every day, which is awesome.
I loved the academics; I loved to be challenged. I majored in foreign affairs and minored in Spanish. The sports are obviously amazing, and I loved the camaraderie and the team spirit. And so it was really a combination of everything.
Q. During summers while you were at UVA, you worked at "CBS Evening News With Dan Rather." What was that experience like?
A. I'll never forget – Dan Rather met with all the interns and he said, "This is the type of job you give up your life for." I thought, "Oh, gosh" because here I am a female and I knew I wanted to have kids and I'm thinking, "How could I do this?" because I was so interested in covering news. And that's why sports worked for me, because if you're planning a family and have little kids, breaking news doesn't really work. I wasn't really willing to give up family reunions and important things, life-wise.
For me, being a mom and having this career was really a balancing act, and sports was the way to do it because, even though there's breaking news in sports, sports is planned. You can plan around when the games are and when you're traveling … And I've always loved sports because it's just the ultimate reality TV. You just never know what's going to happen.
Q. You eventually went on to ESPN and ABC and covered so many huge sporting events. What were some of your most memorable ones?
A. When I was right out of college and working for Home Team Sports, which covered the Orioles and Capitals and the Wizards, I did an Orioles game that I knew President Clinton would be attending. I said to my boss, "I'm going to interview the president today," and he was like, "Gosh, he's going to be around Secret Service and I think that's something that needs to be lined up." But I remember calling my dad and saying, "I'm going to interview the president today."
So, sure enough, I figured out a way to interview Clinton. It was spring training and so I talked to him about baseball and what it means to America. That was pretty cool. I was 22 and interviewing the president.
Q. Who were female broadcasters you looked up to?
A. Because I was so interested in news to start with, I really liked Katie Couric and the fact that she was from UVA. I liked the idea of combining hard-core journalism with a personality, like a Katie Couric, Diane Sawyer or a Barbara Walters.
Barbara Walters I liked because she was just a really good interviewer. So much of what I do is interviewing. So someone who really gets to the essence of the story and gets the answers and connects with the person they're interviewing is something that I always admired.
Q. How has being a female sports broadcaster changed from when you first started?
A. It's much more widely accepted. I remember Andy Rooney from "60 Minutes" saying, "What is a female going to tell me that I don't already know about football?" And that would be unheard-of today.
I was covering a golf event and Jack Nicklaus said something like, "You may be good to look at, but you're standing too close to my [putting] line." It was like, "Wow."
Now it's commonplace for women to be around and to be in the locker room. So it's much more accepted. The key is to have women who are doing it and doing it well, because it does a disservice to every female journalist out there when someone is in it for the wrong reasons or not doing a good job. The more women we have who do a fantastic job and who are there for the right reasons and are successful, it just helps every woman.
Q. In that vein, what would be your advice to women who want to get into sports journalism?
A. My advice is to just know your stuff. That sounds too colloquial, but that is what it is. It's "Know your stuff." When I do a live shot, I don't memorize what I'm saying, I just know very well what I'm talking about so that I can go in 100 different directions.
I would say to find what you're passionate about and then go relentlessly about getting the stories. The key to all journalism is to get that nugget, to get that story that no one else has – the "aha moment," to report something that nobody else knows. That's the pinnacle for every reporter.
When I started out, I think I lacked the confidence because I really was a woman in a man's world. So I wish I knew then what I know now.
Q. What do you think you would have told yourself?
A. You belong. You belong here. By the third year of "Monday Night Football," I knew it. The first two years, probably not so much. I let a) other women bully me, and b) I let athletes bully me. I would have said, "Trust your instincts, you're smart. You've earned this, you've worked your butt off. And why not you? Why can't you do this?"
Q. The "Rooney rule," which required NFL teams to interview a Black candidate as part of any head coaching search, was supposed to address a lot of the issues related to the lack of Black head coaches in the NFL, but clearly isn't working. Do you have an opinion on where you think the league needs to go from here?
A. It's a work in progress, and the league is making it a priority, and the league needs to do so. Obviously it's something where you look at the NFL that is predominantly African American and representation is very important. I think it's a very complicated issue. It's a work in progress, but the league is making it a priority and needs to make it a priority.
Q. On a lighter note, almost every sports reporter could make a pretty lengthy blooper reel. Do you have some greatest hits, so to speak, that you can laugh about now?
A. Oh, my gosh, yes! I'm so thankful that YouTube did not exist. There are two things I did that I would have never lived down and maybe wouldn't have had a career.
It was the first time I had ever done a live studio show and I had never read Duquesne [University] written out. So I said, "Fordham at …" I was waiting and hoping the producer would say something. And so I said, "Fordham at Dew-Kez-ney." I think I was 21 or 22 and just wasn't familiar with the school. That was just horrible, horrible.
Then the second one was my first live shot in the field with ESPN, at a Division III football championship. And as soon as [the hosts] threw it to me, it was like my mind went blank. I literally couldn't remember the quarterback's name. It was just a moment of absolute panic, and it was horrible. I'm just really thankful it didn't happen in the day of social media and all that.
And then, as my career has gone on, I've had my sweater catch on fire during a live shot, I've had [audio difficulties] and no idea if anybody could hear what I was saying, I was hit in the head with a football. But once I had the repetition, I could have anything happen around me.
Q. I'd be remiss if I didn't ask you about your experiences with the late John Madden. Today's generation might only know him because of his video games, but he was really so much more, right?
A. I think it's hard in life to be the best at what you are in one thing, and he was the best in three things – as a coach, as a [businessman] with his video games and as a broadcaster. And I would say it's even more than just that trifecta. As a human being, he was as genuine as they get. He was down to earth and humble and real. And he was so supportive of me in making me feel like I belonged. He treated me like one of the guys and gave me the confidence that I needed. I'll forever be indebted to him. He was a mentor, father figure, coworker and friend all wrapped in one. We still talked up until the day before he died. We had a great relationship.
Q. You obviously still keep tabs on UVA sports. What did you think of UVA's hiring of Tony Elliott as head football coach?
A. I think it's so exciting. I love his history, where he's come from and what he's overcome. He is so excited about developing young men, and I think taking back recruiting in Virginia is going to be huge, and the staff that he's hired seems great. I just like his whole mentality of developing the whole person, not just the athlete, but mind, body and spirit. And the fact that he's won two national championships – he knows how to get us there.