Harvard Scholar Takes First-Year Students Back to the Basics of American Democracy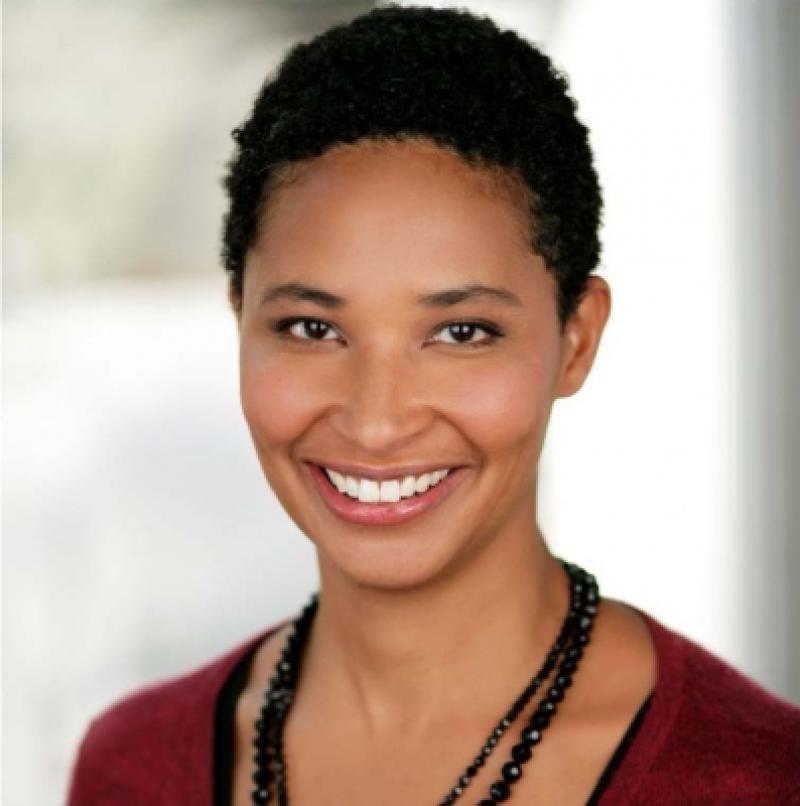 Danielle Allen, James Bryant Conant University Professor and director of Harvard University's Edmond J. Safra Center for Ethics
Harvard University
I've come to believe that one can't spend too much time thinking about the Declaration of Independence," scholar Danielle Allen told an enthusiastic crowd at the Paramount Theater in downtown Charlottesville Thursday night.
Allen, the James Bryant Conant University Professor at Harvard University and director of Harvard's Edmond J. Safra Center for Ethics, spoke to University of Virginia students and professors and members of the Charlottesville community as part of the College of Arts & Sciences' Engagements Lecture Series. Her lecture, the third in the series, was titled "Democracy and Education."
Allen is the author of six books, including "Our Declaration: A Reading of the Declaration of Independence in Defense of Equality," which won the Francis Parkman Prize from the Society of American Historians and was the common reading assignment for the 600 first-year students in the College's new curriculum pilot program.
The Engagements Lecture Series is a key and more public part of the College's new curriculum, said Chad Wellmon, a UVA associate professor of German studies and co-director of the new curriculum's College Fellows Program. The "Engagements" are the new curriculum's seminar-sized classes taught by the College Fellows – some of Arts & Sciences most esteemed faculty members – and are focused on ethics; science and empirical thinking; aesthetics; and cultural differences.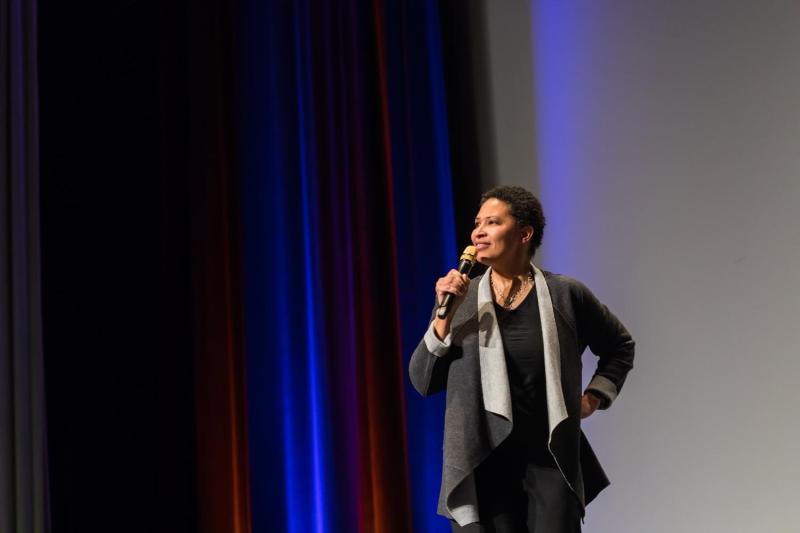 Danielle Allen of Harvard University mined the meaning of the Declaration of Independence on Thursday for students and faculty in UVA's College of Arts & Sciences.
Stacey Evans
"The Engagements ask our students to think big, and to think well," Wellmon said in his introduction of Allen.
"We faculty members spend a year with you, our students, trying to make the case that knowledge and thinking well are not just means to money, or success or prestige, but they are in some way good, in and of themselves," Wellmon said. He emphasized that Allen is an example of a person who has never stopped thinking and learning. "Danielle Allen has been a model of everything I aspire to be, as a scholar and a teacher. Her work extends across fields, genres and historical ethics and cultures. She is one of our nation's most capacious, and I would say captivating, thinkers."
In her remarks, Allen said she's spent 17 years thinking about the Declaration, focusing on its proposition that we as a people cannot have freedom without equality. She described the role that education plays for human beings to flourish as "civic agents" in their communities and the larger world, to become "as W.E.B. DuBois would say, a 'co-creator in the kingdom of culture,'" Allen said. "At the end of the day, I think the most compact, insightful account of what a civic education requires is to be found in the second sentence of the Declaration."
Allen invited the audience to "wander back" with her into the text. "By now you all know it," she said to the students in the audience, "and you all know [the sentence is] longer than everybody thinks." She then recited the sentence in its entirety:
We hold these truths to be self-evident, that all men are created equal, that they are endowed by their Creator with certain unalienable Rights, that among these are Life, Liberty and the pursuit of Happiness,—That to secure these rights, Governments are instituted among Men, deriving their just powers from the consent of the governed,—That whenever any Form of Government becomes destructive of these ends, it is the Right of the People to alter or to abolish it, and to institute new Government, laying its foundation on such principles and organizing its powers in such form, as to them shall seem most likely to effect their Safety and Happiness.
"In that little sentence of the Declaration of Independence, there's a whole world of lessons for how to think about the art of running a democracy," Allen said.
"What does it mean to lay a foundation on principles?" Allen asked. "The sentence gives us education on this – it starts out with an articulation of principle, mainly that all people are created equal and are endowed by their creator with unalienable rights, and among these – it's not a complete list, which means it's pointing in the place where we're supposed to be doing our thinking – are life, liberty and the pursuit of happiness. So what else might go on that list?"
The abstract notion of principles found in the Declaration is very much alive in government and civic life today, Allen said. "The truth of the matter is, if you dig deep into the fights that are all happening about health care, we're actually fighting about whether health care is a right, as a matter of principle. … The debate has to be separated into two parts – the question of principle, and then the question of organizational form [laws and structures], such as the Affordable Care Act, delivering on the commitment to a right. … The Supreme Court jurisprudence has a long history of coming back to our principles and reconsidering them and sometimes adjusting them."
Those who have studied the Declaration of Independence, Allen said, will then be able in any debate to step back and say, "Let's get back to the principles here."
But in order to think about principles, Allen said, citizens need a civic education. "You need philosophy and religious studies and literature, where people act on principles and test them out through action. Understanding organizational form means studying how institutions get structured, through political science, as well as sociology and economics and business. And finally, we actually have to have a whole discipline that's about listening, hearing other people. Literature and the arts are very good for that."
Without the ability to listen and have a conversation, Allen said, we won't be able to "put our different interests in relationship to each other … to achieve the good of all of us."
In an interview, Wellmon explained the decision to bring Allen to speak to the new curriculum students. "Everything that Danielle Allen has thought and written about directly informs the way we imagine the curriculum, just structurally speaking. It's the fundamental proposition, that knowledge is what a community holds dear. We approach it and create it in different ways, and that's at the core of the different Engagements. Through our own kind of disciplines and specialized knowledge, we come together to attempt to understand ourselves, the world, and each other better."
Brinsley Eriksen, a first-year student in the new curriculum program, is planning on double-majoring in history and foreign affairs, and said reading "Our Declaration" opened her eyes to how two ideals – freedom and equality – have become polarized in our modern political climate. "Exploring the two ideals as complementary, and indeed dependent on each other, was a fascinating insight into the foundation of our country," she said.
Seeing Allen speak Thursday and hearing her devotion to compromise left Eriksen feeling refreshed, she said.
"One thing I really admire about Danielle Allen is her commitment to complexity," she said. "She doesn't see most issues as solely black-and-white, and works to truly understand others and the big picture. The concept of human flourishing also resonated strongly with me, and I thought it was interesting how important it is to focus on in constructing a society."
Another first-year student in the new curriculum, Nia Williams, felt a powerful personal reaction to reading Allen's book. "My experience reading 'Our Declaration' was one filled with relief and understanding. As an African-American female, it was extremely powerful for me to read an interpretation of the Declaration of Independence from a person who had similar experiences to mine," she said.
"That said, it also reminded me of how our Founding Fathers truly knew the immorality of inequality, which drew a bit of a sadness for me when looking at other historical documents such as the Constitution, which blatantly states laws of inequality such as the three-fifths compromise," Williams said, referring to the 1787 measure that counted enslaved persons as three-fifths of a person in apportioning representatives and presidential electors, among other things.
Allen said that when she makes the case to people about the value of the Declaration for an education in the art of democracy, she is often asked, "Why do you teach dead white men?" and, "What about slavery and race?" Her response is to recognize that there are many voices in the Declaration, not just Thomas Jefferson's. "I know you guys care a lot about Jefferson … it's very nervous-making to come to Charlottesville to talk about the Declaration of Independence," she said carefully to the audience. "It does matter that the committee of five—Jefferson, John Adams, Benjamin Franklin, Robert R. Livingston and Roger Sherman—was made up of one Southerner and four Northerners.
"This country has had multiple political traditions from the beginning. We've never been one thing. That's part of our trouble, but it's a source of optimism and resilience and possibility. … The very first people who started to use the Declaration for political purposes were abolitionists. By 1780, emancipation for slaves had been achieved in Massachusetts, Pennsylvania and Vermont."
Allen suggested a way for students to think about the errors of the time that mark the text of the Declaration and how to address them in the present.
"Those spots," she said, "those are the wormholes. Those are the places where they got it wrong. And if I can figure out why they got it wrong, and walk through that hole and figure out how it affects the whole structure of what they did, I can fix it. I can do it differently. I can think my way through that problem to an alternative."