Hinz Wins Prestigious Weisfeld Costume Design and Technology Award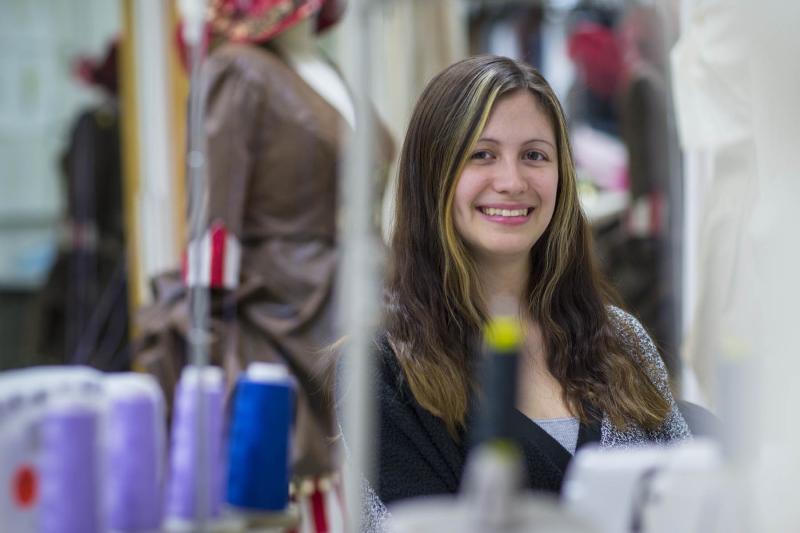 2014 MFA Candidate Lindsay Hinz
Sanjay Suchak / UVaToday
Who are the stars of theater costuming? Usually the designers.
However, Lindsay Hinz, a third-year master's student in costume design and technology at the University of Virginia, concluded her academic career by bringing attention to the equally crucial field of costume technology.
Costume designers put their visions down on paper. It is up to the costume technologists to bring those designs to reality, Hinz explained.
What Hinz has brought to life in her professional and academic work has garnered her the Zelma H. Weisfeld Costume Design and Technology Award, which she received at the United States Institute for Theatre Technology's annual conference, held in Fort Worth, Texas, March 26 to 29. She is the first costume technologist to win the award since it was introduced in 1997.
While her academic career climaxed at the conference, the journey to her success has been ongoing. Hinz took her first sewing class in third grade, by the time she was a sophomore in high school in Arlington she knew she wanted to make a career of costume technology.
"I'm a huge movie buff, so I started saying, 'I love that costume. I wonder if I could make it?,'" Hinz said. "It became an interest in wondering."
Her theatre education began at Christopher Newport University, but her most rigorous education came in U.Va.'s intensive design and technology program. "For three years, you eat, sleep and breathe costumes," she joked.
Hinz makes an average of 10 to 12 costumes each semester, spending 12 hours per day on costumes for consecutive days on end. Her 18th-century pannier that she completed for a period half-drape class, proved to be an exciting project for Hinz. The pannier required only half the stitching since it would likely be symmetrical if completed fully. She submitted the piece in her application for the award.
While Hinz said she enjoys both design and technology, her passion lies in the hands-on process that costume technology allows her. "I've always been an artist and I've always loved making things. I find it so much more enjoyable to bring the costume to life," she said.
"Lindsay's drive for excellence results in top quality in everything that she undertakes," said professor Gweneth West of the Department of Drama, an expert in theater costuming. "She knows what she wants to accomplish and makes it happen. She has boundless energy and great passion for her technology and her design."
Weisfeld Award nominees must be completing graduate school or have graduated within the past two years. One award is given each year.
Hinz admits she was surprised to hear her name called. "It was really shocking, because no costume technologist has won the award before – it has always been a designer," she said. "It was really surprising that finally a costume technologist won."
"We are all extremely proud of Lindsay receiving this award," West said. "She pursued this opportunity as she has everything – with great commitment and determination."
Winning the Weisfeld had long been a goal for Hinz. She has attended the USITT conference for the past three years, knowing that when she reached her final year of graduate school, she would meet the requirements to apply.
Costume technology professor Marcy Linton nominated her. Hinz submitted slides of her academic and professional work, an artist's statement and five letters of recommendation from designers who spoke to her work.
She received the award, which includes a $1,000 grant, in front of thousands of conference attendees. In her acceptance speech, Hinz emphasized the passion behind her work.
"As an artist of costume technology, I enjoy the process of receiving a design rendering and working to bring it to life," she told the audience. "I know that I have chosen the right art form for me not only because I love the process, but also because every time I finish a costume, I am always so excited to share it. The pinnacle of every project for me is going to see the production and sharing my work with the audience as the costume adds to the life and spirit of the character."
Just as her costumes transform actors, the award will be transformative for Hinz, West said. "Such national recognition as this award garners places her in the spotlight at this conference, attended by well over 5,000 professional designers and technologists from all areas of theater, film and stage," West said. "Now they know who she is and what she can do and she will continue to excel."
Besides the opportunity to meet Weisfield, the award's namesake and a rock star in the world of theater costuming, Hinz also networked with other accomplished designers and technologists attending the conference.
The opportunity and the award has jumpstarted her post-academic career.  
She received three offers to serve as a draper – the highest technologist position in the field, responsible for communicating with the designer and guiding the first-hand and stitcher – for this summer and a full-time draper offer for the fall. She opted to spend a second season at the long-running Outer Banks outdoor drama "The Lost Colony," working under six-time Tony Award-winning costume designer William Ivey Long.
"It's a big deal to have gone as far as I can educationally in costuming by the time that I'm 24," Hinz said. "When I went to my first draper position I was nervous. I thought people would look at me and be like, 'Who is this little girl?'"
Despite her fears, Hinz said she felt accepted into the professional theater community and has proven her chops at that level.
Hinz's ultimate goal is to end up in Hollywood. "Every year I become more confident I can get to Hollywood. At the beginning of undergrad, I thought it was a pipe dream. Now as I get further in my career and getting this award I realize that it could be possible," she said.
As her career begins to take shape, Hinz has interest in creating a personal collection of replicated "Star Wars" costumes.
"I love replication work, so now that I've gotten more skills I want to replicate the costumes I see in movies," she said. "The character of Padme Amidala has the most stunning sci-fi costumes. I'm hoping to make one costume a year and make her whole wardrobe."
While building the collection will be costly, Hinz would likely be able to sell it following its completion.
Hinz's final U.Va. technology projects will be included in the Drama department's production of "A Flea in Her Ear." The play will take place in Caplin Theatre April 17-19 and April 23-26.
Hinz's thesis, "Costuming as an Art Form: Script to Stage," will be available through the Fine Arts Library's online repository of graduate documents after May 1.