Honors Politics Major Russell Bogue Among 2015 Class of Rhodes Scholars
Russell Bogue, a fourth-year honors politics student who also is studying Mandarin Chinese, is the University of Virginia's 51st Rhodes Scholar.
The Rhodes Trust announced Sunday that Bogue, 22, of Guilford, Connecticut, was one of 32 scholars chosen this year. The scholarships, valued at between $50,000 to $175,000, fully fund two or three years of study at the University of Oxford in England.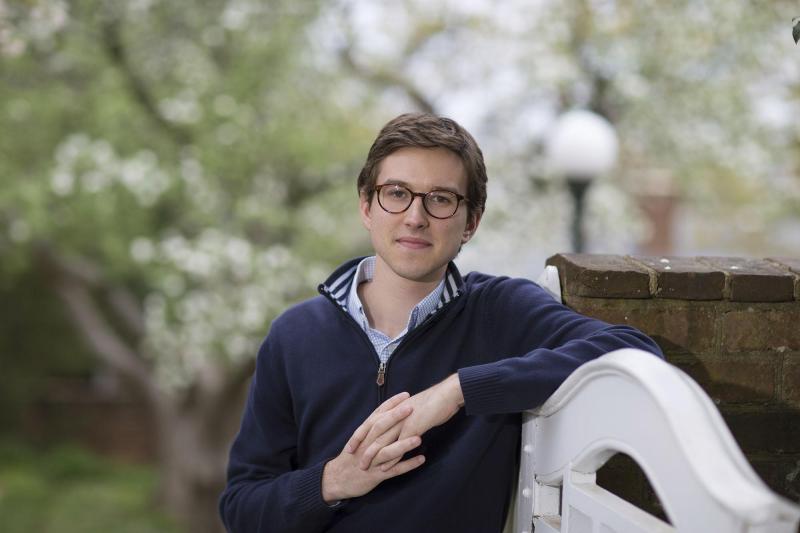 Fourth-year Russell Bogue, Honors Politics Major and 2015 Rhodes Scholar
Created in 1902 in the will of Cecil Rhodes, a British philanthropist and African colonial pioneer, the Rhodes Scholarships are awarded on the basis of high academic achievement, integrity, a spirit of unselfishness, respect for others, potential for leadership and physical vigor.
Bogue – a Jefferson Scholar, Echols Scholar and Harry S. Truman Scholar at UVA – is planning to study political theory at Oxford, pursuing a master's of philosophy in political theory, followed by a doctorate in philosophy. He plans a career in academia, as either a professor of law or politics.
As an undergraduate, Bogue combined his two disciplines in a research project on the political opinions of Taiwanese youth, especially in regard to reunification with China. He is writing a thesis on the possibility of forming a meta-constitution to govern both Taiwan and China.
"After studying some Chinese politics, I found the question of reunification with Taiwan to be incredibly interesting," he said. "I can't think of a precedent in modern politics for the relationship that currently exists between the People's Republic of China and Taiwan. However, it struck me that this question probably wouldn't be resolved by the current generation of political leaders, but rather by the next generation – i.e., today's college students. So I wanted to hear their thoughts."
His research in this regard led to his writing about potential political solutions to the "crisis across the Taiwan Strait."
"If we reject military conquest on humanitarian grounds, and if China will never accept an independent Taiwan, then we're stuck with the only available alternative: forming some sort of political compromise," Bogue said. "I think this will look something like a meta-constitution."
Bogue plans to use his time at Oxford to learn more about the topics he studied as an undergraduate – constitutionalism, studies of democracy, legal and political theory – but also to explore new areas.
"My degree will prepare me for a future career in academia, but I don't want to lose sight of the opportunity I will have to learn for the sake of learning, simply to better understand the world," he said. "For two years, I'll try to take a break from planning the next step, and I'll focus on taking full advantage of the unique communities I'll be a part of."
Bogue said he was in shock when he was told of his Rhodes Scholar selection, and expressed gratitude to those who encouraged him, recommended him and aided him throughout the process.
"I am also left with a deep sense of responsibility," Bogue said. "I intend to use this opportunity to equip myself to be a public servant – to 'fight the world's fight,' as Cecil Rhodes intended when he endowed the scholarship. I am honored by my selection, and I intend to live my life in a way that reflects the immense blessings I've been given."
Faculty mentors were not surprised with his accomplishment.
"Russell has mastered the Taoist art of how to be active without frenzy and how to get things done without pushing," said Brantly Womack, C.K. Yen Professor of Politics. "He listens as well as he talks, and he can give a clear explanation of something without simplifying it. These are deep virtues."
John Owen, Taylor Professor of Politics, said Bogue's work displays a supple mind that is relentlessly logical and highly imaginative. 
"He can tear an argument apart with the best of them, but also can see connections and reassemble bits of arguments in novel ways," Owen said. "
He writes and speaks as lucidly as any student I have taught in my 20 years of being a professor."
Owen said Bogue can produce new knowledge but also see clearly what is at stake in producing that knowledge.
"Russell understands clearly the connections between the world of academic theory and the world of action," Owen said. "He has a bright career ahead of him, and a Rhodes Scholarship will help propel him into that career."
Bogue is working with Steven Rhoads, politics professor emeritus, in revising Rhoads' 1985 book, "The Economist's View of the World: Government, Markets and Public Policy."  Rhoads credits Bogue as a strong researcher and a very good writer.
"I have no doubt that Russell will find ways to help America develop wise policies, whether domestic or international," Rhoads said. "He is genuinely curious and has avoided joining the shouters on the political left or right. His mind and temperament are judicious."
Rhoads also views him as a good influence on other students.
"Other students seemed to perk up when he spoke because of his good cheer, steady temperament and obvious intelligence," Rhoads said. "His oral performance was tops in the class, as was his overall performance."
Bogue graduated from Choate Rosemary Hall in Wallingford, Connecticut. At UVA, he has been the co-founder and editor-in-chief of Seriatim: Journal of American Politics; vice chair for trials of the Honor Committee; a leader of the third-year Bible study for the Reformed University Fellowship's Christian Fellowship Ministry Team; and the public policy chair of One in Four, an all-male peer education group at UVA focused on preventing sexual assault.
He also is vice president of the Raven Society; served as opinion editor of the Cavalier Daily from 2014 to 2015; and is a hospital volunteer and language consultant for the Volunteers with International Students, Staff and Scholars program of UVA's Center for American English Language & Culture. He is a member of the squash team, Beta Theta Pi fraternity and Phi Beta Kappa.
Bogue received a Harrison Undergraduate Research Award to support his research in Taiwan, a Critical Language Scholarship through the U.S. Department of State and a Jefferson Trust Grant. He was a student lecturer for INST 1550, "You and the Court," through the Cav Ed program. He also won a third-place award for column writing from the Virginia Press Association, competing against professional journalists.