How UVA's Unique Experiences Inspire Ian Baucom, the University's Next Provost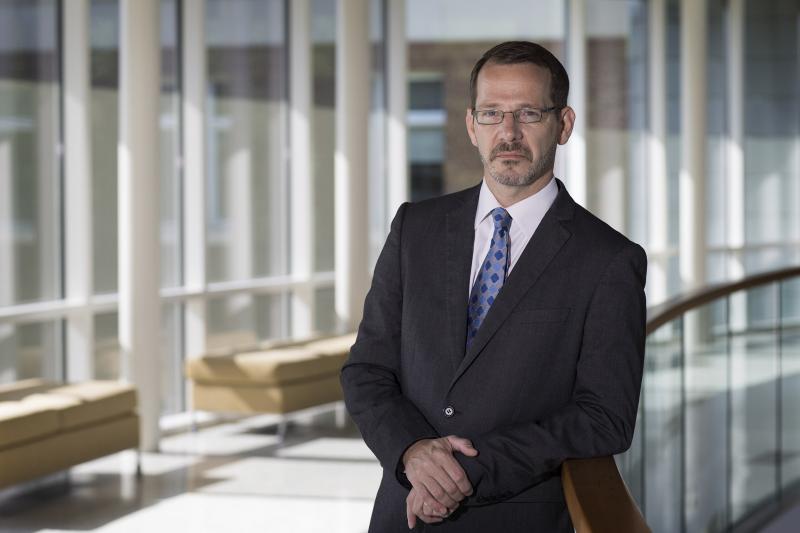 Since arriving at the University of Virginia in 2014, Ian Baucom has collected an array of experiences and accomplishments while leading the College and Graduate School of Arts & Sciences, the school that is considered UVA's intellectual core and home to more than 12,000 undergraduate and 1,400 graduate students.
In sum, those accomplishments helped prepare him for his next assignment as provost, leading the entire academic enterprise. President Jim Ryan announced this month that Baucom will succeed Liz Magill as the University's executive vice president and provost. Magill begins a new chapter in her academic leadership career later this year, as president of the University of Pennsylvania.
Accomplishments aside, a discussion of Baucom's time as the Buckner W. Clay Dean of Arts & Sciences reveals that what he has seen, heard and felt at UVA is a significant part of what makes him so enthusiastic to play a bigger role.

"That historical call to be part of an experiment in how public education advances democratic life is real here," he said. "I've seen that in our alumni and our faculty, and I've seen it in our students. It's been an honor to be part of that in the College, but now, to work with colleagues and students across all the schools to advance that – there's no comparison. There's no other opportunity like it."
Seeing students walk the Lawn on the way to Final Exercises at Scott Stadium in May was an inspiring example for Baucom of their determination through the pandemic and other challenges. (Photo by Sanjay Suchak, University Communications)
Baucom pointed to several examples of student resilience and determination that inspire him. The bookend experiences of the Class of 2021 left a particularly deep impression. Weeks before the students arrived in 2017, torch-bearing white supremacists marched across Grounds and engaged in violent clashes at UVA and in downtown Charlottesville. Four years later, those students would graduate after seeing their final months at UVA disrupted and nearly derailed by the COVID-19 pandemic.
But they were not deterred or denied.
"The way the students rallied around each other in 2017 and the maturity they showed this past year really stick with me," he said.
The opportunity to walk the Lawn with them on the way to their Final Exercises ceremony at Scott Stadium was one of the most gratifying moments of his time at UVA.
"There's a lot of joy and happiness in this university," he said, "but our students combine that with the sense of really trying to understand what the history of this place means for the future and what else they're going to build."
Right Person at the Right Time
Ryan could say the same about Baucom, whose appointment will become official when approved by the Board of Visitors in March. He lauds Baucom's deep and relevant experience, and his ability to appreciate the history and tradition of a place like UVA while still recognizing the need to continue to experiment and evolve.
"Ian is widely admired not only for his competent leadership and passion for research, teaching and learning, but also for his generous spirit and ability to listen," Ryan said. "
Given his track record of success at the College and his dedication to UVA's academic mission, he's exactly the right person to step in as provost, and I know he'll be ready to hit the ground running."
Magill, who served as provost since 2019, knows well the enormity of the job. The provost serves as the institution's chief academic officer, broadly responsible for its teaching, scholarship and research, faculty recruitment and retention, and service to the commonwealth. For the past 2 ½ years (and counting), the provost also has played a leading role in guiding the University's response to the pandemic.
"It's a difficult and rewarding job. I also think it's an ideal job if you believe deeply in the core missions of a public research university – advancing research, teaching and service, and therefore working to help students succeed and faculty thrive," Magill said. "Ian Baucom clearly does, and I couldn't be happier for him – and for UVA. He is perfectly suited and more than prepared for this opportunity."
Baucom transitions to the Office of the Provost in March. He and Ryan announced last week that David Hill, professor of psychology in the College and a former department chair and associate dean, will serve as interim dean as a national search for a permanent dean of Arts & Sciences gets underway.
The Power of Education
Baucom credits his mother and father for showing him the power of education to improve lives. Their lesson and his belief in it have only strengthened through his career.
His parents, Kenneth and Henrietta Baucom, ran adult literacy programs for mine workers in South Africa, where Baucom spent his childhood during the country's apartheid era.
"I saw the difference that basic education made in the lives of those miners, and then I saw the role that universities played in the struggle against apartheid," he recalled.
Apartheid laws enforced racial segregation in South Africa from the 1940s through the system's dissolution in 1991. Anti-apartheid activist and African National Congress leader Nelson Mandela, jailed for his political activities for almost 30 years, generated international attention and applied pressure to the discriminatory system. Freed in 1990, he and President F.W. de Klerk worked together to construct a new South African constitution as de Klerk began repealing the laws of apartheid.
"The move toward actually building a democratic culture is the signature formative experience of my life," Baucom said. "You don't know these things when you are a child. But I think that's why I do this, and that's why I really love this place. I believe in it. I see it here."
The link between higher education and a healthy, sustainable democracy – a motivating purpose behind Thomas Jefferson's founding of the University more than 200 years ago – could hardly be more urgent today, Baucom said.
"Around the world, we are all so conscious that democracy is a fragile thing. And this is not a partisan issue," he said. "Democracy is something that you can't just count on. You have to keep fighting for it."
Achievements Along the Way
Baucom arrived on Grounds at a time when the University was experiencing significant generational turnover in its faculty. Many professors who helped nurture UVA's reputation as an academic power were reaching retirement age, and Baucom focused on recruiting, hiring and retaining top instructors and researchers. More than 200 new faculty members have joined the College during his tenure as dean.
Those faculty members, he said, are now shaping the institution for new generations of students – and doing so with the same commitment to student well-being and success.
"You see in the current generation of faculty just this intense devotion to their students," Baucom said. "We saw it again so amazingly during the pandemic. They put so much of their lives in service of those students. Our faculty are world-leading researchers, scholars and artists at one of the world's leading institutions of knowledge creation. That's distinctive about them."
The students, in turn, continue to demonstrate the importance of two pillars of the UVA student experience: honor and self-governance.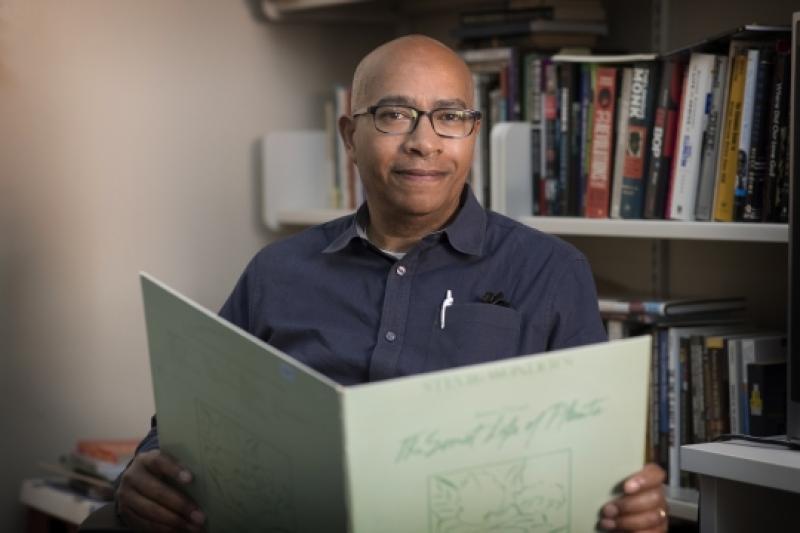 Kevin Gaines, a distinguished scholar in African-American history, holds appointments in the Carter G. Woodson Institute of African-American and African Studies and the Corcoran Department of History.
Dan Addison / University Communications
"When I arrived, I didn't truly understand what it means for the students to build a community of trust with each other that would bond them in their years together, but I understand it now," he said. "It ties them to the University – I found with our alumni, for all their lives. And I think the responsibilities that we give to our students as 18- to 22-year-olds, to take responsibility for their futures individually and collectively, is really distinctive. It's the soul of this place."
Other accomplishments during his time as Arts & Sciences dean include:
The first major revision to the College's core curriculum in more than 40 years.
Almost $300 million of state and university funding committed to improving research and teaching facilities for STEM disciplines, including chemistry, psychology, biology and physics.
A 50% increase in externally funded research.
The establishment of a range of Ph.D. fellowships to recruit underrepresented students into Arts & Sciences graduate programs and to support interdisciplinary clusters of graduate students in key strategic areas.
The creation of the Democracy Initiative, a collaborative center for the study and teaching of democracy, now poised to become a core component of the new UVA Karsh Institute for Democracy.
Assisting the Carter G. Woodson Institute for African-American and African Studies to become a full-fledged department in the College.
After transitioning to the provost's office, Baucom plans to spend time with deans, the Faculty Senate, the Board of Visitors, and fellow executives, including Executive Vice President and Chief Operating Officer J.J. Davis and Executive Vice President for Health Affairs Dr. K. Craig Kent. The goal will be to familiarize himself with their priorities and practices, and to better understand how the provost's office can support their work.
Formative Years and Influences
Before coming to UVA to serve as Arts & Sciences dean, Baucom spent 17 years at Duke University as an English professor and director of the John Hope Franklin Humanities Institute.  He earned his undergraduate degree in political science from Wake Forest University, and holds a master's degree in African studies and a doctorate in English from Yale University. He is the author of a range of books on 18th- through 21st-century literary and cultural studies and was elected as a member of the American Academy of Arts & Sciences in 2021.
Reflecting on his formative experiences in South Africa, Baucom said Mandela is among those who have inspired and motivated him over the years. He recalled the powerful experience of watching on television as Mandela left prison. Baucom and his wife, Wendy, returned to the country later and worked for the South African Council of Churches during the transition from apartheid.
"Mandela is someone who helps you understand that history can change and that you can be part of a process of transformation," Baucom said. "At the heart of that is an honest reckoning with injustice and a profound capacity to seek to understand someone who is not like you, and to do everything we can to bridge those divides."
Baucom said he also finds inspiration from poet and civil rights activist Maya Angelou, with whom he studied in an undergraduate course, and from one of his favorite authors, Salman Rushdie, whose writings taught him "that everything is composed of a hybrid mixture of histories, cultures, music, politics and convictions that get mingled together and make something amazing.
"That's part of what universities do," he said. "Every time we bring in a new class of students, we're grafting a new hybrid branch on the tree of who we are. And it's the power of these minglings that gives force and energy to life."
Special Moments on Grounds
Married for more than three decades, Wendy and Ian Baucom have five children. Three are now post-college age. One son is a senior in high school – now waiting to hear from colleges about the fall – and the couple's youngest child is a middle-schooler.
Earlier in Baucom's career at UVA, he and his family lived on the Lawn for five years, in Pavilion X. As a result, some of his fondest memories here are not just individual memories as a University administrator, but the kind of shared family experiences that create lasting, emotional bonds to places and people.
Lighting of the Lawn. Watching 500 students in an epic snowball fight. Celebrating a national championship in men's basketball with thousands of fans. Pausing to share a word with a group of Muslim students who had spread their prayer mats on the grass and were praying on the Lawn.
"That first week of the year, when all the a capella groups are auditioning and you walk down the colonnades and hear students singing …," he said. "I got to see the Lawn in every season and I got to see our students in every season."
Shared experiences and memories.
Then came last May. Two years' worth of pandemic-reshaped Final Exercises over three days. Baucom felt joy and pride and comfort as he watched the students flow from behind the Rotunda and down its steps. In a pair of long lines, they crossed the Lawn toward Old Cabell Hall before following McCormick Road to Scott Stadium for the graduation celebration and ceremony they earned and deserved.
"Wow, that was good," he said with a smile.