Ian Baucom Appointed Dean of U.Va.'s College and Graduate School of Arts & Sciences
April 30, 2014
The University of Virginia today announced the appointment of Ian Baucom as the Buckner W. Clay Dean of the College and Graduate School of Arts & Sciences.
Baucom will take the helm after serving the past 17 years in Duke University's Department of English. He currently serves as a professor of English and directs the John Hope Franklin Humanities Institute at Duke.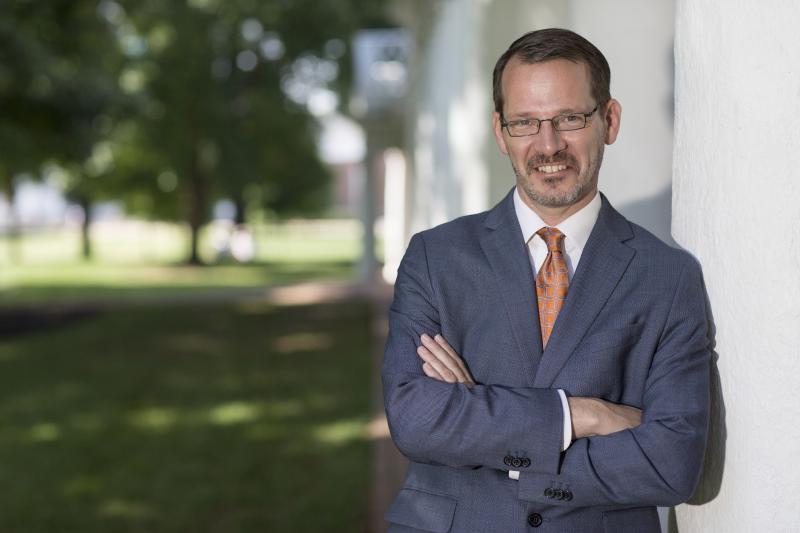 Ian Baucom, Buckner W. Clay Dean of the College and Graduate School of Arts & Sciences
Dan Addison / University Communications
"Ian Baucom will be a tremendous asset to the College and the University community," U.Va. President Teresa A. Sullivan said. "The College stands on a solid foundation, poised for even greater accomplishments as the University approaches the start of its third century. Ian is a terrific fit to lead this continued progress."
With more than 50 undergraduate majors and concentrations and more than two dozen graduate programs, Arts & Sciences is U.Va.'s largest school and its intellectual core. It spans the liberal arts, incorporating the social sciences, arts, humanities and sciences, and has more than 10,000 undergraduate students, more than 1,300 graduate students and nearly 750 faculty members.
"The job of dean of the College represents a rare opportunity to help shape the future of the liberal arts and sciences at one of America's great institutions of higher education," Baucom said. "Success will demand a great deal of strategic planning, energy and extraordinary collaboration among University leadership, College faculty and the College Foundation, students and staff. I am thrilled and eager to get started."
Baucom, 47, will begin his term July 1.
He will succeed Meredith Jung-En Woo, who is currently in her sixth year as dean. After a sabbatical when her term ends in May, Woo – an expert in international political economy and East Asian politics – plans to return to the College and focus full-time on teaching and research.
Baucom earned his undergraduate degree in political science from Wake Forest University. He holds a Master of Arts degree in African Studies and a Ph.D. in English, both from Yale University. Since 1995, his career has included a series of teaching and administrative posts at Yale and Duke, with progressive responsibilities.
In addition to his role as professor and head of the John Hope Franklin Humanities Institute, Baucom currently serves as president of the Consortium of Humanities Centers and Institutes. The international consortium is a hub for member humanities organizations to network, share ideas and best practices with a focus on cross-disciplinary activity. During his term as president, Baucom has focused on helping the consortium continue its efforts to expand its global scope and presence.
Baucom joined Duke's English Department as an assistant professor in 1997. Since then, he has steadily climbed departmental ranks, serving as an associate professor and full professor, and chairing the department from 2006 to 2009.
In the classroom at Duke, Baucom has taught courses on modernism, postcolonial literature, postwar British literature, Atlantic revolutions and more. His research focuses on 20th-century British literature and culture, postcolonial and cultural studies, and African and Black Atlantic literatures.
Baucom has been honored for his teaching and writing, including Duke's Richard K. Lublin Teaching Award in 2000. In 1997, Yale awarded him both the Yale College Sidonie Miskimin Clauss Prize for Teaching Excellence in the Humanities, and the Sarai Ribicoff Award for Teaching.
He is the author of "Out of Place: Englishness, Empire and the Locations of Identity," "Specters of the Atlantic: Finance Capital, Slavery, and the Philosophy of History," and co-editor of "Shades of Black: Assembling Black Arts in 1980s Britain." He is currently working on a book about the humanities and climate change.
That deep commitment to the liberal arts, combined with a track record of successful collaborations and an obvious love for learning and teaching, helped Baucom rise to the top of the list of candidates, said search committee chairman Jahan Ramazani, the Edgar F. Shannon Professor of English.
 "The excitement Ian generated on Grounds was overwhelming. He impressed and inspired the search committee and all the groups he met with," Ramazani said. "A brilliant and enormously gifted collaborator, he deeply engages and carefully listens, and he is passionate about serving the core intellectual and civic mission of Arts & Sciences. Instead of repeating platitudes, he thinks boldly and creatively about the challenges of and opportunities for the liberal arts."
Baucom comes to Grounds at a critical time. The University is in the early stages of implementing components of the Cornerstone Plan, a five-year strategic plan designed to sustain and enhance U.Va.'s excellence. The College has just begun a multi-year effort to renew its faculty as generational turnover and enrollment growth are expected to result in more than 200 new faculty hires in the coming five years.
"Ian Baucom has a record of successfully building multidisciplinary teams of faculty, and I know he views this as more of an opportunity than a challenge at U.Va.," Sullivan said. "We are fortunate to be building for the future from a position of strength."
As dean, Baucom also will work closely with the College Foundation in efforts to build philanthropic support, including for the ongoing "Faculty Forward Campaign" that supports faculty recruitment, retention, start-up packages and research infrastructure.
Baucom and his wife, Wendy, have three sons – Gabriel, Camden and Tristan – ranging in ages from 4 to 19; and two daughters – Leah, 18, and Kiran, 15.