Landmark Vote by College Faculty to Approve, Expand New Curriculum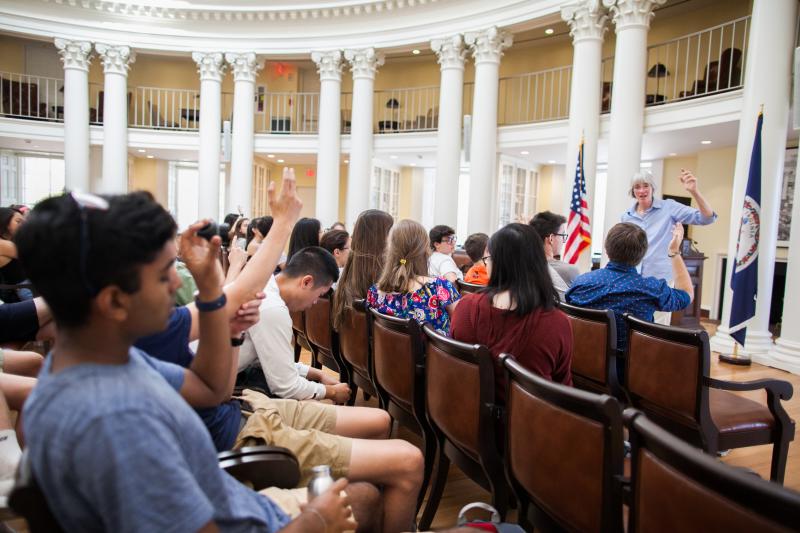 Tom Daly
The University of Virginia's Arts & Sciences faculty voted on Oct. 18 to fully adopt its New College Curriculum for students to fulfill their General Education requirements. The new model represents the first significant, comprehensive changes to the College's undergraduate student curriculum in more than 40 years.
"The fact that our faculty voted to affirm the new curriculum is not only significant for UVA, it is a milestone in American higher education," said Ian Baucom, Buckner W. Clay Dean of Arts & Sciences. "We're staking a claim on the power of a liberal arts education in the 21st century with a unique new approach that will better prepare our students for an increasingly complex and interconnected world," added Baucom. "I can't overstate how excited I am for our students or how proud I am of our faculty for taking this on."
The new curriculum is distinctive in two fundamental ways. It offers a new first-year experience centered on Engagement courses, which are designed to introduce students to fundamental modes of inquiry that structure the arts and sciences: Engaging Aesthetics, Engaging Differences, Empirical and Scientific Engagement, and Ethical Engagement. The program also focuses on a set of vital literacies: students must satisfy a robust writing requirement, achieve proficiency in a second language, and attain the quantitative and computational fluency essential to navigating an ever more data-driven world.
Launched in 2017 as a pilot in UVA's College of Arts & Sciences, more than 500 students chose to enroll in the program in its inaugural year. Today, a total of 1,900 students are enrolled in the pilot curriculum.
Prior to the vote, a committee of UVA Arts & Sciences faculty and external reviewers assessed the new curriculum pilot and found that it had achieved its intended goals. The detailed assessment report helped give Arts & Sciences faculty confidence to endorse the pilot program as UVA's general education curriculum for undergraduate students.
"As the cornerstone of the New College Curriculum, the Engagements courses are truly exciting and well-designed, and as such may prove to be an innovative model that other institutions emulate," said Harry Elam, senior vice provost for education at Stanford University, who served as one of external reviewers. The assessment report found that students who participated had positive experiences and enjoyed the opportunity to engage in profound conversations with professors and peers from the very beginning of their academic careers.
"Through the new curriculum model and its intentionally smaller first-year class sizes, we have a greater ability to learn who our students are – what animates them, what they care deeply about, and what they want out of their lives," said Sarah Betzer, co-director of the College Fellows Program and associate professor of art history.
The new curriculum, by design, allows faculty to become intensely involved in shaping the general education experience for students. Faculty members selected as College Fellows temporarily step out of their departments to work collaboratively to develop the new Engagements courses that form the heart of a shared first-year experience.
"Over the past 60 years, general education programs in American colleges and universities have largely become a series of boxes for students to check without a significant amount of intellectual coherence or meaning," said Chad Wellmon, co-director of the College Fellows program and professor of German studies. "Through the College Fellows structure, faculty from across academic disciplines come together to think deliberately and imaginatively about what a liberal arts and sciences education should do for their students in the 21st century. That rarely happens at this scale."
Now that the curriculum has been approved by the faculty, the College will move toward full implementation of the program. The College Fellows will continue to assess the curriculum in order to further strengthen the model.
"This historic vote confirms our commitment to liberal arts education, provides a structure for faculty to shape a living general education for our students, and welcomes students, from their first days on Grounds, to a shared intellectual experience," added Betzer.
With more than 50 undergraduate majors and concentrations and more than two dozen graduate programs, the College and Graduate School of Arts & Sciences spans the liberal arts and incorporates the natural sciences, arts, humanities and social sciences while serving as the academic home on UVA's Grounds to more than 10,000 undergraduate students, more than 1,300 graduate students and 700 faculty members.