Laughter, Tears Fill Memorial for D'Sean Perry, Lavel Davis Jr., Devin Chandler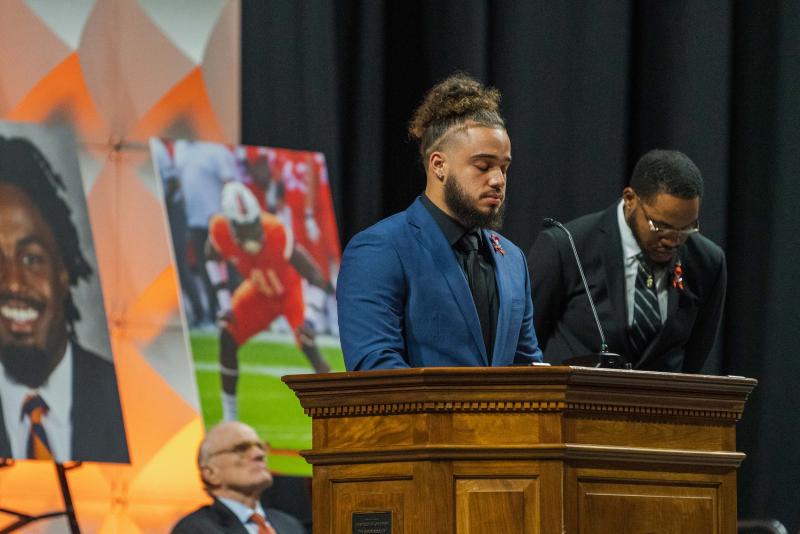 Cody Brown, a UVA running back, closes his eyes in a moment of silence as he honors his friend, Devin Chandler. (Photo by Erin Edgerton, University Communications)
Once, when Devin Chandler was 10, he hopped out of the family car and "put on a one-kid dance-off in the parking lot." His family shared the video with UVA athletics director Carla Williams this week. "His rhythm was suspect," she said, "but his confidence was never in doubt."
When D'Sean Perry was 6, he wanted to be the Red Power Ranger for trick-or-treating. "He wore the red suit and the red helmet for Halloween and didn't take it off until after Thanksgiving," Williams said. "The superhero."
Lavel Davis Jr. talked about his hometown of Ridgeville, South Carolina, with such pride and enthusiasm, "He made it seem like it was the biggest city in the world," said teammate Elijah Gaines, from New York. "I'm pretty sure there's only 2,000 people in there."
Actually, it's 1,500.
On Saturday, John Paul Jones Arena swelled to six times the population of Davis' beloved Ridgeville to bid farewell to him, Chandler of Huntersville, North Carolina, and Perry of Miami. More than 9,000 University of Virginia students, faculty and members of the community gathered to honor the players who "were kind, they were funny, they were full of energy," said UVA President Jim Ryan. "They were serious students. They were sons and grandsons. They were brothers. They were hard workers."

Head football coach Tony Elliott spoke of Lavel Davis Jr., Devin Chandler and D'Sean Perry as "lights" that will now guide the way for their teammates. (Photo by Erin Edgerton, University Communications)
The tales their teammates spun brought tears and laughter less than a week after the three were shot to death on a bus that had just returned from a class field trip. The memorial was held on a day that would have been a home game against Coastal Carolina University. The contest was canceled days after the shootings.
The crime "pierced the peace and innocence that graced our Grounds," Ryan said. "It changed our world."
The man charged in the attack that also wounded two other students – Mike Hollins, a football player, and Marlee Morgan – is also a UVA student and former football player. He was caught shortly after the University emerged from a tense, overnight lockdown Nov. 14 while police hunted for the escaped gunman. He's in jail seven miles from the site of Saturday's memorial, charged with murder. Police have not revealed a motive.
"As a mother, and as the director of athletics, this tragedy has pushed me to my limits," Williams said from a stage in front of portraits of the three slain athletes. "But my faith sustains me as I know it does many of you."
As she spoke, her voice cracking, Williams looked down from the stage and into the front rows. There, the football players' families grasped each other in grief, rocking back and forth. Filling the seats behind them on the arena's floor was the rest of the football team, football alumni and other student athletes. Above them on the arena's video screens were three black-and-white portraits of Chandler, Perry and Davis in their football uniforms, their smiles impossibly bright and charming.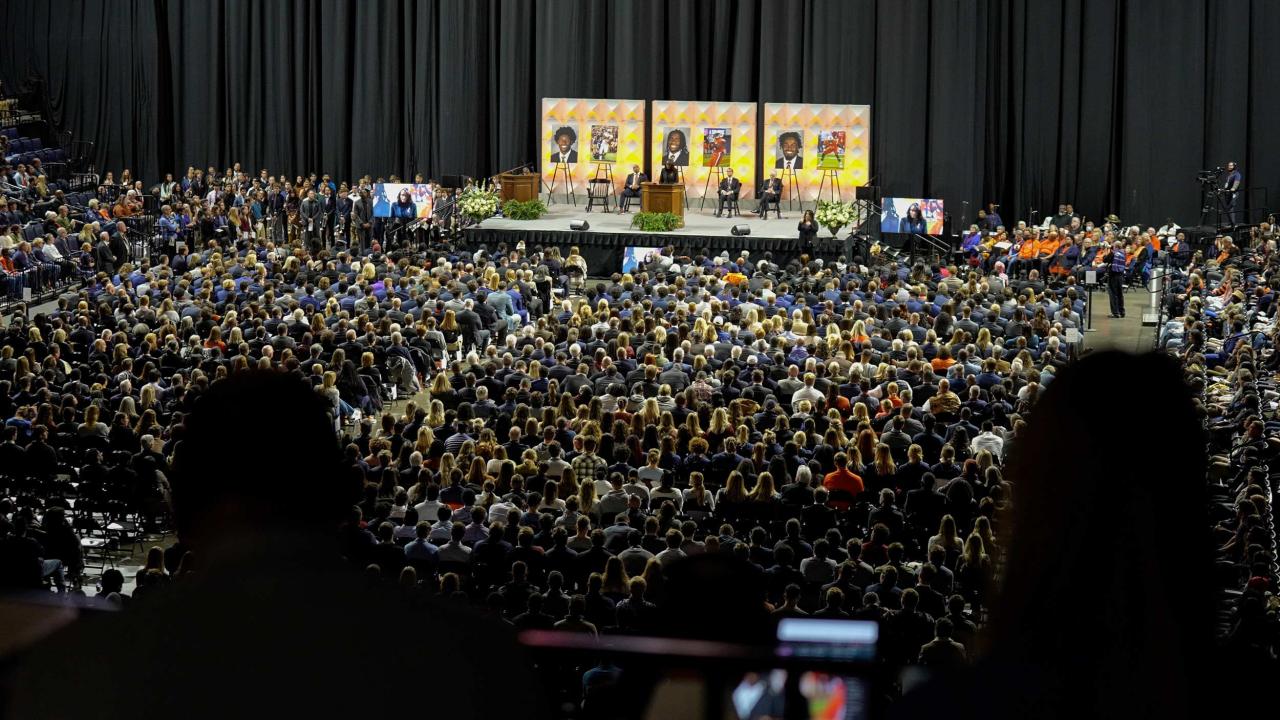 Lives Remembered
"We are better and we will do better because of Devin, Lavel and D'Sean," Williams said. "To the families, we love your sons. And we will make sure their memories never fade at the University of Virginia."
Shortly after the arena opened its doors at 2 p.m., streams of students flowed down staircases and into seats surrounding the arena floor. They gazed at a slideshow on the video screens showing Chandler, Perry and Davis from their toddler years to their time on the turf of Scott Stadium.
The Virginia Gentlemen, an a cappella group, locked arms and sang "Lonesome Road" as mourners filed to open seats. One of the group's members is Langston Long, also a member of the football team.
Several others performed, including gospel singer CeCe Winans, the MLK Community Choir, the University Singers and the Cavalier Marching Band.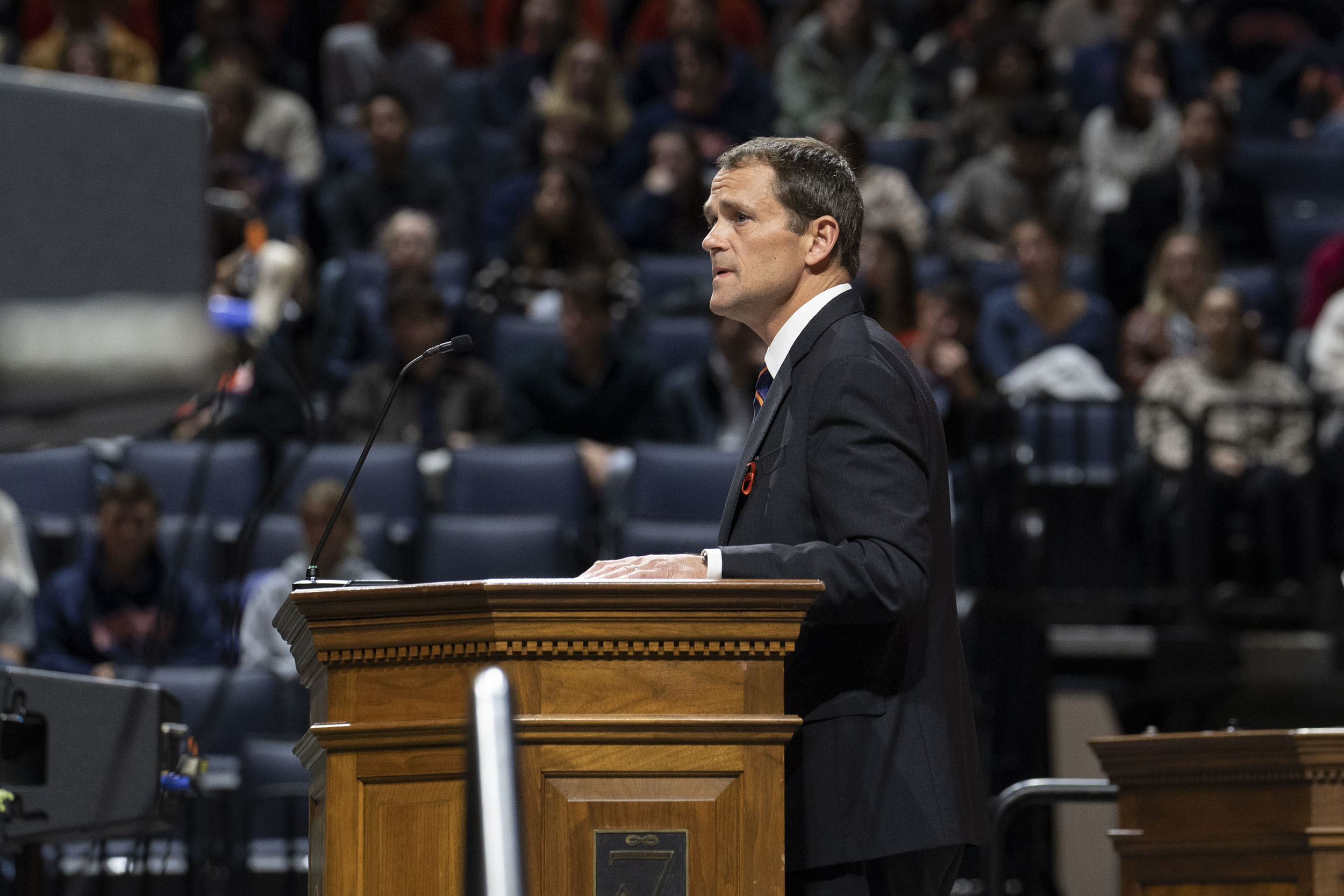 President Jim Ryan told the crowd that the horrific crime "pierced the innocence that graced our Grounds." (Photo by Dan Addison, University Communications)
More than a dozen members of the football team offered eulogies to the men many called their "brothers." They talked of bonds formed through the bruising grit of pre-season camps and practices, and playing through a pandemic, that forged the dozens of individual players into a family.
"D'Sean accepted me with open arms and treated me like family," said Josh McCarron, a second-year linebacker. "D'Sean was the brother I never knew I needed.
"I love you D'Sean Perry," he said, choking back tears. "Rest in power, brother."
Will Bettridge, who, like Perry, is from Miami, said he grew up playing pee-wee football with Perry. They then played on the same high school team and, later, both ended up at UVA.
"A piece of my life has been taken away from me," Bettridge, a kicker, said. "You were the brother I never had.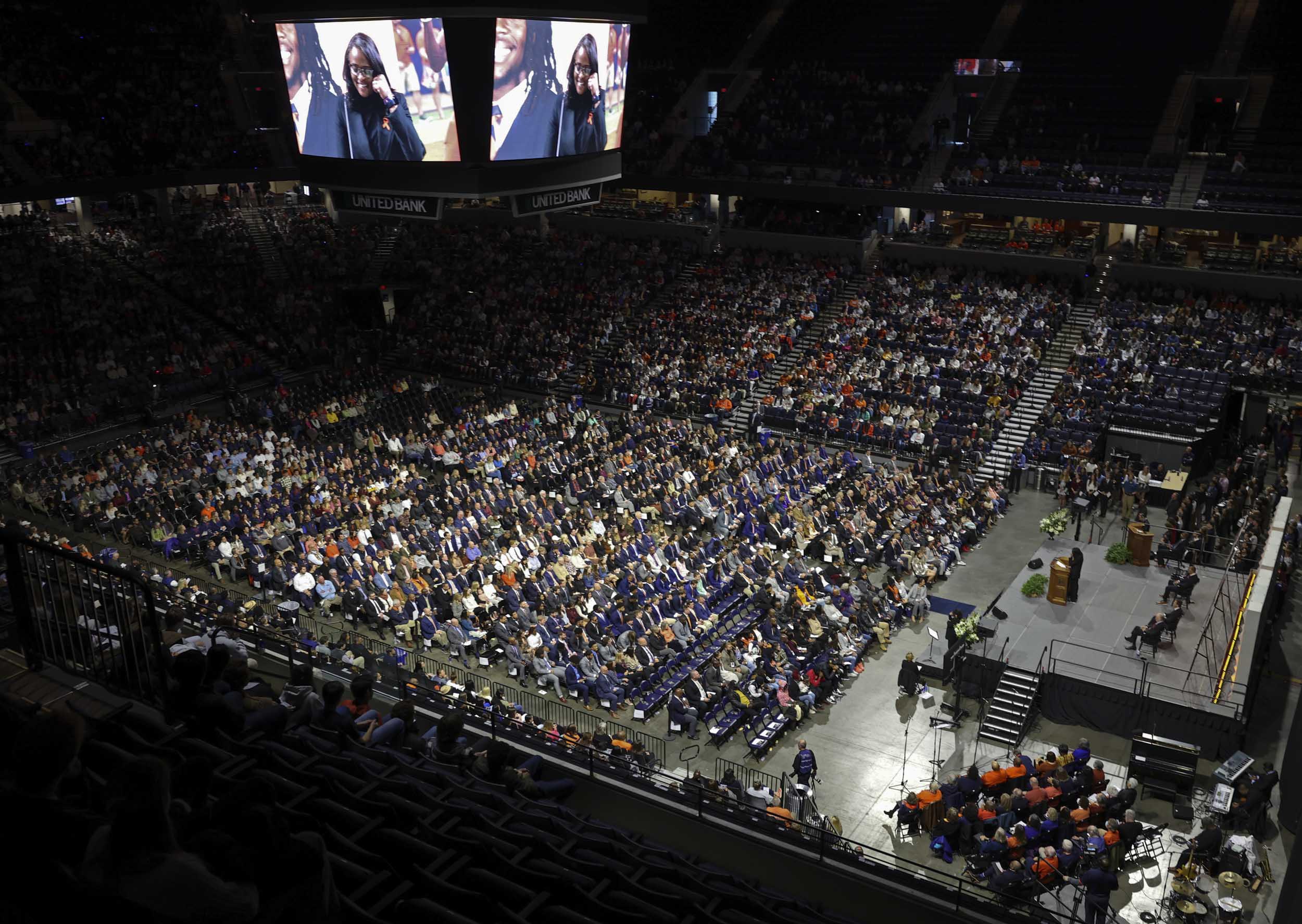 More than 9,000 mourners gathered in John Paul Jones Arena to honor the slain football players. The floor section was reserved for the families of the players, the football team, football alumni and current student athletes. (Photo by Matt Riley, University Athletics)
"The world would be a better place with more people like you, D'Sean. I know you are watching over us here and back home in Miami," Bettridge continued. "Everything I do now is for you. I promise I will make you proud. I love you."
Hunter Stewart said Perry was known for enjoying all genres of music. That, he said, led to unusual car rides around Charlottesville with the pair of linebackers occasionally belting out Adele's "Someone Like You."
Davis, in addition to his fondness for his small South Carolina hometown, was remembered as a towering 6-foot-7 gentle giant who always sat in the front church pew "knowing that people could not see over him," Williams, the athletics director, said. And she said he would explain to his mom: "I've got to sit up front. I've got to hear everything."
His teammates said Davis made an impact on them as large as his physical presence.
"Your love was everlasting," Jared Rayman said of Davis. "Lavel, you were the best teammate and friend any of us could ever ask for. I hope everyone here today has someone in their life that impacts their life as much as you impacted mine."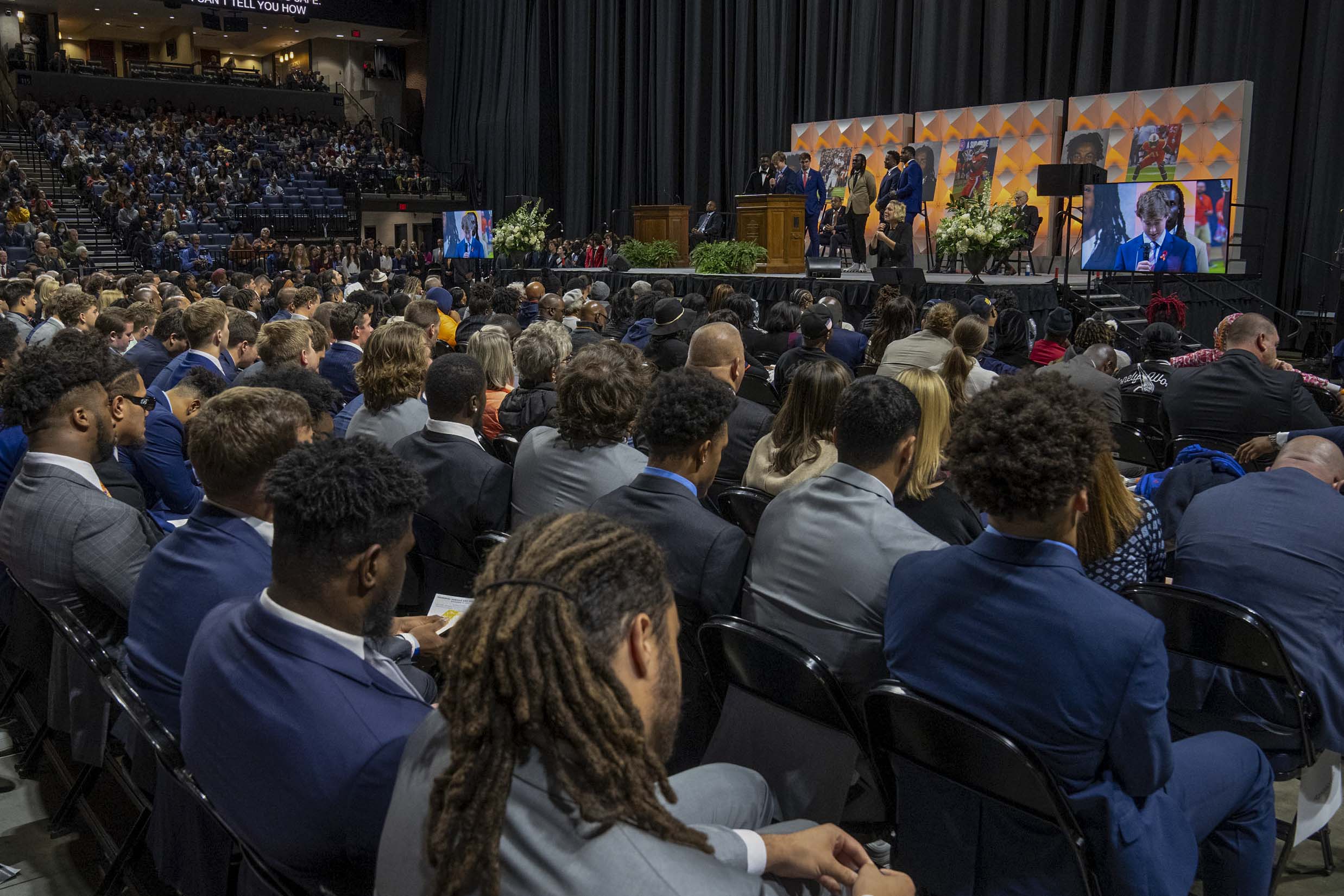 Members of the UVA football team listen to their teammates deliver eulogies for the slain players. (Photo by Dan Addison, University Communications)
"This has been hard for me to process," Rayman continued, his voice halting. "But each tear I shed for you, Lavel, holds immeasurable love."
Chandler was the newest to the Cavalier squad, but his teammates said he made an immediate impression.
"I loved him like a brother," Lorenz Terry said. "I will always keep him close to me."
"I never thought we would have to say goodbye so soon," said teammate Cody Brown. "It wasn't supposed to be this way. You will remain in our hearts forever."
Head coach Tony Elliott said these lost lives would serve as stars to guide the team forward.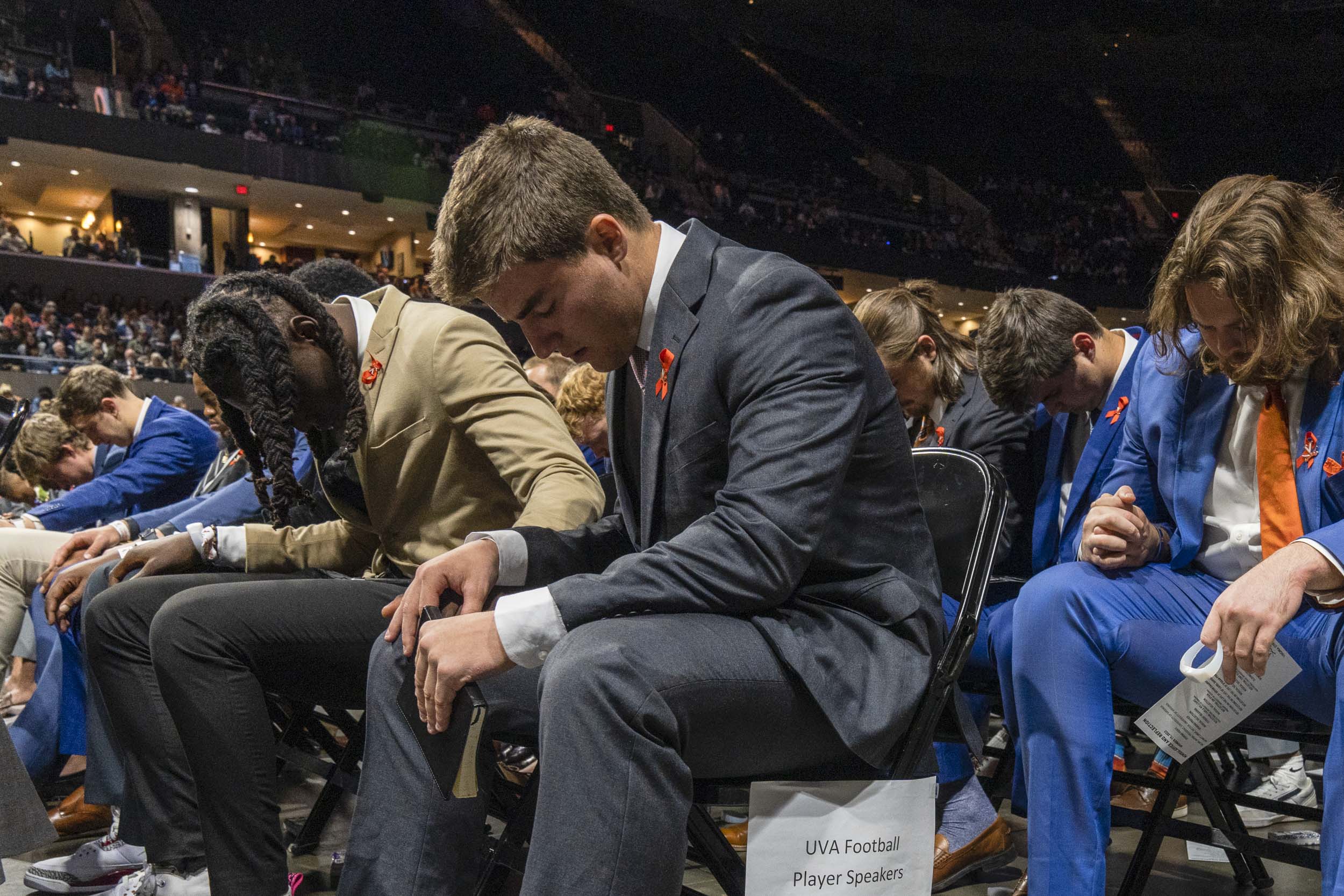 Football players, including several who spoke about their bonds with Chandler, Perry and Davis, bow their heads in prayer. (Photo by Erin Edgerton, University Communications)
"To my three young kings, I am eternally grateful for you," Elliott said. "Thank you for being a light for the world. You all continue to shine your bright light before us."
The Cavaliers are scheduled to play Virginia Tech next weekend in what would be the final game of the season. A decision on whether the team will move forward with the matchup has not been made. But Elliott said his team intends to grow stronger to honor Chandler, Perry and Davis.
"To everyone here, I say we will turn today's tragedy into tomorrow's triumph," Elliott said.
"Lavel, Devin, D'Sean, I am so looking forward to the strength, motivation, courage and love that you all will provide in triumph in the days ahead. My young kings, may you celebrate in paradise. And we will celebrate on this side each and every day with the light of your stars. Devin, D'Sean, Lavel, I love you and I will see you again."