A New Direction for the Cavalier Marching Band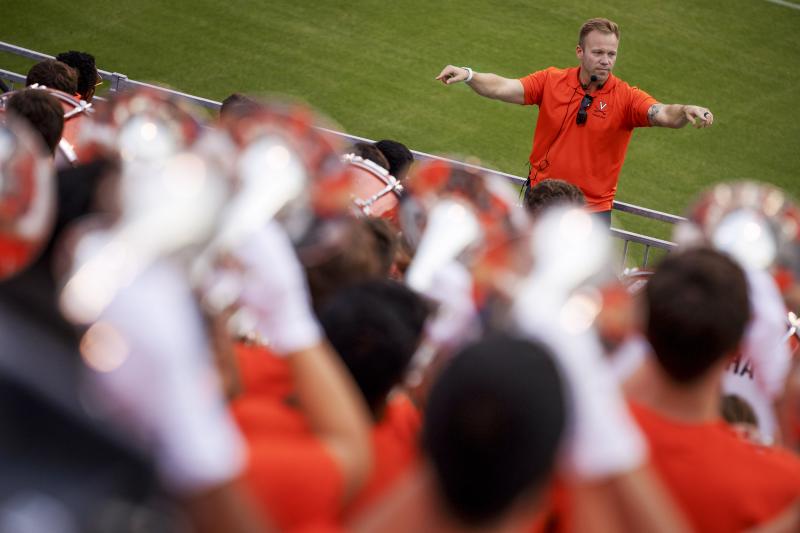 Following a 2020 college football season where the COVID-19 pandemic kept the stands of Scott Stadium mostly empty during home games, the 275 student members of the University of Virginia's Cavalier Marching Band were eager to hit the field again this fall.
Under the direction of UVA's new director of bands, Elliott Tackitt, they sweated through rounds of rehearsals and meticulous walk-throughs of music and drill performances during August's band camp. They hit their marks and delivered halftime performances at UVA's first four home games of the season.
Then, on the eve of the fifth home game, against Georgia Tech on Oct. 23, the University loosened its pandemic restrictions on artistic performances, giving the band the green light to resume playing in the stands of Scott Stadium as well. It was welcome news for a band eager for the expanded opportunity to offer musical accompaniment to games, surrounded by classmates and fans.
With two home games left, including Saturday night's nationally televised game against No. 7 Notre Dame, Tackitt said the Cavalier Marching Band is eager to build on the last three months of work to perform at its musical and creative peaks.
Tackitt traces his own love of marching bands to his experience performing with his high school's national award-winning ensemble. As a college student at the University of Michigan, his weekends were spent working with area high schools as a band consultant. He pursued bachelor's degrees of music in trombone performance and instrumental music education, and in the 15 years that followed, he established himself as a versatile educator, conductor and performer. 
For seven years, he served on the faculty at Northern Arizona University, where he conducted concert bands, taught music education and performance majors, and directed all aspects of the NAU athletic band program. Tackitt completed his Doctor of Musical Arts in wind conducting at the University of Michigan in 2019 and has served on the faculties of the University of Michigan and Arizona State University.
He joined the academic general faculty of UVA's College and Graduate School of Arts & Sciences this summer as an assistant professor of music and director of bands. In addition to serving as director of the Cavalier Marching Band, Tackitt also conducts the McIntire Department of Music's Wind Ensemble and provides artistic guidance to the entire band program.
Tackitt recently talked with UVA Today about his creative goals for the Cavalier Marching Band, his sources of musical inspiration to broaden the range of composers, songs and performance themes it can explore, and his surprising musical performance history.
Q. What was the general reaction from band members when UVA announced on Oct. 22 [the day before the home game against Georgia Tech] that the University's COVID protocols had been adjusted to allow the entire band, including the wind instruments, to perform in the stands?
A. The students were excited! They join band to perform, and my email filled up with variations of "Do we get to play this weekend in the stands?!" We were really happy for them, the fans and the football team.
Q. How much advance notice did the band get of this decision? What was that week like in terms of shifting gears to expand performances (in the stands) while implementing safety protocols?
A. As soon as we had the new protocols in hand, we acted quickly to make sure the band had what was needed to perform in the stands. There are over 20 stand tunes in our music book; we rehearsed about 12 on Friday night and 12 on Saturday afternoon to be ready to play in the stands. 
Q. What was the reaction of the surrounding students and other UVA fans when the entire band began playing from the stands? And what were the types of musical interludes that you performed from the stands?
A. If I remember correctly, the first thing we played together in the stands was the 'First down!' cheer (shout out to UVA's offense!). I think the band felt the love from nearby sections and from fans standing nearby on the hill.
We play a wide range of music in the stands: traditional UVA tunes, the White Stripes, AC/DC, Beyonce, Ozzy Osbourne, Jeezy, Ye, Salt-N-Pepa, Queen, Three Six Mafia, Hurricane Shorty, the theme from "Rocky," Bruno Mars, Justin Timberlake. 
Q. Why is the marching band such an important part of the overall football game experience?
A. How much time do you have? College marching bands are a key distinction between college and pro sports. We spread the sights and the sounds of the University everywhere we go. We sonify the University's brand: "The Cavalier Song," "The Good Old Song," "Go Hoos Go!," proudly wearing UVA's orange and blue, bringing energy and entertainment, engaging the community through visual and musical performance. The list goes on.
It's the heart that the band members put into their performance that makes the difference. Game days are best with the Cavalier Marching Band.
Q. For the first four home games, was it a challenge to adjust to the more restrictive performance guidelines that limited the Cavalier Marching Band's performances in the stands to its drum corps, the color guard and twirlers? [This policy was based on the recommendation of public health experts advising UVA leaders that playing brass and woodwind instruments in the stands, surrounded by other fans, could potentially risk transmission of the COVID virus.] 
A. First and foremost, I was incredibly proud of what our students accomplished in rehearsal on Carr's Field, in performance on the Scott Stadium field and how they supported each other outside of rehearsals as well. We have a responsibility as a visible ensemble and student group on Grounds to support the University's policies and to adhere to what has been requested of us. … I think that our students have been absolute model citizens when it comes to juggling the challenges of what they personally want to do – which is perform musically and support the team and augment the game atmosphere – with the very real challenges of the ongoing pandemic that the University has to respond in real time. … It's really about public health concern, and I have an appreciation for that.
It has been challenging. From a motivational perspective, I see students working really hard to stay engaged in the game and to cheer. Obviously, our band loves to dance on the field, they love to dance in the stands, so all of that has gone about as well as it can. In rehearsal, it's a very different story, because we can perform 100%: winds, brass, color guard, drum line, twirlers, all together on Carr's Hill Field. So we have had incredibly productive rehearsals. We've fallen into an excellent rhythm – pardon the pun – of how we begin in small, segmented groups to warm up. Then we move into a very orderly approach to learning our halftime drill in music, to continue working on our pregame show.
Q. What was your introduction to marching bands growing up, and when did you know they would play a big part of your life?
A. I started studying music in Southern California in Rancho Cucamonga, about 60 miles east of L.A. … If you've ever seen the movie "Friday," you've heard of Rancho Cucamonga. I had a wonderful middle school band director, Sandy Plourde, with whom I still speak to this day.
… I moved back to southeast Michigan to a small town called Plymouth in 1997, which coincided with the beginning of high school. I marched in the Plymouth-Canton Educational Park Marching Band, which was a very competitive high school program. In a word, it was intense. When I say that it was very competitive, we're talking about a program that consistently went to the Bands of America Grand National Championships in Indianapolis each year. We rehearsed two hours a day, five days a week. We had all-day Saturday activities. Plymouth-Canton was my introduction to marching band, and I loved the intensity of each rehearsal.
Q. So you were a drum major in high school and you're a classically trained trombonist. But we hear that you've also dabbled a bit in other, less "classical" performance opportunities.
A. I'm a classically trained trombonist, very true. Classical musicians study orchestral excerpts, etudes, etc. When I arrived in Flagstaff as a faculty member at Northern Arizona University at the age of 25, I was looking for ways to continue to play while running the athletic band program and teaching the second concert band.
So about halfway through my time in Flagstaff, I joined a reggae band. The No. 1 reason that I did that was I missed playing my trombone! But two, I wanted to push myself musically to do something I had never done before. In those three or four years I played with the Foot Solejahs, we performed in the Navajo Nation, we performed in Phoenix, we performed in Flagstaff, we went out to Santa Barbara and played at the Lucidity Festival. It was a blast playing with them. I really enjoyed it. My bandmates were great people who pushed me to grow musically in new ways.
Q. When UVA was seeking a new director of bands, one of the things that made you stand out for the search committee was your approach to include a variety of artists represented in your bands' performances. Why is that important to you?
A. I don't think this is unique to me, and I'm equally passionate about athletic bands and concert bands. My interest in each area overlaps with the other. I think about a football field as the largest concert stage in most cities. In Charlottesville, 60,000 people potentially could witness a 10-minute halftime performance.
I also absolutely love performing from the concert stage. As an educator, I approach concerts and marching band shows the same way.
I approach programming – choosing music – for concert and athletic bands the same way, including a wide variety of artists and composers around themes. Our Sept. 24 halftime show, for example, was titled "Rhythm of the Night," and featured AC/DC, Enrique Iglesias and Ricky Martin. The homecoming show [Oct. 16, against Duke] was called "Next Episode" and featured some of the most iconic TV show music of the last 70 years, from "The Simpsons" to "The Jeffersons" to "I Love Lucy." The Family Weekend show for the Georgia Tech show was called "Cavalier Karaoke," and featured music we've all sung along to at some point. Band can feature a variety of artists in support of a theme, all while being very entertaining.
Q. What roles do student band members play in proposing specific pieces of music to perform at games?
A. I think our students deserve to perform a variety of music which resonates with their own experiences, including music that is culturally significant to them. This spring, we're starting a halftime show design committee. Any of our CMB members can be on the committee. The central question is, "What would you as students like to see the CMB perform?"
With the breadth of their interest, their major areas of study and cultural backgrounds, we'll find new themes coming from students, new suggestions for music that we as marching band directors may not have considered. This gives the students opportunities for more input directly into what we're performing.
Q. Now as director of the Cavalier Marching Band, if I gave you the magical authority to recruit any musician in the world to perform with the band, who would you wa –
A: The entire Dave Matthews Band.
Q. Wow, you jumped in there quickly.
A. I did, because I know the answer. I've said this for years, and it's not lip service because we're in Charlottesville. I actually did a DMB show at NAU in 2011, all tunes from the "Big Whiskey and the GrooGrux King" album. I've been a huge Dave Matthews Band fan since the early 2000s, and if we could have the Cavalier Marching Band collaborate with DMB, it would be a pinnacle experience for our students to play with those incredible musicians.
At a July 2019 DMB show, I heard Rashawn [Ross, trumpet player] and Jeff [Coffin, saxophone player] drop a quote from Richard Strauss's "Also sprach Zarathustra" during "So Much to Say." Strauss and DMB: who knew? They knew. Unreal.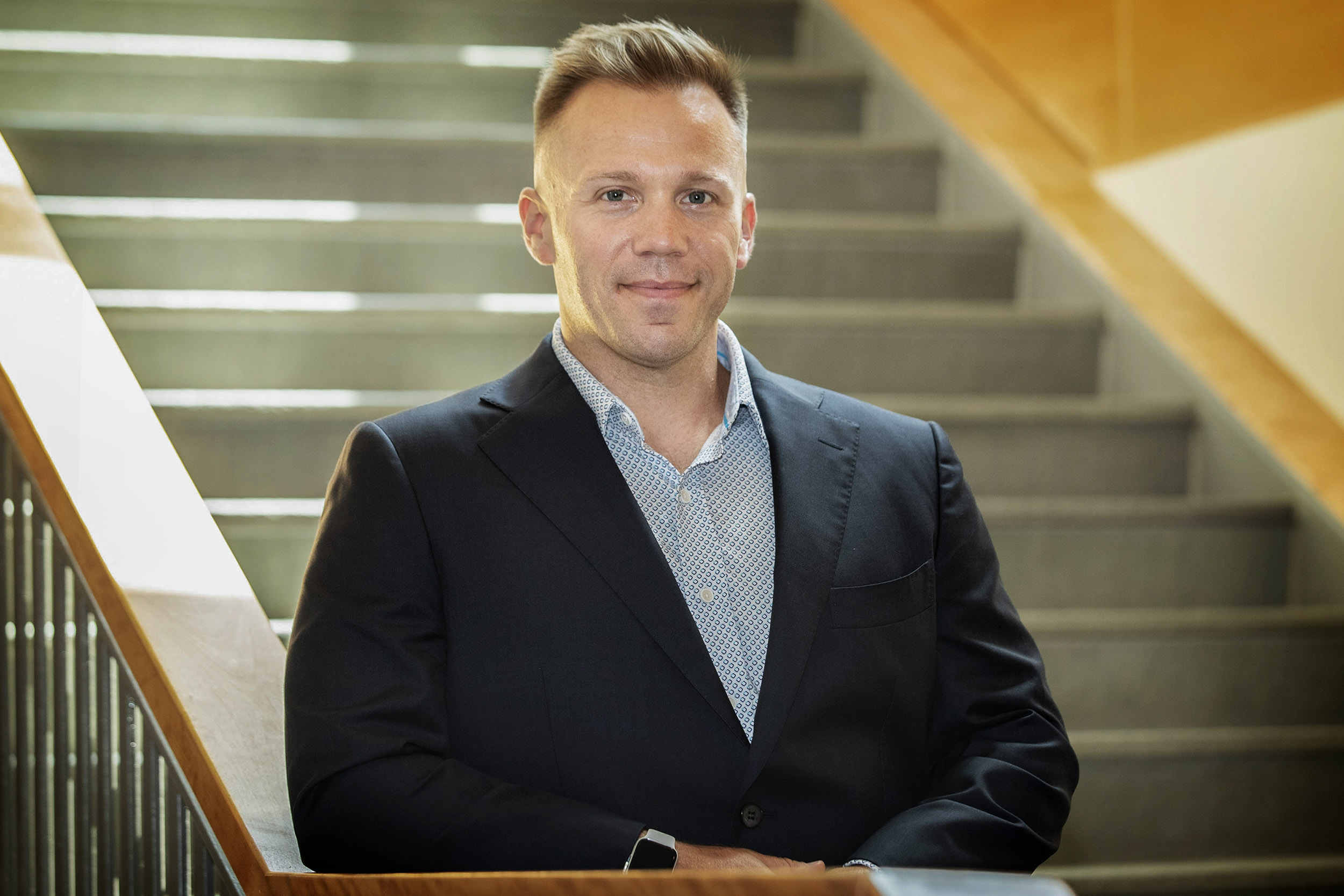 Q. Which musical artists get a pass and should be played for eternity at college football game halftimes?
A. Oh, I mean the Beatles, for sure they get a pass. Elvis gets a pass. Johnny Cash, Beyonce, Lady Gaga, Bob Marley, Prince, Dolly Parton, Madonna … they all get a pass. The artists who've changed the course of popular music, the artists who pushed the envelope in their time, get a pass.
Q. Is there a composition, or a song or a theme that in your mind would be really challenging but that you would love for the Cavalier Marching Band to attempt?
A. Let me answer that more broadly. I would like to see stacks of massive speakers, drum machines, MIDI controllers, lighting artists, dancers, vocal artists, all performing live and synced with the marching band. The football field is our canvas, in a way, and I'd welcome the challenge and opportunity to do something novel. Something that says, "We're pushing the limits, and we're doing creative things."
Q. What are you and the band looking forward to the remainder of this football season?
A. I think we are all excited for the CMB to perform the Nov. 27 halftime show [for the final home game of the season, against Virginia Tech]. Every halftime show has unique challenges to put together, and the last show is shaping up to be special because of the direct involvement of our fourth-year members in the show-planning process.
Earlier this season, when it looked like the CMB wouldn't get a chance to play in the stands due in part to COVID, we wanted to give our fourth-years increased agency to contribute to their last show on the field. As directors, we met with our fourth-year members, and they suggested some excellent show ideas. Fortunately, we were able to include several of them in the Nov. 27 halftime show. I'm really excited for them.
Q. What do you see as a marching band's role in terms of providing atmosphere for a home football game and the overall fan experience?
A. We build community. That's what we do. The marching band in and of itself is a community. When we performed the 9/11 show this year – which was called "In Memoriam," for obvious reasons – we finished that show with "America the Beautiful." It was an opportunity for everyone in the stadium to sing with us as we play. That's a community event. On top of that, we have a pregame show every single game before kickoff. Those are the sights and the sounds of the University. We connect with alums, students, faculty, administration and staff. It's all about building community.