Q&A: Meet the Drama Alum Behind Some of the Most Impressive Sets in Show Biz
f you enjoy late-night television, watch the Super Bowl or celebrate New Year's Eve, you have likely seen a set designed by University of Virginia alumnus J. Patrick Adair.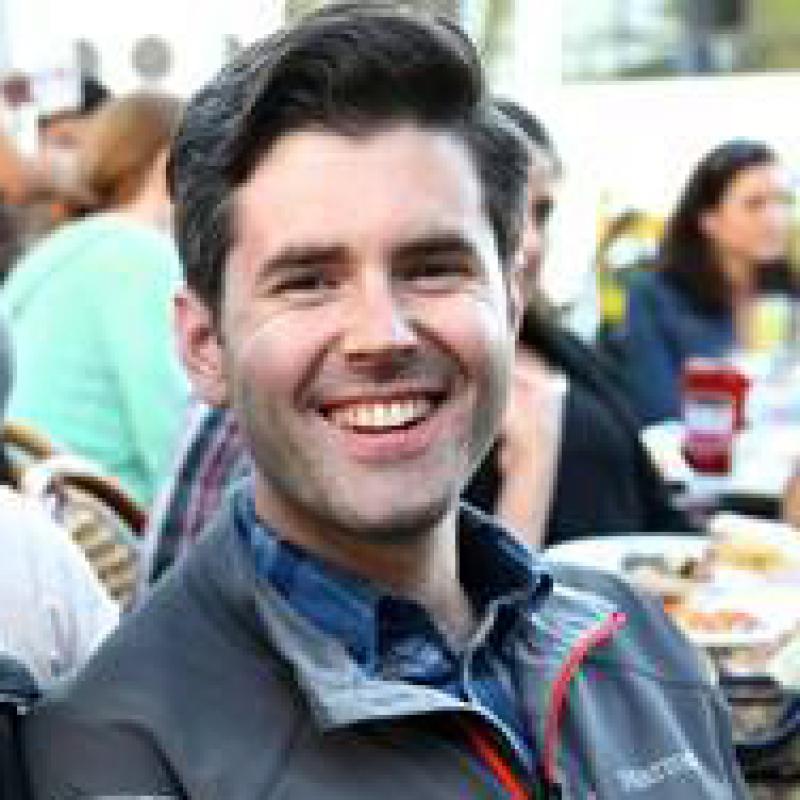 J. Patrick Adair (Drama '04), Art Director
Adair, a 2004 graduate with degrees in drama and media studies, has built an impressive résumé over eight years working as an art director in Hollywood. He has designed sets for entertainment icons like the Ringling Brothers and Barnum & Bailey Circus and Disney on Ice. Right now, he is in the midst of preparations for the Los Angeles taping of "Dick Clark's New Year's Rockin' Eve," a production he has been involved with for three years.
Last week, Adair returned to his alma mater to partner with current students on the set design of "Bloody, Bloody Andrew Jackson," a punk-rock take on the life of America's seventh president playing at the Culbreth Theater through Saturday. He also met with students in the Creative Arts, Media and Design career community to share lessons learned from his journey to Hollywood.
UVA Today caught up with Adair on opening night to discuss his career and his advice for current students drawn to the drama of show business.
Q. As art director, what are your primary duties?
A. I work with the production designer, who guides the look and feel of the show, and help them to bring their vision to life. I will often take something like a napkin drawing, flesh it out into a full-color illustration and bring it back to the production team. If they are happy with it, I execute all of the technical drawings, painter's elevations and CAD (computer-aided design) renderings necessary to make it a reality. I also keep an eye on the budget, which most projects live and die by.
There is a very small group of art directors that work in my specific field, which focuses on talk shows, award shows, game shows and other live entertainment. Our working life is very different from people who work on movies and sitcoms. Their work is like theater in that they are working from a script to tell a narrative. My work is like theater in that most of it happens in a room with a stage and an audience. We are creating a relationship between the performers and the audience.
Q. What are some of the most memorable productions that you have been a part of?
A. One of my favorite experiences was working on "The Late Late Show with Craig Ferguson," a great show with a great group of people. We joined CBS at Super Bowl XLVI in 2012 and moved the entire production from Los Angeles down to New Orleans. I did a lot of prep work for shoots at places around the city – a famous oyster bar, a Mardi Gras parade, a crazy old mansion. Not all of that made it on air; we ended up mainly focusing on the home base set in Jackson Square. But that is the nature of television – it has to move fast and things fall off the schedule all the time.
I worked on the "Dragons" circus for Ringling Bros. and Barnum & Bailey, building things like an enormous dragon puppet that unfolded to fill up the ring. Disney on Ice was also great. I got to illustrate and create Disney movies from my childhood – classic characters like Tinkerbell, classic narratives like "Toy Story."
I also had a great time working on "The Arsenio Hall Show," even though it was short-lived. When art directors work on plays or sitcoms, the starting point is the script. When you work on a talk show, it can be someone's personality. Arsenio is such an electric personality and a kind person and we really worked to reflect his style and rapport with his guests in the set. I think we caught it and I was really proud of the work I did on that show.
Q. What is your favorite part of your job?
A. One of my professors, Pamela Howard, at Carnegie Mellon University, where I went to graduate school, reinforced that the designer is the custodian or advocate of the audience's experience in the space. That is something that I think about a lot – not just what the show looks like from one point of view or on TV, but the experience of someone coming to see the event, from when they walk in the door, to when they see the show, to when they leave.
Q. What have you enjoyed about working on "Bloody, Bloody Andrew Jackson"?
A. In a punk-rock look at the life of Andrew Jackson, there is a lot of room for creativity in scenic design. The set reflects the play's telling of Andrew Jackson, as it moves from the history everyone is familiar with to the more emotional subtext of the show and ultimately to an evaluation of who he was, the good that he did and the bad that he did. My hope is that the set really supports that journey.
Q. What's next, as you return to Los Angeles?
A. Right now, I am doing prep work for "Dick Clark's New Year's Rockin' Eve." I help arrange the band looks and party sets for the Los Angeles portion of the show. We have new bands coming every year, which is exciting. I am looking forward to talking with the bands' creative directors and working with them to realize their concepts. That typically happens in a pretty short window, often with little money, so it is a great challenge to bring those ideas to life and give the bands the look they want.
I can't name the bands we have this year yet, but one great example from last year was the band 5 Seconds of Summer. They are a very high-energy rock group and their creative team brought these graffiti images that were very frenetic, fast and colorful. We were able to translate that look into prop and set pieces that gave the music a great backing.
Q. Any parting advice for U.Va. students looking to blaze their own trail in Hollywood?
A. My biggest piece of advice is to take advantage of the alumni and the professionals that you meet during your time at U.Va. In looking at graduate schools, my biggest advocates were people that I had brought my work to while a student at U.Va., whether through a portfolio presentation or applying for a design award. Any opportunity you get to get your work in front of someone else is a chance to forge a connection with them, and I have found those sorts of connections really outweigh cold calls.