Visions of a Cleaner World Inspire Two Sister Scientists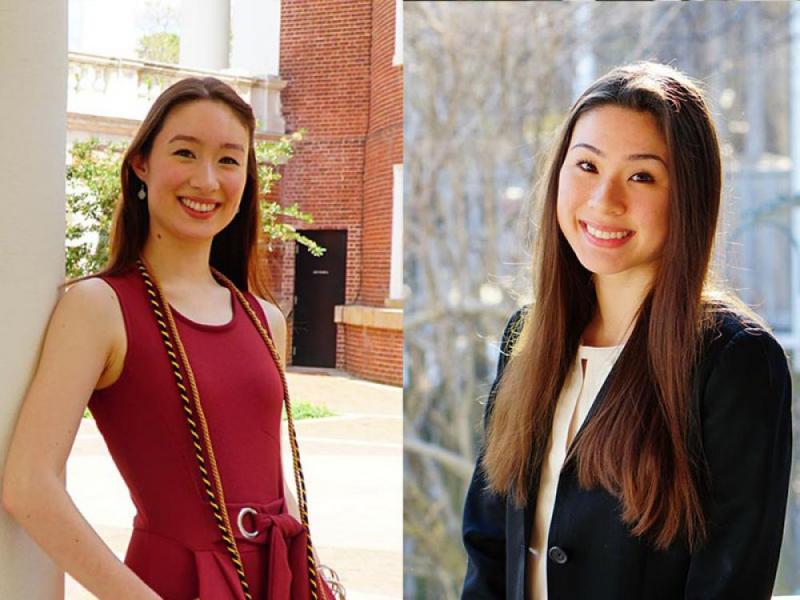 For two sisters from Northern Virginia, summer trips to visit family in Beijing left a lasting impression. The stark contrast between the air quality of China's capital city and Washington, D.C., inspired them both to play a part in the fight against air pollution, setting them on two different paths to reaching that goal.
In Pursuit of a Cleaner World
Julia Dressel, who graduates this month from UVA's College of Arts & Sciences with majors in chemistry and environmental sciences, knew that she wanted to be involved in environmental science before she set foot on Grounds. Her trips to Beijing and her experiences in high school with the Virginia Earth System Science Scholars program, which involves students in NASA's effort to understand the complexity of the earth's natural systems through satellite-based remote sensing, sparked an early interest in the science of climate change.
As a first-year UVA student, Dressel immediately began looking for research opportunities and landed a position working with Charles Machan, a professor in the Department of Chemistry whose team focuses on the chemistry involved in creating cleaner energy.
"I started doing research there in a field that I had no idea even existed before coming to UVA," Dressel said.
As an undergraduate researcher, Dressel worked closely with her mentor Shelby Hooe, a graduate student in the College's Department of Chemistry, to develop inorganic molecules that help convert the greenhouse gas carbon dioxide into a fuel source for cleaner, renewable energy sources. She also worked on a project focused on making hydrogen that could be used in more efficient fuel cells.
Over the course of her four years at UVA, Dressel's interest in clean energy was a constant, but her interests quickly took her in an unexpected direction.
"I ended up really falling in love with the chemistry department here and just really enjoyed my chemistry classes, so I decided to focus on chemistry and research," Dressel said. "I've been doing that since my second semester here at UVA, and working with Professor Machan, has been a really phenomenal experience."
And while the experience has been an important one for her, it has also had an important impact on her teammates in the Machan Lab.
"From the first day she came into our lab, Julia's talent as an intelligent and inquisitive scientist was well beyond her years," Hooe said. "She developed skills in the lab with ease and began making significant contributions to projects we were working on together within her first few months in the lab."
Machan added that since joining the lab as a first-year student, Dressel has had a tremendous impact on their research program, leading them into exciting areas of research.
"She's an excellent collaborator who is passionate about the process of scientific discovery and thrilled to challenge herself by learning new ideas," Machan said. "Julia will continue to excel in the future, because she understands on a fundamental level that chemistry can connect us to the solutions for pressing and important societal issues. I am so grateful for having been a part of her journey at UVA and am excited to follow her during graduate studies and beyond."
This fall, Dressel will begin the Ph.D. program at Stanford University. She's not sure what direction her research interests will take, but she's sure that her focus will continue to be on clean energy.
An Echols Scholar, Dressel was also nominated to be in the College Science Scholars program at UVA, the College's honors program for students of the sciences. The program helps undergraduates find research opportunities very early in their college career and provides students with opportunities to network with researchers on Grounds and with students who share similar interests.
"It introduced me to a lot of things going on outside of chemistry, and it gave me a broader picture of the research going on at UVA," Dressel said. "The Echols program is very large, and it can be hard to find people who are doing you are; whereas, the College Science Scholar program is much smaller, so it's a lot easier to find people who are interested in the same things. It's a closer-knit community."
Dressel also worked on the side as a teaching assistant for the accelerated organic chemistry series, mentoring students navigating the challenges of a difficult series of courses. She has also worked with fellow students in the College Science Scholars program to help the program have a bigger impact on the lives of students both in and outside of UVA.
"This year I've been involved in the College Science Scholars outreach committee, a new branch of the College Science Scholar Council that we been trying to build up to be able to start volunteering more. We believe that CSS has a lot of resources, and we want to be able to share those resources beyond UVA. So we've been working on trying to set up tutoring opportunities with schools on the Eastern Shore of Virginia."
Working with the CSS to develop a journal club that encourages more undergraduates to read primary scientific literature, Dressel and her fellow club members hope to make students more aware of the work being done by scientists from underrepresented communities.
"It's really important to us to highlight their voices because they are often not seen. So we want to show that they're producing great science, and that they should be recognized for it."
From Clean Energy to Clear Impact
As Julia Dressel finishes her undergraduate career at UVA, her sister's is just beginning.
Isabella Dressel is wrapping up her first year at UVA. She hasn't chosen a major, but she knows it will involve some combination of chemistry, physics and environmental science. Like her sister, Isabella's vision for her future was shaped by what she saw on their trips to Beijing.
"Just seeing that pollution and the difference between there and here in terms of the impact of air quality and climate change really had a big effect on me," she said. "I remember seeing the air pollution there get progressively worse, and just knowing that I have family there who have to experience that has really inspired me to want to do something about climate change and to dedicate my research toward that goal."
Following the trail her sister blazed at UVA, Isabella is also an Echols Scholar who also accepted her nomination to the College Science Scholars program to broaden her perspectives on the fields of study that are open to her and for the help the program provides to undergraduates who want to get involved in research.
This semester, she took a position working with Sally Pusede, a professor in the Department of Environmental Sciences studying the disproportionate impacts of air pollution on communities in New York City using satellite observations, and the younger Dressel is already winning recognition for part she's playing in that work. This spring, she won the College Science Scholars program's summer research stipend – an award her sister won in 2020 – and the Double Hoo Award, a research grant funded by UVA's Office of Undergraduate Research. Together, the awards will provide her with $5,000 in funding to continue her research over the summer.
"In her first-year, Isabella has already demonstrated the intelligence, curiosity, diligence and enthusiasm of a scientific researcher," said Angelique Demetillo, a Ph.D. candidate in the Department of Environmental Sciences and Isabella's mentor in the Pusede Lab. "She has made substantial strides in using high-resolution aircraft-based measurements of nitrogen dioxide to describe air pollution inequality at the neighborhood scale within New York City. This work is critical for understanding the extent to which space-based observations can be used to monitor, mitigate and even address air pollution inequalities within cities."
Though their paths are similar, and Isabella has found a great deal of inspiration and motivation in her sister's successes at UVA, she's careful to point out that there's an important difference between the two of them.
"She very much wants to make a difference and help other people," Isabella said about her sister Julia. "Our experience going to China really left a mark. She wants to tackle the root causes of air pollution. A lot of it is from vehicles and gasoline and fossil fuels, and I think that has really pushed her towards going into clean energy. My research is looking at the effects of air quality on different socio-economic demographic groups who are exposed to air pollution. One of the goals of my research is to show policy makers that these inequalities are there so we can have a bigger push toward getting rid of some of the sources of inequality."
But despite the unique approaches they're taking to address the problems air pollution poses, Isabella shares one important research goal with her sister.
"I'm just really hoping that I can make a difference," she said.