Human Rights a Main Focus For Students in Summer Global Internships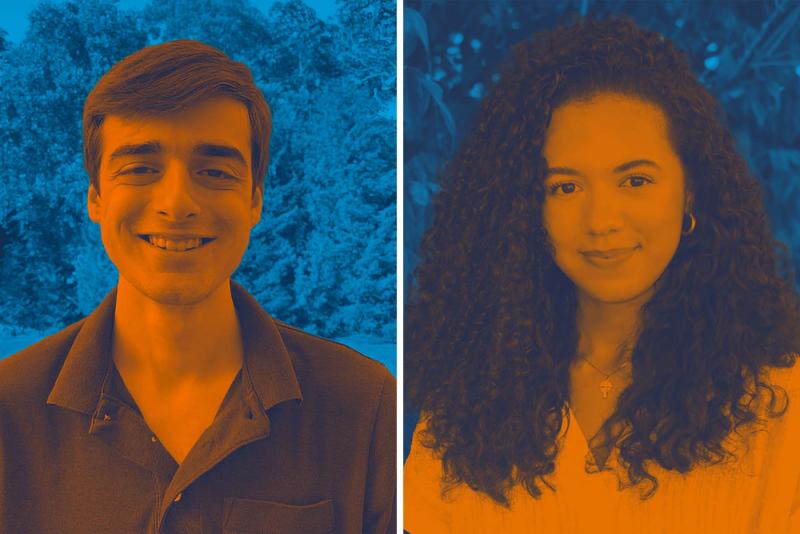 When University of Virginia fourth-year student Akimi Gyamfi decided to pursue a virtual summer internship through UVA Global Internships at the Zimbabwe Human Rights Association – known as ZimRights – she had a pretty good idea of the brutal hardships people were being forced to endure. But what she didn't realize was just how much of an uphill climb they faced in advocating for themselves.
Nowhere was that challenge more evident than during one Zoom videoconference event she took part in. Titled "Media and Culture of Human Rights," it focused on peace reporting – journalism aimed at shedding light on structural and cultural causes of violence – and the importance of whistleblowing.
"I remember I was shocked about how adamant and active people in Zimbabwe have to be to protect their basic human rights," said Gyamfi, a philosophy major from Amberg, Germany, whose family recently relocated to Georgia. "
It was eye-opening to realize how important community action and agenda-setting are. It made me appreciate the reliable access I have to media, the internet and multiple methods of communication, which consequently reminded me of how important it is to spread factual, informative and unbiased information to help and spread awareness for those who may be suffering abroad and don't have the same accessibility."
Rising third-year student Michael Biggiani had similar experiences in his virtual internship with the Africa Disability Alliance, located in Pretoria, South Africa. Biggiani participated in a meeting with students of the University of Malawi that centered on how COVID-19 had affected their communities, especially people with disabilities.
"The experiences deeply impacted me, both as a student and a human being," said Biggiani, an Oyster Bay, New York, resident who is majoring in biology. "Working with [ADA] provided me with an incredible exposure to real life."
Gyamfi and Biggiani were two of 32 students who took part in the Global Studies-sponsored academic Virtual Global Internships program. Their connections with internship hosts were made in partnership with the Presidential Precinct – a Charlottesville-based nonprofit that brings together UVA, William & Mary, Morven Farm, Monticello, Montpelier and Highland to offer resources to emerging community leaders around the world. Many of the hosts, as alumni of the Mandela Washington Fellowship, knew Charlottesville well, having spent six weeks with the Presidential Precinct.
The vast majority of the students worked with organizations in sub-Saharan Africa. Those who didn't worked with a longstanding partner organization in Peru.
"Our collaboration with the Presidential Precinct opened new doors for the VGI program, providing UVA students opportunities to learn from incredibly impressive Mandela Washington Fellowship alumni and their colleagues about current conditions and social issues across the diverse African continent," said Ingrid Hakala, the director of UVA Global Internships: "In many ways, the virtual nature of this education-abroad program was a boon, allowing us to further expand our global reach and requiring our students to intellectually engage with their host organizations' missions though their remote work."
UVA Today caught up with Gyamfi and Biggiani to learn more about their time in the program.
Q. Overall, what were the biggest things you think you learned from your experience that you'll be able to take with you into your professional career? 
AG: I developed my writing skills in drafting lengthy write-ups that can be accessed by ZimRights staff and ordinary citizens of Zimbabwe. Additionally, I was able to identify action items for ZimRights to pursue in combating human rights violations and to learn about the history and political playing field of Zimbabwe's government, people and communities. I learned first and foremost that the fight to gain, maintain and protect is a constant endeavor that cannot be achieved unless communities and collectives work together to achieve them, as we could lose them at a moment's notice.
Moreover, I find that the ZimRights experience has solidified my aspirations of pursuing a career associated with international law and human rights. The legal field has always been fascinating to me and after the VGI program, I feel sure of my path and happy with my future plans.
More specifically, I feel as though my interpersonal skills have become multifaceted in that I can not only communicate through written and verbal expression, but also solely through virtual platforms. I hope to use my new strength in future professional positions. Additionally, for the rest of my time at UVA, I will make efforts to incorporate my global experience with ZimRights and share what I have learned with others.
MB: This program enriched not only my outlook on life, but my vision for my future career path. The VGI program provided a real-world application of everything I have learned up to this point. My assignments were analytical and quite challenging, ranging from drafting a proposal for the creation of an Arts Culture and Spirituality program for people with disabilities who are talented in the arts, to analyzing how the COVID-19 guidelines of the World Health Organization impact people with disabilities, and creating a poster to encourage people with disabilities in Southern Africa to get vaccinated.
Having the opportunity to work on a variety of projects, I was able to plan and execute advocacy work related to disability rights and work virtually in diverse country environments, allowing me to expand my knowledge and build confidence in my abilities. I am truly thankful for this experience.
This internship has only strengthened my desire to help others. I plan to pursue a career in medicine, and working on the WHO report, poster and arts proposal, as well as participating in activist meetings, has exposed me to the day-to-day workings of an organization in the real world, has shown me what it takes to operate despite extreme challenges like a pandemic, and has allowed me to gain valuable skills and knowledge that will help me later on in my career. 
Q. How did the coursework complement the things you did in the field? 
AG: The accompanying coursework helped tremendously with offering a routine way of checking in with my progress at ZimRights. It gave all VGI interns a space to reflect on our virtual experiences together and to relate to one another's challenges and successes. The coursework focused mainly on the value of being independently proactive in one's internship and taking the initiative to maintain newfound professional relationships. The coursework successfully supplemented my work with ZimRights and made me more confident in becoming aware of my professional strengths and weaknesses.
MB: The lessons we received focused on providing us with tools to adapt to a new culture. We would discuss how our internship experience was going and do activities in class to solidify the meaning of our place in the world and commit ourselves to acting with the wisest understanding of our responsibilities and privileges. Assignments focused on active reflection on our internship experience, and peer discussions of our challenges and triumphs on what we did in the field.
Q. Do you have any advice for future students who might go through the program? 
AG: My advice to anyone considering a VGI is to enter the program with an open mind and to experience the internship as it presents itself to you. Treating the VGI program as a time for personal growth, building professional relationships and contributing positively to wonderfully active organizations and missions is most important, in my opinion.
MB: I would highly recommend this program. During my time with ADA, my aspirations for developmental change were fulfilled. I have made lasting relationships throughout the time I have been part of this summer class, not only in the United States, but abroad in South Africa, and have grown as a person from its challenges. It is a fun way to learn about different cultures, geography and economic practices.
In today's ever-changing world, understanding people who come from diverse cultures is critical in the corporate arena. One piece of advice I have for future students is to tackle assignments early, weeks before the due dates. You will be given tasks from the class as well as your international colleagues, and you must stay ahead of the workload for your own well-being. Your work will be better, and you will have a buffer that you will be thankful for if something goes wrong.