Political Theorist, Poet Receive Guggenheim Fellowships
Two Arts & Sciences faculty members were awarded Guggenheim Fellowships last week. Lawrie Balfour (Politics) and Brian Teare (Creative Writing) were among the 175 scholars, writers, artists and scientists recognized this year by the John Simon Guggenheim Memorial Foundation, which reviewed the portfolios of nearly 3,000 applicants.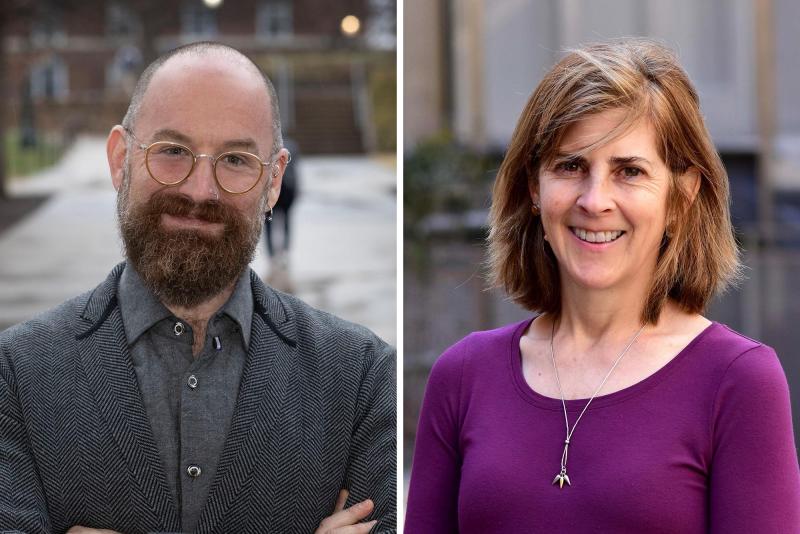 Poet Brian Teare recently published,"Doomstead Days," and politics scholar Lawrie Balfour is studying the philosophy of author Toni Morrison.
Photo of Teare by Dan Addison, University Communications. Photo of Balfour by Mark Edwards
The author of Democracy's Reconstruction: Thinking Politically with W. E. B. Du Bois (Oxford University Press), The Evidence of Things Not Said: James Baldwin and the Promise of American Democracy (Cornell University Press) and numerous articles and essays on race, gender, literature and the politics of memory, Balfour researches the political, cultural and moral legacies of slavery and their ongoing importance to understanding democratic life. Her Guggenheim Fellowship is in support of her latest project "Imagining Freedom: Toni Morrison and the Work of Words," which aims to contest the traditional study of freedom in political theory and philosophy by tracing the Nobel Prize in Literature winner's reflections on its many meanings in her novels and non-fiction from the 1970s-2019. Balfour hopes to complete the book manuscript next year while she is in residence at the Institute for Advanced Study in Princeton, N.J 
Teare, whose sixth and most recent book, Doomstead Days, offers a series of walking meditations on our complicity with climate crisis, was awarded a Guggenheim Fellowship in Poetry. As described by the Guggenheim Memorial Foundation, Teare's poems "document the interdependence of human and environmental health and use fieldwork and archival research to situate chronic illness within bioregional and industrial histories." Longlisted for the National Book Award, Doomstead Days was also a finalist for the National Book Critics Circle, Kingsley Tufts, and Lambda Literary Awards. One of the book's poems, "Toxics Release Inventory (Essay on Man) was awarded the Four Quartets Prize last month by the T.S. Eliot Foundation and the Poetry Society for America.