Politics Professor Honored for Studying Non-State Actors
Groups such as the Muslim Brotherhood and Communist International influence relations between nations. John M. Owen IV has earned a Humboldt Research Award for exploring these influences.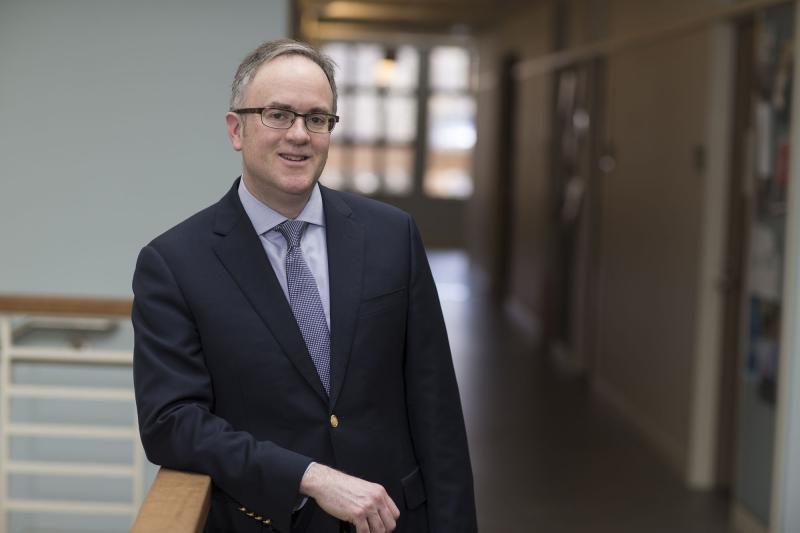 John Owen, Ambassador Henry J. Taylor and Mrs. Marion R. Taylor Professor of Politics
Dan Addison / University Communications
Thanks to the award, Owen, Ambassador Henry J. & Mrs. Marion R. Taylor Professor of Politics in the University of Virginia's Woodrow Wilson Department of Politics, is beginning a year of research in Germany. There he will work with professor Thomas Risse, a political scientist at the Free University of Berlin who nominated Owen for the award, and with colleagues in the Center for Transnational Relations, Foreign and Security Policy.
The award, given by the Alexander von Humboldt Foundation of Bonn, Germany, recognizes a researcher's entire body of academic achievements, fundamental discoveries, new theories or insights that have had a significant impact on their own discipline and who are expected to continue producing cutting-edge achievements in the future.
"It is truly gratifying when such a highly regarded foundation in another country recognizes your work and devotes resources to bringing you over to work with scholars in that country," Owen said. "The award will bring me into contact with some brilliant and innovative scholars in Berlin, elsewhere in Germany, and perhaps in other parts of Europe and the world. The Humboldt Foundation specializes in building and nurturing global networks of scholars."
Owen has been researching how transnational political groups operate and complicate relations among countries. This research grew from his work examining "Democratic Peace," the thesis that democracies do not go to war with each other.
"Under some conditions, transnational groups polarize the populations of more than one country at once and can trigger foreign interventions," he said. "The groups I have studied to date are ideological, such as the Muslim Brotherhood or, back several decades in history, the Communist International. But there are ethnic transnational groups that seem to work in similar ways – in Central Asia and parts of Africa – and appear to have similar effects on relations among countries."
Owen's work on transnational groups and ideas and their effects on international politics overlaps with Risse's. They will be working together with, among others, Jeffrey Checkel, a scholar from Simon Fraser University in British Columbia, who has also received a Humboldt and is interested in the transnational spread of conflict.
"I'll be spending the second half of my sabbatical at another institution, the Social Science Research Center of Berlin," Owen said. "There my collaborators will be professor Michael Zuern and his team of scholars who work on challenges to what we call global governance, or the web of international institutions that facilitate cooperation among countries. Some transnational groups favor and promote these institutions; others resist and challenge them."
Owen is drawn to the ideological and social side of politics – the ideas around which people mobilize and act – and particularly ideas and groups that span national boundaries. 
"I think these ideas and groups have important consequences that political scientists have not adequately appreciated or understood," he said. "I have studied these groups over five centuries of history, going all the way back to Catholic and Protestant networks in the 16th century. Sometimes these groups are forces for cooperation, sometimes for conflict.  Sometimes they provoke governments to engage in foreign interventions and wars."
Owen explored some of these ideas in his most recent book  "Confronting Political Islam: Six Lessons from the West's Past." Owen outlines the history of Islamism as a movement and an ideology and compares it with periods of Western history when the Christian church in Europe was a political power, but also splintering into different divisions. Then and now, both were social and political movements to correct the world.
Academics from around the world, regardless of their discipline or nationality, may be nominated for a Humboldt Research Award. Winners are invited to spend a period of up to one year cooperating on a long-term research project with specialist colleagues at a research institution in Germany. The stay may be divided up into blocks.
The Humboldt Foundation grants up to 100 Humboldt Research Awards annually.