Q&A: Economics Alum Jerome Meyinsse On Brazil, Econ and the 2015 Cavaliers
When former University of Virginia basketball player Jerome Meyinsse returns to Grounds, he always makes two stops: John Paul Jones Arena, home of the men's basketball team, and Monroe Hall, home of the economics department.
Meyinsse returned again this summer to work out with the current Cavaliers and share wisdom gleaned from five seasons in South America's professional basketball leagues, where he plays for Brazil's Flamengo club. Current players would do well to listen – since joining the club two years ago, Meyinsse has enjoyed two national championships, with a third in sight.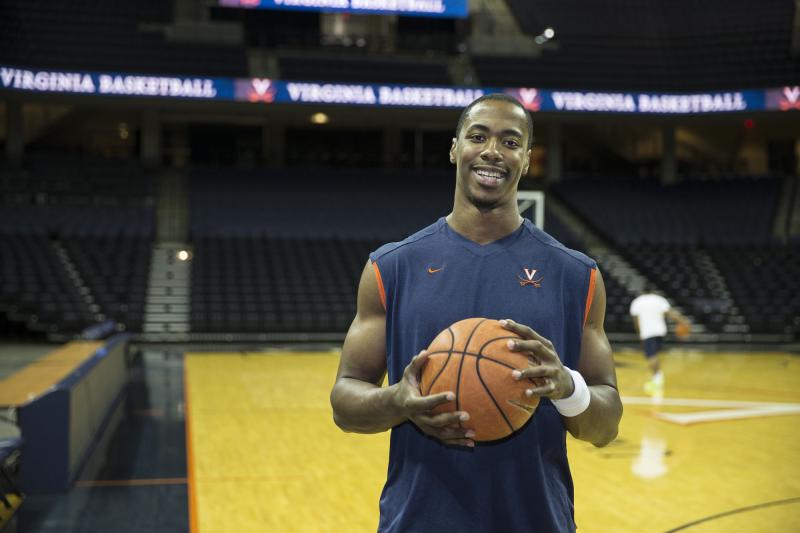 Jerome Meyinsse (Economics '10)
Dan Addison / University Communications
"We really enjoy having Jerome back during the summer to work out with our team," U.Va. head coach Tony Bennett said. "He challenges our post players with his size, skill and competiveness. Jerome has worked hard to become a professional basketball player and was an excellent student at U.Va. We're certainly proud of what he has accomplished since he graduated."
At U.Va., the 6-foot-9 Meyinsse was known for his contributions at center, especially during his final season – Bennett's first – in 2010. He was also known as one of the most outstanding students the program had seen, majoring in economics and minoring in math.
"If there was ever someone who embodied a great student-athlete, it would be Jerome," said economics professor Edwin Burton, one of Meyinsse's mentors. "He's a great kid and so respected as a student. He was so impressive that our department asked him to speak at the economics graduation ceremony the year he graduated."
Wall Street firms recruited Meyinsse, who also was accepted to several doctorate programs. Ultimately, though, he was not ready give up basketball and he realized that a move to South America would not keep him from being a student; it would just open a new classroom.
"He has learned two languages, Spanish and Portuguese, since moving," Burton said. "He is always learning something and we are always corresponding about what he should be reading or pursuing next."
UVA Today sat down with Meyinsse while he was in Charlottesville to talk about what he has learned, what's next and, of course, how this year's Cavaliers are shaping up.
Q. After graduation, you moved to Argentina to play for the 9 de Julio sports club. What was that transition like?
A. I was excited and it was fun to read up about Argentina, which I did not know much about. The hardest thing, really, was the language barrier. I took Spanish while I was at U.Va. and did a Spanish language house program during the summer, but it had been a few years and Argentinian Spanish is a difficult version of the language.
When I arrived, I only knew one person who spoke English well. I was just kind of dropped in and the adventure began. I studied on the Internet, talked a lot to my teammates and fortunately picked it up pretty quickly.
Players typically move around a lot in South American leagues, so in three years, I played for four Argentinian teams. In 2013, I moved to my current team in Brazil, and I am headed back for my third season this year. It is a great experience, and I have been very fortunate in the teams that I have played for.
Q. How did U.Va. prepare you for the move, on the court and off?
A. I was able to meet a lot of people from a lot of different cultures at U.Va., so the move was less of a shock. There are some things that we take for granted in the U.S., which is hard to see until you live overseas and see how different things are – sometimes better, sometimes worse. Seeing the different cultures at U.Va. helped me with that transition.
In terms of basketball, I was very prepared. Actually, most of my hardest practices have been in college. The fundamentals that I learned transitioned well overseas and my coaches love the intense way I play defense, which I definitely learned here at U.Va.
Q. What about that economics major? How has it helped you out since graduation?

A. I still love talking to my professors. Every time I come to town, I get together with Ed Burton and Lee Coppock. I love how economics explains human behavior. I am a child of an economics professor and a math professor, so it was always a part of me.

Both Argentina and Brazil have very interesting economies. I am seeing how what I learned in class affects different countries in the real world. When I got to Argentina, the exchange rate was 4:1; by the time I left it was 10:1 and even 12:1 on the black market. I saw the value of the currency depreciating firsthand and even saw the dollar blocked during my third year there, which had a negative effect on the economy.

In Brazil, it has been interesting to watch the effects of major sporting events. I took a class at U.Va. called "The Economics of Sports," and we studied how events like the Olympics or the World Cup can negatively impact the economy. Brazil had the World Cup and the economy has been tipping since then. Some worry that the Olympics will put it over the edge.
Q. What do you love about where you live?
A. I have grown to love Brazil and Brazilian culture. I love acai fruit. I have seen it in the U.S., but it is not the same. It is amazing and I eat it every day in Brazil. I think I'm addicted.
I love Brazilian music. It has helped me to learn the language, and I love the energy and the spirit. It is an atmosphere that I have never experienced anywhere else. The energy of their fans, especially soccer fans, is just unreal. I was not a soccer fan until I went with my teammates to watch our club's soccer team. U.Va. fans will have to excuse me for saying this, but their energy and passion for soccer is really on a different level, even from the great energy in JPJ.
It has also been fun to introduce my teammates to American culture. Last year, we played three games in the U.S., with the Orlando Magic, the Phoenix Suns and the Memphis Grizzlies. Suddenly, the tables were turned – I was translating for them. They loved it, especially Orlando, where we went to Universal Studios and practiced at Disney's Wide World of Sports.
Q. What's next for you?
A. My plan is to play basketball as long as my knees hold up. My team will play the Orlando Magic in Rio this year and hopefully we can win the Brazilian championship again.
After basketball, my degree will allow me to pursue several opportunities – graduate school, or perhaps an MBA and a finance career. If I can, I want to learn two more languages, probably Italian and French. Whatever I do, I want to do a lot of traveling. There is so much to see and so many experiences to have.
Q. We have to ask – how's the U.Va. team looking this year?
A. I'm impressed. We have been pushing each other, both the players and the alumni. I love coming back and teaching them some new tricks, and they help me to stay in shape. I love to see how they are doing, hopefully give some words of wisdom or helpful hints. No matter where you go, you bleed blue and orange. Even in Brazil, I have met people wearing U.Va. shirts and I watched the ACC championship with U.Va. alumni living in Brazil.
I always keep up with the games when I can, though every game I watched last year we lost. If I watch the next one and we lose, I'm just going to start following the stats.