SCHEV Awards Outstanding UVA Professors Amanda Gibson and Rachel Harmon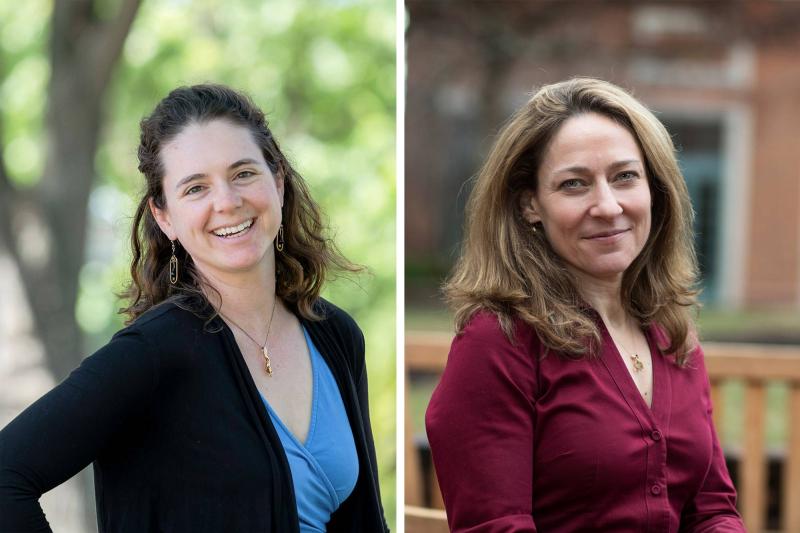 Amanda Gibson left, works in evolutionary biology, and Rachel Harmon focuses on wide-ranging laws that govern police. (Photos by Erin Edgerton and Dan Addison, University Communications)
University of Virginia professors Amanda K. Gibson and Rachel Harmon are among 12 honorees statewide receiving 2023 Outstanding Faculty Awards from the State Council of Higher Education for Virginia and Dominion Energy.
The organizations will bestow a $7,500 gift from the Dominion Energy Charitable Foundation to each awardee on March 7 at a ceremony in Richmond.
Institutions submitted 74 nominations, and a panel of peers and a committee of leaders from the public and private sectors reviewed the list and eventually whittled it down to the 12 recipients.
Since 1987, these SCHEV awards have recognized faculty at Virginia's institutions of higher learning who exemplify the highest standards of teaching, scholarship and service.
Gibson, an assistant professor of biology in the College and Graduate School of Arts & Sciences, received a Rising Star Award for early-career achievement and her educational contributions to evolutionary biology.
Last spring, she received the University's highest teaching honor for junior faculty, the Alumni Board of Trustees Teaching Award. She teaches courses on the dynamics of infectious diseases and resulting global challenges. In recommending her for the UVA teaching award, Gibson's students wrote that she humanizes science.
Her card game to teach the "red queen hypothesis" of evolutionary biology, which she and two doctoral colleagues published a paper about, received the 2016 Thomas Henry Huxley Award from the Society for the Study of Evolution for achievement in education and outreach. The game – which requires two decks of standard playing cards for each pair of students – acts as an exercise to teach the fundamentals of host-parasite coevolution to high school and college students. A related instructional online video enables students nationally and internationally to play.
Harmon, the Harrison Robertson Professor of Law, directs the Center for Criminal Justice at UVA's School of Law. With research focused on policing and the law, she published the first book to explore the wide-ranging law that governs police encounters in the United States, a 2021 casebook, "The Law of the Police."
Harmon, who teaches criminal law and criminal procedure, as well as the law of the police, received one of UVA's All-University Teaching Awards last spring.
The cases she teaches and writes about come right out of current headlines and frequently involve occurrences of violence, racism and discrimination. "She encourages everyone to speak up," Law School Dean Risa Goluboff wrote about Harmon. "Students from across the ideological spectrum flock to her courses and gush about her thoughtful and evenhanded approach."
Harmon moved to academia in 2006 after eight years as a federal prosecutor at the U.S. Department of Justice, where she investigated and prosecuted civil rights crimes nationwide.