A&S Scholars Use Fulbright Grants For Work and Study Abroad
Eight University of Virginia scholars will pursue their work on foreign shores with the help of Fulbright Scholarships this year.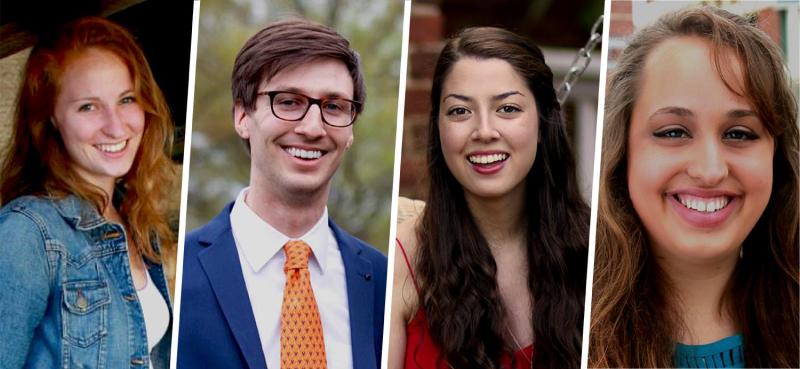 L-R: 2016 Fulbright Scholars Recipients Meghan Cioci, Zachary Peak, Shelbey Keegan and Erin Elizabeth Sutherland
The U.S. Department of State and the J. William Fulbright Foreign Scholarship Board offered the grants to the UVA alumni and graduate students, who will be among 1,900 U.S. citizens traveling abroad for the 2016-17 academic year through the Fulbright U.S. Student Program. The scholars were selected on the basis of academic and professional achievement, as well as demonstrated leadership potential.
The scholarships cover round-trip transportation to the host country; funding for room, board and incidental costs; and health care benefits. In some countries the scholarship also has book and research allowances, mid-term enrichment activities, full or partial tuition, language study programs and orientations.
The UVA scholars will teach English in foreign countries such as Brazil, France and Malaysia, or pursue research in international academic centers.
"A spring of great news with all of these offers for the Fulbright," said Andrus G. Ashoo, associate director of the Center for Undergraduate Excellence. "Among our winners is a student who reapplied after missing out last year."
The Fulbright program is the flagship international educational exchange program sponsored by the U.S. government and is designed to increase mutual understanding between the people of the United States and the people of other countries. Its primary source of funding is an annual appropriation made by Congress to the State Department's Bureau of Educational and Cultural Affairs; participating governments and host institutions, corporations and foundations in foreign countries and in the U.S. also provide support. The program operates in more than 160 countries and is administered by the Institute of International Education.
"Looking ahead, it is clear that the success of our Fulbright applicants and the value of the process of applying for the award is generating more interest among our students," Ashoo said. "I'm already busier with Fulbright applicants for this coming year."
Since its establishment in 1946 under legislation introduced by the late U.S. Sen. J. William Fulbright of Arkansas, the Fulbright program has given approximately 360,000 students, scholars, teachers, artists and scientists the opportunity to study, teach and conduct research, exchange ideas and contribute to finding solutions to shared international concerns.
This year's recipients are:
Meghan Cioci of Herndon, who graduated in 2015 as a dual major in foreign affairs and French. She will teach English in Brazil.
"I am a great lover of learning languages," she said. "­I see each language as a gateway to a different culture and way of life, and I am very eager to share my own culture via teaching English in Brazil."
While at UVA, Cioci worked in Residence Life and was a member of the Salsa Club. She was a recipient of the Parents Committee Internship Grant. She wants to pursue a graduate degree after she completes the Fulbright program.
"As a politics major, I am further interested in Brazil as a developing nation," Cioci said. "I have not yet been to Brazil, so I especially have a lot to learn, and I am very eager to improve my Portuguese, which I began studying while at UVA."
Shelbey Keegan of Reston, a foreign affairs and East Asian studies double major who graduated in May, who will teach English in Taiwan. Keegan has already spent extensive time studying Mandarin in mainland China.
"Taiwan felt like the obvious country of choice not only for its language, but for its rich history and culture, its stunning and varied geography, and most importantly, its integral position in the political climate of East Asia," Keegan said. "When I return to the U.S., I plan to pursue a career in either Asian relations or global development in East/Southeast Asia, so I'm incredibly grateful for this opportunity as it seems to fit in nicely with future goals."
While a student at UVA, Keegan was co-chair of the Student Council Academic Affairs Committee; events coordinator, choreographer and assistant artistic director of the University Salsa Club; vice chair of administration and vice chair of outreach for the University Peer Advising Link; senior facilitator for the First Year Seminar; and a summer orientation leader.
"Whether I end up in the field of global development or Sino-American relations, overseas experience is critical," she said. "I thought the Fulbright in Taiwan would be an excellent way to tie many of my interests together."
Grace Muth of Charlottesville, who graduated in May as a dual major in English and global development studies. She will teach English in Malaysia, where she has already interned for a health care company.
"As an English major, with someone who has great passion for the spoken and written word, I've come to believe that language gives access to both intellectual and physical landscapes otherwise inaccessible," Muth said. "The people I met in Malaysia would often practice their English with me, as English is seen to many as a bridge language between the many peoples and occasionally conflicting cultures of the country."
An Echols Scholar, she was a representative of the College of Arts & Sciences on the Honor Committee, a moderator for Sustained Dialogue, a life columnist for the Cavalier Daily, wellness chair for the Inter-Sorority Council, a volunteer at the Shelter for Help in Emergency, and a member of Green Dot at UVA, which worked against sexual violence on Grounds. She was also a recipient of a Jefferson Public Citizens Award.
Muth plans to work for a non-governmental or governmental organization helping to promote women's health internationally through community efforts rather than state intervention.
"This Fulbright grant allows me to engage in the process of helping to expand the accessibility and power of language," Muth said. "By teaching girls to write and speak effectively, to conquer fears of public speaking through plays and spoken-word poetry, I can hopefully help to give them tools to change their communities, to push beyond the traditional roles of their societies, if they so choose."
Zachary Peak of Franklin, who graduated in May with a degree in interdisciplinary political and social thought with a minor in urban and environmental planning, and will teach English in Macau.
"Macau has a very unique history and blend of Chinese and Portuguese cultures," Peak said. "As a Special Administrative Region of China and one of the most densely populated cities on the planet, living and teaching in Macau will provide me with a unique perspective on modern urban development patterns."
Peak is a member of Phi Beta Kappa and the Raven Society, and served as a moderator for Sustained Dialogue and as a representative from the College of Arts & Sciences on the University Judiciary Committee. He plans to pursue further study in urban policy.
"I'm very excited to engage with professors and students in Macau and serve as a resource on both the English language and American culture," Peak said.
Parisa Sadeghi of Alexandria, who graduated in May as a dual major in politics honors and economics and will teach English in France.
"After spending two years as an economics teaching fellow at UVA for economics professors Lee Coppock and Ken Elzinga, and even more time as a debate coach in local Charlottesville schools, I discovered how much I love to teach," Sadeghi said. "I have also studied French since fourth grade and have always been a bit of a Francophile. A Fulbright teaching fellowship in France thus seemed like an ideal opportunity, as it would allow me to pursue all of these passions."
A Jefferson Scholar and an Echols Scholar, Sadeghi has been the founder and president of the Charlottesville Debate League, chair of the Minority Rights Coalition, a member of the University Guide Service and the Raven Society and an Undergraduate Research Fellow at the Miller Center.
"I am extremely passionate about education reform and I look forward to using my time in France to explore how the French government approaches some of the biggest problems with its public education system," she said. "Many of the obstacles France faces are similar to those found in the U.S. I hope that my time abroad will widen my perspective on how to devise effective solutions to these issues."
Erin Elizabeth Sutherland of Colorado Springs, Colorado, who graduated in May with a bachelor's degree in foreign affairs with a minor in Spanish and will teach English in Panama.
Sutherland, who is certified by the Teaching English to Speakers of Other Languages International Association, selected Panama because of her work with Panamanian students in the United States.
"The students were so wonderful, hard-working and excited to learn, and the whole experience really helped me gain the confidence that I can be a helpful resource as an English teacher," Sutherland said. "I love that I'll be able to live and work with students in their home country, because I can do a better job at seeing what exactly their needs as English learners are and what their lives are like."
While a student, Sutherland was resident of Casa Bolívar; studied abroad in Valencia, Spain; served as a tutor with Abundant Life Ministries; and was a member of Catholic Student Ministry and the Living Wage Campaign. She plans to pursue a master's degree in international relations and possibly pursue a career in the foreign service.
"I'm really excited to have this opportunity to go to Panama and learn how to best help students within the context of their daily lives," Sutherland said. 
Nicholas Trautz of Cabot, Vermont, a Ph.D. candidate in the history of religion, who will study Tibetan Buddhist scripture.
Trautz will undertake field research in the highlands of eastern Tibet and study with scholars of Tibetan history and culture at the Southwest University for Nationalities in Chengdu, China. He plans to focus on an influential 12th century Tibetan Buddhist scripture and associated ritual tradition as it is practiced today in Eastern Tibet.
"This Fulbright grant enables me to study firsthand the rich ritual traditions associated with one of the most important scriptures in Tibetan Buddhism," he said.
He received a bachelor's degree from Williams College in 1999 and a master's in theological studies from Harvard University in 2010. He is a recipient of Federal Language and Area Studies grants for Tibetan and Chinese language study in 2009 and 2013, and he received a UVA Arts, Humanities and Social Sciences pre-dissertation grant in 2015. He plans a career in academia.
"While my study of Tibetan language, history and religion at Harvard University and at the University of Virginia has equipped me to read Tibetan literature, it is only with extensive exposure to Tibetan culture that I can truly appreciate the depth of the Tibetan religious heritage," Trautz said. "I know that spending a year in China documenting the settlements, monasteries and rich ritual traditions associated with the 12th century scripture which I have been translating will enrich my scholarship and broaden my own horizons."
John Wilder of Springfield, who graduated in May with a double major in foreign affairs and Middle Eastern languages and literatures and will teach English in Turkey.
"I'm interested in the Middle East in and of itself – its culture, history, languages – as well as how it relates to the politics of the international system and toward U.S. policymaking," Wilder said. "This interest in part stems from the fact that as a child, I lived in Jerusalem for three years while my parents worked abroad there."
Wilder was a leader in the Arabic Conversation Club; an English-as-a-second-language tutor for Hoos for Refugees; a member of the Virginia Alpine Ski and Snowboard Team; and played for "Skwad," a co-ed adult league soccer team of UVA students. He is a two-time Critical Language Scholarship recipient, having studied Arabic in Tangiers, Morocco, in 2014 and preparing to study Persian in Dushanbe, Tajikistan this summer. He had previously studied in Morocco on an American Council on Teaching Foreign Languages scholarship. He is certified with non-native fluency in Arabic by the American Council on Teaching Foreign Languages.
Wilder also had an independent study in the Woodrow Wilson Department of Politics focused on the motivations behind external intervention in civil wars, specifically those in Yemen both in 1994 and today.
 "I hope to further my study of the Middle East and Foreign Affairs at the graduate level, before ultimately becoming a foreign service officer for the U.S. Department of State," Wilder said. "My linguistic experience in Persian will complement that which I've already achieved in Arabic, as well as that which I hope to achieve in Turkish while in Turkey, giving me a thorough linguistic and cultural background in the Middle East."