Second-Year Trio Nabs Major Science Research Awards
Research into blood vessel growth, inorganic synthetic chemistry and studying dopamine and the biological clock has netted three University of Virginia second-year students prestigious research awards.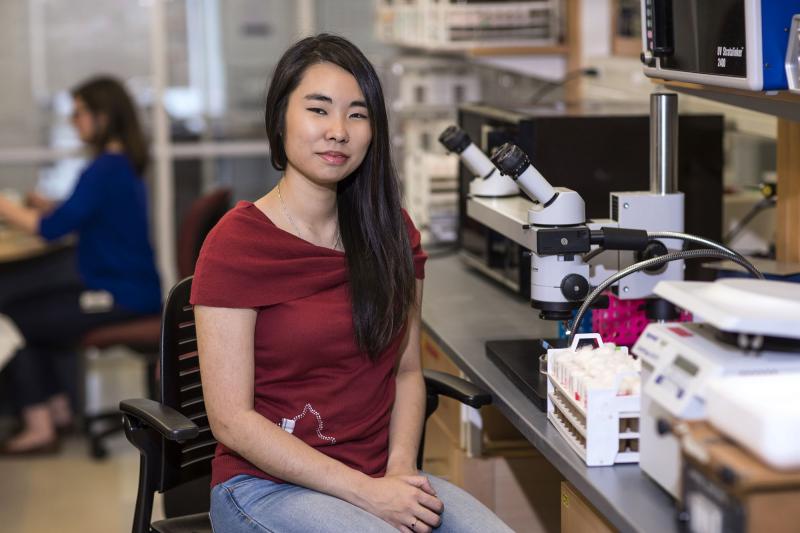 Second-Year Prospective Neuroscience Major Yi-Ting Liu
Dan Addison / University Communications
The awardees are Caroline Kerr, 19, of Ashburn, a second-year chemistry major; Yi-Ting Liu, 19, of Winter Springs, Florida, a second-year perspective neuroscience major; and Daniel Naveed Tavakol, 19, of Vienna, a second-year biomedical engineering major. Two of them landed Arnold and Mabel Beckman Foundation Scholarships, while the third earned an identical University of Virginia science research award.
In 2013, U.Va. received a three-year renewal of its Beckman Scholars grant – one of 10 universities nationwide selected for the program, largely because of its commitment to quality undergraduate research. The grant, worth approximately $120,000, funds scholarships to two undergraduate researchers per year working in chemistry, biochemistry and the biological and medical sciences. The scholars are selected locally and the grants provide $19,300 in salary and travel for two summers and one academic year.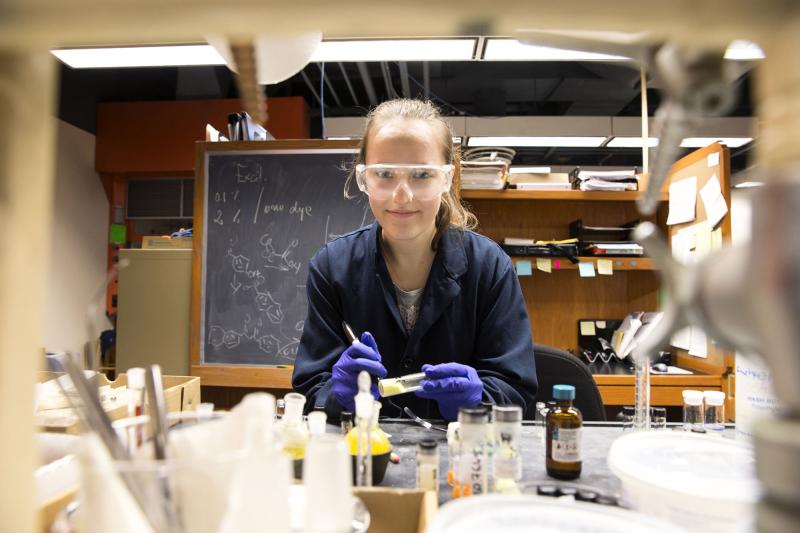 Second-Year Chemistry Major Caroline Kerr
Dan Addison / University Communications
The Office of the Vice President for Research and the dean's offices of the College of Arts & Sciences and the School of Engineering and Applied Science fund a third scholar each year.
Kerr is working in inorganic synthetic chemistry, with research focusing on the synthesis of boron-based nanoparticles used for oxygen sensing and optical imaging in cells. Tavakol's work focuses on angiogenesis, or blood vessel growth, in the mouse cornea and retina, distinguishing key factors in support cell recruitment and location in vascular networks. Liu is researching if an internal clock affects dopamine localization in fruit flies, which would help standardize how dopamine is analyzed in labs around the world.
"These are among the highest awards in the nation for excellence in undergraduate research," said William H. Guilford, director of U.Va.'s Beckman Scholars Program and associate dean for online innovations and undergraduate program director in biomedical engineering in the Engineering School and the School of Medicine.
"Every year we hope for exceptional proposals from exceptional students, and every year we get them.
We are fortunate to have such incredibly hard-working undergraduate scientists at U.Va., guided by such dedicated research mentors."
Kerr is also a 2015 Harrison Undergraduate Research Award recipient, on the Dean's List and co-president of the Gymnastics Club at U.Va. She is a member of the American Medical Student Association at U.Va. and United2Heal, and a Madison House volunteer. She is a research assistant in chemistry professor Cassandra Fraser's laboratory and a chemistry tutor. She is also working on several manuscripts for publication and preparing for an American Chemical Society conference at the end of the summer. She is considering a career as a physician-scientist, conducting laboratory research and treating patients in a clinical setting.
"The Beckman Award means that I will be able to work in the laboratory this summer and next, making progress on a project related to the passive and active targeting of tumors for oxygen sensing," she said. "The experience I will gain through the opportunities provided to Beckman Scholars will be invaluable as I look to advance my research career beyond my undergraduate years."
"Caroline is a very responsible, mature and articulate student who seeks opportunities, takes charge of her learning and makes things happen," Fraser said. "She demonstrates steady persistence in the face of challenges and is not afraid to step up, take some heat and give it a try."
She also praised Kerr's communication abilities, noting that is rare that a second-year student would be co-authoring scientific papers.
"She presents scientific ideas clearly and represents our research team and the University of Virginia exceptionally well," Fraser said. "She drafts materials herself, requiring little editing or guidance. Her research productivity and exceptional science communication skills are noteworthy. Her teamwork, positive spirit and enthusiasm for science inspire those around her."
Tavakol is a Rodman Scholar and also a 2015 Harrison Undergraduate Research Award recipient. He is the incoming vice president of the Engineering Student Council, and he is also a member of Engineering Students Without Borders, Engineering School Guides, and the local Biomedical Engineering Society. He is also an alumni volunteer with the Virginia Science Olympiad State Organization. He plans to pursue a medical degree and a Ph.D. in biomedical engineering, leading to a career in academia and research.
"I would like to teach what I'm really passionate about, as well as have the opportunity to conduct and expand on the research I'm currently focused on," he said. "I'm still in the midst of getting a sense of what areas in tissue engineering I enjoy, but I know that research will be a huge part of my future."
"He is an outstanding and well-rounded student who is exceptionally enthusiastic about research," said Shayn Peirce-Cottler, an associate professor in the Department of Biomedical Engineering. "He always wears a smile on his face. He never gets discouraged – even when he has to deal with the usual frustrations that present themselves when one works in a research environment. Naveed is not afraid to work hard and he tackles challenges with a level of 'grit' that is unique for a student at his level."
Liu was a semifinalist in the health track of U.Va.'s Entrepreneurship Cup and is a teaching assistant for Bio Lab 2030, the treasurer for Operation Smile, a Madison House volunteer and a member of Alpha Chi Sigma. She plans to pursue a Ph.D. in neuroscience and become a professor.
She said the scholarship will fund her research project, allowing her to buy more antibodies and lab supplies and to stay during the summer to continue her work.
"This scholarship also provides me novel opportunities such as attending the Beckman symposium and conferences that relate to my work," she said. "The Beckman symposium allows me to exchange research projects with other enthusiastic, young scientists. In addition, I can attend conferences such as the annual Fly Meeting, where I can obtain firsthand knowledge on new discoveries that will directly contribute to my research."
Biology professor Jay Hirsh said he's very impressed with Liu.
"As a second-year student, in the early stages of her research experience, she is already doing sophisticated experiments/data analyses and already garnering interesting results," he said. "Yi-Ting accuses us of giving her 'easy' projects since what she does has a high tendency to work really well. This is, of course, not at all the case."