A&S Students Spearhead Governor's Civic Engagement Task Force
Two University of Virginia students were instrumental in creating a new task force that Virginia Gov. Terry McAuliffe hopes will increase civic participation among college students across the commonwealth, especially in voting.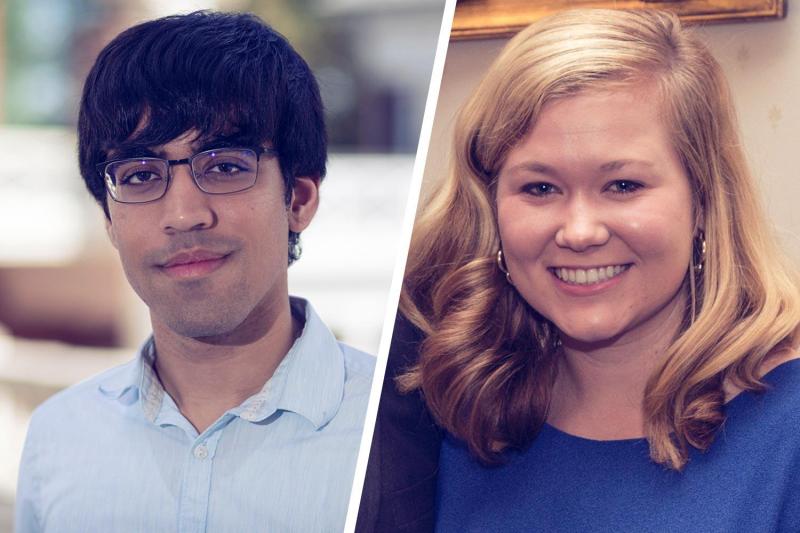 Zaakir Tameez, left, and Elizabeth Parker are members of the Governor's Millennial Civic Engagement Task Force, along with UVA President Teresa A. Sullivan (not pictured).
The students, Elizabeth Parker and Zaakir Tameez, join UVA President Teresa A. Sullivan on the 27-member Governor's Millennial Civic Engagement Task Force, which held its first meeting July 28. Led by the Office of the Secretary of the Commonwealth, members include student representatives from Virginia's public, private, community and historically black colleges and universities, along with other key stakeholders.
Parker, a fourth-year student double-majoring in government and Spanish linguistics, and Tameez, a third-year student double-majoring in economics and political and social thought, had unique roles in making the project a reality. Both, as members of the UVA Student Council's legislative affairs committee, "submitted a proposal to Gov. McAuliffe about the poor climate of civic engagement across the commonwealth" last fall, said Tameez, who also co-chairs the task force.
Tameez, serving as Student Council's director of state relations, said, "As a UVA Student Council, we made the case to the governor for bringing together students and administrators from universities across the commonwealth to discuss these matters and brainstorm solutions. I got a call from their office in June saying that they were finally ready to convene."
Parker worked in the governor's office this summer with Secretary of the Commonwealth Kelly Thomasson as part of the Governor's Fellows Program and helped organize the task force.
"My project, starting in June," Parker said, "was to coordinate logistics, vet candidates and plan student remarks around the signing of Executive Directive 12, which was the creation of Gov. McAuliffe's Millennial Civic Engagement Task Force. I worked very closely with Deputy Secretary of the Commonwealth Traci DeShazor to assemble the task force all summer.
"Ironically, I was on Student Council Legislative Affairs with Zaakir Tameez and knew about our proposal for the creation of the task force last fall, so we were both laughing as things really came full circle for us a few weeks ago at the kickoff meeting," said Parker, who also is head program director of student volunteers with Madison House's Big Siblings program.
"Virginia millennials will set the course for the future of this commonwealth," McAuliffe said in announcing the task force. "Through this task force, our mission is to find new ways to encourage them to take ownership of their communities and civic institutions."
The task force is charged with conducting a comprehensive, statewide assessment of current organizations, programs and services that promote civic engagement throughout Virginia's college and university campuses; hosting a series of statewide campus roundtables to identify and discuss barriers to civic engagement among college millennials; and providing additional recommendations to achieve the goals of the task force.
Sullivan emphasized the importance of UVA's part in the project.
"Improving voting behavior and other civic engagement among college students is a worthwhile goal, and I'm grateful that Gov. McAuliffe has appointed me to the task force," she said. "
Considering the University's long-standing tradition of student self-governance and student leadership, it's no surprise that two UVA students played instrumental roles in conceiving the task force and envisioning the work it will set out to accomplish."
Around the state, about 396,000 Virginians aged 18 to 25 voted in the 2016 election. Four years earlier, 413,000 in the same age group voted, and in 2008, the number went as high as 430,000, though the population of young people was lower.
"This emerging civic engagement crisis spells trouble for Virginia, with a generation growing up that is more removed from local communities and detached from political processes," Tameez said. "While my generation is politically engaged on our phones, we're not civically engaged in our communities. We're not following local politics, calling our representatives or feeling attached to our communities like prior generations did."
He and Parker have high hopes for the group. She said the first meeting was productive. "We addressed a variety of successes and challenges pertaining to voting on our respective college campuses, brainstormed solutions to these issues, and made a list of action items for the next time we meet."
The next step in the process, hosting statewide civic engagement campus roundtable meetings, will move forward through the month of September, with a kick-off session at UVA early in the month and other meetings at dozens of college campuses across the state. After that, the task force will reconvene in late September for a second meeting to discuss and identify commonalities across campuses that will be featured in a December report. 
In addition, a Millennial Civic Engagement Summit will be held in November for college students across Virginia to connect them to civic opportunities and network with each other.
"My biggest wish for the task force," Parker said, "is that we are able to remedy and proactively combat misinformation about voting on college campuses throughout the commonwealth. … I hope that we can normalize voting on college campuses and in doing so, promote civic engagement among millennials."
As Tameez commented, "Civic engagement is part of the mantra of this University, and as 'Hoos we want to foster a culture of civic engagement throughout Virginia as much as possible."