These Liberal Arts Students Started Their Summer With a Business Boot Camp
Nineteen University of Virginia students began their summer break with a business boot camp in the nation's capital, meeting with companies and alumni and learning fundamental business skills.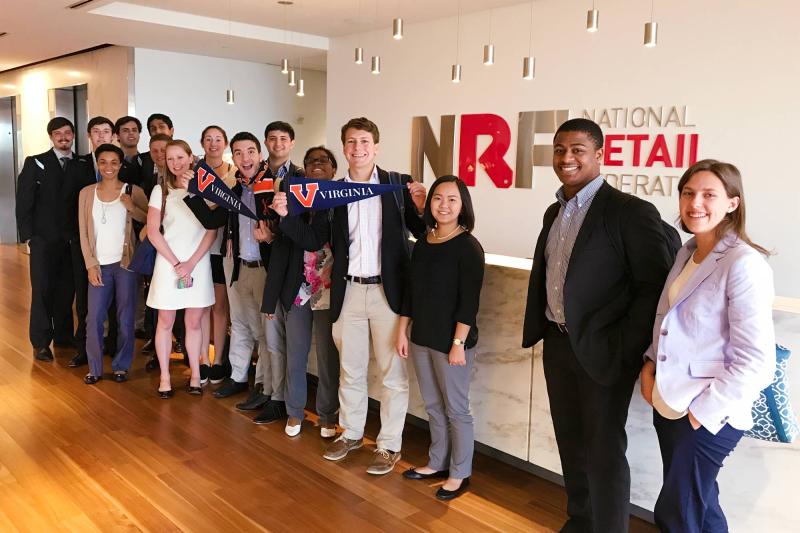 Students enrolled in the UVA Career Center's weeklong UVA D.C. Business Lab learned some business fundamentals, visited businesses and met with D.C.-area alumni last week.
The weeklong UVA D.C. Business Lab – launched this year by the UVA Career Center – was designed for non-business students to learn fundamental business concepts and explore post-graduation career options. Each day, students visited a different company in Washington, D.C. to meet with company leaders and UVA alumni guest lecturers.
Each evening, they returned to a dormitory at Catholic University, where they heard from alumni and career coaches, and worked in small teams to analyze case studies on topics including finance, accounting, global monetary and fiscal policy, project management and entrepreneurship. The following morning, they presented the previous day's case study to a panel of alumni reviewers.
"It was an intensive course, and an opportunity for students to learn more about how they can apply their backgrounds to business-oriented careers," said David Lapinski, director of employer relations at the Career Center and one of the leaders of the business lab. "They won't walk away as business experts, but they will have a better understanding of how the business world works."
Second-year student Brian Northrup, who is studying economics and statistics, said the case studies taught him a lot about how to study a business problem and share his solutions with colleagues, and opened new career possibilities.
"I think the experience will help me a lot as I look toward my post-graduation career, because it gave me exposure to career paths I had not previously considered, as well as companies that I did not previously know about," he said. "I learned that there are a wide variety of career opportunities in the world of business, many of which look to hire students from any major."
The noncredit class included students from a wide variety of majors, ranging from economics students like Northrup to students majoring in art history, French, biomedical engineering or computer science. They met with more than 50 alumni, as well as management consulting firms like Deloitte, Peer Insight and Accenture, trade associations like the National Retail Federation and finance firms like MidCap Financial.
"All of the companies that we met with are very interested in meeting UVA students from all majors, and in getting to know these students early on," Lapinski said.
Lapinski and Jenn Harvey, the associate director of the Career Center's Business Career Community, said that feedback from the class – which included rising second-, third- and fourth-year students – has been very positive. Every student said they would recommend the program to a friend, and they particularly commended the face-to-face meetings with alumni and the real-world applications presented in the case studies they were given.
"For non-business students, the program offered a great intersection of conceptual, curricular instruction and the application of that knowledge, putting lessons into practice," Harvey said. "The hybrid nature of the program was really important to students."
The companies they visited were also excited about the opportunity.
"The companies we worked with see a lot of value in bringing students into the office and showing them the company culture and the day-to-day work," Harvey said. "One company representative who came in as a lecturer has already said that his company would like to be a host next time."
The Career Center plans to offer the D.C. Business Lab again in January and May 2018 as part of an expanding repertoire of courses combining academic instruction with alumni and company visits. Last January, the Career Center collaborated with assistant statistics professor Mary Dunaway for a "Data Analytics and Decision-Making" class that combined a crash course in data analytics software with face-to-face interactions with companies looking for talented young analysts.
That course earned rave reviews – one student called it the best course he had ever taken – and will be offered again in January.
Such courses, Lapinski said, help students understand how the skills they are learning at UVA can be applied in different industries and roles.
"The courses give them an opportunity to see how their experiences in the liberal arts, or the School of Engineering, or other areas, can align with what businesses are looking for," he said. "The sooner they make those connections, the better they will be able to tell their story and make their case to companies they want to work for."
Third-year student Teja Ganti, an economics and statistics double-major, said that the weeklong experience helped her see a realistic picture of jobs she is interested in.
"I have a better idea of what each job is like," he said. "I am also keeping in touch with the alumni that I spoke to at each event, to learn more about internship and job opportunities."
That's exactly what Harvey hopes students will continue to do.
"I hope this experience gave them more direction and ideas for what they might want to pursue next, whether that is an internship or simply continued networking," she said. "I have already had students reach out to me asking what they should do next and how they can continue networking in the field."