A Time of Transition, Appreciation in the Dean's Office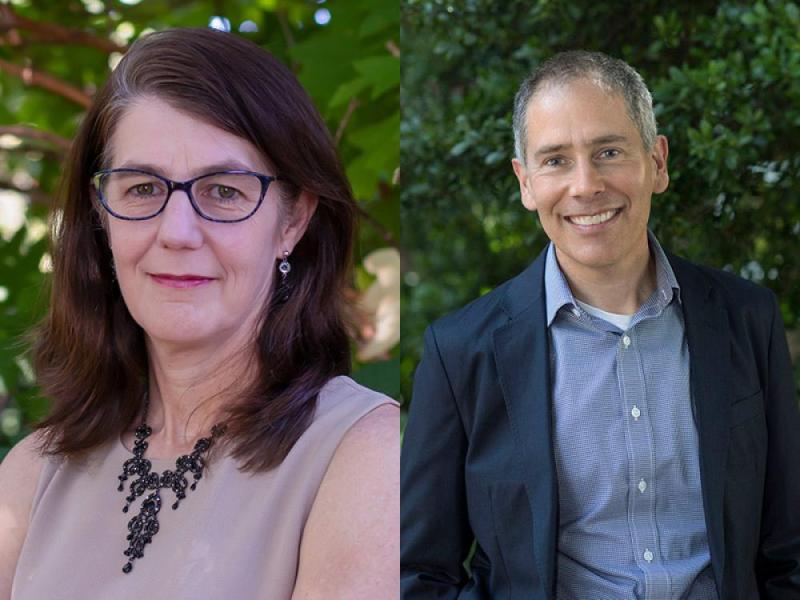 As the 2021-22 academic year comes to a close, Inside A&S would like to lead this issue with a recognition of Associate Deans Alison Levine and Christian McMillen, both of whom are stepping down from these leadership roles next month and resuming their research and teaching this fall.
Levine's three-year tenure as Associate Dean for the Arts and Humanities, and McMillen's four-year tenure as Associate Dean for the Social Sciences, coincided with a challenging period for UVA and the College, and they played key roles in helping Arts & Sciences stay on course, interim A&S Dean Dave Hill said.
"Both [former A&S Dean] Ian Baucom and I are grateful for their leadership and vision — especially these past two years with the challenges the pandemic presented," Hill said in an email to faculty and staff.
A professor of French, Levine worked to re-energize support for the arts during her time in the Dean's Office. She served as a dedicated voice for the College's academic arts mission in University discussions of the development of the Ivy Corridor and its role as home to a new performing arts center and link to Arts Grounds. She also lent support to the Carter G. Woodson Institute for African-American and African Studies in its transition to a new director, Robert Trent Vinson, and worked closely with the Provost's office and the Department of Drama on the post-pandemic re-opening of the Virginia Theatre Festival (formerly known as Heritage). She worked to establish general faculty teaching support grants across the College, brought together a cross-school working group to discuss ethics and worked to support a summer arts fellows program and to broaden student access to the arts.
"COVID 19 posed a number of unique challenges to faculty and students, especially across the arts programs," Levine said. "We never lost sight of the goal to return to live performance, and I'm thrilled to see that happening once again. I'm grateful to have had this opportunity to lead the division and to work with a such a brilliant and diverse group of colleagues," Levine said.
As associate deans, Levine and McMillen worked closely with other College leaders on several collaborative interdisciplinary hiring initiatives, including the Democracy Initiative and the Race, Justice and Equity initiative, as well as the Rising Scholars postdoctoral program.
In his role as Associate Dean for the Social Sciences, McMillen worked with the Democracy Initiative and its leaders during an important period when they were expanding its scope and programming since the Initiative's launch in 2018. Following a 2020 gift of $27.5 million to the Initiative by alumnus John L. Nau III, through his family foundation, McMillen and Levine worked with the Initiative on a series of job searches made possible by the gift.
Likewise, McMillen worked with the College Fellows in their efforts to design new Engagements seminars for first-year students and to continue refining the College's curriculum. This fall, McMillen, a history professor, will teach an Engagements seminar on American Indian treaties. In addition to his many dean's-office responsibilities, Associate Dean McMillen found himself juggling interview requests from media outlets around the world as a well-regarded researcher of the history of epidemic disease. Since the onset of the COVID-19 pandemic, his 2016 book, Pandemics: A Very Short Introduction, has been translated to Greek, Mandarin, Japanese, Farsi and Arabic.
Sociologist Jennifer Bair will assume the role of associate dean for the social sciences for the College and Graduate Schoolof Arts & Sciences.
"The pandemic made everything harder," McMillen said. "But one of the things that made it doable was that everyone — the staff, the Dean's Office team, and the faculty — approached the situation with patience, compassion and energy. Everyone rose to the occasion. It was really quite remarkable."
Please join us in thanking Levine and McMillen for their leadership and vision as we welcome Jennifer Bair and Sarah Betzer to their new appointments as Associate Deans, effective July 1.
A professor of Sociology, Bair has been serving as chair of the sociology department since 2020 and will serve as the next Associate Dean for Social Sciences. Bair came to UVA in 2016 from the University of Colorado. She immediately began serving as associate chair of the department upon her arrival and teaching undergraduate and graduate courses in gender and development, globalization and economic sociology. Jenn has a depth of editorial and grant reviewing experience, including serving as editor of Review of International Political Economy and Environment and Planning A: Economy and Space. With the onset of the pandemic, Jenn earned a Social Science Research Council Rapid-Response Grant on Covid-19 and the Social Sciences.
Interim chair of the art deptartment with the College of Arts & Sciences, Sarah Betzer will be the College's new associate dean for the arts and humanities.
A Professor of Art, Betzer has been serving as interim chair of the art department and will be the next Associate Dean for Arts & Humanities. She came to UVA in 2007 from the University of Vermont and has taught a variety of graduate and undergraduate courses for the department — in eighteenth- and nineteenth-century European art, art historical theory and methods and issues of intermediality. In addition, Sarah's work as co-director of the College Fellows program was vital in launching the Engagement courses at the heart of the new College Curriculum. Sarah has a new book out, Animating the Antique: Sculptural Encounter in the Age of Aesthetic Theory, which was awarded a College Art Association Millard Meiss publication grant.