University's MLK Celebration Plans Include Speakers, Worship, Volunteerism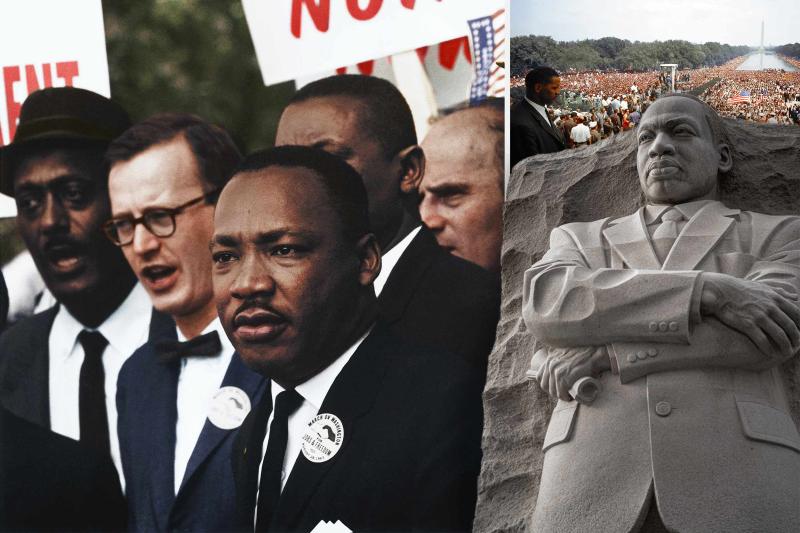 Martin Luther King Jr. delivered his "I Have a Dream" speech at the 1963 March on Washington for Jobs and Freedom. His memorial was installed near the National Mall in 2011.
University of Virginia and local community members have the opportunity to attend a range of events over the latter half of January that will focus on the Rev. Martin Luther King Jr.'s legacy. Among those expected to appear are retired Virginia Supreme Court Justice John Charles Thomas and keynote speaker Yaba Blay, whose commentary and activism focus on Black culture. There also will be several panel discussions on current topics related to race.
UVA's Division for Diversity, Equity and Inclusion oversees the annual Community MLK Celebration program, and this year's theme is "Celebrating the Dream, Continuing the Journey." Because UVA observes Monday's federal holiday and the semester doesn't begin until Wednesday, events will take place over the following two weeks.
Thomas, a double Hoo who earned a Bachelor of Arts in 1972 and a law degree in 1975, will speak Jan. 26 at 4 p.m. in the Law School's Caplin Auditorium. He talked with UVA Today recently about King's enduring influence and what he recalls about meeting King.

John Charles Thomas, a double Hoo, served as the first Black Virginia Supreme Court justice. He recently published a memoir, "The Poetic Justice." (UVA Press photo)
Q. What are your remarks going to be about on Jan. 26?
A. It strikes me that Dr. King often talked about justice – the role of justice, the need for justice. One of his quotes is, "Injustice anywhere is a threat to justice everywhere."
If you look at many of his sermons, [the way] he talks about justice is something important to talk to all students about. I mean, there's the idea that law has always been harsh law. It gives you one remedy: If you do this, then this must happen.
The justice component of law used to be what we call the equity side of the court. A man who stole a loaf of bread for his starving children who would die that night if they didn't eat is treated a little bit differently than the guy who stole a loaf of bread to resell it so he could buy liquor.
Q. How did you learn about Rev. Martin Luther King Jr. when you were growing up?
A. Well, I'm born in [that time]. The place I lived was permeated by the struggle for justice and he was a leader. I was thinking about that, too. We're at the point now that most of the young people are too late – they just don't know. I mean, they may have heard a recording, but I've actually been in church and heard him preach, and have gone on stage and shaken his hand, so he's a very strong recollection.
He was speaking at a rally in Norfolk, [where I was] born and raised. My mother had something to do with getting people to come out to a rally. She was on stage and, after the speech, people were milling around. I came up on stage where my mother was, walked over and was able to shake his hand. I was maybe 9 or something like that – 1959 or 1960.
Q. Is there a part of his legacy that you feel is important to carry on in our current times?
A. You talk about our soldiers sometimes going into harm's way – you know that phrase. They go in all the way; they go into danger. Well, Martin Luther King, certainly, he went places where people were threatening to kill him and all that, and he went there to confront injustice.
And that is what we need. We can't be silent. … We should not be inactive. We shouldn't just sit on our hands. We should get up and grapple with that. That message was taught to me as a child. Black children in my generation who were educated in segregated schools up until 1965 and early in the days of integration. … Teachers basically told us that when you leave this environment – they were talking about Black schools and the segregated environment – they would tell us you have to make the difference. Basically, we were raised that this is your job. When you go out into the rest of the world, you have to make a difference.
Other Events in MLK Program
Blay will give a keynote presentation on Jan. 26 at 6 p.m. in the Paramount Theater. She is widely respected as one of the foremost scholar-activists on Black racial identity, colorism and beauty politics. Free tickets are available by registering with the Paramount Theater.
Community activities include a Jan. 22 worship service at 4 p.m. hosted by Mt. Zion First African Baptist Church at the MLK Performing Arts Center, featuring the community MLK choir; an open house at the Jefferson School African American Heritage Center; a book club-style reading program; and volunteer efforts, such as a donation drive and an outside work day at the Ivy Creek Natural Area.
A Jan. 19 conversation will feature two visiting speakers, psychologist Pamela Banks and journalist Jill Lawrence, who met during the integration of one of their high schools in the 1960s. They will address how race is taught in public schools today in an online webinar, "Shining a Light on the Era of Integration."
UVA Drs. Ebony Hilton Buchholz and Irène Mathieu will discuss environmental health equity on Jan. 25. Two alumni from UVA's School of Architecture, Jonathan Evans and Katie Swenson, will talk Jan. 31 about a memorial sculpture project in Boston, "The Embrace," dedicated to King and his wife, Coretta Scott King.