U.Va. Economists Build Bonds With the Federal Reserve
Amid global stock market concerns, University of Virginia economists made the short drive down Interstate 64 to an institution responsible for implementing many of the policies they research: the Federal Reserve Bank of Richmond.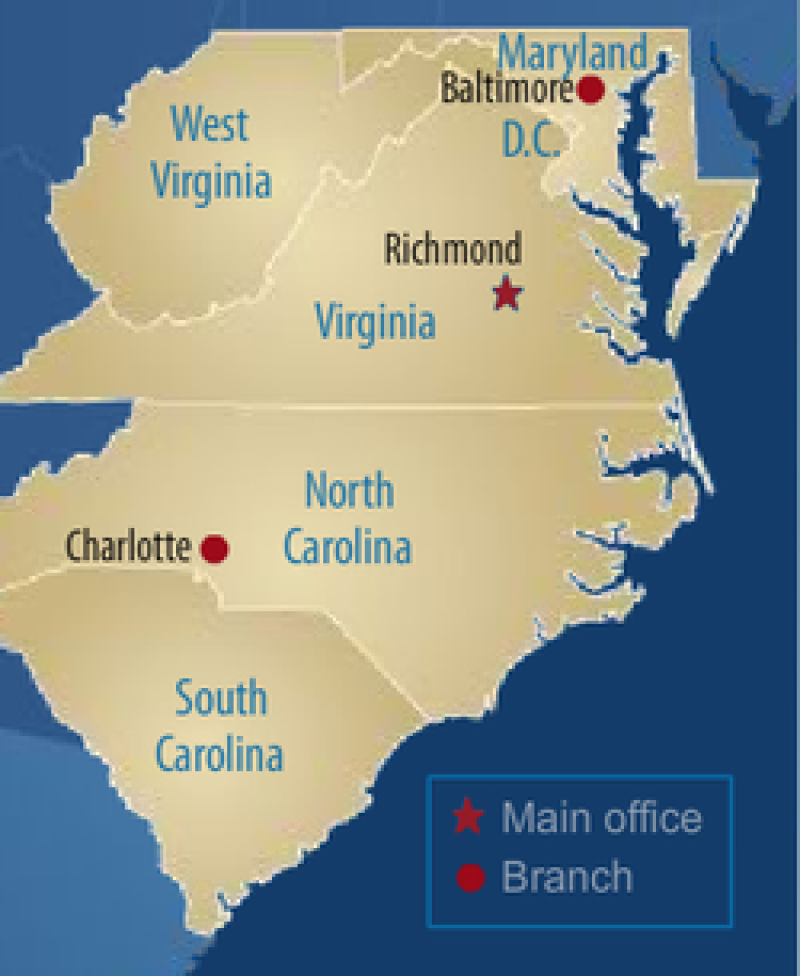 Federal Reserve Bank of Richmond Area Map
Federal Reserve Bank of Richmond
Friday's biannual research symposium began two years ago when members of U.Va.'s economics faculty realized that the institutional partnership was not what it could be, despite numerous individual collaborations.
"The Federal Reserve Bank of Richmond Research Department is a world-class collection of researchers working on frontier problems in many fields, including banking, macroeconomic theory and household finance," U.Va. professor Eric Young said. "
The opportunity for faculty and students to interact and learn from these researchers was too good to pass up."
Eager to deepen the connection between the two institutions, Young reached out to Kartik Athreya, senior vice president and director of research at the bank. Leadership from both institutions agreed to deepen ties and planned an initial symposium for 2014.
"U.Va. is the most research-active department in the state and we wanted to emulate other really fruitful interactions between regional Federal Reserve banks and economics departments," Athreya said, citing a partnership between the University of Minnesota and the Minneapolis Federal Reserve that he called "iconic in modern macroeconomics, because it produced so much of the best research of the last quarter-century." 
The first symposium occurred in the spring of 2014 and has recurred each semester since, hosted alternately in Charlottesville and Richmond. This year, faculty, students and Federal Reserve staff heard three research presentations by Federal Reserve economists and two by U.Va. economists.
"By nature of our different strengths, especially the breadth of the U.Va. faculty, the symposia can cover a wide gamut of subjects," said Athreya, who presented his research on younger generations' participation in the stock market, or lack thereof.  
Additional topics discussed included the rebounding labor market, the Affordable Care Act, the impact of higher education costs on household finances and price setting in retail markets. Papers were selected to include both experienced economists and younger researchers just beginning their careers.
"The Federal Reserve is closer to the actual operation of the policies and has a different type of knowledge and research agenda. It is a very good opportunity to get feedback from them," said associate professor Toshihiko Mukoyama, who organized U.Va.'s participation this year.    
The papers have not yet been published, so the symposium is also an opportunity for U.Va. and Federal Reserve economists to learn about new data or theories in advance and talk with the researchers behind those new ideas. 
"You can easily look up papers online, but many were finished months or years before," Mukoyama said. "To understand how the research is moving currently, you have to get together and talk with people. These sorts of informal interactions are beneficial for everyone involved in research."
Because the Federal Reserve focuses so heavily on macroeconomics, the bank often has more researchers dedicated to some topics than are available at U.Va. and can offer University economists firsthand insights on areas like the national economy, regional economics and the interbank loan market that lies at the heart of monetary policy.
"Greater interaction and communication with the Richmond Federal Bank has effectively multiplied the size of our macroeconomics group well beyond what we could have accomplished internally," Young said.
Part of that growth has occurred directly in the classroom, with Federal Reserve economists serving as visiting professors for macroeconomics courses. This year, two Richmond Federal Reserve economists, senior adviser Pierre-Daniel Sarte and staff economist Christian Matthes, are scheduled to teach graduate-level macroeconomics courses.
"Teaching these advanced courses helps U.Va. students learn what is at the frontier of certain topics," Athreya said. "It also helps them build relationships with Federal Reserve economists as they conduct their thesis research."
The biennial research symposia provide a consistent opportunity for the University and the Federal Reserve to increase collaboration in the classroom, on research and in hiring, as both departments are often interested in similar candidates.
"We wanted to be a bit more mindful of the expertise available in both departments and to think about how hiring decisions can benefit both of us instead of just one of us," Athreya said. "Growing this partnership has allowed each of our departments to benefit from the existence of the other and be more attractive collectively in recruiting and retaining the best talent out there for economics."