UVA Honors Faculty for Their Research and Scholarship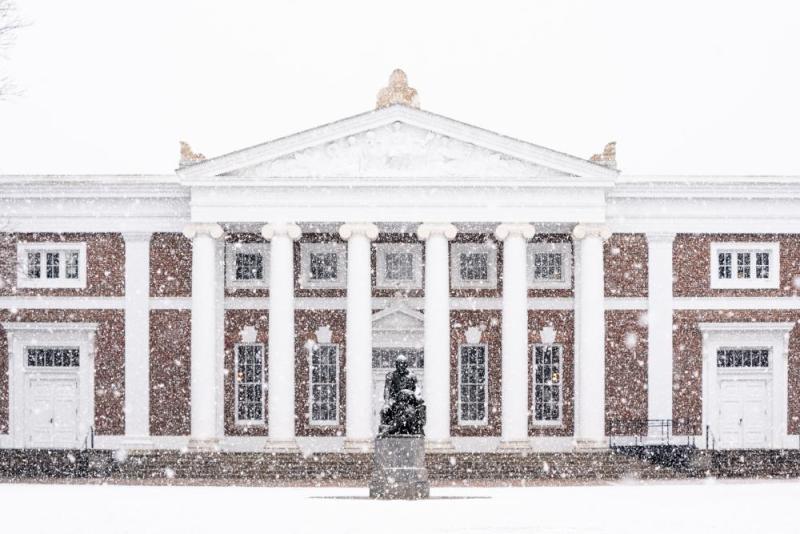 The University of Virginia on January 28 honored faculty members across Grounds for their outstanding research and scholarship at the third annual Research Achievement Awards.
"We are delighted to honor a strong and diverse cohort of faculty this year whose achievements in basic and public-impact-focused research, mentorship, collaboration and more reflect our core values as a research institution," Melur "Ram" Ramasubramanian, vice president for research, said.
"Our award-winning faculty pursue groundbreaking, creative and inspiring research in areas that range from nanocrystals to international law to muscle signaling," Provost Liz Magill said. "The strength and impact of their ideas are a hallmark of the University's research enterprise, and we are proud to honor their achievements."
"This year's research award winners have made discoveries and generated knowledge that will have lasting impact on multiple fields, disciplines, and sectors, from the arts and sciences to health care and business. I'm grateful for their efforts and excited about the future of research at UVA," President Jim Ryan said.
Madhav Marathe – professor in biocomplexity; director of the Network Systems Science and Advanced Computing Division, Biocomplexity Institute and Initiative; and a professor of computer science – delivered the keynote on "Computing for Social Good." His areas of expertise are network science, artificial intelligence, high-performance computing, computational epidemiology, biological and socially coupled systems, and data analytics.
Watch this video on the winners to learn more about their research.
The honorees were:
Research Excellence Awards
Sen Zhang, College and Graduate School of Arts & Sciences, Chemistry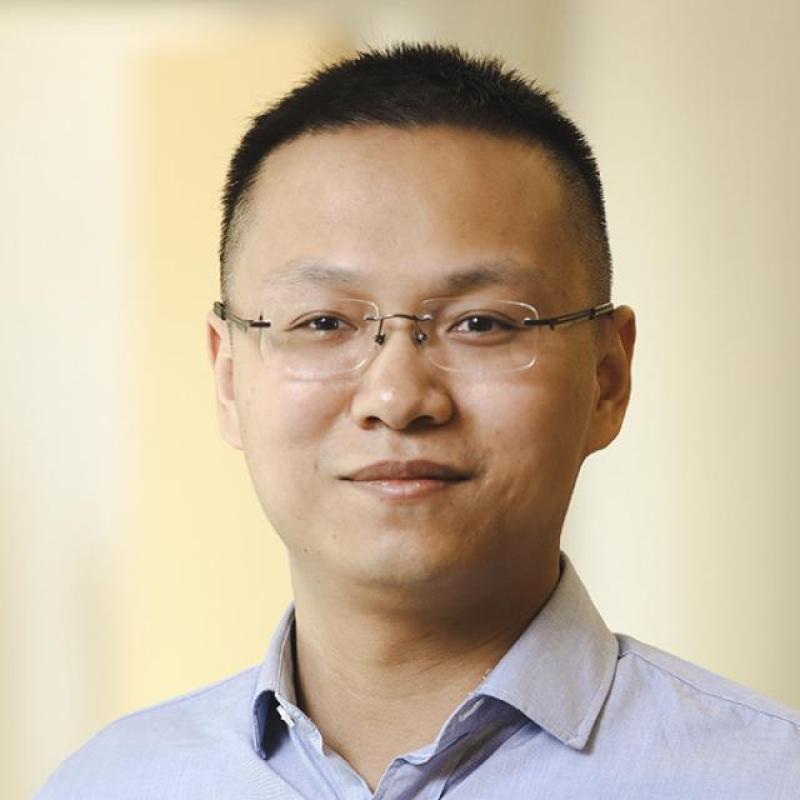 Since arriving on Grounds, Sen Zhang has built an innovative research group focused on atomically precise nanocrystal catalysts for sustainable fuel and chemicals production. His research program has emerged as a leading force in the area of catalytic materials related to processes based on renewable energy sources, which is one of society's most challenging and critical issues.
Zhang has been awarded research grants in excess of $5 million from agencies such as the National Science Foundation (four awards, including the NSF CAREER award) and the Department of Energy. He was named a 2020 Scialog Fellow for Negative Emissions Science by the Sloan Foundation and Research Corporation for Science Advancement; an "Emerging Investigator" by the Journal of Materials Chemistry; a "2020 Rising Star in Chemistry" by the Frontiers in Chemistry; and a "NatureNet Science Fellow" by the Nature Conservancy.
"Sen's vision and ability clearly place him among the top 1% of peers nationally and internationally in this highly competitive field," said William Goddard III, professor of chemistry, materials science and applied physics and director of the Materials and Process Simulation Center at the California Institute of Technology.
Robert J. Gilliard Jr., College and Graduate School of Arts & Sciences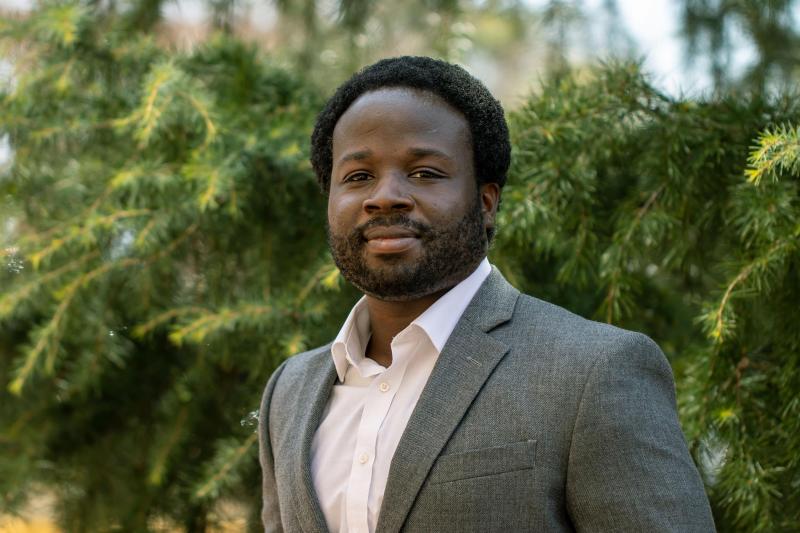 Before arriving at UVA, Robert J. Gilliard Jr. was named to Forbes Magazine's "30 Under 30" list of the top young scientists in the United States. Since then, he has won six major national awards, including inclusion in the Chemical & Engineering News' "Talented 12," a Negative Emissions Science Scialog Collaborative Innovation Award, an Alfred P. Sloan Research Fellowship, a National Science Foundation CAREER Award, a Beckman Young Investigator Award and a Packard Fellowship for Science and Engineering.
Gilliard has developed a research program that focuses on the chemical synthesis of main-group molecules that impact carbon dioxide reduction, the development of thermo-chromic and thermo-luminescent materials, and the discovery of new redox-active molecules for catalysis and hydrogen storage.
"Dr. Gilliard is a rising star who stands on the threshold of a distinguished and highly visible career in the chemical sciences," François P. Gabbaï, chair of chemistry and distinguished professor at Texas A&M University said.
Jay Butler, School of Law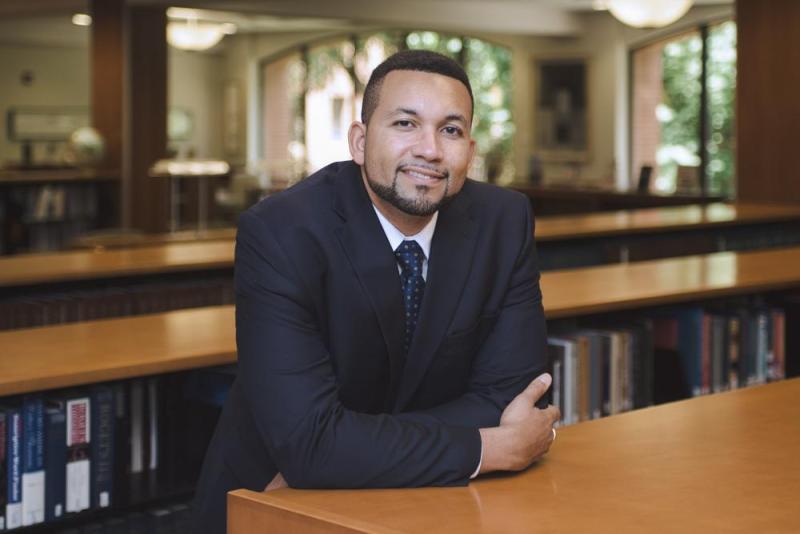 Jay Butler pursues research at the intersection of corporate and international law, turning conventional wisdom on its head. He has found that many for-profit corporations obey and promote international law, even when their home countries do not require it, or even actively oppose it. His examples include Airbnb delisting properties in the West Bank, domestic polluters adhering to Paris Agreement guidelines even after the United States withdrew, and banks pulling investments from firms producing weapons banned under international law. His work explores new pathways by which international law can overcome persistent enforcement problems.
"Jay is a rising star among legal scholars with a unique and important agenda," said Michael Gilbert, vice dean of UVA's School of Law and Martha Lubin Karsh and Bruce A. Karsh Bicentennial Professor of Law.
Distinguished Researcher Awards
Despina Louca, College and Graduate School of Arts & Sciences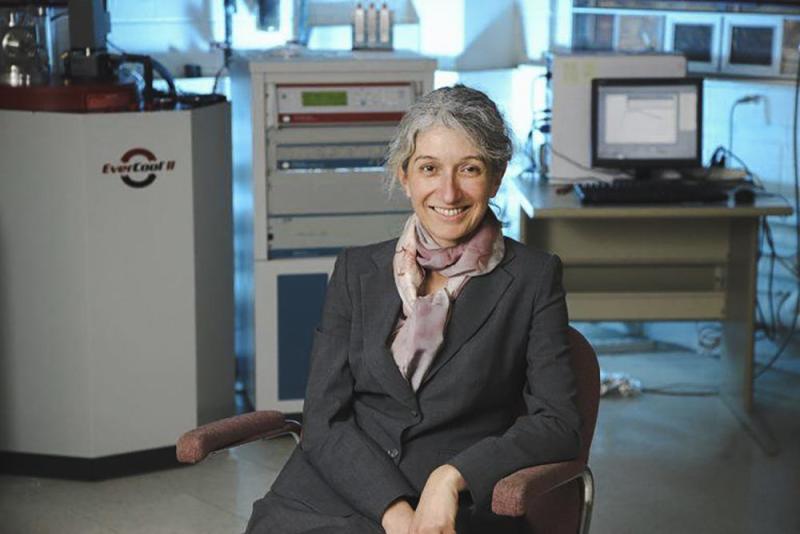 Despina Louca is a renowned condensed-matter physicist, best known for combining neutron-scattering methods and in-house experiments that are central to the discovery and understanding of emergent phenomena in quantum materials and complex alloys. Her work using neutron scattering is essential for underpinning the fundamental physics of these complex materials. Also, her studies of structural order have uncovered a new phase transition pathway that challenges current theory.
"Despina is a highly accomplished scientist with high international standing who richly deserves the award," said Takeshi Egami, distinguished scientist and professor in the Department of Materials Science and Engineering and the Department of Physics and Astronomy at the University of Tennessee, Knoxville, and Oak Ridge National Laboratory.
Zhen Yan, School of Medicine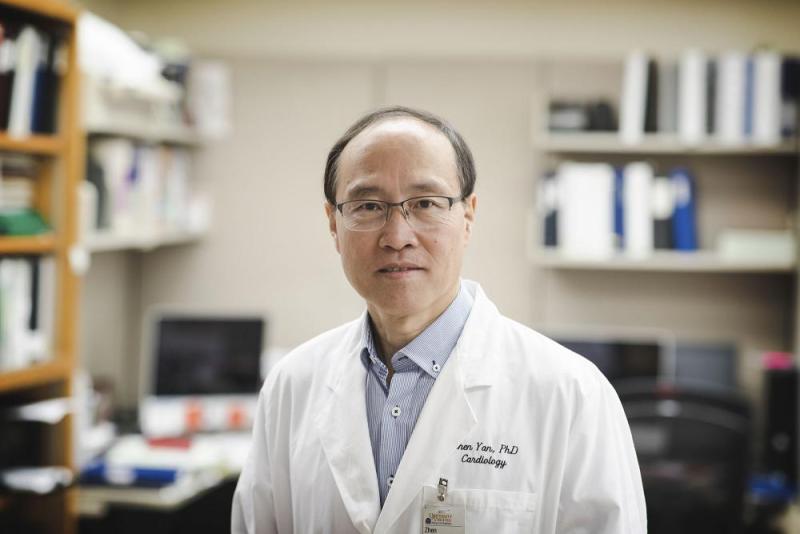 Zhen Yan works on the fundamental signaling processes in muscle, in order to determine its potential to maintain health and prevent muscle from being a contributor to disease.
After discovering that endurance exercise improves mitochondrial function by clearing damaged or dysfunctional mitochondria, he has extended his research on the impact of regular exercise on health.
With a recent project funded by the National Institutes of Health, Yan has put "UVA on the national map of the most advanced exercise research with excellent opportunities for collaborations on this important topic," R. Sanders Williams, interim vice president for research and innovation at Duke University, said.
Jayakrishna Ambati, School of Medicine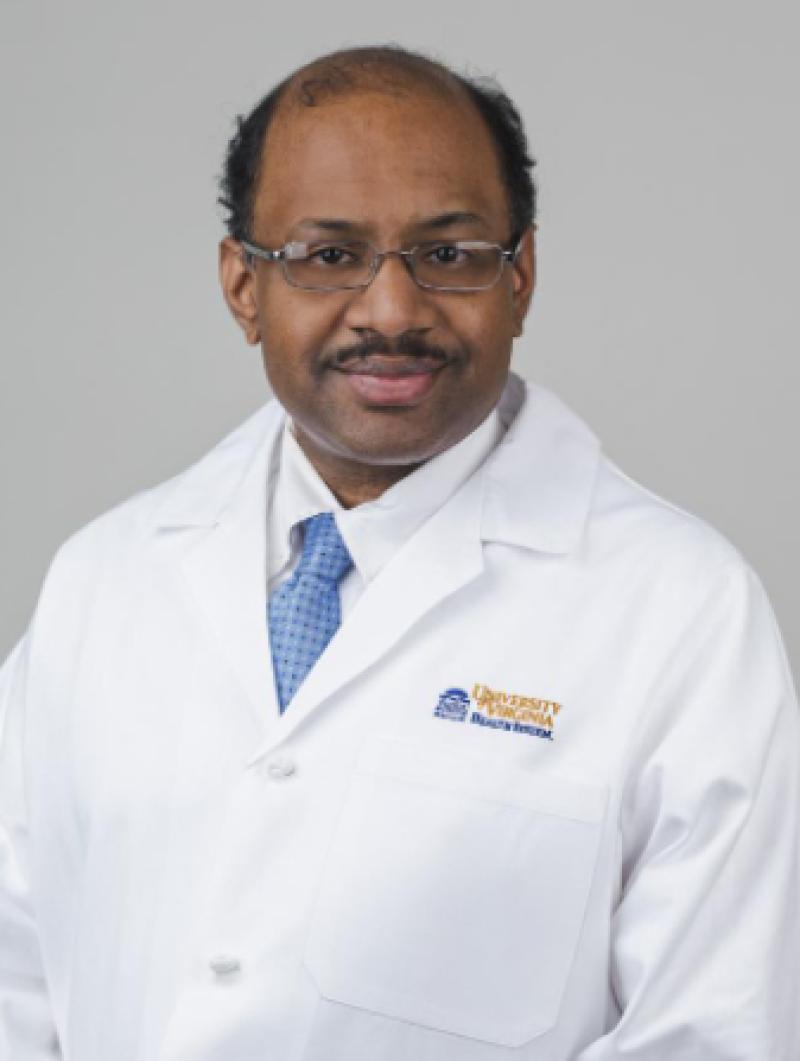 A dynamic, innovative and creative physician-scientist and a preeminent leader in the field of macular degeneration research, Jayakrishna Ambati's innovative applications of data science have revealed a slew of surprising drug-disease links and have provided novel insights into therapies for diseases. His surprising discovery that anti-retrovirals have anti-inflammatory effects that can be exploited in treating degenerative diseases has paved the way for rapid repurposing.
Ambati is an NIH Director's Pioneer Award winner and an elected fellow of the National Academy of Inventors, the American Association for the Advancement of Science, the Association of American Physicians and the American Society for Clinical Investigation.
"His lab continues to innovate in multiple areas by leading the field with outstanding, rigorous and creative ideas that are bringing us to the cusp of a comprehensive understanding of [atrophic macular degeneration] pathogenesis, and simultaneously translating this work to benefit patients," said Maria B. Grant Eivor, chair and professor in the Department of Ophthalmology and Visual Sciences at the University of Alabama at Birmingham's School of Medicine.
Research Collaboration Award
Bradley Cox, Robert Hirosky and Christopher Neu, College and Graduate School of Arts & Sciences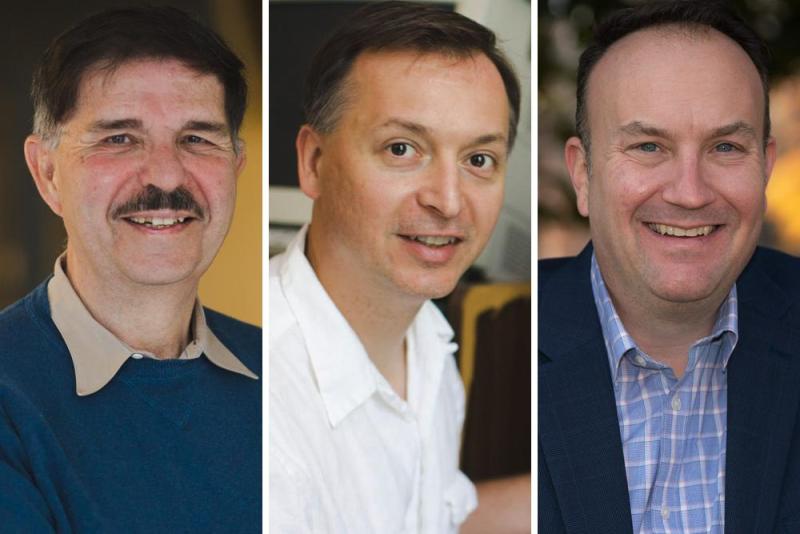 The 2013 Nobel Prize in Physics was awarded to Peter Higgs and Francois Englert, theorists who first hypothesized in 1964 the existence of the Higgs boson, the particle that gives mass to all the other particles in the universe. The Nobel would not have been possible without the 2012 experimental discovery of the Higgs boson through experiments at the Large Hadron Collider in Geneva, Switzerland.
UVA collaborators Bradley Cox, Robert Hirosky and Christopher Neu have been deeply involved in the experiments, each playing a critical role in the detector construction, upgrade and operation.
"They have made seminal contributions that led to the discovery of the Higgs boson in 2012, and are continuing with their leading role in the detailed studies of the Higgs' properties and searching for beyond the Standard Model physics," Xiaochao Zheng, a UVA professor of physics, said.
Research Mentor Award
Kevin Janes, School of Engineering and Applied Science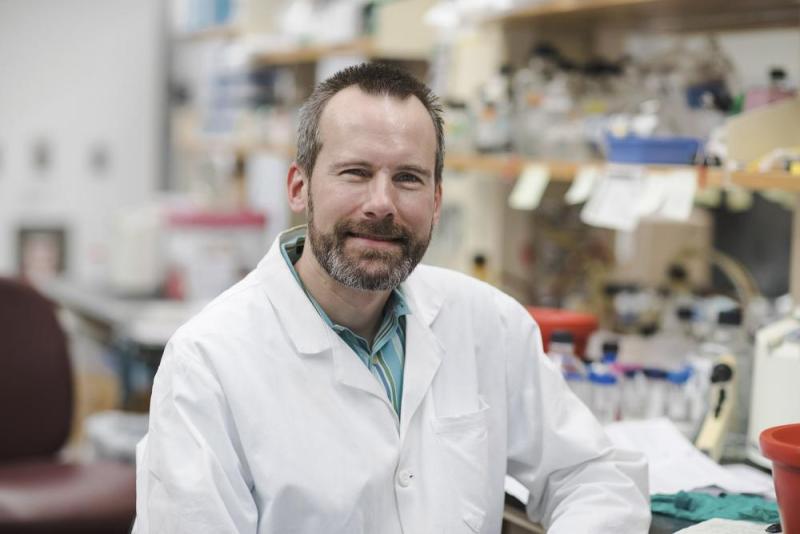 Kevin Janes is a professor of biomedical engineering and leads a research group focused on systems cancer biology and systems virology. In addition to modeling excellence in research, Janes has led initiatives to improve scholarship, mentorship, diversity and inclusion and student advocacy within biomedical engineering and beyond.
Janes is a role model not only in fostering the intellectual and professional growth of his trainees, but also by mentoring junior faculty from all backgrounds and research interests to advance their professional development.
"Kevin is one of the main drivers for the strong culture of our [biomedical engineering] department at UVA, and his strength as a research mentor is part and parcel of this," Eli Zunder, assistant professor of biomedical engineering, said. "I cannot recommend him highly enough for this award – superlatives don't do him justice, but if you have had the opportunity to talk or interact with him then you'll know what I mean."
Public Impact-Focused Research Award
Molly Lipscomb, Frank Batten School of Leadership and Public Policy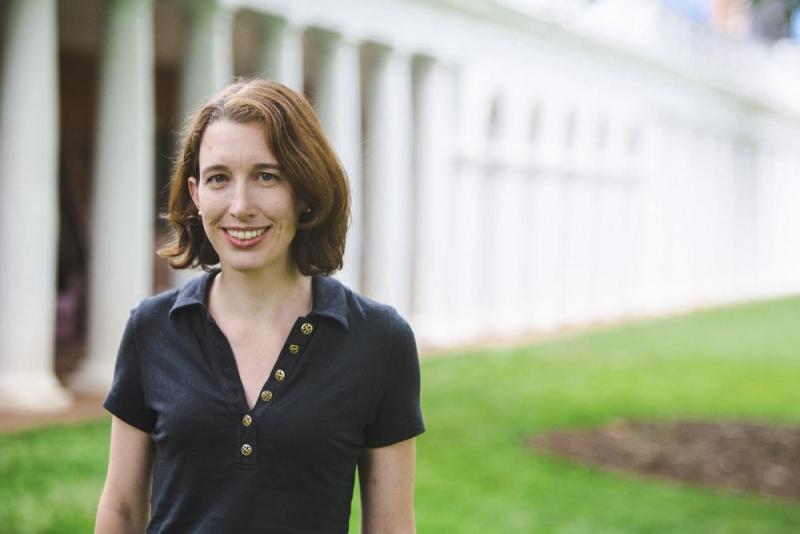 Molly Lipscomb's work looks at the impact of, and strategies for, bringing public services, such as electricity and sanitation, to low-income households in countries where these services are needed, including Brazil, Senegal and Burkina Faso. Much of her work is about finding creative ways that access can be improved around the margins when the government can't afford network-level expansions to infrastructure.
"Lipscomb's focus on building strong partnerships with organizations outside of higher education is both unique and useful, and it collapses the boundaries between academia and the real world in a productive way," Ian Solomon, dean of the Batten School and a professor of practice of public policy, said.
Award for Excellence in the Arts and Humanities
A.D. Carson, College and Graduate School of Arts & Sciences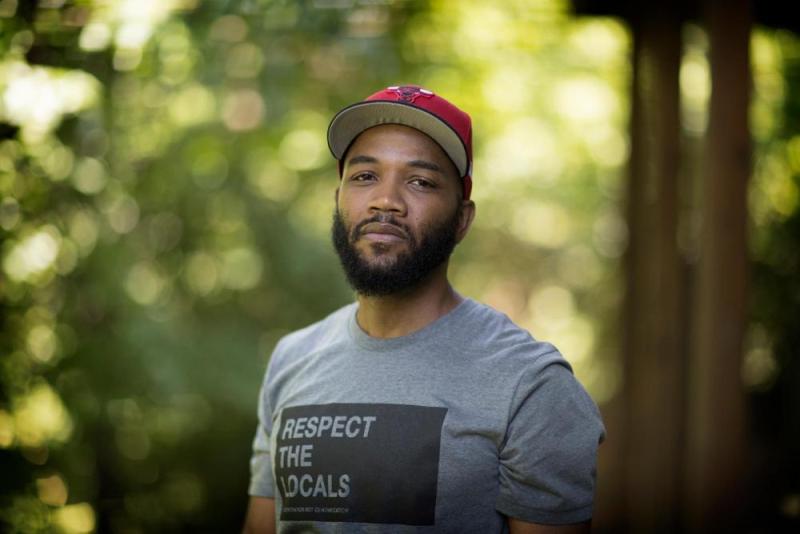 A.D. Carson's mixtape/essay, "i used to love to dream," released in 2020 by the University of Michigan Press, was the first peer-reviewed rap album, and was published with an academic publisher.
Carson meets the challenge of offering hip-hop composition and production as academic knowledge-making practice and scholarly inquiry, as well as personal reflection. His public-facing hip-hop scholarship (music and prose) confronts and changes the politics of knowledge production that often treat hip-hop producers as secondary or tertiary, rather than primary, contributors to academic discourse in and around the field.
"By rejecting the proposition that hip-hop music requires translation to make it suitable for an academic context, Carson offers us a new paradigm for scholarly work in which musical Blackness is not reduced to metaphor but remains a salient part of the intellectual and artistic encounter," said Loren Kajikawa, chair of the music program at The George Washington University.
The following researchers were also honored for their contributions in 2021:
College and Graduate School of Arts & Sciences
Marlene Daut, African American and African Studies.
Jianhua (JC) Cang, Biology.
Laura Galloway, Biology.
Jennifer Güler, Biology.
T. Brent Gunnoe, Chemistry.
Ku-Lung Hsu, Chemistry.
Ian Baucom, English.
Howard Epstein, Environmental Sciences.
Karen McGlathery, Environmental Sciences.
Dinko Počanić, Physics.
Peter Schauss, Physics.
Anne Meng, Politics.
Eric Turkheimer, Psychology.
Daniel Willingham, Psychology.
Darden School of Business
Mike Lenox, Business Administration.
Frank Batten School of Leadership and Public Policy
Jay Shimshack, Public Policy and Economics.
Justin Kirkland, Politics.
Gabrielle Adams, Public Policy and Business Administration.
Benjamin Converse, Public Policy and Psychology.
McIntire School of Commerce
Brent Kitchens.
Steven Johnson.
Peter Gray.
School of Architecture
Pankaj Vir Gupta, Architecture.
Michael Lee, Landscape.
Louis Nelson, Architectural History.
School of Data Science
School of Education and Human Development
Catherine Bradshaw, Education.
Michael Kennedy, Curriculum, Instruction and Special Education.
Amanda Williford, Human Services.
Micah Mazurek, Human Services.
Emily Jane Solari, Instruction and Special Education.
Derrick Alridge, Education.
Daphna Bassok, Education and Public Policy.
Patrick Tolan, Education.
School of Engineering and Applied Science
Silvia Blemker, Biomedical Engineering.
Andres Clarens, Engineering Systems and Environment.
William Guilford, Biomedical Engineering.
Craig Meyer, Biomedical Engineering.
Richard Price, Biomedical Engineering.
Natasha Sheybani, Biomedical Engineering.
Steven Caliari, Chemical Engineering.
Robert Davis, Chemical Engineering.
William Epling, Chemical Engineering.
Madhur Behl, Computer Science.
Sebastian Elbaum, Computer Science.
Samira Khan, Computer Science.
Vicente Ordonez, Computer Science.
Kevin Skadron, Computer Science.
John Stankovic, Computer Science.
Nathan Swami, Electrical and Computer Engineering.
Jonathan Goodall, Engineering Systems and Environment .
Devin Harris, Engineering Systems and Environment.
Leidy Klotz, Engineering Systems and Environment.
Bi-Cheng Zhou, Material Science and Engineering.
Daniel Quinn, Mechanical Aerospace Engineering.
Aidong Zhang, Computer Science.