Virginia Festival of the Book Set to Run March 23-26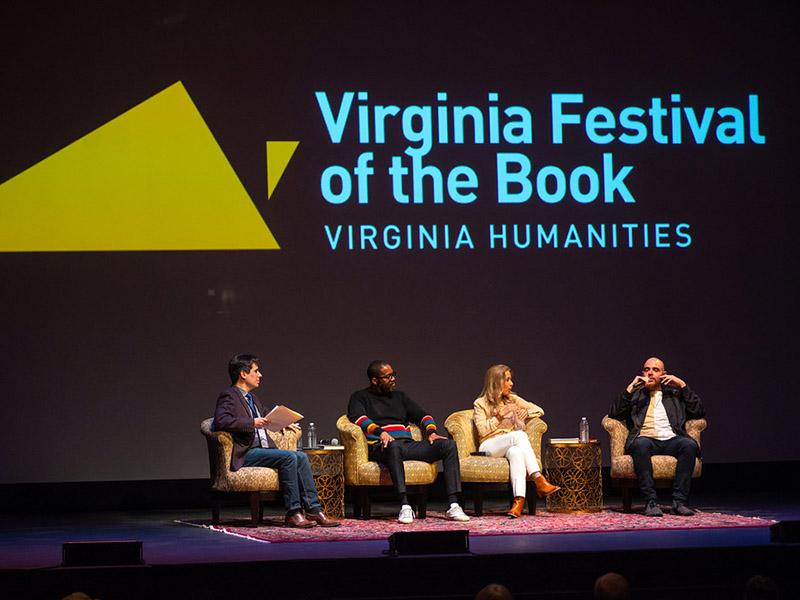 The 29th annual Virginia Festival of the Book opens next week on March 23 and will feature four days of author readings and panel discussions in one of the largest community-based celebrations of the written word in the mid-Atlantic region. With a focus on accessibility and diversity, the event brings together writers and readers to promote and celebrate books, reading, literacy and literary culture.
This year's festival will include a combination of in-person events and hybrid in-person/live-streamed sessions, many of which are free. For more information on the festival, visit the official website at www.vabook.org.
As it does each year, the Charlottesville-based festival also serves as a showcase for the talents of Arts & Sciences faculty, students and alumni. A list of sessions featuring members of the College community follows.
Thursday, March 23
The Turning Point: Shaping a Poetic Life
1-2:00 p.m.
Virginia Humanities
946 Grady Ave. Ste. 100
(In-Person & Live-Streamed)
Three acclaimed poets look back at their lives and works. Janine Joseph, a poetry professor at Virginia Tech, will read from her new collection Decade of the Brain, investigating her own post-concussive memory loss. Gregory Orr (Creative Writing, Emeritus), founder of the MFA program in creative writing at UVA, will present his most recent work, Selected Books of the Beloved, a celebration of the transformative power of poetry and of our extraordinary capacity to feel and to love. And poet Kiki Petrosino (Creative Writing) will read from In Bright: A Memoir, an investigation of her interracial ancestry that blends verse, research and autobiography. Virginia Humanities COO Kevin McFadden moderates.
Friday, March 24
Furious Flower Poetry Hour
4-5:00 p.m.
Jefferson School African American Heritage Center
233 4th St., NW
(In-Person & Live-Streamed)
Since its founding in 2004 as an academic center at James Madison University, the Furious Flower Poetry Center has been committed to ensuring the visibility, inclusion and critical consideration of Black poets in American letters and to supporting and promoting Black poets at all stages of their careers.
Furious Flower's founder and former executive director, Joanne Gabbin, along with the new executive director, Lauren K. Alleyne (UVA MFA Candidate in Creative Writing), and L. Renée, the Center's new assistant director, will read their poetry. They will be joined by Kalela Williams, a former Furious Flower assistant director and current director of Virginia Humanities' Center for the Book, to reflect upon their legacies with Furious Flower Poetry Center and the Center's future.
Food and Blackness
11-12:30 p.m.
Jefferson School African American Heritage Center
233 4th St., NW
Cultural critic Clarkisha Kent found that as a dark-skinned, queer, first-generation American facing anti-Blackness, homophobia and respectability politics, the pursuit of "high self-esteem" seemed oxymoronic. Psyche A. Williams-Forson (CLAS, 1987), professor and chair of American studies at the University of Maryland, has studied how racism operates in the practice and culture of eating. Their discussion of these issues in their books Fat Off, Fat On: A Big Bitch Manifesto and Eating While Black: Food Shaming and Race in America will feature samples of traditional African American and Black diasporic dishes.
Handsome, Durable, and Inexpensive: The 'Modern Library,' 1925-1959
4-5:00 p.m.
UVA Harrison Institute/Small Special Collections
215 McCormick Road
The Bibliographical Society of the University of Virginia will host their annual meeting, announcing the publication, in conjunction with the UVA Library, of an online bibliography of the Modern Library, the most important American reprint series of significant works of literature and thought published in the twentieth century.
A tour of the site will feature a talk by David Vander Meulen (English), editor of the journal of the Bibliographical Society of UVA, Studies in Bibliography.
Sunday, March 26
Poets Across Genre
2-3:00 p.m.
Central Jefferson-Madison Regional Library
201 E. Market Street
(In-Person & Live-Streamed)
What draws poets to write in other forms? How do we distinguish between prose and verse, fact and fiction? And how useful, ultimately, are these distinctions?
In this panel, poets will discuss their forays into prose. Quan Barry, award-winning novelist, playwright, poet, and author of a new novel, When I'm Gone, Look for Me in the East will speak with poet Thorpe Moeckel, author of forthcoming middle-grade novel True as True Can Be, and with Lisa Russ Spaar (Creative Writing), accomplished poet and author of Paradise Close, her debut novel.
UVA MFA Alumni Reading
6-7:00 p.m.
Visible/Records
1740 Broadway Street
In this annual alumni reading, poets and graduates of the UVA MFA program in creative writing Celeste Lipkes (GSAS, 2013) and Samantha Thornhill (GSAS, 2004) will read from their recent works at the Charlottesville-based art gallery Visible/Records. Moderated by Jeb Livingood (Creative Writing).