Virginia Film Festival Opens with Help from A&S Faculty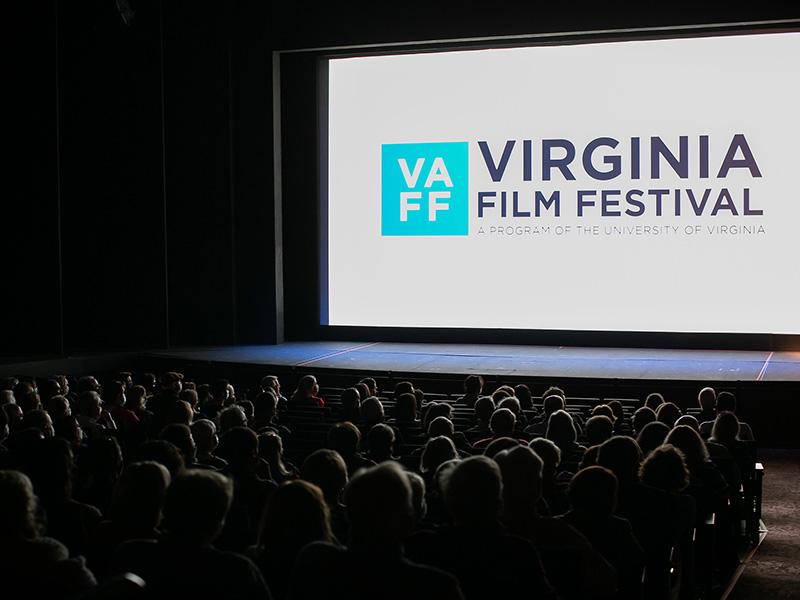 Featuring over 100 films, the 35th annual Virginia Film Festival opens November 2nd and runs until November 6. This year's guests will include actor Jonathan Majors who will present his newest film, Devotion; This Is Us star Chrissy Metz who will discuss Stay Awake, her new film directed by Emmy Award-winning Virginia native Jamie Sisley; and acclaimed actor Raúl Castillo, star of featured film The Inspection. Arts & Sciences faculty Samhita Sunya (Middle Eastern and South Asian Languages and Cultures) and Federico Cuatlacuatl (Art) were two of the festival's five guest programmers, and many of their colleagues from the College faculty will play important parts in this year's events, hosting screenings and leading discussions with festival audiences at theaters across Charlottesville.
Festival attendees will also be able to attend a variety of free panel discussions on a variety of subjects from screenwriting, cinema scholarship and careers in the film industry.
For a complete schedule of film screenings, ticket availability and free events, visit the VFF website.
Here is a list of scheduled VFF appearances by Arts & Sciences faculty:
Thursday, November 3
8:00 p.m., Vinegar Hill Theater
A genre-defining film for the ages, Nosferatu celebrates its 100th anniversary at the Virginia Film Festival with a special screening featuring live musical accompaniment by Matt Marshall (Media Studies) and the Reel Music Quartet. From world-renowned director F.W Murnau, this classic piece of German cinema demonstrates the limitless possibilities of storytelling. One of the first breakthroughs in gothic horror, Nosferatu's chilling tale continues to haunt audiences even a century after its release.
Discussion with Matt Marshall and Stanley Stepanic (Slavic Languages and Literatures).
Friday, November 4
2:30 p.m., Violet Crown 5
This matinee event features 10 short films by Kevin Jerome Everson (Art) who is considered one the most prolific and important experimental filmmakers working today. The films include Gospel Hill, co-directed by Claudrena Harold (History) that focuses on two Black UVA hospital employees and Accidental Athlete, also co-directed by Harold, that focuses on Paulette Jones Morant, one of the first Black woman scholastic athletes at UVA.
A discussion with Kevin Jerome Everson and Claudrena Harold follows, moderated by Julide Etem (Media Studies).
5:00 p.m., Vinegar Hill Theater
The product of an intensive year's worth of uninterrupted field research, Black Fiddlers explores the legacy of African Americans who shaped the cultural landscape of American folklore. Director Eduardo Montes-Bradley traces the personal and family stories of violin players of African descent throughout the country, seeking common threads and throughlines. Notable performers such as David Roberts, Earl White and Rhiannon Giddens share their individual journeys and music and local historians and academics offer scholarly approaches that deepen and enrich an understanding and appreciation of American Folk music and culture. This compelling documentary aspires to provide the first comprehensive account of America's rich musical history as told by Black fiddlers today.
Moderated by Kirt von Daacke (History).
8:00 p.m., Violet Crown 5
An idyllic summertime vacation of mall trips and beach excursions is shattered when Connie (Laura Dern), the young black sheep of her family, meets a charmingly Innocent boy. Flirtations turn into deeper connections, and Connie finds herself stuck between the innocence of childhood and the thrilling-yet-terrifying realities of the adult world. Free from constant supervision, fifteen-year-old Connie is lured by the siren song of exploring her sexuality in this coming-of-age film based on Joyce Carol Oates' beloved short story of the same name.
Discussion with Director Joyce Chopra, moderated by Paul Wagner (Drama).
Saturday, November 5
10:45 a.m., Violet Crown 6 & 7
Denge is a revolutionary fighting for freedom from British colonial rule in his homeland of Zanzibar in the 1950s. Yasmin, a strong Indian-Zanzibari woman, is a rebel in her own way as she sets out to free herself from an arranged marriage she never wanted. Both of them push against the tide of cultural and political expectations. Their chance meeting turns into a forbidden romance as they grapple with the issues of race and culture that pull at them from both sides. The racist oppression Zanzibar experienced under British control has long gone unnoticed by history books, and the exchange of women's bodies has been a globally contentious topic. Based on Adam Shafi's novel of the same name, Tug of War engages with both and brings to light the power of love in the fight for freedom.
Introduction by Samhita Sunya (Middle Eastern and South Asian Languages and Cultures).
4:15 p.m., Violet Crown 6 & 7
As masses of birds fall from the smog-filled skies of New Delhi amid environmental distress and social unrest, Nadeem Shehzad and Mohammed Saud fight to save the black kite, a majestic bird of prey that is crucial to the city's ecosystem. All That Breathes tells the story of the "kite brothers," Nadeem and Mohammed, who have devoted their lives to their makeshift basement clinic for injured birds. In this devastating yet hopeful documentary, Shaunak Sen explores the connection between the kites and the brothers who help cure them, chronicling a fascinating example of inter-species coexistence and giving audiences an honest look at the ecological crisis that our planet, and all of us who inhabit it, face.
Introduction by Samhita Sunya (Middle Eastern and South Asian Languages and Cultures).
5:00 p.m., The Paramount Theater
After several newly uncovered counts of sexual abuse rock a tight-knit, isolated Mennonite community, a group of women in the colony secretly gather in a hayloft to discuss how to move forward. The women narrow their choices down to three: do nothing, stay in the community and fight, or leave. Some women worry that fighting will jeopardize their entry into heaven or warrant expulsion from the community – leaving behind their sons and husbands. Others assert the importance of the truth, arguing the terrors of domestic life are far more dangerous than deciding to leave the community. An adaptation of the acclaimed novel by Miriam Toews, this quiet drama offers a rumination on the power of grief, rage, grace and triumph.
Discussion with Judith Ivey, moderated by Jenny Wales (Drama).
Sunday, November 6
11:00 a.m., Violet Crown 6 & 7
Three UVA professors with newly published books on international cinema share short presentations about their scholarship. Paul Dobryden (Germanic Languages and Literatures) presents The Hygienic Apparatus: Weimar Cinema and Environmental Disorder, Chris Gratien (History) presents The Unsettled Plain: An Environmental History of the Late Ottoman Frontier, and Samhita Sunya (Middle Eastern and South Asian Languages and Cultures) presents Sirens of Modernity: World Cinema Via Bombay.
1:45 p.m., Violet Crown 4
Things are going well for Ben and Raz, a well-to-do gay couple from Tel Aviv. After buying a renovated apartment in a local migrant neighborhood, they begin to seek a surrogate to help them start a family. Their attempt to create a cozy life is disrupted when Ben plants a sapling on their corner, looking to beautify his new street. The tree is not welcomed by all, and soon becomes a source of conflict; when matters turn physical, Ben gets the police involved. The situation thrusts his internal prejudices to the surface, racking the liberally minded Ben with guilt and forcing him to grapple with his own complicity in the systems of oppression surrounding him. This darkly comedic film exposes the grim realities of gentrification and presents a nuanced and timely parable about the many forms that privilege can take.
Introduction by Asher Biemann (Religious Studies).
2:00 p.m., Vinegar Hill Theater
This intimate, powerful film documents the inspiration for and construction of the Memorial to Enslaved Laborers at the University of Virginia. The Memorial to Enslaved Laborers acknowledges the work and individual lives of the enslaved African Americans who built UVA and sustained daily life from its founding. Utilizing interviews with students, professors, Charlottesville community members and many descendants of the enslaved laborers at UVA, The Lives Between the Lines illuminates the difficult history of an American institution and honors the legacy of the community in which it lives.
Moderated by Kirt von Daacke (History).
5:15 p.m., Violet Crown 5
This groundbreaking narrative debut from acclaimed documentarian Alice Diop is a powerful and subtly devastating courtroom drama. Traveling to the northern French town of Saint Omer to research her new book, Rama observes the trial of a Senegalese woman accused of infanticide. Laurence has confessed to the crime but maintains her innocence, arguing that she was under the influence of powerful sorcerous magic at the time. The disturbing facts of the case trigger in Rama a cascading flood of memories and revelations about her immigrant mother, anxieties about her impending motherhood and the painful effects of racism and emotional manipulation on Black women in French society.
Introduction by Alison Levine (French).
5:30 p.m., Culbreth Theater
Once considered the most polluted waterway in the United States, the James River is no stranger to the manmade damages inflicted to commoditize natural resources. Told through the lens of five friends, this adventure-filled documentary captures a 250-mile journey down the James River, beginning in the Blue Ridge Mountains and finally arriving at the Fall Line in the group's hometown of Richmond, Virginia. Throughout the 13-day journey, the crew masterfully captures the river's troubled past while breathing new life into the body of water, highlighting its innate resilience along the way.
Discussion with directors and subjects moderated by Paul Wagner (Drama).
8:30 p.m., Violet Crown 5
A group of teenagers in rural northwest Tunisia spend a summer working in a fig orchard to pay for their studies, prepare for their weddings or help their families. As the day progresses, the women gather between the fig trees, under the gaze of their bosses and young men, to share gossip, meals and tears as they explore their shared journey and their relationships with work, love, friendship, and the land they are on. Erige Sehiri's film is a lovely look at a sisterhood formed under the branches as they explore the joys and pitfalls of being young women on the precipice of their exciting yet uncertain futures.
Introduction by Samhita Sunya (Middle Eastern and South Asian Languages and Cultures).