What Is the Sound of a Seagrass Methane Seep?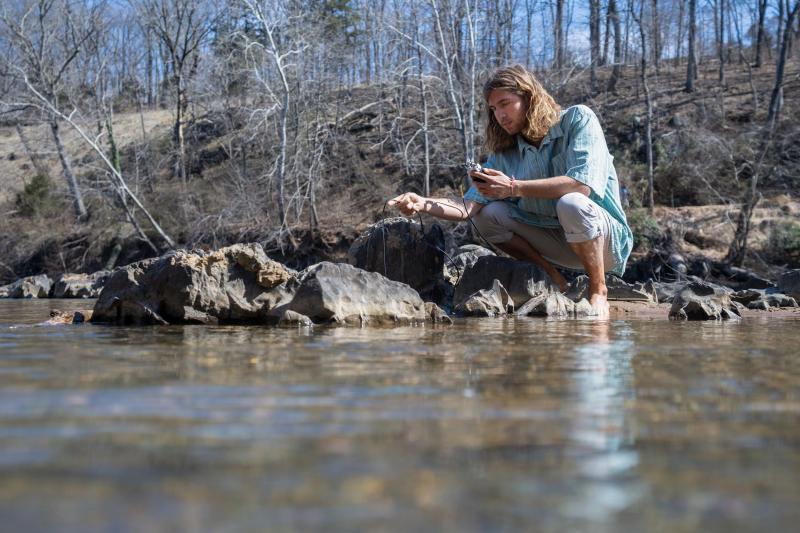 Davis Coffey is seeking to measure methane bubble seepage in seagrass beds, by listening to it.
Coffey, a fourth-year University of Virginia student majoring in environmental sciences and poetry, is a recipient of a Harrison Undergraduate Research grant. The grants pay up to $4,000 to a student to engage in a research project, with an additional $1,000 to a faculty mentor guiding the research.
Coffey, of Richmond, is testing a novel technique of using underwater soundscapes to quantify methane bubble emissions from seagrass beds at the Virginia Coast Reserve Long-Term Ecological Research site, run by UVA. The approach was first suggested by Peter Berg, a research professor in the Department of Environmental Sciences, who came up with the idea while participating in one of The Coastal Futures Conservatory's workshops on Virginia's coast.
"Methane is a greenhouse gas that is produced in many aquatic sediments during the breakdown of organic matter by microorganisms," he said. "Current techniques to determine the amount of methane bubbles being released in aquatic environments rely on bubble traps [inverted funnels that capture rising methane bubbles], which cover only a limited area on the sediment surface. Our project instead deploys underwater microphones, or hydrophones, to listen to the sounds of the methane bubbles.
"Once an audio is collected, we run the recording through audio classification software that include machine learning. The approach can recognize individual methane bubbles occur based on their frequencies, a so-called 'acoustic fingerprint,' allowing us to analyze hours and days of data in a few seconds."
Coffey has worked with Berg since late 2020, developing the logistics and determining the coding necessary.
"We are conducting lab experiments to correlate the frequency of a specific bubble with its volume, enabling us to calculate the quantity of methane released over a given period of time," he said. "The hydrophone can hear the methane bubbles when they are released from the sediment – the bubbles make an audible popping sound and come out in a streaming burst," he explained.
Seagrass meadows also release small oxygen bubbles to the surrounding environment, but these bubbles are much smaller than methane bubbles and trickle quietly off of blades of seagrass. Their noise can be separated from the methane bubbles.
Berg said it is safe to assume that bubbles coming up from the deep sediment in most places are methane. 
"We are trying to define bubble fingerprints that reflect the size of the bubbles," he said. "If successful, we can quantify the methane bubble release from an area of the seafloor – something that is extremely difficult today with traditional methods."
Coffey was drawn to the opportunity to use unique methods to study something that is seldom studied, and he has an opportunity to help develop the methodology of it.
"The use of acoustic monitoring for the quantification of methane is not a common practice, and it is exciting to be able to test such a new method," he said. "Learning how to code and use machine learning to build the audio classification system has been difficult but rewarding. One end goal is to provide information to the largest seagrass restoration project worldwide out on the Eastern Shore of Virginia – a project many UVA scientists are deeply engaged in, which would benefit from an accurate understanding of the greenhouse gas emission, including methane release. It has not slipped our minds that if our new approach works, it can easily be applied to numerous other aquatic systems."
Coffey said that if the soundscape method works, it could give researchers a better understanding of aquatic environments, both freshwater and marine systems.
"These seagrass beds are productive ecosystems that play an important role in global carbon cycling and blue carbon sequestration and storage," Coffey said. "However, due to their increased burial of organic matter, they may also be environments where methane is produced and released at higher rates than for example bare sediments."
Methane, he noted, is "potent." The greenhouse gas has a global warming potential about 30 times higher than carbon dioxide, yet the impact from seagrass has not been investigated as fully as it has been from other natural sources.
Coffey holds a hydrophone in preparation for a recording. (Sanjay Suchak / University Communications)
Coffey has also worked as an intern for the past two years with the Nitrogen Working Group, part of the University's Committee on Sustainability, under the supervision of James Galloway, the Sidman P. Poole Professor in the Department of Environmental Sciences, and Elizabeth Dukes, a graduate student studying under Galloway. With that group, Coffey is working on calibrating an integrated environmental footprint tool in Charlottesville and Albemarle.
"[Coffey] is a pleasure to work with, deeply engaging with others and a great communicator of science," Galloway said. "He was one of the poster presenters for the Department's EnviroDay held in February in the Clark Hall Mural Room."
Dukes has worked with Coffey for three semesters, specifically focused on gathering data on agriculture and farming practices in the county.
"Davis has shown ability and attention to detail in working to gather and process agriculture data in particular," Dukes said. "His diligence in searching through databases and reaching out to individuals has been essential to the development of our work. Davis' energy and passion for the project he is working on drives this diligence and always produces great work. He has been a great member of our team."
Coffey said his research has heightened his attention to detail, which benefits his poetry and painting.
Paying attention to where local sources of water originate, what kind of animals co-inhabit our spaces, when the moon is full, what flowers bloom and when – these acts of presence and love transform our environment into a world of familiars and reveal how humans are part of nature, not separate from it.""I look at landscapes and ecosystems in a different way now – more intimately," Coffey said. "The importance of place, of knowing where you are and understanding the mechanisms of the region you are immersed in, has deeply influenced my creative work. My poetry names specific plant and animal species – often endemic to Virginia and the Appalachian region – and celebrates the biodiversity of where we live. After all, '-oikos,' the Greek root word of ecology, means 'home.' Paying attention to where local sources of water originate, what kind of animals co-inhabit our spaces, when the moon is full, what flowers bloom and when – these acts of presence and love transform our environment into a world of familiars and reveal how humans are part of nature, not separate from it."
A member of the Raven Society, Coffey was an editor at the Undergraduate Research Network's science research journal Oculus; a member of the Virginia Alpine Ski and Snowboard Team; Undergraduate Research Network; UVA Office for Sustainability; and the Morven Kitchen Garden. He has been on the Dean's List and a recipient of a Student Council Art Grant. A graduate of the Maggie Walker Governor's School, Coffey is a transfer student, having previously studied at the College of William & Mary and University of Freiburg. He plans to work on a master's degree and a Ph.D.
The research is still ongoing. Coffey's contributions include more than 70 hours of audio culled from the seagrass beds of the Eastern Shore's South Bay last summer. More work, however, needs to be done to connect the bubbles' sound with their size.
Berg said he let the multitalented student run with his idea because of the student's intellectual curiosity and passion for the work.
"Davis is a very curious person, which is a main driver for him to work on a novel project as unique as this one," Berg said. "It also means a lot to him to work on something that 'matters' – for example, protecting the environment. We are only partway through the research, but our results so far are promising. There is always that uncertainty when you work at the forefront of science. But I am happy with the progress."