When Pandemic Postponed Performances, D'earth Led His Musicians Into the Studio
What does a performance artist do in the middle of a pandemic? Student and faculty musicians in the University of Virginia's jazz program went into the studio.
The UVA jazz program, led by trumpeter/composer John D'earth, consists of the Jazz Ensemble, the UVA Jazz Chamber Groups, the UVA Jazz Singers; for this project, they were joined by collaborators from the dance program, visual arts and media studies. With the pandemic, live performances were out, but the music could still be captured, an album made.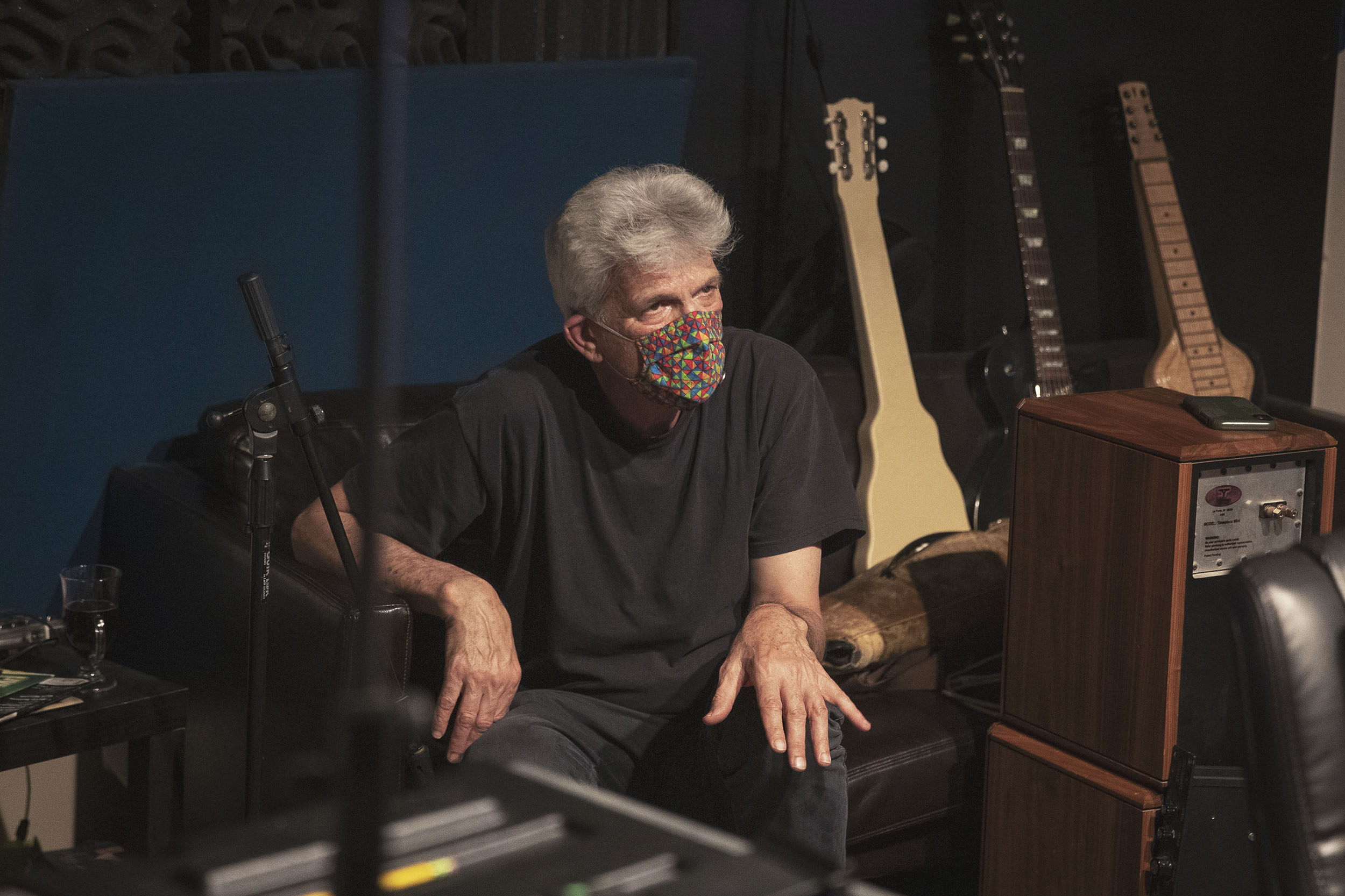 "Our recording project, 'Infernal Resilience,' references the resiliency necessary to rise, together, in the face of adversity, as well as the demonic resilience of adversity, itself," D'earth writes on the website set up to present the recordings. "The Jazz Ensemble sees the global and local crisis as an opportunity to create an inter-disciplinary statement that casts a wide net for student and faculty involvement. Jazz students, faculty musicians, community musicians, orchestra principals, and instruments not normally associated with big band jazz, such as strings flutes, and French horn have been recruited to participate."
Instead of setting up a concert, D'earth arranged recording sessions in Mark Graham's The Sound studio on Allied Street in Charlottesville, working on the music, rehearsing it, massaging it, getting it ready to be preserved – which puts it in a new realm. A gift from Jim and Nancy Dunton, parents of alumna and jazz musician Kait Dunton, financed about half the project.
"We started this project and it resulted in some amazing stuff," D'earth said. "But it is higher learning for me, because I don't usually do things like this. I go for a concert and I am very good at that and I can make everybody do just what is needed for that moment, and then that moment is done. But this is different. It is like a war. Constant strategizing. You have to plan."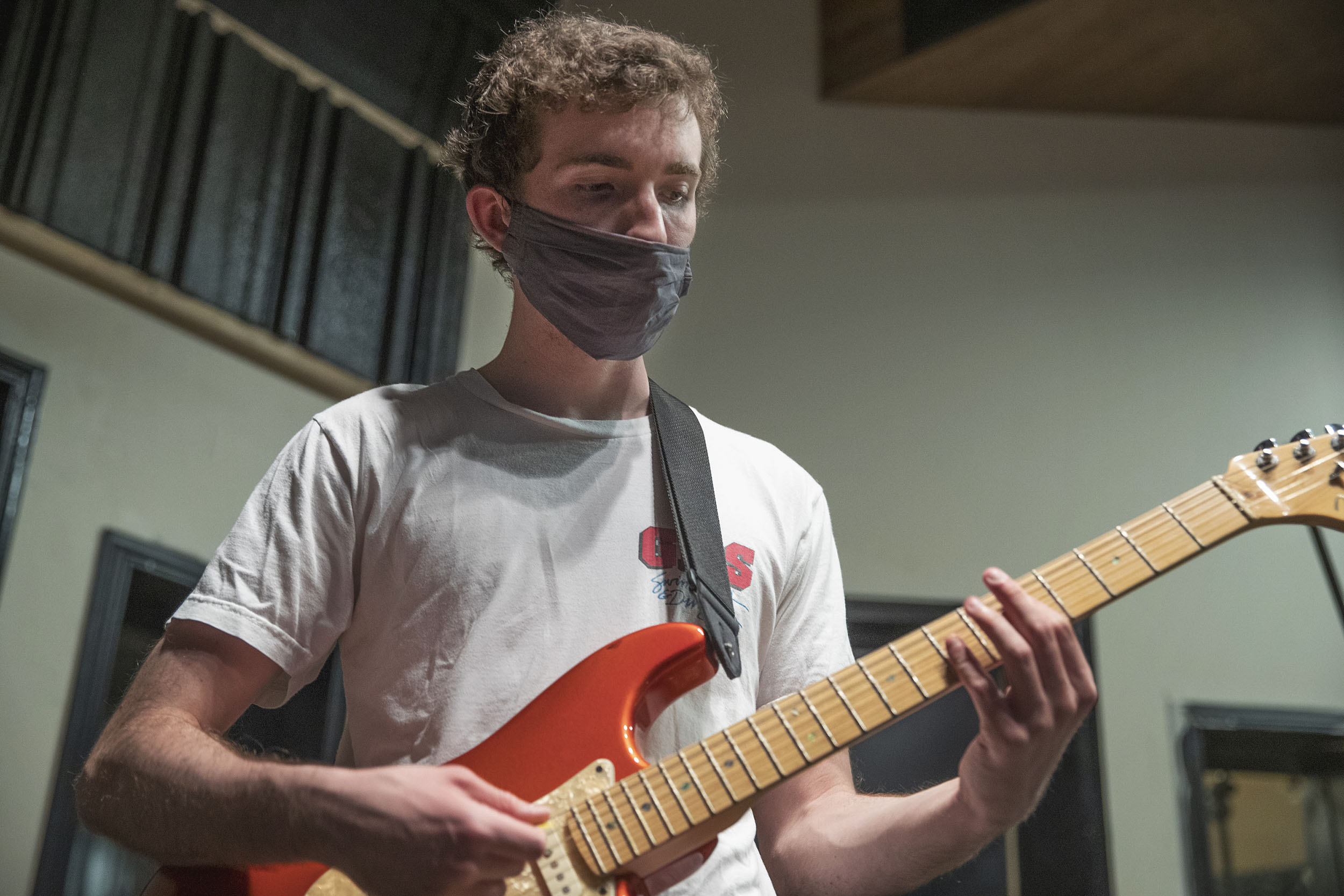 In planning, D'earth organized and arranged the musicians' studio work, divided into several rooms; five rhythm section musicians, separated and masked, in a large room, while singers and horns isolated, three at a time, in other rooms, all connected through speakers and all routed through Graham's sound board. Drummer Peter Wellman, on a full Stubblefield kit, anchored one end of the large studio, and Dave Sun or Thomas Kehoe, on a baby grand piano, held down the other side. In the center of the room, Ethan Blaser caressed a stand-up bass, while guitarists Tyler Burkhardt and Michael McNulty worked at a music stand. Wires trailed across the floral-pattern area rugs. Singer Tina Hashemi, perched on a stool in another room, listened to the musicians and worked out the vocals. D'earth monitored them all from the control room.
"You're too polite," D'earth told the masked musicians after a take. "Everything you're doing is so sweet. You need to be more aggressive."
The musicians rehearsed "Heal for Real," a D'earth composition, trying to get the parts and charts right for recording later that night, marking alterations on their music sheets with pencils. While they worked through the instrumental parts, Hashemi, in a separate room, worked on the scratch vocals, with the musicians listening through their headphones to work out their parts. Alumna guest artist Erin Lunsford sang the final vocals on the finished recording.
After about an hour of rehearsals, they started recording, all still separated, with D'earth in the control room with Graham, a microphone set up so D'earth could contribute trumpet parts.
"I'm not aiming for the trouble spots. I'm aiming for the vibe," D'earth said after the first take.  Then, "We're getting the vibe, so let's do it again," after the second take, and "By George, I think we've got it" after the fifth.
After "Heal for Real," they focused on McNulty's composition, "Beings in Love," later renamed "Can't Stop Being in Love." McNulty walked them through it, with the musicians marking each change in their charts. McNulty, a physics and music major from Greenwich, Connecticut, listened carefully to all the suggested changes, particularly from D'earth.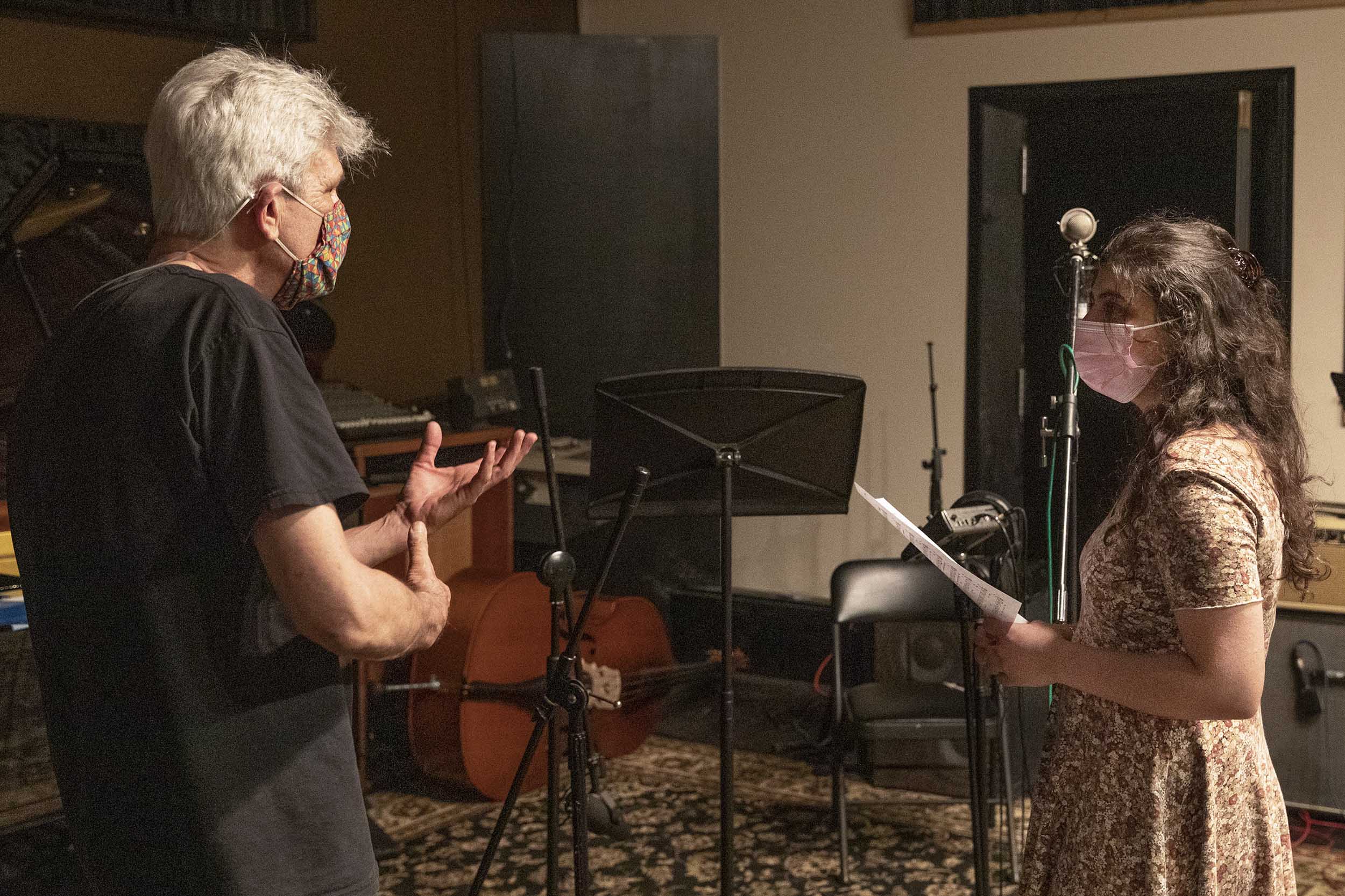 "I trust everybody's judgment," McNulty said. "John has a lot of experience doing stuff and I think I have been influenced a lot by what John writes. He writes a lot for the bands. I am very open to suggestions, because there is a lot that I don't really know a lot about. And I would say it typically improves my piece.
"All of these people are like my best friends. I think all of these musicians are probably more competent than I am."
D'earth encourages the students' music writing.
"When a student writes something, they all get invested in it," he said. "They really pull for each other. And they never get into fights with each other over this."
A budding composer, McNulty enjoys listening to and writing "happy" music.
"Why would I spend 20 minutes listening to something that is going to make me depressed?" McNulty said. "
I played in a big band in high school, which I think shaped my perception of jazz. This music was awesome. It was big."
McNulty said he tries to write in the style of the Count Basie's Orchestra.
"When I was 16, my mom bought me tickets to see the Count Basie Orchestra at Birdland and I went with my friends," McNulty said. "They blew me away. I thought this was fantastic and that started my love for the Count Basie band. They are incredibly together."
After several run-throughs that were recorded, they quit for the night. One student had homework.
D'earth broke the process into two parts, the studio recording sessions and then a twice-weekly, online session for students to discuss the music, review chart changes and rehearse sections.
"We pass out music, talk about music, sing through music and then we do sectionals, where you have three trombone players who are practicing via Zoom – one person will unmute, and the rest will mute, and that person will count it off and play the part, and we don't hear the other two people, we just hear the one person and we critique that person because we are hearing them. And then we make the other person unmute and critique that person and they are all practicing all the time and the person who goes last usually sounds better than if he had gone first," D'earth said.
Hashemi, a fourth-year music major who plans to attend medical school, sang on some of the Jazz Ensemble tracks, as well as pieces for her own distinguished major project, for which she received the highest of three levels of distinction, which is seldom given for jazz.
"I had wanted to do a fourth-year recital for my distinguished majors program project, but they told me I couldn't," she said, "Since John was doing this recording project, I figured I would lump my stuff in there. So that is why I am doing a [Distinguished Majors Program] album as opposed to the recital."
Hashemi contributed a song, "Blue Champagne," which started one way and ended up another.
"I took a song-writing class a year and a half ago, and during that class I wrote this song called 'Blue Champagne,'" Hashemi said. "The assignment was to take words that were already written and turn them into a melody. There is a jazz song called 'Blue Champagne.' I had never heard it, but I took the lyrics and wrote a melody to the words and then I wrote chords to them with the help of Rami Stucky.
"He heard the melody and he really liked this, so he made a big band arrangement of that. John really liked it, but he didn't like the lyrics. He rewrote the lyrics, so now it has become a totally original thing that is far removed from the old 'Blue Champagne.' And the only thing that is related is the word combination 'Blue Champagne.'"
Stucky, a graduate student in the music department currently living in New Mexico, has worked with some of D'earth's students.  
"Rami Stucky just managed to become such a magical interface in the band and help my students come out with their own creativity and writing," D'earth said. "People would ask Rami for help and they would get it. And it was very selfless and unattached, a beautiful sort of pure pedagogy. I cannot thank this guy enough for what he did."
D'Earth said Stucky is a mentor for the band. "Over that pandemic summer, we had this idea," he said. "Rami said, 'Let's have some Zoom meetings and we'll look at scores from Count Basie.' He essentially taught McNulty a private lesson in arranging. Rami has a gift for arranging and composing.   He's training to be an academic, so he understands a lot of things about how to get students engaged and committed over a long haul."
D'earth also brought in classical musicians, such as Izzy Tucker on cello and violinist Olivia Scheidt, who took D'earth's course on improvisation last summer. She said jazz allows her to channel her emotions through the music.
"It has taught me to be a better player," Scheidt said. "As classical violinists, we are taught to play what is written on the page; we're not really allowed to deviate in an orchestra setting from the notes written on the page. But in a jazz setting, you write or improvise your own music as it comes along with just the six or seven or eight notes that are given to us."
D'earth has involved professionals from the music department, as well, including principal French horn, Katy Ambrose; Bonnie Gordon, a violist who is an associate professor of critical and comparative studies; and violinist David Sariti, director of the period-instrument Baroque Orchestra.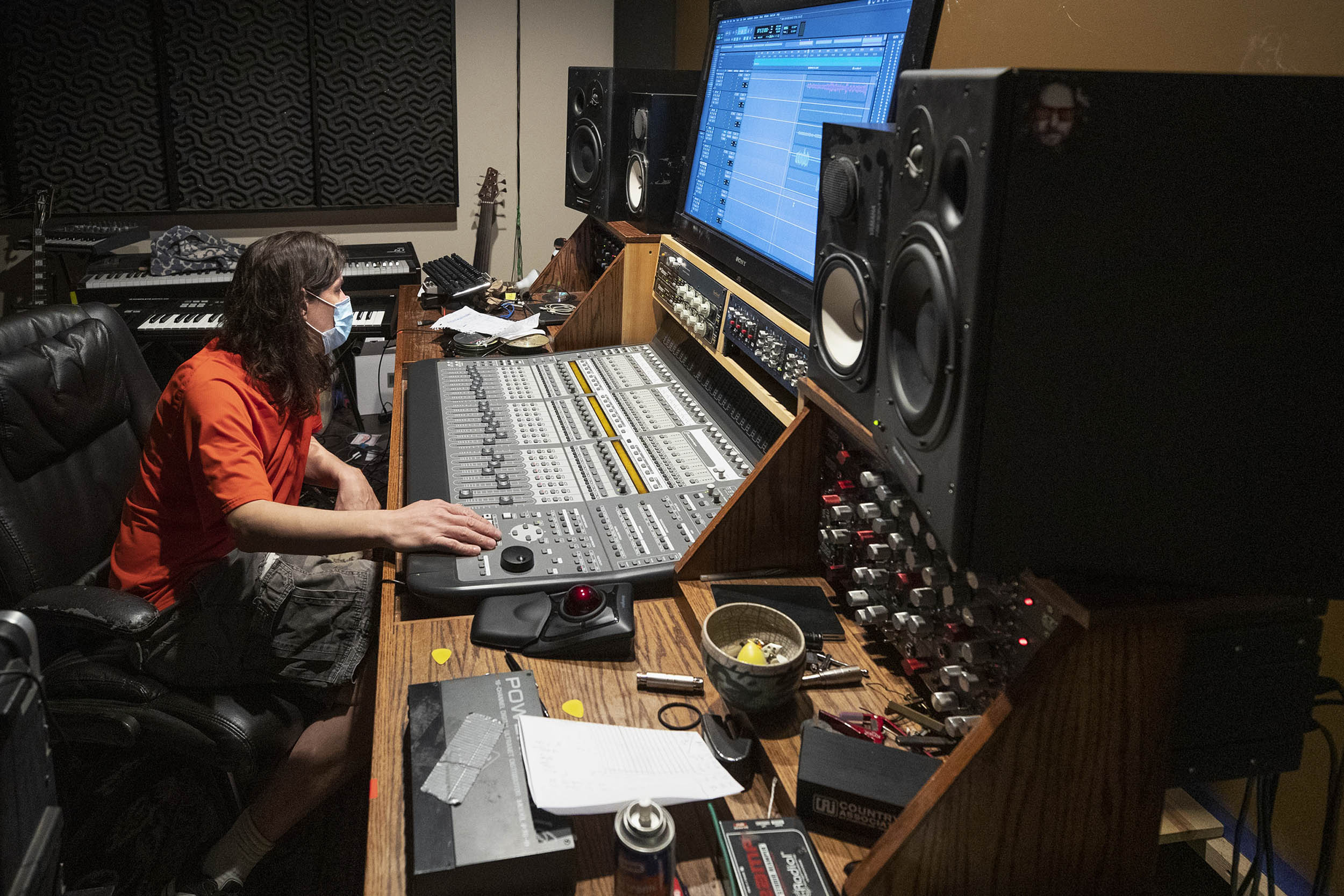 "This has been one of the best experiences I have ever had," D'earth said. "And that is partly because of the people involved in it. These students have been extraordinary. The moment provided us with the smart, talented people we needed to meet this challenge with an incredible outpouring of music."
In the studio, Hashemi leaned back on the black leather sofa, facing the ceiling, eyes closed, listening to her own disembodied voice flowing out of the control room speakers. McNulty sat next her, staring down at the floor, listening intently to her interpretation of his song.
"Tina sounds so good," D'earth said, listening to the same playback. "Can I mention something, since we are here to learn? Be natural and go with what you are hearing. Don't think too much."
McNulty wrote "Can't Stop Being In Love" for Thomas Kehoe and Hashemi, taking their talents into account. 
"I had been listening to a lot of organ music and I wrote this chart because I knew Thomas was going to crush the organ part," McNulty said. "And I wanted to write a vocal chart, and I know Tina is graduating and I know Tina is going to crush this vocal; it is kind of like that Duke Ellington model where I am shaping what I am writing around the members of my band and what I think they can do."
Working in the studio was a relatively new, and revealing, experience for students.
"Playing in the studio, you have to be paying attention; you have to come up with things that work." McNulty said. "It's a new experience for me. I have worked briefly in a studio, but I was never a studio musician. Now I feel more like I am and can contribute on the fly, which is surprising because I didn't think I would get that experience from this project.
"Also, when you're recording so much you get to hear yourself a lot. When you are forced to record all the time: sometimes you're at your best and sometimes you're not. If you don't practice, it is evident."
This experiment has given D'earth a foundation for next year, he said. 
"Next semester, we will have to recreate our band with new people," D'earth said. "We have lost about 10 people who have been instrumental to this, but we have all this music and we are going to perform that music."
D'earth's students have accomplished a great deal in this project.
"I don't think many colleges' jazz aggregations would come up with such a soulful offering as this," D'earth said. "We have seven different projects, seven different 'albums,' two [distinguished major projects], four small groups and the big band  We had a huge proportion of fourth-year people this year, and those people are extremely accomplished. They got to go into the recording studio and really experience something that ordinarily they would not have experienced."