Curry Collaboration Nets NSF CAREER Award for UVA Biology Professor
When we get sick, our immune system plays a starring role in detecting and attacking the microorganisms that are making us ill. The same is true for animals, but plants don't produce the antibodies that help us fight off infection. So what helps them survive when harmful microbes enter their environment? The search for answers has won Assistant Professor of Biology Cristian "Colo" Danna one of the National Science Foundation's coveted CAREER awards, which recognize the country's most promising junior faculty members in the science and engineering.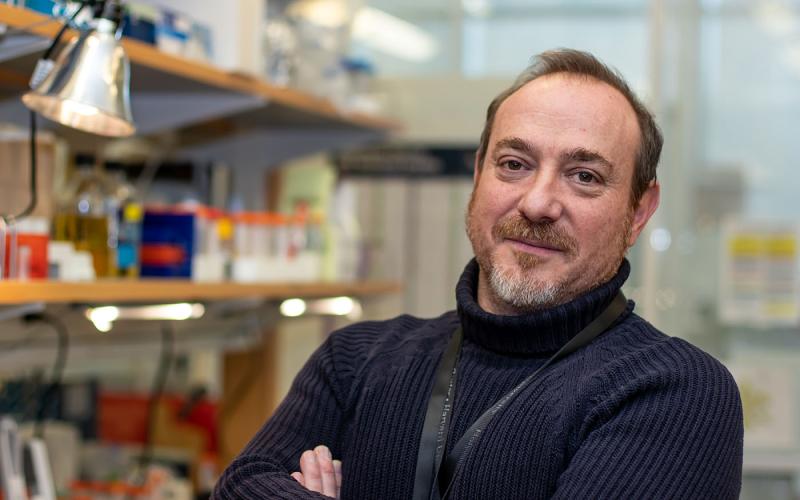 Cristian \"Colo\" Danna, Assistant Professor of Biology
Molly Angevine / A&S Communications
In humans and animals, the immune-system consists of two layers of defense against harmful pathogens. The first line of defense is the innate immune system which detects microbial intruders, and as it begins fighting off the invaders, it commands the body's second line of defense, the adaptive immune system, that produces lymphocytes and antibodies to clear the infection.
"Plants don't have an adaptive immune system," says Danna, "but they are very effective at perceiving even very low amounts of microbes and responding to them."
Instead of manufacturing lymphocytes and antibodies, plants respond by withholding the vital nutrients that harmful microbes need to multiply, Danna explains. "In order for [the pathogens] to survive, they have to stop growing because they have to preserve all the energy they have to deal with the scarcity of nutrients."
But, he adds, "Nobody knows how that perception mechanism turns into an immune response."
Danna believes he knows what that mechanism is, and the CAREER Award, which will provide him with a grant of $800,000, will go a long way toward helping him be certain. Ultimately, the research could be of tremendous value in helping understand how to protect commercial crops from disease.
According to Deborah Roach, Chair of UVA's Department of Biology, Danna's research "is providing a better understanding of the basic biology of how plants defend themselves and these discoveries will also be of broad interest to commercial plant growers."
"An NSF CAREER Grant is one of the most prestigious awards for young faculty in the sciences," Roach adds.
What makes the CAREER Award so prestigious is the NSF's requirement that winners demonstrate leadership not only in research but also in education and community outreach. As part of his research efforts, Danna is working closely with UVA's Curry School of Education and Human Development to bring science teachers in training into the lab to take part in his groundbreaking research efforts so they can take that first-hand of experience with real-world research into their own classrooms.
Danna's collaboration with Curry may be one of the reasons his CAREER grant was one of the largest in recent years. Curry faculty helped Danna design the educational component of his proposal, including developing teaching strategies and tools for measuring the effectiveness of their efforts to train teachers to teach students about how scientific research is conducted.
According to Frackson Mumba, an associate professor of education at Curry who worked closely with Danna to develop the educational component of his CAREEER application, "teachers are not trained to do research, they're trained to teach." But Danna's program, he says, "will bridge the gap between research labs and the schools," giving Curry students experiences and tools to be better teachers.
For Danna, it's an opportunity "to establish long-term collaborations with [the teachers] so they can continue to be part of the research team," something that will eventually allow them to bring a richer educational experience to their own students.
For Mumba, "It's a win-win for all parties.
---
Read more about Arts & Science's 2020 NSF CAREER Award winners
Ken Hsu (Chemistry) 
Dan Meliza (Psychology)
Marija Vucelja (Physics)